The Best 2019 May Michigan Events and Things to Do!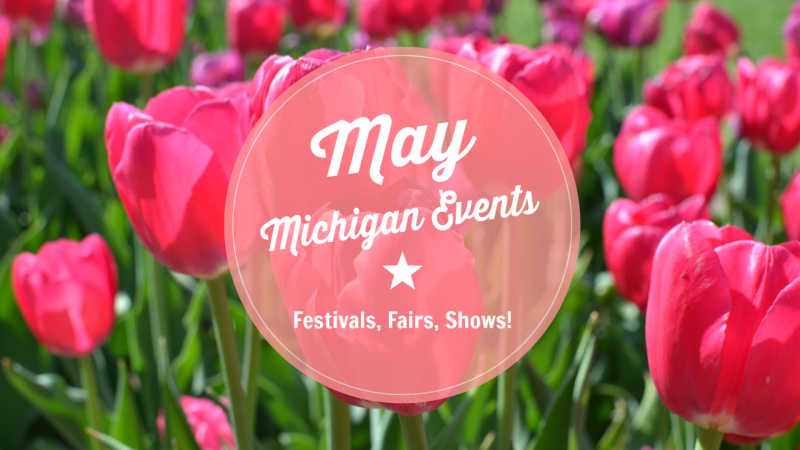 The ULTIMATE SOURCE of 2019 May Michigan events and things to do for families, couples and friends! Grab our Boredom Zapping Ideas for fun in Michigan! 
Destinations: Detroit, Ann Arbor, Grand Rapids, Kalamazoo, Lansing, Traverse City, Charlevoix, Houghton, Midland, South Haven, St. Joseph and more!  
Plan your May Michigan trip or vacation around our inspiring festivals and events! 

OMG! We've finally thawed out!  You have no idea how ready I am for warm breezes, planting my garden and exploring our glorious state without having to "suit up" first.  It brings me joy!
Join us on Instagram where I've posted all our May adventures!  We hope you enjoy our May Michigan events and fun things to do! And as always, if you have an event that you would like listed, let us know here!
May Michigan Events 2019
There are so many May Michigan events to see, do and explore!! No way you will be bored!  Let's start traveling Michigan!
Boyne City Restaurant Week, April 29-May 5, 2019.
Open the Grand, Grand Hotel, 286 Grand Avenue, Mackinac Island, MI, May 2-3, 2019. Be one of the first guests of Grand Hotel's 133rd season as they Open the Grand. Call soon to book a special one night package that includes accommodations, a casual dinner buffet on Thursday evening in the Main Dining Room and breakfast on Friday morning.
Car Show, Music and Vendor Market, May 3, 2019, Calhoun County Fairgrounds, Marshall, MI
2019 Art Market, Wolf Lake State Fish Hatchery, 34270 County Road 652, 
Mattawan, MI. May 4, 2019, 10 a.m. -4 p.m. Get hooked on art! The Friends of Wolf Lake are hosting its first annual "up-scale" art market and gift fair. Local artists will be set up inside the visitor center and around the show pond.
Big Dogg's House of Hot Rods Spring Tune Up Car Show, Calhoun County Fairgrounds, 720 Fair Street, Marshall, MI, May 3-4, 2019, 10 a.m. -4 p.m. Music Celebration and Vendor Market.
Fiesta, The Shops at Westshore, 12331 James Street, Holland, MI, May 3-4, 2019. A community favorite, the annual Fiesta is full of fun for the whole family! With live music and performances, amusement park, ethnic food, car show, and Latino musical acts that bring everyone to their feet! There will also be rides and activities for kids; and for the adults.
Holland Tulip Festival May 4-12, 2019.  Plan your Tulip Time visit with 2019 schedule of events! Optimize your day with our Tulip Time Map!
Frankenmuth Food Truck Festival, May 9, 2019. Funtown Chowdown, Frankenmuth's Annual Food Truck Festival is located at Frankenmuth River Place Shops! The fun begins in May and will take place on the second Thursday of each month (May 9, June 13 , July 11, August 8, and September 12) from 3pm – 9pm each date.
Cider Week-Grand Rapids, May 12-18, restaurant specials and fun with the Cider Festival May 18 with live music, food and Michigan ciders on May 18.  see here for more info!
Cherry Blooms, Traverse City, mid May!  The Leelanau and Old Mission peninuslas will be stunning mid May!  Once in full bloom they last about a week! 
University of MI Matthaei Botanical Gardens, 1800 N. Dixboro Rd, Ann Arbor. Check out the wildflower garden that begins blooming late April and peaks in May!  
Boyne City National Morel Mushroom Festival, 

Boyne City, MI, May 16-19, 2019. Beer block party, carnival, mushroom hunt and more! Visit their website for more info!

Blessing of the Bikes Festival, May 17, 2019, Baldwin. Giant food fest, vendors and fun!  
World Expo of Beer, May 17-18, 2019, 601 Weiss St, Frankenmuth, MI 
Motor City Comic Con 2019, Suburban Collection Showplace, 46100 Grand River Ave, Novi, MI, May 17-19, 2019
Petoskey Restaurant Week, May 17-24, 2019
All Ford Car Show, May 18, 2019, Birch Run Outlet Mall, Birch RUn, MI
Tawas Area Birding, Chippewa Nature Center, Midland, MI, May 18, 2019, 6 a.m.-8 p.m. During spring migration, Tawas Point State Park is a natural birding "hotspot" as birds travel along the Lake Huron coastline. On this one-day trip with Naturalists, you can ee up to 100 species including many warblers, vireos, sparrows, hawks, bitterns, shorebirds and more! 
Hot Air Balloon Championships, Frankenmuth, May 24-27, 2019

Flights are early morning and later evening weather permitting.

Dog Bowl, Frankenmuth, May 24-27, 2019

So freakin' adorable! Swimming, agility courses, weiner dog races and so much fun! Free!



Local Appreciation Day, Castle Farms, 5052 M-66, Charlevoix, MI, May 27, 2019, 9-5 p.m. Explore Castle Farms for free if you are residents with a valid driver's license from Charlevoix, Emmet, Antrim, Otsego, or Cheboygan County. All others, just $5! 
Kayaking on the Chippewa River, Chippewa Nature Center, Midland, MI. May 29, 2019, 6-9 p.m. Reservations required. Spend an evening paddling down the Chippewa River with a naturalist as you look for turtles, fish, herons, hawks and eagles. After meeting at the Visitor Center, we'll travel to the Universal Access Site on Chippewa River Rd via CNC van and begin a leisurely paddle down river back to the Nature Center. 
Detroit Belle Isle Grand Prix- May 31-June 2, 2019. The 30th Grand Prix event in Detroit will take place at the Raceway at Belle Isle Park. Buy your tickets early!

Traverse City and the Leelanau Peninsula's cherry trees should be in full bloom around the last week of May.  Awesome photo opts and time to visit the wine trail!

Krusin Klasic Fun Run, May 31, 2019, Steam and Gas Engine Museum, Escanaba.
Don't miss a moment of May Michigan fun!  Join our newsletter to have events and fun delivered directly to your inbox!  Traveling Michigan has never been so fun!
What Michigan Events Are Coming Up Next?
Disclaimer: Please be sure to visit a particular event's website to verify dates, times, happenings and details.  We make every possible effort to be verify these the event details but as we are human, mistakes can occur and event dates/times can change.  If you see an error below, PLEASE let us know and we will correct it.

Event Centers in Michigan
Still bored? Don't forget to check these Michigan event centers/theaters/auditoriums across Michigan for concerts, events, shows or comedy entertainment! 
Here are a few Michigan event centers to inspire you!  
Cobo Hall-Detroit
Midland Center for the Arts-Midland
Dow Gardens-Midland
Kalamazoo State Theatre
Fire Keepers Casino
Soaring Eagle Casino-Mt. Pleasant
Wings Event Center-Kalamazoo
Miller Auditorium-Kalamazoo
Civic Auditorium-Kalamazoo
Chenery Auditorium-Kalamazoo
Kellogg Arena-Battle Creek
LMC Mendel Center-Benton Harbor
Franke Center for the Arts-Marshall
The Bob-Grand Rapids
Van Andel-Grand Rapids
Devos Place-Grand Rapids
Dow Event Center-Saginaw
Being bored sucks! Never miss another event! Join our network of Traveling Michigan Explorers!  Be a part of this amazing community of travelers!

Subscribe To Receive Exciting Destinations, Day Trips and Fun Directly to Your Inbox!
Sign Up to Our Newsletter to Get the 5 Free Must Have Apps to Travel in Michigan Like a Boss!
Follow Us on Instagram 
Check Out Our Traveling Michigan Videos on Youtube!
Check out our off-road Keweenaw Peninsula adventures on YouTube!
You May Also Like...
We would love to hear your ideas!
Share your Michigan events, stories, photos and ideas! We love to be inspired!