About Us - Sherry and Chris of Traveling Michigan!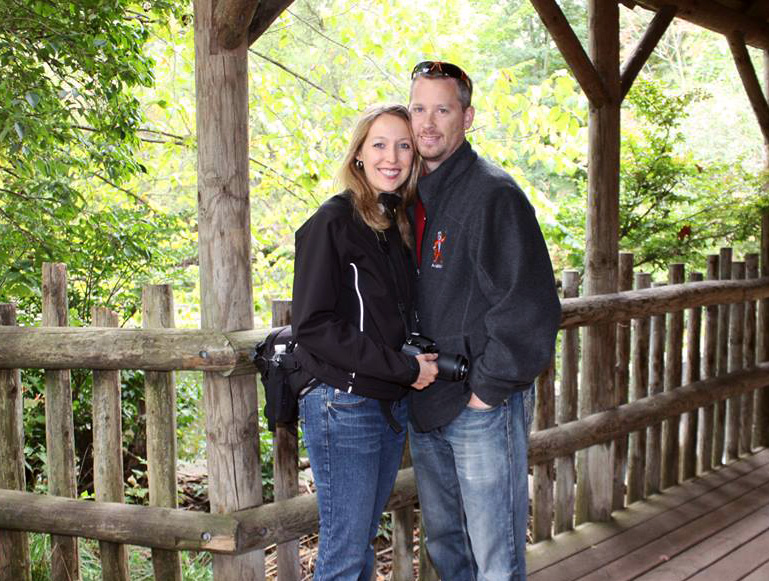 Binder Park Zoo, Battle Creek, MI
About Us | By Sherry Trautman | Traveling Michigan
Our Story
Chris and I met in 2000 while working at Duncan Aviation in Battle Creek, MI. We were just friends for years until a mutual friend made it his sole mission in life to get us together! 
...AND IT WORKED! (Thanks, Dave!) We were married in 2008 and discovered that travel, photography and crazy adventures strengthened our relationship and gave us great things to do together. 
Over the last ten years we have lived in Houghton, Marquette, St. Joseph, Mt. Pleasant, Kalamazoo and currently in Midland, Michigan.  We are graduates of Northern Michigan University (Go Wildcats!) and Western Michigan University (Go Broncos!!).

Chris' passions include fast cars, airplanes and as a commercially rated drone pilot, he thrives on obtaining amazing videos and photography.  He has a strong technological background and his career is in aerospace.  Chris also shares his time with his other passion, Corvettes.  His website, www.corvette-web-central.com is ranked within the top websites in the world.
Sherry has traveled extensively throughout the United States and abroad.  My degrees in Industrial Design and Fine Art launched careers involving aircraft design, website design, marketing, teaching, social media and photography.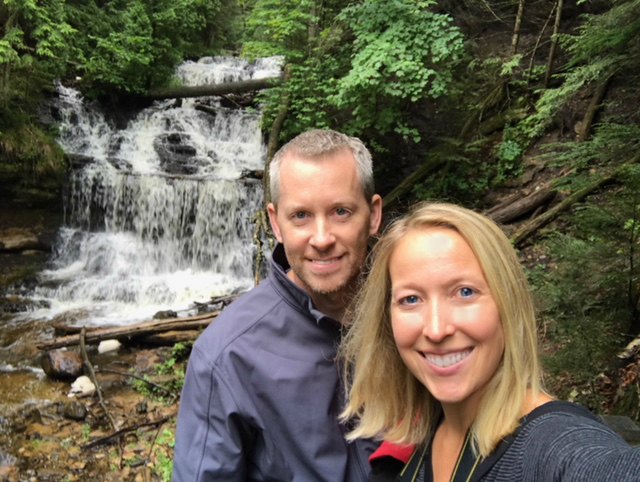 Wagner Falls, Alger County, MI
Why We Started Traveling Michigan (More About Us)
For three years I felt stuck with where my life was headed career-wise.  I spent years working at an art center teaching glass art while managing their marketing and social media departments.  I was also a wedding and social media photographer.  I adored what I did but wanted more.
Chris and I kept saying we needed to document our travel adventures and share our experiences with the world. 
While researching trip ideas I noticed big travel sites lacked the emotional and true life experiences in their posts. I wanted to hear how locations, experiences and people they met affected their lives or perspectives.  I wanted to hear about the gritty side of travel plus the beauty. 
I felt there was a missed opportunity of stories left untold, especially in Michigan.  I wanted to engage, inspire and empower travelers to visit Michigan as our state is absolutely stunning. 
And so, Traveling Michigan was launched! 

Going forward, we are working to capture moments, to try and portray how the people we meet and the experiences we share shape our outlook on life.  Chris and I work every day on ways to most effectively tell our stories. 
As we progress in our travel adventures and self discovery, we surely will evolve our writing styles as we continue to learn and grow.  We truly believe travel has the capability to change the course of lives and we can't wait to see where it leads.  And as always, it always leads back to the power of the story.
And So Our Adventures Began!
As Michigan-born travel junkies, we have spent over 365 days in hotels over the past four years while hiking, kayaking, biking, white water rafting and sightseeing within our great state. 
We love connecting travelers with great local businesses so your experiences in Michigan are awe-inspiring, enriching and well, freakin' awesome. 

Growing up on a farm and having parents with small businesses, we felt smaller local businesses needed a voice, a way to be discovered. We LOVE promoting Michigan and great local businesses!  
We hoped you learned a bit more about us!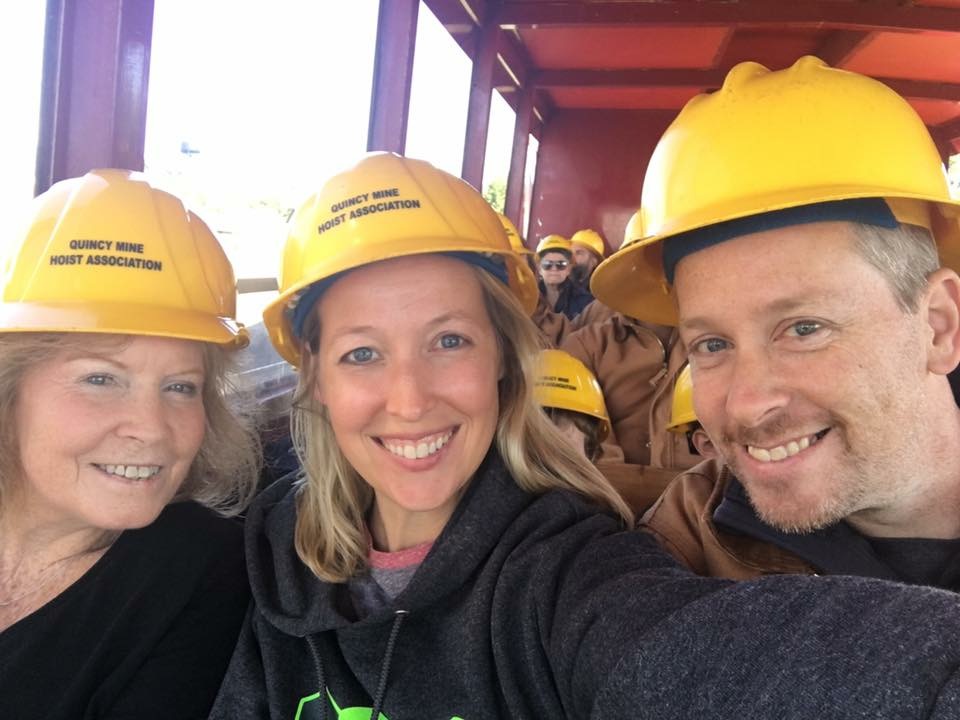 Quincy Mine Tour, Hancock, MI
"We believe travel can change the course of one's life.  In the end, its power can only be shared with impactful stories that both engage and inspire." ~Sherry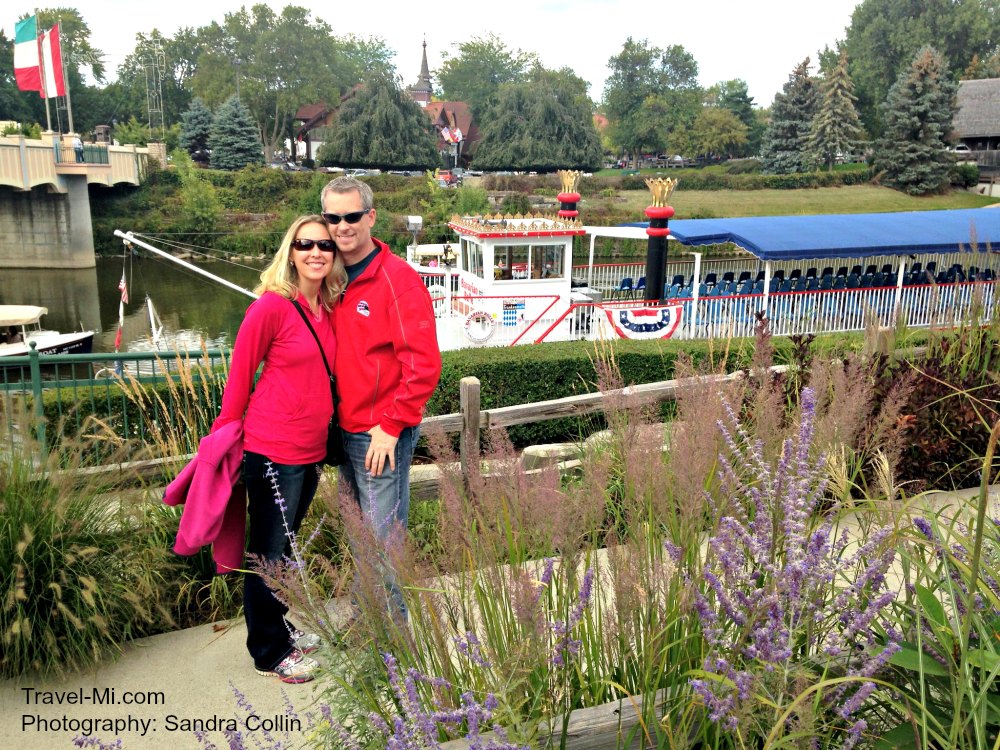 Frankenmuth, MI
Please Note: Traveling Michigan is a private company promoting Michigan areas and businesses.  We are not associated with Pure Michigan, Michigan.org or its entities.  
Testimonials
"This photo makes us want to visit Michigan! Job well done! We feel inspired and happy. Thank you!"

~Florida Resident
"I'm honestly surprised how much variety Michigan has to offer after seeing your photos! Or in other words, you guys are doing an excellent job promoting Michigan, seriously!"
~Stefan
"I just moved to Midland a month ago from out of state.  Your account has been a FABULOUS source of adventures for me.  Thanks for making such an informative account!"
~Jillian
I'm honestly surprised how much variety Michigan has to offer after seeing your photos! Or in other words, you guys are doing an EXCELLENT job promoting Michigan, seriously!
~Stefan
"You two definitely know how to trans port to the destination with your pics!"
~Lenny
"Seriously, Michigan is gorgeous all year round! I'm excited to see where you go, then I'll get inspired to go places!"
~Diana
"Because of your photography of Michigan, I am putting Tahquamenon Falls on my Bucket List!" 
~Kathi
"This sounds so cool! We love adventures like this! Keep them coming and keep up the great work!
~FBBG
"Just love your ideas for fun things to do especially since we love to vacation in your beautiful state!"
~Sharlene
"Great site! I will recommend this site to all who ask. I am looking forward to your newsletter and thanks again for such a great site."
~Toby
Join Us on Instagram!
Keep Reading!