Spectacular Michigan National Parks and Michigan National Wildlife Preserves.  Discover in-depth secrets about our National Parks and what you need to know before visiting so you can make the most of your trip to Michigan!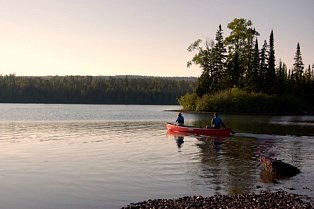 Isle Royale National Park boasts unbelievable pristine beauty, solitude and relaxation.  

If your ideal vacation if getting back to nature, exploring and outside adventure without hoards of people, Isle Royale National Park may be perfect for you.  Maybe you need time to clear your head, put away the phone and relax in a rustic atmosphere? Well, Isle Royale is an Adventure Travel dream destination.
Isle Royale National Park is a remote island cluster in Lake Superior, near Michigan's border with Canada. It is a peaceful island with dense forests and sparkling lakes and waterways, where moose and wolves roam free.  Enjoy the rugged, isolated island free of the sights and sounds of civilization.
Perfect for backpacking, hiking, boating, kayaking, canoeing and scuba diving. Several ship wrecks tempt divers to explore their watery ruins. Isle Royale National Park is closed November 1 to Mid April to all visitors.  
Click here to see maps, transportation information, tips and things to know before you go.
Shiawassee National Wildlife Refuge, located 5 miles south of Saginaw, is outstanding for hiking, kayaking, biking, bird watching and enjoying nature at its finest! 

WHY SHOULD YOU GO? The Refuge offers quiet wooded trails with that healing, back-to-nature feeling that we all crave.  It's perfect when you want a break from technology, work and well, let's be honest...a break from people.  OH, and it has great photographic opportunities!  
See tips, maps and "know before you go" invaluable information here!