St Joe Michigan: Best Things to Do in St Joseph (Hotels, Silver Beach, Lake Michigan, Downtown Shopping and the Iconic Carousel)
St Joe Michigan | By Sherry Trautman | Traveling Michigan
St Joseph Michigan is a gorgeous beach town featuring Silver Beach (who doesn't love Lake Michigan?), great downtown shopping, the iconic Silver Beach Carousel, great restaurants, and lots of fun activities for families and couples.  Ice cream anyone?

The city of St Joseph Michigan is definitely a beach goers paradise. It's also my hometown so of course it holds a special place in my heart.  Summer evenings in St. Joseph are such a magical time as the noisy beach goers have vacated, leaving only the sounds of the seagulls and peaceful lapping water.  If you haven't experienced a St Joseph Michigan sunset, your life isn't complete.
The unparalleled views of sparkling Lake Michigan are absolutely stunning, especially while strolling along the beach.  I also love meandering along the paved dune path located high above the beach.  This high vantage point offers breathtaking views of the beach, sparkling Lake Michigan and the beautiful St. Joseph pier. 
Relish in the beauty of the sunset as the sky changes from glorious rich hues of pinks, oranges and reds.
Evenings overlooking Lake Michigan gives me such a sense of peace and re-balancing. The hectic day is forgotten as the lapping waves calm my mind and soul.  
St Joe Michigan Sculpture Along the Pier
"And You, Seas" by sculptor, Richard Hunt was commissioned in 2002 by the Krasl Art Center of Art of St Joe Michigan and the Berrien County Department of Parks and Recreation.  The stainless steel sculpture stands 55 feet tall and has weathered winds over 100 miles per hour!!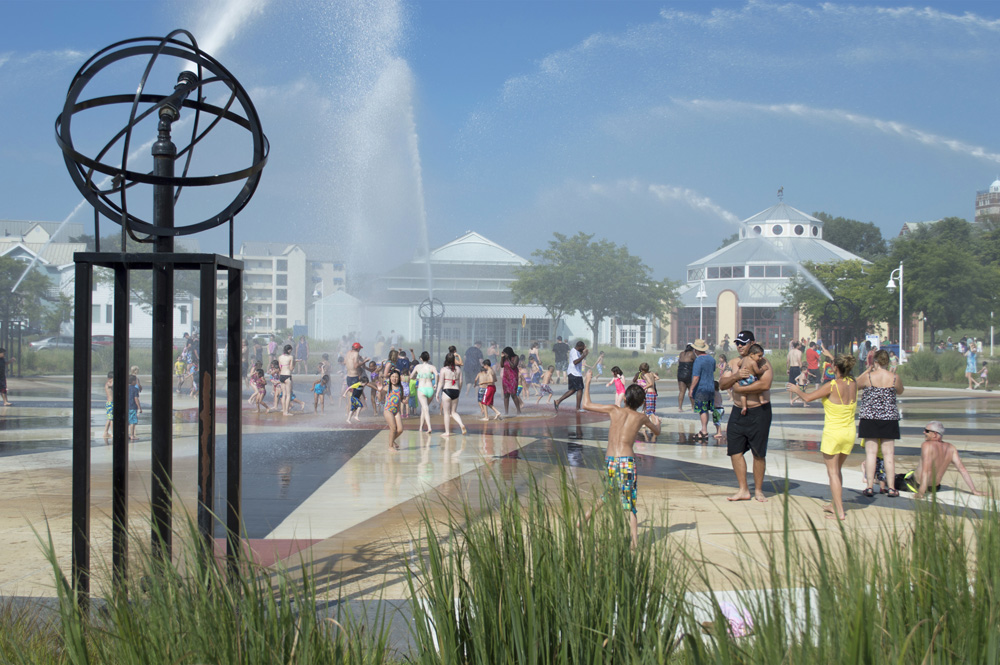 Whirlpool Compass Fountain
My Favorite Things to Do in St Joseph Michigan
Walk along the bluff overlooking the lake.  If you're lucky, a swing (big enough for two) will be free.  The breezes are fantastic on a summer day as you watch the sailboats drift down the river. 
Wander through the shops in downtown St Joe Michigan and of course, sip a cup of hot chocolate at the Chocolate Cafe.  Ask if it can be served with a chocolate spoon...ooohhhh (Homer Simpson style)
Walk along the pier to watch boats of all kinds drifting down the river and out to the lake.  We love to watch the jet skiers showing off their best jumps.
Play in the free water cannons and fountains at the Whirlpool Compass Fountain!  It's right across from the Silver Beach Carousel near the beach.
Ride the Silver Beach Carousel!  If it's a hot day, cool off in the air conditioning and pick your favorite animal!  Be sure to check their website to verify their hours.  It changes with the seasons.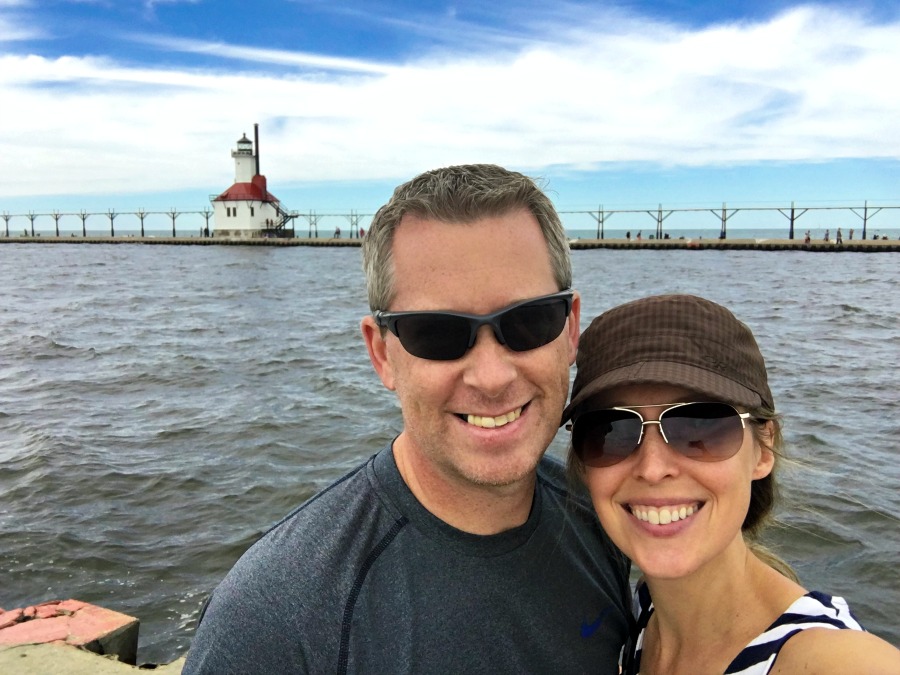 Awesome Day on the Pier in St. Joe, Michigan
Experience Silver Beach in St Joseph Michigan
My niece (in the pink polka dots) just loves building sand castles at the St Joe Michigan Silver Beach!  The beach can be very busy in the middle of summer, so if you want to park in the close Silver Beach paid lots, you need to arrive by 10:30 am. 
Public Restrooms on the beach are scarce.  There is one main bathroom on the beach but be prepared to wait in long lines.  If you are up for a walk, just past Silver Beach Pizza are stairs heading to the top of the bluff. There are restrooms near the top of the stairs.  St. Joseph Today Welcome Center located at 301 State Street (on the bluff) also has a restroom. 

Beach Parking-If you want to park in the beach lot in the prime summer months (for a fee), get there well before noon.  
Best Restaurants in St Joseph Michigan
The Buck-I am OBSESSED with eating outside in the summer. Drives Chris nuts.  But he puts up with me because he loves me. ;)  ANYWAY, they have a great deck on the back with nice breezes and of course, good food.  I love the salmon salad and Chris always orders the burger.
Silver Beach Pizza-Yep, you can eat outside.  I love this place.  BUT it is SWAMPED during the summer so, get there early.  You can also be placed on a waiting list and they will text you when your table is ready.  As a note, they have an upper deck that is adults only, 21 and over.  It's reservation only, so reserve your table early!  Enjoy a beverage and pizzas with a view of the water cannons and the gorgeous lake.
Clementine's Too-Again, you can eat outside, overlooking the river.  This restaurant is on Broad Street, away from the busy beach area. 
You must try their house-made onion rings served on a wooden peg...yum!  And I love their steak salad.
St Joseph Michigan Hotels
When staying in St Joe Michigan, it's all about location.  We recommend hotels right in the downtown area for easy access to Silver Beach, the pier, Lake Michigan, downtown St Joseph shopping and restaurants.
From a local's perspective (that's me), the Boulevard Inn is THE place to stay when in St Joseph. It's right across the street from the bluff where you can walk down to the beach.  You can't get any closer to the annual art fair in July.  The Boulevard Inn has a great restaurant with outside seating and you can walk to all the St Joseph downtown shops. 
The Inn at Harbor Shores is also awesome. This lakeside inn features a marina, waterfront restaurant "Plank's Tavern," dockside bar, full service spa, coffee shop & wine bar, 12 miles of walking trails, water sports rentals with launch, bicycle rental, beaches and shops within a 5 minute drive.  All guestrooms feature a sliding glass door leading to a private balcony, undercounter refrigerator and more. Fitness center, outdoor pool, indoor pool...Address: 800 Whitwam Dr, Saint Joseph, MI 
Favorite St Joseph Michigan Events
Chalk the Block happens the beginning of every August in St Joe Michigan.  Unbelievably talented artists take to the streets to create magnificent works of art IN CHALK!
I am always freaked out it will rain before everyone has a chance to enjoy the art before it is washed away!!  
---
Tips From A St. Joe Native!
By Featured Contributor-Larry Collin (my dad!)
St Joe Michigan is a great little Lake Michigan town in the Southwest part of the state.  Silver beach and the light house are the main reasons why people love this visit this area.  It is also very family friendly.  There are so many things to do with your family, like the Curious Kids museum where kids engage in hands-on science things to do. 
The interactive Whirlpool Compass Fountain is a great place for kids to play and even the adults have fun; if one doesn't mind getting WET! Plus it's free!!
Boating, kayaking (rent from the St. Joseph River area), stand-up paddle boarding (rent them on the beach area), swimming, building a sand castle, playing on the playground equipment like slides, swings, jungle gym and other activities (on the beach) are great summer activities.
Another family fun activity is renting a Surrey Tram built for three to nine adults plus two kids (all pedaling around the downtown area).  
Walking out on both piers (north and south), seeing the lighthouse and enjoying the boats are enjoyable. Near the interactive fountain is the Silver Beach Carousel that is indoors taking one back-in time.  You can ride all different kinds of animals and there is a spinner that up to four can spin around as the carousel goes around.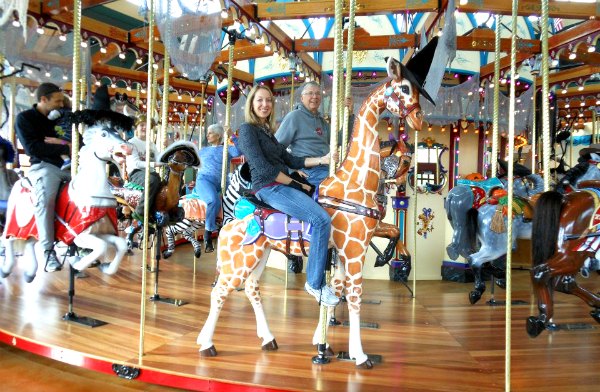 Dad and I riding the Carousel!
The downtown area is great for shopping and restaurants.  Schu's Bar and Grill has great potato soup, salads and fish. When the weather is nice, you can eat outdoors with a view of Silver Beach and Lake Michigan.  You can't beat watching the sunset while enjoying a glass a wine on their patio! 
The Buck for beer and great burgers with roof top dinning overlooking the Silver Beach area. 
Broad Street Cafe offers a variety of sandwiches including fresh bagels with smoked turkey breast with lots of topping choices.  I enjoy the feta and spinach bagels.  The fun part is choosing your bagel!  Oh and don't forget to get a coooooookie!  
Away from the lake area located on Hightop road by the fast food restaurants is Papa Vino's Italian restaurant (pastas, steak and shrimp) and it is one of my favorite places to eat. 
On the bluff area there is an old cannon pointed out towards the Lake that once protected the area from invading ships.  Kids can sit on it and take pictures pretending to be pirates!  ARRR!  In all, St Joe Michigan is a great place to visit in the summertime for the entire family!
St. Joseph Today Welcome Center located at 301 State Street (on the bluff) can help you plan your day.