Exquisite Tannery and Memorial Falls Are Two of the Best Waterfalls in Michigan's Upper Peninsula
Exquisite Tannery and Memorial Falls in Michigan's Upper Peninsula | By Sherry Trautman | Traveling Michigan
If you are searching for waterfalls that pack a WOW factor combined with a good hike in Munising, the Tannery and Memorial falls are perfect for you!  These twin waterfalls in Michigan's Upper Peninsula are jaw dropping and the hike to them is just as awe inspiring. 
Parking Map for Tannery and Memorial Falls
You have two options for parking at the Twin Falls, Tannery and Memorial Falls. 
Option 1. Park in a small dirt lot on Washington Street then cross E. Munising Ave to stairs that lead to the two falls.  The Blue path leads you to Memorial Falls and the Green path leads you to Tannery Falls. 
Option 2. Park at the end of Nestor Street on the right side only. There is a sign to the entrance to the path leading to Memorial Falls.  There is a second path leading away from Memorial Falls taking you to Tannery Falls. 
Memorial Falls
Tannery Falls
Tannery Falls is an exquisite waterfall in Michigan's Upper Peninsula.  Half the fun is "finding it" after walking along a fabulous towering sandstone cliff and forest trail.  
Be Sure To Bring: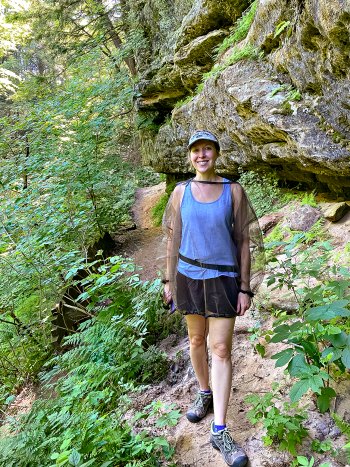 Water
Sunglasses
Bug Spray or wear a bug jacket. This one is invaluable and has a hood.  It comes to right below my shorts and is a Medium.
Fun Things to Do in Munising
Munising Michigan has so much to offer, such as lighthouses, boat cruises, beaches, waterfalls and hiking! 
Visit our official Munising page for our reviews on places to eat, the Rip Tide Ride, places to visit and things to see. 
Pin This Tannery and Memorial Falls Page
Want More Waterfalls and FUN? 
See Two More Options Below!!

1.  45 Upper Peninsula Waterfalls and Jaw-Dropping Scenic Spots to Visit This Summer!
See our whole page dedicated to 45 Upper Peninsula Waterfalls and Jaw Dropping Scenic Spots Your Family Will Love This Summer!
OR...Another Awesome Choice
2. Ultimate Upper Peninsula Road Trip!

Zoom in and out of the map to see our stops!
Click the links below for full city guides, tips, maps, photos and things to do!
Keep Reading!
Subscribe To Receive Exciting Destinations, Day Trips and Fun Directly to Your Inbox!
Sign Up to Our Newsletter to Get the 5 Free Must Have Apps to Travel in Michigan Like a Boss!
Follow Us on Instagram