Exquisite Tannery and Memorial Falls Are Two of the Best Waterfalls in Michigan's Upper Peninsula
Exquisite Tannery and Memorial Falls in Michigan's Upper Peninsula | By Sherry Trautman | Traveling Michigan
PLEASE NOTE, TANNERY AND MEMORIAL FALLS ARE CLOSED UNTIL LATE 2022.
"Beginning on May 5, 2021, the Michigan Nature Association will be temporarily closing the Twin Waterfalls Memorial Plant Preserve (also known as Memorial, Tannery, and Rudy M. Olson Falls) to all visitors. MNA is taking this action to make the following improvements to the preserve:
Reroute the walking trail system

Address erosion sites

Install new trailhead infrastructure and alter access sites

Upgrade trail and signage
These improvements seek to balance the need for protecting the Nature Sanctuary and enabling visitors to access and enjoy the falls long into the future.
Updates to the work being conducted will be shared as they are available, so be sure to check michigannature.org, as well as our social media pages, for more information.
The re-opening date of the Nature Sanctuary will depend on several factors including contractor timelines, weather, and others, but is anticipated to be re-opened in late 2022. During this time, visitation to Twin Waterfalls Memorial Plant Preserve will be strictly prohibited."
If you are searching for waterfalls that pack a WOW factor combined with great places to hike in Munising Michigan, the Tannery and Memorial falls are perfect for you! 
These twin waterfalls in Michigan's Upper Peninsula are jaw dropping and the hike to them is just as awe inspiring. 
Parking Map for Tannery Falls and Memorial Falls: See Where to Park!
Parking for Twin Falls: Tannery and Memorial Falls. 
Please park on Cleveland Street, not on Nestor Street.  It's a short work to the entrance to the falls on Nestor Street.

Do not park on Washington Street as there are no parking signs posted. (This info has been verified by MNA and the city of Munising.
Memorial Falls
Tannery Falls
Tannery Falls is an exquisite waterfall in Michigan's Upper Peninsula.  Half the fun is "finding it" after walking along a fabulous towering sandstone cliff and forest trail.  
Be Sure To Bring: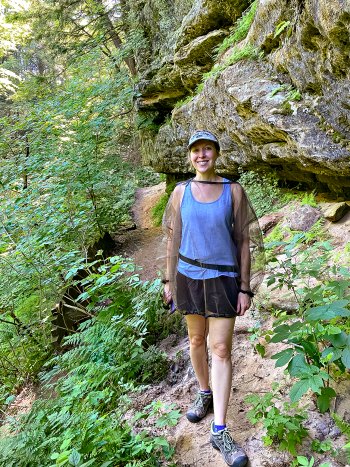 Water
Sunglasses
Bug Spray or wear a bug jacket. This one is invaluable and has a hood.  It comes to right below my shorts and is a Medium.
Fun Things to Do in Munising
Munising Michigan has so much to offer, such as lighthouses, boat cruises, beaches, waterfalls and hiking! 
Visit our official Munising page for our reviews on places to eat, the Rip Tide Ride, places to visit and things to see. 
Pin This Tannery and Memorial Falls Page
Want More Waterfalls and FUN? 
See Two More Options Below!!

1.  45 Upper Peninsula Waterfalls and Jaw-Dropping Scenic Spots to Visit This Summer!
See our whole page dedicated to 45 Upper Peninsula Waterfalls and Jaw Dropping Scenic Spots Your Family Will Love This Summer!
OR...Another Awesome Choice
2. Ultimate Upper Peninsula Road Trip!

Zoom in and out of the map to see our stops!
Click the links below for full city guides, tips, maps, photos and things to do!
Keep Reading!
Subscribe To Receive Exciting Destinations, Day Trips and Fun Directly to Your Inbox!
Sign Up to Our Newsletter to Get the 5 Free Must Have Apps to Travel in Michigan Like a Boss!
Follow Us on Instagram