Peach Picking Michigan (Map) | Best Orchards and Farms for U Pick | Festivals | When Is the Season for Picking Peaches Near Me?
Best Farms and Orchards for Peach Picking Michigan | By Sherry Trautman | Traveling Michigan
Don't you just love Michigan Peach Season? There are fun peach festivals and lots of U pick peach farms and orchards in Michigan!  Grab our interactive map of Peach Farms in Michigan and you will be berry picking in Michigan today!
Here's a great list of Michigan U-Pick peach farms located in the Northwest, Northeast and Southeast quadrants of lower Michigan, plus the upper peninsula!
Where Can I Pick Peaches in Michigan?
Check Out These Fantastic Orchards and Farms for U Pick Peaches in Michigan
All of these peach farms in Michigan and u pick peaches are also listed on the interactive map below so you can easily find berry picking near you! 
You can go peach picking in Traverse City, Lansing, Grand Rapids, South Haven, Coloma, Ludington, Kewadin, Eau Claire, Fenton, Berrien Springs and all across our state!
Be sure to visit your intended farm's website or Facebook page for dates of picking, availability (sometimes they close for a few days between picking to allow the fruit to ripen on the trees), hours and costs.
Where can I pick peaches in Southwest Michigan?  Best peach picking Michigan locations:
Christofferson Farms - 3441 S. Morton Rd. Ludington, MI 49431

Country Mill - 4648 Otto Rd. Charlotte, MI 48813

Crane Orchards U-Pick and Corn Maze - 6054 124th Ave, Fennville, MI 49408
Erie Orchards and Cider Mill - 1235 Erie Rd. Erie, MI 48133
Fruit Acres Farm Market & U-Pick - 3452 Friday Rd, Coloma, MI 49038
King Orchards - 4620 N M-88, Central Lake, MI 49622 and 986 US 31 S, Kewadin, MI 49648
Lehmans Orchard U-Pick and Winery - 2280 Portage Rd. Niles, MI 49120
McCallum's Orchard and Cider Mill - 5697 Harris Rd. Jeddo, MI 48032
Moelker Orchards & Farm Market - 9265 Kenowa Ave SW, Grand Rapids, MI 49534 (Market only, no u pick) Ready Mid August
Overhiser Orchards - 6405 109th Ave, South Haven, MI 49090 (August 1st - September 5th)
Prillwitz Fruit Farms - 7196 East Main St. Eau Claire, MI 49111 (August 6, ready)
Royal Farms Inc. - 10445 N. US Hwy. 31 Ellsworth, MI 49729. Farm Market-no u pick.

Spicer Orchards Farm Market, Cider Mill, Fudge, Bakery

- 

10411 Clyde Rd, Fenton, MI 48430 (Red Haven - Aug 15th to Sept 5th)
Stovers Farm Market & U Pic - 7837 M-139, Berrien Springs, MI 49103
Summer Sweet Orchard - 1889 92nd St SE, Caledonia, MI 49316


We hope you love peach picking Michigan end of July through mid September!
Interactive Map of U Pick Peaches in Michigan!! 
Click here for a live Google Map of Places to Pick Michigan Peaches  

How to Use the Interactive Peach Picking Michigan Map Above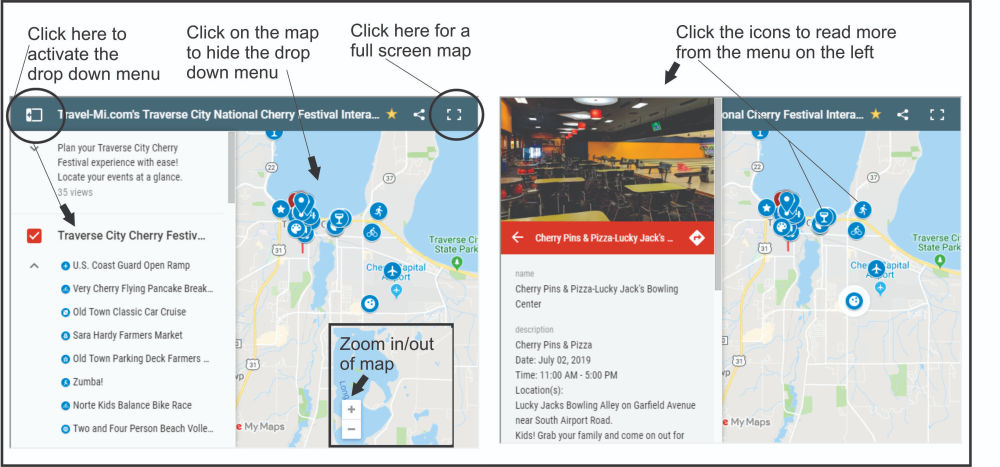 Zooming in: Click on the plus and minus buttons at the bottom left of the map to narrow in or out of the map. Or scroll with your mouse or use two fingers on your phone.
Moving the Map: If using a mouse, click on the little hand icon to move the map around. 
More Info: Click or touch the colorful pins to obtain more information about the event or schedule. 

Drop Down Menu: Click or touch the square with the small arrow on the upper left side of the map for a drop down menu to find particular events or locations.

Expanded Map View: Click the grid marks on the upper right of the map to expand the map.
It's Michigan peach season! Are you ready to visit lots of peach orchards and farms in Michigan this summer?  
Perfect farms to visit during your excursions to Traverse City, Lansing, Grand Rapids, South Haven, Coloma, Ludington, Kewadin, Eau Claire, Fenton, Berrien Springs and all across our state!

Plus, don't miss Michigan Peach Festivals in Romeo and Coloma!
Buy local and support our farmers!
Are Michigan peaches ready?

Mid July is is the prime Michigan peach picking season and is best time for berry picking in general.  See our list of fantastic u pick peach farms in Michigan below and our interactive map above!
Due to the moderating effect of Lake Michigan, peaches grow really well near the  western side of Michigan and also in the southeastern part of the state.
Go peach picking Michigan!
When can you pick peaches in Michigan?

Generally, peach picking season begins in late July and runs through mid September. Mid August is the prime picking time. Of course, it is weather dependent. 

See our list of awesome peach orchards and farms in Michigan below! Go peach picking Michigan!
What Else Can We Pick Now?
Be sure to contact your intended farm to see their schedule as it varies depending on the weather, location in the state, variety of fruit and if they have fruit available for picking (some farms wait a week between heavy pickings).
Michigan Peach Festivals - Romeo and Coloma Michigan
August is the month for juicy Michigan Peach Festivals! 
Glad Peach Festival - August. The Coloma Glad-Peach Festival (located just north of I-94 exit 39) is an annual celebration of the gladiolus flowers and peaches, both grown locally.
Romeo Peach Festival, Labor Day Weekend, Romeo's Michigan Peach Festival is held every Labor Day weekend.  See colorful parades, bed races, craft shows, and much more. Perfect Michigan family event.
"Autumn is the mellower season, and what we lose in flowers we more than gain in fruits."
― Samuel Butler
Pick Michigan Cherries in July!
Ultimate List of U Pick Farms for Strawberries, Peaches, Apples, Cherries, Blueberries, Gourds, Saskatoons, Gooseberries and More!
Subscribe To Receive Exciting Destinations, Day Trips and Fun Directly to Your Inbox!
Sign Up to Our Newsletter to Get the 5 Free Must Have Apps to Travel in Michigan Like a Boss!
Join Us on Instagram-We Post Fun Stuff! 
Other Cool Pages You Might Like!
Do you have a favorite Michigan U Pick Farm?
Do you have a great story about it? Share it!