8 Romantic Michigan Valentines Restaurants (That You Just Gotta Try!)
Michigan Valentines Restaurants | By: Sherry Trautman | Travel-Mi.com
WHOOT! It's Valentine's Day, Loves!  Make this year a memorable one with a phenomenal meal and time out on the town with your special loved one!  You will come out looking like a winner with these phenomenal restaurants!
So let's get to it. Below is a list of our favorite tried-and-true Michigan Valentines Restaurants.  Since it's a day of love, it's important to share a great meal with outstanding service, food and atmosphere.
Since we have personally eaten at these fantastic Michigan Restaurants, you can book your reservations with confidence! (and book early!)
Fantastic Michigan Valentines Restaurants
Granite City Brewing- Located in the GM Renaissance Center, 100 Renaissance Center Suite 1101, Detroit, MI 
So. My friends, if you aren't the fancy, gotta wear a tie kind of place, head to Granite City Brewing.  We love this place!  Be sure to order a flight of beers to go with your meals.  Their pizzas are out of this world and I love the tacos.  

Gratzi- 120 E Main St, Midland, MI 
If you are looking for the perfect Italian meal, Gratzi is outstanding in the big three in my book: Service, food and atmosphere.  
That's why we love dining here! It's a fantastic experience each time. Gratzi's menu starts with antipasti and includes artisan meats and cheeses brought in from different parts of Italy. 
There are lots of pasta entrees, one of our favorite is the "alfredo da tavola" as your server will wheel out a giant wheel of Parmigiano Reggiano to your table on a cart.  Your server will then proceed to toss fresh al dente pasta and hot cream in the huge cheese wheel in front of you. Serious, how cool is that?
Oh, and the creme brulee is divine!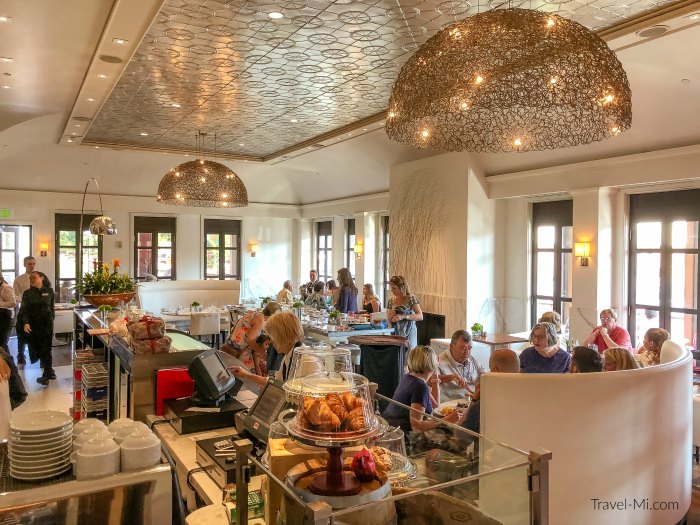 Cafe Zinc, Midland, MI By Travel-Mi.com
Cafe Zinc: 111 W. Main Street, Midland, MI

We love this intimate 40 seat French bistro-themed, casual dining restaurant! It's one of our favorite places to enjoy dinner with friends and family.  The chef prepares a daily assortment of beautiful house-made pastries and delicious bread. Plus the atmosphere is so comfortable!
Zazios-Radisson Plaza Hotel, 1st Floor, 100 W. Michigan Ave. Kalamazoo, MI.
Zazios is another absolute favorite, we have eaten here at least 40 times!  You can't go wrong!  Celebrate Valentine's Day with a special 5-course interactive dinner at the Chef's Table with beverage pairings!  Reservations necessary.
Blackstar Farms-10844 E. Revold Rd. Suttons Bay, MI
We love the atmosphere at Blackstar Farms. This summer we engaged in a Harvest dinner and had a blast!
Cooking Class, Perfect Dinner for Two.  Create a romantic dinner for your sweetheart with this Valentine's themed class.
Valentine's Harvest Dinner, The special menu was curated with couples in mind, but feel free to bring a table full of loved ones! 

Show Shoe Rentals, Wine and Cheese Tasting and more!
And for the last three Michigan Valentines Restaurants:
Zingerman's Road House, 2501 Jackson Ave., Ann Arbor, MI.,
Stop in for one heck of an amazing meal!  We looove their slow roasted bbq ribs! I fell in love with their mustard dipping sauce.  
Schuler's Restaurant and Pub in Marshall serves delicious dinners for that special someone in your life. To celebrate, Schuler's has prepared a gourmet meal enhanced with superb wines and specialty cocktails to add to your palette. Complete your meal with a delicious dessert! 

Trattoria Stella, 1200 W 11th St, Unit One, Suite One, Traverse City, MI 
We had a great meal while visiting the Village at Grand Traverse Commons. We enjoyed the Old World atmosphere with very professional service and a great wine selection. We ordered a cheese and meat board - it was great!
We hope you received some inspiration by our Michigan Valentines Restaurants.
You May Also Like
Subscribe To Receive Exciting Destinations, Day Trips and Fun Directly to Your Inbox!
Sign Up to Our Newsletter to Get the 5 Free Must Have Apps to Travel in Michigan Like a Boss!
Follow Us on Instagram 
Do you have a tip or suggestion for Valentine's Day activities in Michigan?
Do you have a great story or suggestion about this? Share it!