10 Romantic Michigan Valentines Restaurants 2022 (Best Places to Eat on Valentine's Day!)
Michigan Valentines Restaurants | By Sherry Trautman | Travel-Mi.com
WHOOT! It's Valentine's Day, Loves!  Make this year a memorable one with a phenomenal meal and time out on the town with your special loved one!  You will come out looking like a winner with these phenomenal Michigan Valentines Day restaurants!
Fantastic Michigan Valentines Restaurants
So let's get to it. Below is a list of our favorite tried-and-true Michigan Valentines Restaurants.  Since it's a day of love, it's important to share a great meal with outstanding service, food and atmosphere. So if you are wondering where to eat on Valentine's Day, try these!
Since we have personally eaten at these fantastic Michigan Restaurants, you can book your reservations with confidence! (and book early!)
1. Artisan Waterfront Restaurant and Tavern: Traverse City
If you are searching for an incredible meal, outstanding service and romantic ambiance, you must go to the Artisan Waterfront Restaurant located in the Delamar Hotel in Traverse City. 
Above is the more casual side of the restaurant and behind the bar is a more intimate setting. 
I absolutely had the best meal ever while spending a few days at their hotel this past fall.  The chef prepares from-scratch meals that are to die for. 
Oh and trust me...you absolutely must get desert.  
I highly recommend spending the night at the Delamar Hotel, it's absolutely stunning. I have a ton of photos of the hotel and you will love it.
2. Gratzi: Midland Michigan (Incredible Italian)
Gratzi - 120 E Main St, Midland, MI 

If you are looking for the perfect Italian meal, Gratzi is outstanding in the big three in my book: Service, food and atmosphere.  
That's why we love dining here! It's a fantastic experience each time. Gratzi's menu starts with antipasti and includes artisan meats and cheeses brought in from different parts of Italy. 
There are lots of pasta entrees, one of our favorite is the "alfredo da tavola" as your server will wheel out a giant wheel of Parmigiano Reggiano to your table on a cart.  Your server will then proceed to toss fresh al dente pasta and hot cream in the huge cheese wheel in front of you. Serious, how cool is that?
Oh, and the creme brulee is divine!
3. Cafe Zinc: Midland Michigan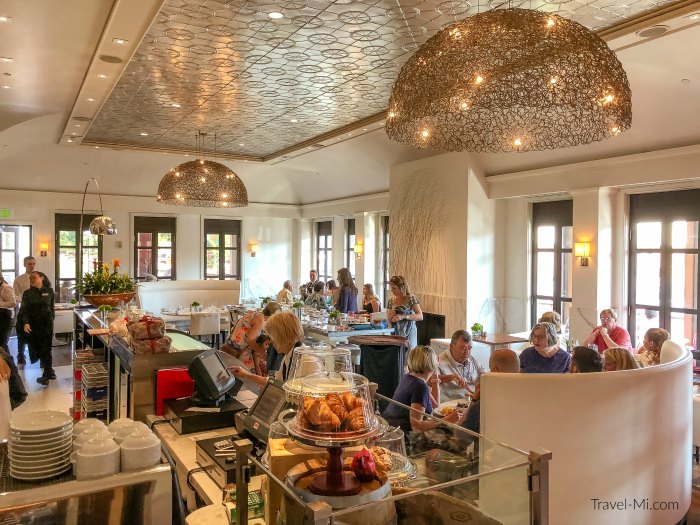 Cafe Zinc, Midland, MI By Travel-Mi.com
Cafe Zinc: 111 W. Main Street, Midland, MI

We love this intimate 40 seat French bistro-themed, casual dining restaurant! It's one of our favorite places to enjoy dinner with friends and family.  The chef prepares a daily assortment of beautiful house-made pastries and delicious bread. Plus the atmosphere is so comfortable!
4. Blackstar Farms: Suttons Bay (Near Traverse City)
Blackstar Farms: 10844 E. Revold Rd. Suttons Bay, MI

We love the atmosphere at Blackstar Farms. This summer we engaged in a Harvest dinner and had a blast!
Or enjoy a meal at their Hearth and Vine Cafe, rent some snow shoes and get outside! Afterwards, enjoy a wine and cheese tasting in their tasting room!
5. The Whitney: Detroit
Valentine's day restaurants Detroit:
The Whitney: 4421 Woodward Ave, Detroit, MI
Would you like to enjoy an intimate dinner with your loved one in an incredible mansion this Valentine's Day?
I do!! I mean how romantic is that?
At the Whitney, you will enjoy a four course dining experience that is so much more than simply a meal.  Visit The Ghostbar for a cocktail before or after dining in one of the Mansion's opulent dining rooms. 
You can also enjoy a Historical tour (available most evenings) to make your celebration at The Whitney even more meaningful. This is why we pick The Whitney as a great choice for best Detroit restaurants for Valentine's Day.
6. The Apparatus Room: Detroit
The Apparatus Room: Located in the Detroit Foundation Hotel is an excellent choice for a romantic Valentine's Day dinner. We absolutely love the cozy lounge area with comfy chairs and couches to enjoy a drink before or after dinner. 
The incredible drop down lights really add to the intimate ambiance to the restaurant. Try the deviled eggs and Smoked whitefish dip!
 It's one of our top choices for Valentine's Day Restaurants in Detroit.
7. Real Seafood Company: Bay City
We love dining at Real Seafood in Bay City Michigan. Not only do you get a great meal but the views of the Saginaw river are lovely. 
I love their salmon or Chris and I will share the Surf and Turf (filet and lobster tail) with a couple sides. 
Keep this restaurant in mind for this summer as you can eat outside on their deck overlooking the river.
8. Trattoria Stella: Traverse City
Trattoria Stella, 1200 W 11th St, Unit One, Suite One, Traverse City, MI 
We had a great meal while visiting the Village at Grand Traverse Commons. We enjoyed the Old World atmosphere with very professional service and a great wine selection. We ordered a cheese and meat board - it was great!
We hope you received some inspiration by our Michigan Valentines Restaurants.
9. The Delamar Hotel and Artisan Waterfront Restaurant and Tavern in Traverse City Michigan
Valentine's Day Dinner Specials available February 11 - 14, 2022 at Artisan Waterfront Restaurant & Tavern.
The restaurant at Delamar Traverse City has an incredible Great Lakes inspired menu with local seafood, farm fresh fare from an onsite garden and local farms, and homemade pastries. 
The Delamar is an incredible hotel in Traverse City! Read about our stay!
10. Chateau Chantal Traverse City
15900 Rue de Vin, Traverse City, MI   49686
Chateau Chantal Valentine's Wine Dinner - Friday, February 11 and Sunday, February 13, 2022
Celebrate Valentine's Day at Chateau Chantal!  Your evening begins with a cellar tour at 6 pm followed by a 6:30 pm dinner seating in their lovely 2,000 sq ft dining room.  Your ticket includes food, wine, tax and tip - all inclusive!  
You May Also Like
Subscribe To Receive Exciting Destinations, Day Trips and Fun Directly to Your Inbox!
Sign Up to Our Newsletter to Get the 5 Free Must Have Apps to Travel in Michigan Like a Boss!
Follow Us on Instagram 
Do you have a tip or suggestion for Valentine's Day activities in Michigan?
Do you have a great story or suggestion about this? Share it!