2022 Michigan Herbalist Classes, Walks, Workshops, Folk Schools, Events and Incredible Herb Fairs +Blacksmithing, Woodworking, Outdoor Cooking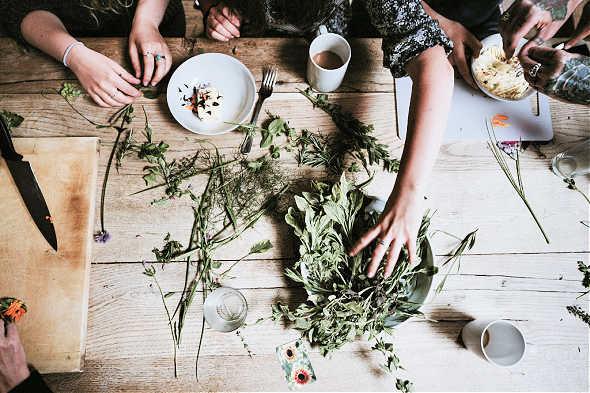 Michigan Herbalist Classes, Walks, Workshops, Folk Schools, Events and Incredible Herb Fairs +Blacksmithing, Woodworking, Outdoor Cooking | By Sherry Trautman | Traveling Michigan
Classes offered in Ann Arbor - Milford - Chelsea - Scotts
After having my mind blown from attending a week-long class at a folk school out of state, I was determined to find some local Michigan herb classes, walks, workshops or fairs to attend. I'm obsessed with learning in general, but I'm particularly interested in health, well being and learning sustainability.
You have discovered my research page, of which I am hoping to attend a few of these herb schools or herb events below in the upcoming months.  I have not attended any of these yet so they are not recommendations, simply ideas...If you have any suggestions please let me know!
"Life isn't about finding yourself. Life is about creating yourself." — George Bernard Shaw

Tillers International Is an Incredible Folk School 
School location:  10515 OP Ave E, Scotts, MI,
Types of classes: Blacksmithing, draft horses, farming, herb classes, Appalachian brooms, tin work, etc. Classes change. 
My Thoughts: Sounds so amazing! Can be pricey. 
Pros: Classes year round. 
Per their website: "Dedicated to teaching woodworking, metal working, animal handling, and other skills that can be used for personal fulfillment, professional growth, or international development."
Here's their link.

Great Lakes Herb Faire
The 2022 Great Lakes Herb Faire is September 9th-11th, 2022 in Chelsea, MI. Cedar Lake Outdoor Center, 2500 Pierce Rd, Chelsea, Michigan
My Thoughts: Sounds super freakin' cool, so relaxed and most like a folk school.  
Pros: Close by for me, affordable ~$200, plus meal plan ~$90.  Intensive classes are extra.
Per the website: "The weekend includes - brilliant teachers, classes for all levels, fun evening activities, music and dance, a wonderful kids' program, creative vendors and, of course, phenomenal food. The grounds are gorgeous and expansive, encompassing several diverse ecosystems and a plethora of wild herbs, with connections to local parks and trails. The Faire is a family-friendly event (with family pricing available). We believe herbs and natural well-being are an important part of our everyday home lives, as well as, for those who are inclined, a more in-depth discipline." 

Here's a link to the Great Lakes Herb Faire!

Kensington Metropark: Chief Pontiac Programs Focused on Teaching and Preservation of Old World Skills
Kensington Metro Park: 4570 Huron River Parkway, Milford, MI. Located at the Kensington Metroparks Farm Center.  $10 vehicle entry fee is not included with the classes. 
While attending a sugaring event, we discovered Chief Pontiac also teaches lots of classes.
Learn early American skills Blacksmithing, Woodworking, Life Skills (such as Fire Starting by Flint and steel, Rope making and splicing and more), Bead work, Weaving and Spinning and fiber arts, and Outdoor Cooking classes.
Michigan Folk School in Ann Arbor
Address: 7734 Plymouth Rd, Ann Arbor, MI 
OK now this is cool.  The Michigan Folk School in Ann Arbor honors and shares the old ways of doing things by offering to teach skills you once might have learned while sitting on your grandparents' porch.  They have a huge offering of at least 50 classes each quarter. Medicine from plants, healing creams and salves, herbs for coughs, colds and flu classes sound interesting. Plus, they are affordable!
The Michigan Folk School in Ann Arbor teaches: 
Fiber Dying, Intermediate Blacksmithing, Broom Plaiting, Crafting a Leather Bag, Leather Pet Collars and Leashes, Beekeeping, Leather Suspenders and Belt, Multi-Disciplinary Knife-Making, Building a Teardrop Trailer, Fruit Tree Grafting, Cheese Making, Timberframing a Slovenian Buzz House, Outdoor Survival, and lots of Organic Gardening classes.
Bear Earth Herbals-Michigan Herbalist Classes
Various herb related classes, workshops, yoga, etc.  Classes are located throughout Michigan so it's best to check the website. 
Herb Craft - Jim McDonald
Jim offers Michigan herb classes, workshops, weed walks, and other opportunities to infuse one's self in the medicine of plants.  Check out his website.  He teaches at the Michigan Folk School in Ann Arbor.
Subscribe To Receive Exciting Destinations, Day Trips and Fun Directly to Your Inbox!
Sign Up to Our Newsletter to Get the 5 Free Must Have Apps to Travel in Michigan Like a Boss!
Follow Us on Instagram 
You May Also Like
Check out some of the Best Michigan Farm to Table restaurants and experiences! 
Be inspired! 
Let's support Michigan's farmers!