Amazing Michigan Sunflowers and Where to Find Them
Every late July and August, stunning Michigan Sunflowers are a sight to behold! But they can be hard to find! Check out Michigan Sunflowers locations all across Michigan below!
Their cheery faces contrast so beautifully against their bright green leaves.  In the past, I've only seen photos of beauties so I never really understood how magnificent they are in person! 
"Sunflowers end up facing the sun, but they go through a lot of dirt to find their way there." 
― J.R. Rim

Leabo Farm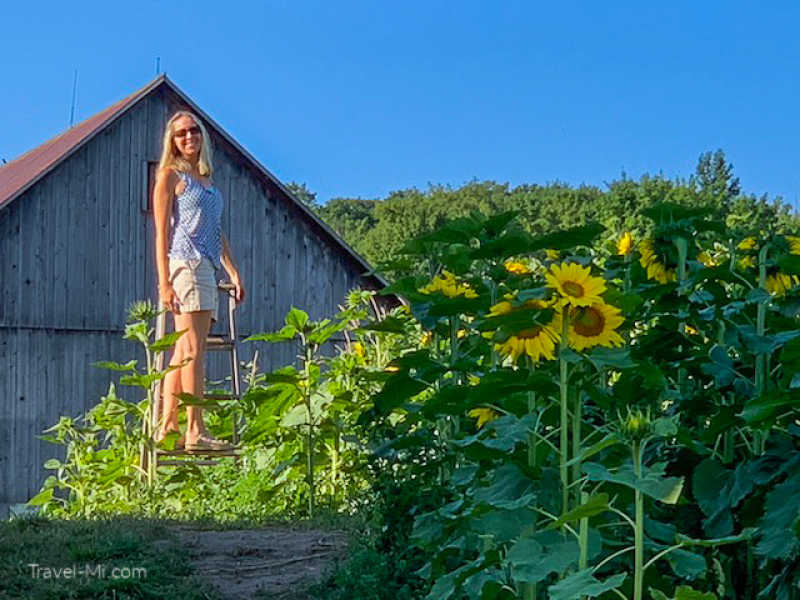 Directions: Head north on S. Joseph Street, turn left onto M204.  It is around a mile down the road on the left.
I am newly obsessed with Michigan sunflowers after we happened across a glorious field with rolling hills of happy yellow sunflowers while on a road trip across Sutton's Bay in the Leelanau Peninsula this summer. 
Leabo farms are super sweet to put out a ladder so viewers can have a birds eye view of the colorful flowers.  You can park in their yard and take as many photos as you like and buy some blooms to cheer up your home or office!
Grandpa Tiny's
 7775 Weiss St, Frankenmuth, MI 48734
Pop on over to Frankenmuth to wander the extraordinary Bavarian village in August.  While you are there, be sure to visit Grandpa Tiny's Farm to pet some cute farm animals and view the amazing sunflowers!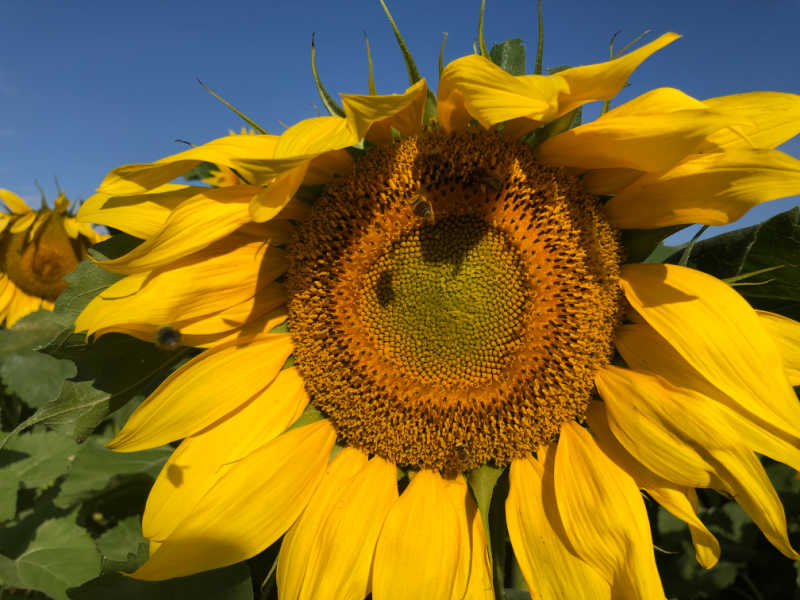 Gull Meadow Farms-Amazing Michigan Sunflowers!
Address: Gull Meadow Farms, 8544 Gull Rd., Richland, MI 49083

Be sure to stop into Gull Meadow Farms in Mid August for their Sunflower Festival!!!  
Families are invited to explore five acres of sunflowers colored yellow, plum, red, white and more!

Farm Manager Justin Wendzel said the multi-colored sunflowers are planted in mid-May and bloom for about two full weeks in August. 
"We love seeing families make memories here at the farm," Wendzel said. "What better way than a field full of beautiful sunflowers? When you see a field of sunflowers you just can't help but smile."
Tickets are around $13 per person, though children under 36 inches tall are admitted free. Each ticket gets visitors a wagon ride out to the sunflower field and one sunflower to take home.
"A sunflower field is like a sky with a thousand suns." 
― Corina Abdulahm-Negura

Hall Farms
Address: 2623 St Nicholas 31st Rd, Rock, MI 
Hall Farms opens its 20-acre Michigan sunflower field to anyone who wants to celebrate the beauty of summer by wandering among their huge, friendly blooms. Be sure to wander the pathways they've made through the 440,000 flowers...so bring a snack, wander and enjoy the beauty of the day!
Oh, and it's FREE!  There's a donation box if you want to contribute toward the items they created to enhance your visit: Observation decks, a hay wagon for photos, giant Adirondack chairs and fun sunflower cut-outs.
Red Egg Farms
Address: 9123 Spring Arbor Rd, Spring Arbor, MI 
In addition to fields of sunflowers, there are pens of cows, goats, and even a llama! Enjoy wagon rides, a corn maze and be sure to stop into the gift shop! 
Oh and Red Egg Farms has treats like cider, doughnuts, popcorn, and cookies.  Pumpkins too! 
Festival:  Sunflower Day at Red Egg Farm in Spring Arbor welcomes people  to walk through their gorgeous sunflower field and cut their own sunflowers.

Spicer's Orchard
10411 Clyde Rd, Fenton, MI
Grab a pic in front of their gorgeous sunflower fields!
Gorby Sunflowers
 2426 30th Street, Allegan, MI 
Visit these sunflowers during their antique festivals!  Make it a full day in beautiful Allegan!
Subscribe To Receive Exciting Destinations, Day Trips and Fun Directly to Your Inbox!
Sign Up to Our Newsletter to Get the 5 Free Must Have Apps to Travel in Michigan Like a Boss!
Follow Us on Instagram, We're FUN!
Popular Posts You Might Love!
Have A Great Story About This Topic?
Do you have a great spot to view sunflowers? We'd love to hear about it!