Silver Lake Michigan Sand Dunes: Fun Things To Do, Jeep or ATV Rentals, Beach and Campgrounds 
Silver Lake, Michigan | By Sherry Trautman | Traveling Michigan
Ahh Silver Lake Michigan-Fun, Sun and TONS of glorious sand. What a gorgeous place to spend a day or a weekend-there are so many things to do at Silver Lake Sand Dunes!  Sand dunes, sparkling beaches, shriek-inducing dune rides...what are you waiting for, let's go!
What is there to do at Silver Lake Michigan?

There are so many things to see and do at Silver Lake!
Hop on a Silver Lake dune ride!
Rent a jeep or buggy to drive on the dunes yourself
Grill at Silver Lake State Park
Enjoy the waves and sand at Silver Lake Michigan beach
Hike and climb the Silver Lake sand dunes 
Fly a kite!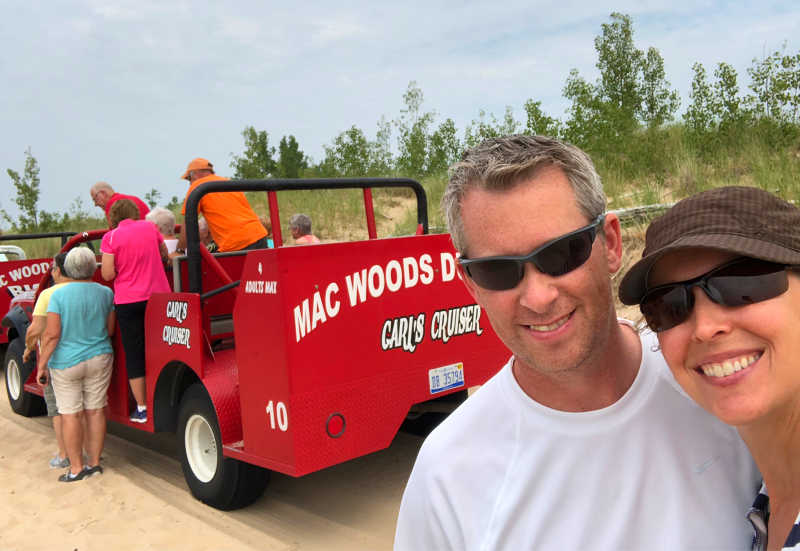 Silver Lake Sand Dunes
The first thing I notice about Silver Lake is the palpable energy of the place.  I can feel the revved up, absolute buzz of the area.  Jacked up jeeps and trucks with their flags flying and coolers packed head out to the staging area to begin their day of fun in the sun and sand.
It's a blast to simply people watch near the circle drive downtown.  Loud vehicles showing off is a constant spectacle.  You can't help but have a fun time and everyone seems giddy to get out on the dunes! 
Planning Your Trip to Silver Lake
We recommend planning a bit before heading to Silver Lake Michigan.  If you are bringing your own vehicle for the dunes there are lots of regulations so check here. 

If you are going on a Silver Lake dune ride, expect your wait to be around 45 minutes to 1.5 hours depending on the time of year.  We did not book ahead off time, just show up.  There are covered areas to wait with bathrooms and a gift shop. Be sure to have water with you.
Go on a Silver Lake Dune Ride!
We really loved our dune ride with Mac Woods Dune Rides! We went all over the dunes and got to get out a couple times to enjoy the beach!  Lots of fun at a great pace!
Climb the Dunes or Fly a Kite!
The Silver Lake sand dunes offer exquisite views of Lake Michigan!
Drive Your Own Dune Buggy, ATV, Truck or Jeep!
If you are driving your own vehicle on the dunes, see our comprehensive guide on where to go, requirements, and equipment.  We've driven the dunes several times and have lots of helpful tips!!

Silver Lake Sand Dunes - Guide to ATV, Truck or Jeep Driving | Map | Requirements | Must-Have Equipment
As avid Silver Lake dune drivers, Chris and I created a guide to ATV or Jeep driving, a map, requirements and must-have equipment to enjoy a day on the dunes.
When Is Silver Lake Sand Dunes Open for the Season?
The Silver Lake Sand Dunes are open April 1 to October 31, Open 9 am to 8 pm until May 1. May 1 to Sept 15 9 am to 10 pm, Sept 15 to Oct 31 9 am-8 pm.  So there you go!

Silver Lake State Park: Hit the Beach! 
We really enjoyed the beach at Silver Lake State Park during our stay. 
The beach was clean. There were restrooms and several shade trees. Silver Lake Michigan beach is a great place to enjoy the day.
Plus, there are lots of places to walk and explore too.  We brought lunch in a cooler and relaxed under the trees.  There are lots of areas at Silver Lake State Park for kids to play and be kids!!
Silver Lake Michigan Camping
Silver Lake Resort and Campground -1786 North 34th Ave. Mears, MI offers great camping sites for both tents and RV's! 
Silver Lake State Park Campground - 8674 Silver Lake Rd, Mears, MI 49436 Awesome camping spots near the beach!
Sandy Shores Campground - 8595 Silver Lake Rd, Mears, MI 49436 Check out their pool! Camp right by the beach!
Be sure to book your hotel or campground early as Silver Lake Dunes is a busy place during the summer! 

Silver Lake Buggy, Jeep or ATV Rentals
Looking to rent a jeep, buggy or ATV to get out onto the sand?  It's really a fantastic way to enjoy the dunes at your own pace.
And the best part?
Want to stop and walk the beach? Enjoy lunch? See the far reaches of the dunes? Use the bathroom? Stop any time you want! Take pictures! YOU can do it! 
Silver Lake Buggy Rentals
Parrot's Landing Jeep Rentals
Wild Bills Silver Lake Sand Dunes ATV Rental

Little Sable Point Lighthouse
287 N Lighthouse Dr, Mears, MI 49436
The Little Sable Point Lighthouse is 115 feet high and one of the tallest working lighthouses on Lake Michigan, visible for 19 miles. In continuous operation since 1874, it is a guardian to ships that pass the Silver Lake Sand Dunes at Mears, Michigan.
The lighthouse is now open for tours!  Call the State Park for dates and hours of operation.  
Restaurants
Silver Lake Road has a few small restaurants along the main road including ice cream, pizza and snack shops. 

Just take a drive around the area to see what looks fun! 
So, if you are searching for a heart pounding quad, buggy or outdoor adventure, Silver Lake Michigan dunes are for you.  There is so much to do! Plus there are at least six campgrounds in the area so start planning your trip today!
Have you Visited Silver Lake? Any Questions?
Do you have a great story about this? Share it!
What Other Visitors Have Said
Click below to see contributions from other visitors to this page...

Can you swim in Silver Lake Michigan? Not rated yet
We will be in the area to climb the dunes and go on dune rides but the kids love to swim, is there a public beach? THANKS! Answer Hi Anne! …