Intriguing Kalamazoo Michigan 
There are so many GREAT Things To Do in Kalamazoo Michigan!  
I adore this city!  I graduated from Western Michigan University (Go Bronco's!) and lived there for around 18 years. This vibrant college town has fantastic restaurants, parks, shopping, walking trails and art centers.
Just recently, an influx in breweries have sprouted up all over the city as beer connoisseurs heartily support new local businesses.  
In my opinion, Kalamazoo Michigan has two distinct areas that are connected by Westnedge Ave. The north side features block after block of stores, chain restaurants and the popular Crossroads Mall. 
To the south is the bustling artistic downtown area with boutiques, galleries, parks, art centers and great non-chain restaurants.  
---
Hungry?  Check out our favorite Kalamazoo Restaurants!  

Not all made the cut, but the ones that did are awesome!
---
10 Things to Do in Kalamazoo Michigan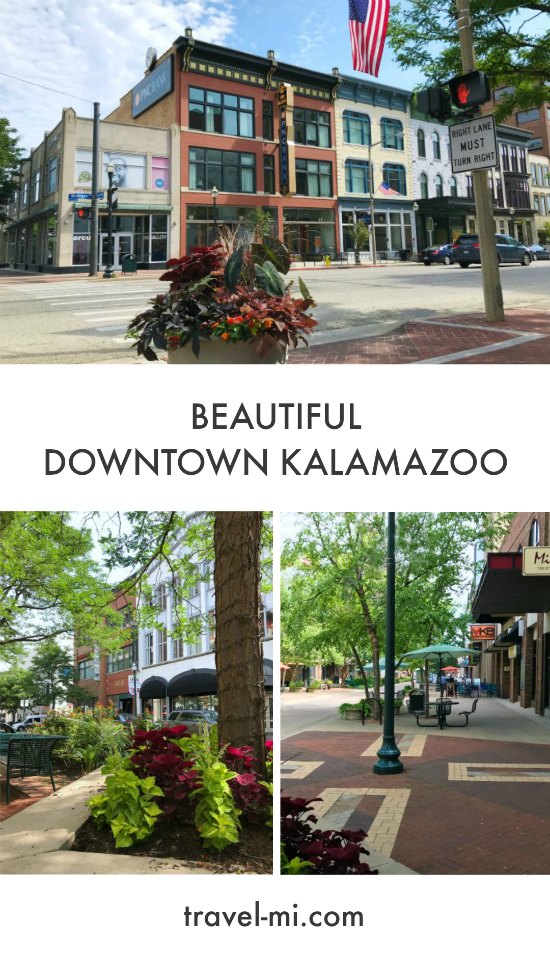 Downtown Kalamazoo Michigan- One of my favorite things to do is wander around downtown Kalamazoo.  Popping into the wide variety of shops and boutique shops can easily fill an afternoon or evening. 
Be sure to grab dinner at one of the many delicious restaurants and bistro's.  Many offer outside seating!

Celery Flats - The Celery Flats is a nicely paved path that is lined with trees and benches.  It is perfect for walking, jogging, biking, walking your dog and in-line skating. The trail head is located at 7328 Garden Ln, Portage, MI 49002 and there a porta john available. 
The Celery Flats is such a great peaceful trail that is safe for families as vehicles are prohibited.  I love the trail because large areas are shaded by numerous trees-a life saver if you are exercising on a particularly warm day.  The trails are also groomed in the winter for cross county skiing.  I should also mention that I feel safe walking the Celery Flats on my own as it is usually well traveled with like-minded exercise enthusiasts.  
Park Trades Center- Previously the Saniwax Building, the Park Trades Center is in downtown Kalamazoo near McDonalds. This amazing four-story building is an artist mecca.  It houses a variety of artists in residence and numerous businesses. 
The first Friday of every month is the city's famous Art Hop in which artists open their studios to the public to sell their art, perform demonstrations and mingle with the community. The Park Trades Center is bustling with people enjoying art while munching on tasty snacks and wine provided by the artists.

While living in Kalamazoo Michigan, I worked at West Michigan Glass Art Center (Renamed as Glass Art Kalamazoo) located in the Park Trades Center downtown.  As such, I ate lunches at the Co-Op, shopped in the fabulous downtown shops and dined almost exclusively downtown.  

Art Hop-I soooo look forward to the first Friday of every month for the Art Hop from 5 p.m. to 9:00 p.m. in downtown Kalamazoo Michigan!  What's so cool about the Art Hop? 
WELL....Numerous businesses in the downtown mall area host local artists to display their artwork (and there's free snacks and wine....I know, I probably should have lead with that). It's a win-win as businesses AND artists gain exposure to the community.   

My tips on the best way to enjoy it: Park downtown early (beat the crowds) and have dinner...May I suggest The Union, Zazio's or Epic Bistro since they are located in the heart of the Art Hop. Click here for more restaurant ideas. But eat lightly and skip dessert so you have room for free snacks and wine. Be sure to go here and obtain the current month's art hop map.  
Kalamazoo Nature Center-located at 7000 N Westnedge Ave, Kalamazoo Michigan. The Nature Center features 14 miles of great trails for walking or cross-country skiing. Chris and I love their Maple Syrup festival in March where you can see how trees are tapped and you get to taste fresh maple syrup in the woods! 
We also seized the opportunity to check out unbelievably cool birds of prey during one of their nature presentations. Please note, bikes and dogs are not allowed on the trails.
Kalamazoo Institute of Arts-located at 314 S Park Street, Kalamazoo Michigan. The KIA boasts an art gallery with rotating special exhibits, lectures and events.  Numerous classes are offered year round for adults in painting (watercolor and oil), pottery (wheel and hand built), sculpture (clay and cast), glass, fiber, jewelry, metals, photography and more. 
Summer camp and a variety of classes are also offered for children. Be sure to check out the immense and stunningly colorful blown glass Dale Chihuly piece suspended in the glass entry way. It's also a wow factor at night!

I have taken numerous classes at the Institute of Arts including pottery, welding, silk painting, photography and floral arranging so I can attest for their high quality of instruction and dedication to student learning. 
I particularly enjoy the artistic comradery and willingness to share ideas.  Chris and I had a fabulous time at their "Date Night" class which was one evening of clay instruction on the wheel and raku firing. We look pretty professional, don't we?  ;) 
Be sure to mark your calendars for the KIA annual Christmas art fair where local artists set up booths throughout the building selling their handmade art.  Choose from paintings, pottery, glass, fiber, jewelry, metals, photography and more.  I sold my handmade kiln fused art at this sale for several years and I miss it!
Kalamazoo Institute of Arts Summer Art Fair-Every June in the Downtown area.  I make every possible effort to attend this art fair every year, not just because I adore art fairs, but because it is located in beautiful Bronson Park.  The art fair expands every year so now vendors line the downtown mall area. 
This art fair rocks because there is such amazing diversity of art: pottery, jewelry, paintings, fiber art, photography, children's art, wood furniture and clothing (I love the handmade dresses!).
Food trucks also make an appearance so you can indulge in fresh shaken lemonade (my weakness), funnel cakes, chicken on a stick and other awesome treats.  Bands perform in the band shell and trees provide shade as you shop.

Gilmore Car Museum-Located at 6865 W Hickory Rd, Hickory Corners, MI 49060.  
The immaculate museum grounds with it's iconic bright red barns is a photographers dream.  Gilmore houses one of Michigan's largest collections of classic and vintage automobiles. The museum offers a Model T Driving School Experience and numerous events throughout the year.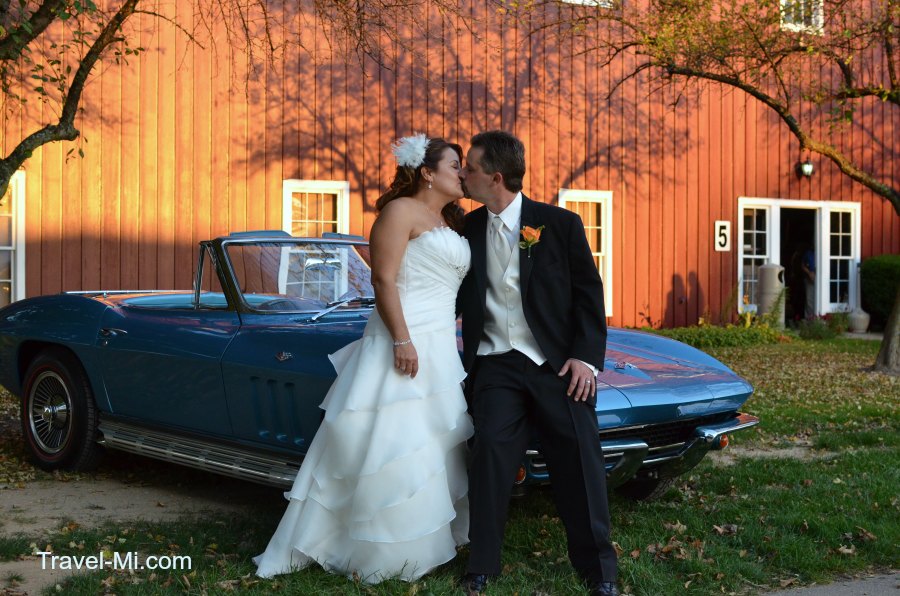 Gilmore Car Museum, Hickory Corners, MI
Gilmore Car Museum is also a fantastic backdrop for weddings.  We shot the wedding shown in the photo above.  
Beginning in May is Gilmore's free Wednesday night Cruise-In's.  Chris and his friends love to meet there to walk the grounds and discuss cars...at least that's what I am led to believe... ;)
Kalamazoo Air Zoo-6151 Portage Rd, Portage, MI 49002. WOW, what a place! 
My family and nephew (when he visits) loves spending an afternoon at the Air Zoo.  We love the simulators, movie memorabilia, 3D movies and of course, the stunning array of aircraft. 
There are also a variety of rides for adults and kids including an inside hot air balloon ride!  How cool is that!  If you are lucky, you can snag a docent to give you a guided tour with detailed information about the airplanes.  Definitely worth the visit for the whole family while in Kalamazoo Michigan!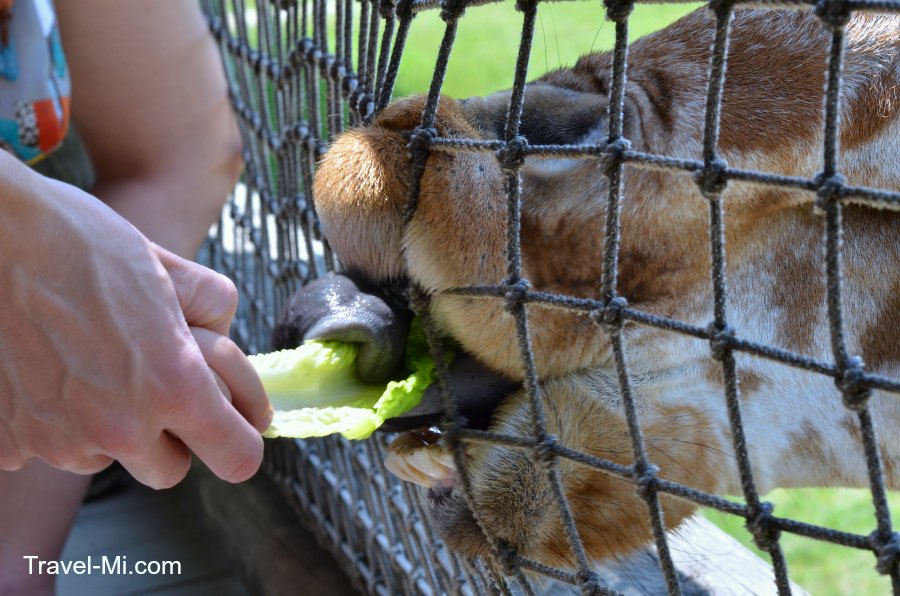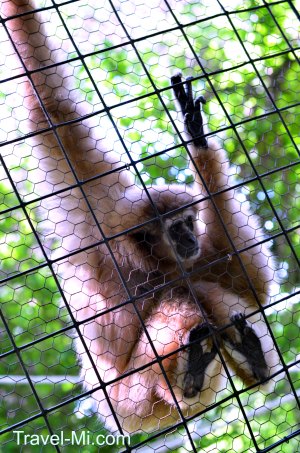 Binder Park Zoo-7400 Division Dr, Battle Creek, MI 49014, this zoo is amazingly impressive.  The zoo has a great variety of animals with very large shelters. 
My absolute favorite thing to do at the zoo is ride the train to Africa to feed the giraffes. The ride is narrated and gives you a great view of the outlying areas of the zoo. 
Once you arrive in Africa, you can spend considerable time viewing animals in the Savannah.  Be sure to bring cash so you can purchase greens to feed the long-tongued giraffes (I love them!). The zoo is very clean, offers a variety of food options.  There is also lots of shade for those sensitive to heat in the summer. Oh, if you have kids, be sure to check out Zoo Boo every October and the Zoo Lights in December. 
Let's Go K-Wings!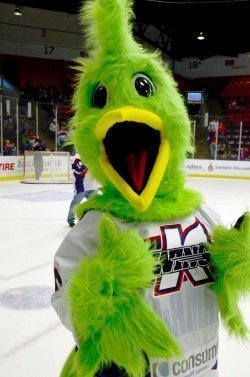 3600 Vanrick Dr, Kalamazoo, MI 49001. Mid-level professional ice hockey team
Watching a Kalamazoo Wings game is great fun.  Grab some snacks and drink and head to your seat as Slappy is about to start some antics to fire up the crowd!!  Check the K-Wings schedule for special events. My co-workers and I enjoy the special green ice nights for St. Patrick's day and the pink ice nights for Valentine's day.