Discover Cheboygan: A Boater's Paradise, Where Nostalgia, Stunning Views and Great Times Happen!
By Sherry Trautman | Traveling Michigan
Discover Cheboygan:  A boaters paradise where nostalgia, stunning views and great times happen!
Located on the picturesque Straits of Mackinac, Cheboygan is a great place to get away from the crowds and relax.
This city has a comfortable, nostalgic, need to-be-explored feeling.  We love the lighthouses, beautiful state park and trails for biking, hiking and snowmobiling.  Plus there are some good eats!
This park in downtown Cheboygan Michigan is a great place to wander, have a picnic and relax while enjoying the fantastic water views!  Isn't this boat phenomenal? 
Enjoy Live Music!
We had such a nice day exploring the parks and relaxing for a bit on the lawn to listen to free, live music! How many towns can you do that?
The Cheboygan Bascule Bridge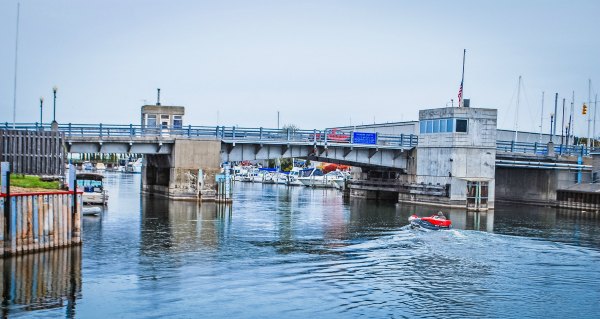 Cheboygan Bascule Bridge. Photo: Wikipedia
The Cheboygan Bascule Bridge, also known as the State Street Bridge, is a double-leaf bascule bridge that allows U.S. Highway 23 (State Street) to cross the Cheboygan River. Built in 1940, it was the last bascule bridge constructed in the state of Michigan prior to the end of World War II.  It replaced an aging swing bridge built in 1877. 
Did You Know?
The Cheboygan Bascule bridge is listed on the National Register of Historic Places!?

Cheboygan Lighthouses
Cheboygan's lighthouses are amazing!  Above is a map we made to help you find this city's lighthouses.
Cheboygan Front Range Light- Located at 606 Water St. is such a pretty lighthouse! It's right of the main road on the way to the beach.

Cheboygan Crib Light: This pretty lighthouse is right on the Cheboygan River at the mouth of Lake Huron.  Very easy to walk to as there is a wooden path leading to the lighthouse from the parking area.
Poe Reef Lighthouse-This historic landmark is located east of Bois Blanc Island in Lake Huron.  
The Cheboygan Opera House
403 N. Huron Street Box 95, Cheboygan, Michigan, 49721
This restored, vintage 1888, three-story, red brick Romanesque theatre has beautiful arched doors and windows. The opera house comes highly regarded for its fine acoustics. Open year round and hosts a variety of world renowned artists. 
Cheboygan State Park
4490 Beach Rd, Cheboygan, MI

Enjoy camping, hiking and fishing at the State Park located right on Lake Huron.  There are five hiking trails ranging from .5 to 1.75 miles.  You can camp, stay in Cheboygan Modern Lodge, enjoy a rustic cabin or if you are feeling adventurous, stay in their tepee.  A carry-in boat launch is located on Duncan Bay and fishing is available both on the bay and on Elliot Creek.
Cheboygan Trails: Let's Get Outside!
Little Traverse Wheelway-23.7 Miles, Asphalt. Trail activities: Bike, Inline Skating, Fishing, Wheelchair Accessible, Walking, Cross Country Skiing
This is our favorite trail because it's paved, boasts fantastic views and allows for lots of photo worthy stops.  You will enjoy views of Lake Michigan and its shoreline. The paved trail rolls for 24 miles from Charlevoix to Petoskey to Harbor Springs as it follows the curve of Little Traverse Bay. 
We hope this overviews helps you narrow down your trail selection.  Visit https://www.traillink.com for more information on trail heads, parking and detailed maps.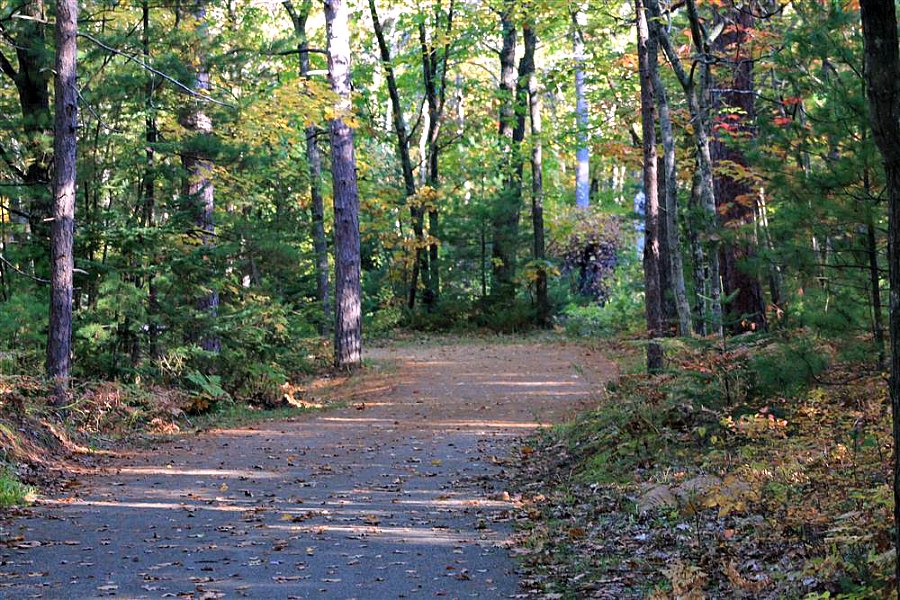 Huron Sunrise Trail, Cheboygan. Photo Credit: Bikelist.org
Trail information at a glance.  (Example: NW stands for North Western State Trail, NE stands for Eastern State Trail, etc.)
North Central State Trails- 62 Miles, Crushed Stone. Trail activities: Biking, Fishing, Horseback Riding, Mountain Biking, Snowmobiling, Walking, Cross Country Skiing. Mackinac City to Gaylord.
From the northern end, the trail starts just south of the Mackinac Bridge spanning 5 miles across the Straits of Mackinac to join the Lower and Upper Peninsulas of Michigan. The trail head has parking, restrooms, and water.
Starting in Mackinaw and heading south, the trail is paved and well used for the first half mile, after which its surface turns to well-maintained crushed stone, and usage declines. The route is mostly flat and it's well used for snowmobiling. 
North Eastern State Trail-71 Mile, Crushed Stone.Trail activities: Bike, Fishing, Horseback Riding, Mountain Biking, Snowmobiling, Walking, Cross Country Skiing.  Cheboygan to Alpena.
The 71-mile North Eastern State Trail provides a mostly solitary experience as you traverse through wetlands, farmland, forests, and a few small towns. Starting from the Cheboygan trailhead, which intersects the 62-mile North Central State Trail, people on bikes may find the riding fairly slow given the not-so-compacted crushed limestone surface. Ends in Alpena. Mountain bikes are recommended.  Carry lots of water and have the ability to fix a flat tire if you are on a bike.
North Western State Trail-32 Miles, Asphalt and Crushed Stone. Trail activities: Bike, Inline Skating, Fishing, Wheelchair Accessible, Horseback Riding, Snowmobiling, Walking, Cross Country Skiing. Mackinac City to Bayview.
The rail-trail is open to all non-motorized uses year-round, and to snowmobiles from December 1 to March 31. The northern section of the trail, from Mackinaw City to Alanson, is hard-pack aggregate and asphalt. The southern 7-mile section between Alanson and Petoskey is paved with asphalt.
Near the North Western State Trail's southern end at Spring Lake Park in Petoskey, you can hop across State Route 119 to pick up the Little Traverse Wheelway. The paved 26-mile rail-trail extends north to Harbor Springs and south to Charlevoix.

Huron Sunrise Trail-8 Miles, Concrete.  Trail activities: Bike, Inline Skating, Wheelchair Accessible, Mountain Biking, Walking.  
The scenic trail links the town with Vogler Conservation Area, a 270-acre forest preserve (which also has many trails for hiking and mountain biking), Hoeft State Park and 40 Mile Lighthouse, which includes a museum and a picnic area.
Where to Eat in Cheboygan
So you've been hiking, exploring, sightseeing or snowmobiling all day and you need a good meal.  We have a couple suggestions for you!
Cheboygan Brewing Company
The upper deck is a great place to hang out and enjoy the great beer.  Try their blood orange honey wheat!

101 N Main St, Cheboygan, MI 49721

This Old House (We love family owned restaurants!)
Mmmm.  They have pizzas, homemade lasagna, subs and more!  They are  famous for their pizza because they make their dough fresh daily and use fresh veggies, homemade sausage and cheese.
History:  In 1976 Donald and Geraldine Dorey opened This Old House after retiring from the Detroit Fire Department.  Don, while on the Detroit Fire Department, fell in love with cooking, so after his retirement he decided to open a pizza place with his wife and four children.  How cool is that?!
112 Jackson St.
Pier M33
Looking for a little more upscale restaurant?  This place is it.  Pastas, salads, seafood, burgers and more!  We love the option to relax and dine outside on their deck while watching the boats pass by in the summer is a treat.  Try the Lobster Tots, Coconut Jumbo Sea Scallops or Prime Rib Sliders!  Plus their desserts are to die for!  
9500 M-33, Cheboygan, MI 49721 
Where to Stay in Cheboygan
Fleetwood Inn and Suites
All rooms face the inland waterway so you are guaranteed a great view!  All the rooms at the Waterway Fleetwood are furnished with a fridge, microwave and coffee maker. The suites have an upgraded wet bar, with a bedroom and separate living area.  Photo courtesy of Fleetwood Hotel.
Pin This Cheboygan Page!
Keep Reading!