Holland Michigan Tulip Festival! 

Holland Michigan Tulip Festival, known as Tulip Time, is a super popular festival held the first and second weekends in May.  This outstanding family friendly festival is an explosion of color, sights, sounds and experiences.  It's a flower lover and photographer paradise (see tips below)!  Plan ahead to make the most of Tulip Time as there are so many events, shows, tours and things to do!
Excited for 2019 Holland Tulip Time Festival?  Start planning your visit today!!
Feeling overwhelmed and need help organizing your day?  See below for a map of the best locations so you can see everything in logical order!
---
Tulip Tracker!
Did you know there is a Holland Tulip Tracker?  WHATTT?  How cool is that?  Watch the colorful tulips as emerge from the ground and begin to grow in Centennial Park.  It's so exciting to track their progress as it gets closer and closer to Tulip Time by clicking here!! 
Tip: Check the Tulip Tracker to make sure the flowers are at a perfect bloom for your photos!
Did you know? Each fall, the City of Holland Parks Department plants around 316,000 tulip bulbs in their city parks and along the Tulip Lanes in anticipation for the Holland Michigan Tulip Festival!   
---
Things to Do During the Holland Michigan Tulip Festival
Thought the Holland Michigan Tulip Festival was only for flower lovers?  Well check out this list of cool things happening in Holland during the festival! 
Bands
Parades
Artisan Market-Centennial Park
Art in Bloom-Holland Area Arts Council
Tulip Time Quilt Show-Holland Area Arts Council
Dutch Dance Lessons-Centennial Park
Carnival-Civic Center Lot

Dutch Dances-Centennial Park
Tulip Time Run-Kollen Park
Vintage Baseball-Riverview Park
Tall Ship Tours

-(Sunset and Day) 

Boatwerks East Dock
Tulip City Tours (Classic Or Plus)-Enjoy a guided Tulip City Tour in mini coaches or trolleys to experience an overview of the gorgeous tulips during Tulip Time! To purchase tickets, visit the blue ticket booth located at Window on the Waterfront, at the corner of 6th Street and College Avenue at 61 E. 6th Street.
Tulip City Tour tickets can only be purchased for the current day's tours at the on-site blue ticket booth from 8:30 am – 5:00 pm or until sold out each day. 
PLUS Tour Option-

N

arrated tour of Tulip Lanes, Holland's Historic District, city parks, with on/ off privileges with admission to Windmill Island Gardens, Holland Museum and Cappon & Settlers House.  This tour is not available on parade days.  Last pickup is at Windmill Island Gardens at 5:45 p.m.
Classic Tour-hour long narrated tour without on/off privileges.  Experience Tulip Lanes, Holland's Historic District, city parks, and the beautiful downtown area. For more information on both tours, click here!
Celebrating our Mothers on Mother's Day!! Centennial Park, 250 Central Ave, Holland, MI 49423.  Moederdag Market (Dutch for Mother's Day Market) features special merchants, live performances, demonstrations, gourmet food trucks and horse-drawn carriage rides.
Veldheer's Tulip Farm
12755 Quincy St, Holland, MI 49424. Oh my, what can I say about this place but WOW!!  My parents and I LOVE coming here to take photos. It's so peaceful to wander down the rows appreciating the beauty of nature.  My mother's photo above, shows the exquisite rainbow of color showcased at this gorgeous tulip farm! 
History: In 1950 Vern Veldheer started a hobby farm with only 100 red tulips and 300 white tulips.  Today, Veldheers plants over 5.5 million tulips! Perennials and flowers are brought in from around the world and are available for purchase. 

Visiting: Veldheer's recommend visiting their colorful spring gardens during the last week in April until the middle of May.  There is an admission fee of around $10 for adults, $5 for kids.  Admission is free to visit the Wooden Shoe Factory & Delft Factory to see how dutch pottery is made.
What to see:
5.5 million tulips, 50,000 daffodils, 10,000 hyacinths and 20,000 crocus

Wooden Shoe Factory

Delft Factory

Buffalo-(you didn't expect that, did you!)
What is the Delft Factory?  It's Dutch pottery that takes almost a full week to produce! They are the only production facility in North America, offering over 400 different hand painted Dutch pottery pieces.
Don't miss seeing the pouring and firing process. The cool part (for me anyway) is getting a chance to speak with the artists as they hand paint the Dutch designs.  I love the up-close-and-personal experiences!
Parking: They have significant paved parking close to the main building and tulip farm.  There is also parking in a non-paved lot nearby.  
Restrooms are porta johns only.  There are no flushing toilets or indoor restrooms available.  
Food: The main building sells bread, snacks and other specialty items.  No main meals.  
Windmill Island Gardens
1 Lincoln Avenue, Holland MI 49423.  Windmill Garden opens to the public in mid April.  There is a charge to enter the garden, even during Tulip Time. 
I just love exploring this beautiful island and touring the windmill during the Holland Michigan Tulip Festival.  There are such great photographic opportunities also.  Food on the island includes a bakehouse and deli.  During Tulip Time, food trucks are generally available for tasty meal options.  
Pet Friendly:  Pets are allowed with the exclusion of the windmill and gift shop due to food processing.  Pets will need to be leashed & picked-up after.  

So this is cool....The Four Columns is an organ that was played in the streets of Breda, Rotterdam and Amsterdam. 
It was given to the City of Holland in 1947 by the City of Amsterdam in gratitude for the United Stated in liberating The Netherlands in WW2. 

 Nelis' Dutch Village
12350 James St, Holland, MI 49424.  Let me just say, we have a great time at Nelis' Dutch Village.  The photography is spectacular!  Great place to visit for both adults and kids! 
The park is open all season so be sure to visit beyond Tulip Time.  Upon arriving, you will be wowed by the spectacular display of color with the buildings and the pretty canal.  Tiny baby ducks were bobbing in the water when we were there.  So cute!
Grab a schedule for interactive dancing and begin by wandering through the numerous shops.  Stop by the Dutch shoe production area, candy shops and candles stores.  Hungry?  Stop at the Hungry Dutchman Cafe for American and Dutch cuisine.  

Since I ADORE Fuzzy baby animals, I LOVED the petting barn.  The goats were a little over a week old and they sure loved attention.  "My" white baby bunny was so soft and calm, I would have loved carrying it around the rest of the afternoon!
There are lots of photo opportunities as everything in the village is so colorful.  We enjoyed riding an old Ferris Wheel (well, I was a little tense...) and there were other rides to check out too. 
Nelis' Dutch village has lots of benches, shade trees and restrooms.  It's a nice way to spend a couple hours!  
How to Rock The Tulip Time Festival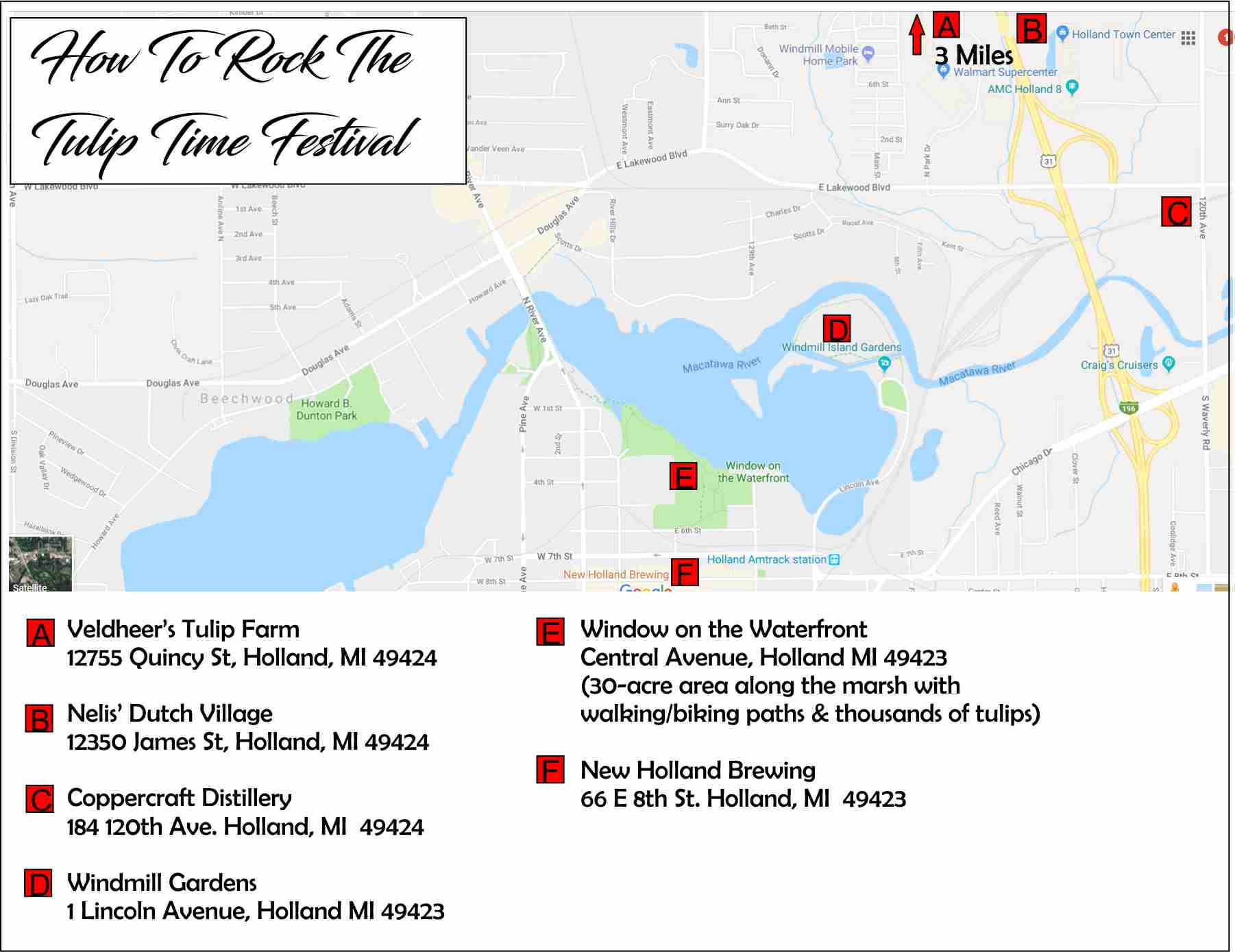 Tulip Time can be very overwhelming if you don't take the time to map out your plan of attack.  I created this map prior to arriving so we could be organized.  We decided to start at F and work our way to A as I would be heading home in that direction.  Either way is great, it just depends on where you are starting.   
If we had more time we would definitely enjoy the parade (we've seen it a couple times), take a narrated city tour with Tulip City Tours and check out the Artisan Market but this was a full day! 
Tips and More Info
Be sure to check the Tulip Time website for information on all the Holland Michigan Tulip Festival happenings!  Don't miss the festival's special classes, concerts, events, tours and brunches!
If you prefer to avoid the crazy crowds during the Holland Michigan Tulip Festival, it's best to visit Holland right before the festival so you can enjoy the tulips in pristine condition.  Trust me, after thousands of people have wandered around, the tulips are worse for wear after the festival.  
Be sure to check the Tulip Tracker link above to check the blooming progress.
Parade days are PACKED. If you wish to avoid crowds, visit on another day or arrive early in the day.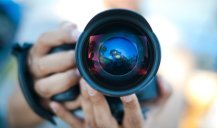 Photographers!  This place is exceptional for creative photos!  Be sure to visit the tulip farm and windmill island.  
Watch the tulip tracker for optimal bloom.
Consider visiting early in the morning or evening for best light and to avoid massive crowds. Avoid visiting on parade days/times. If the tulips are blooming early enough, consider visiting the city prior to the festival so you can catch the blooms in pristine condition before they are trampled.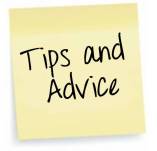 Be prepared for the parades even if you aren't watching them.  Getting around is harder with the roads blocked.
Take water, an umbrella (for the sun or rain) and a cushion to sit on.