The Best October Michigan Events and Things To Do!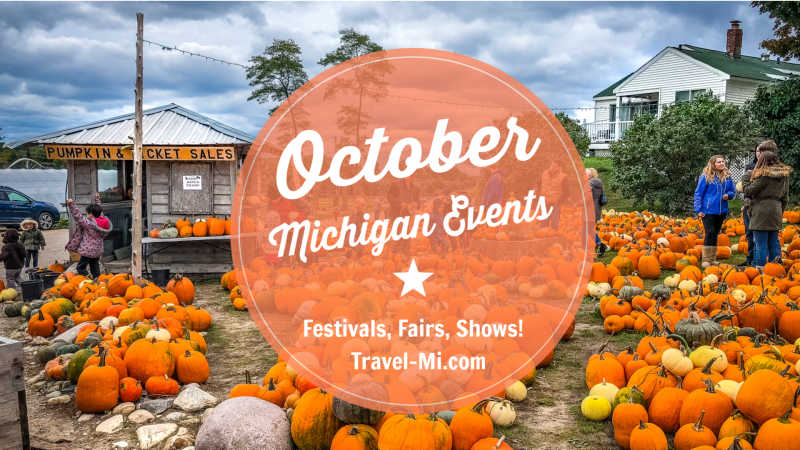 The ULTIMATE SOURCE of 2019 October Michigan events and fun things to do in Michigan for families, couples and friends! Grab our 21 Boredom Zapping Ideas! 
Destinations: Detroit, Ann Arbor, Grand Rapids, Kalamazoo, Lansing, Traverse City, Charlevoix, Houghton, Midland, Alpena, South Haven, St. Joseph and more!  
October Michigan events are full swing!  Scary haunted houses, squash and pumpkin picking, changing leaves, bon fires and wine tasting is just a few of October events to look forward to!
Traveling Michigan in October is absolutely stunning as our nights are cool but our days are sunny and perfect for discovering forest walks! 
Let's travel Michigan together!
Join us on Instagram where I've posted all of our October Michigan adventures!  We hope you enjoy our October Michigan events and fun things to do!
And as always, if you have October Michigan events that you would like listed, let us know here!
Get ready to pick squash and pumpkins in October!!

THE BEST October Michigan Events-2020
PROJECT 1 by ArtPrize, September 7 - October 27, 2019, The creators of ArtPrize are launching another world-class art experience in Grand Rapids. Project 1 by ArtPrize is the first in a series of citywide exhibitions of public art taking place in the years between biennial ArtPrize competitions.
Frankenmuth Corn Maze Weekends, 5450 Weiss Rd, Frankenmuth, MI,  7:00 pm - 10:00 pm.  The 2019 Maze theme is "So God Made A Farmer" Open September 27-29, October 4-6, 11-13, 18-20, 25-27, and November 1-2.  
Admission: $8-$12. Voted Mid-Michigan's #1 corn maze in 2017 and 2018! Five acres of towering corn stalks, two miles of twisted trails, and strategically located observation bridges within three interconnected mazes await you at the Frankenmuth Corn Maze. Where is the farmer anyway?! Use fun game sheets and search for clues on game stations in the maze. Get prizes for finding the farmer! Hayrides to our dairy farm Saturdays and Sundays from 1-5 p m to observe Johann LELY, our milking robot and visit Calf Island.
Wein and Stein,

October 1, 2020, Frankenmuth. 

Come on out and sample beer, wine and snacks at a variety of pubs, waterparks, quaint wine bars, breweries and more.  Purchase your tickets at the Visitor Center on Main Street.
Empire Hops and Harvest Festival,

October 4-5, 2019, Empire, MI.  

Featuring Northern Michigan food and drinks, live performances and more to celebrate the awesome hop plant!
Fall Harvest Festival, October 5, 2019, Chippewa Nature Center, Midland, MI. One of Chippewa Nature Center's largest events of the year! Demonstrations and programs will focus on autumn traditions of the 19th century.
Mac and Cheese Festival, October 5, 2019, 3-7 p.m. Home Stryker Field, Kalamazoo
Huron Township Apple Festival - October 5, 2019 - October 6, 2019, 37283 Huron River Dr. Huron Township, Check out handmade quality craft vendors, food vendors, apple pies, entertainment. Festival is held in the downtown area of New Boston.
Michigan Antique Festival - October 5, 2019 - October 6, 2019, 12451 Andersonville Rd. Davisburg. About 1000 Vendors selling Antiques, Folk Art, Crafts, and unique items.  Check out the auto & truck show, parts & accessories swap meet, and huge auto for sale lot. Indoor and outdoor event held rain or shine.
Red Flannel Festival, Cedar Springs - October 5, 2019 - October 6, 2019.  Live music, craft fair and carnival.  Saturday is the grand parade, art fair, car show and High School Marching Band Competition.
Oktober-feast (21+) Sat, Oct 5, 6:00 – 8:30 PM, Downtown Market Grand Rapids, 435 Ionia Ave SW, Grand Rapids, MI.  Kick off Oktoberfest with a class all about beer and food! Start off with a beer cheese spread, followed by schnitzel topped with a caper brown butter sauce. Get tickets early!
Fall Festival at Kensington Metropark, October 6, 12:00 pm - 4:00 pm.  Come enjoy a fun-filled weekend of harvest-themed activities for the whole family. Tour the farm, view traditional demonstrations, check out the food and craft vendors at the Festival Market, and be entertained by Rosco the Clown. The Kensington Living History Village will be open, showcasing early pioneer skills. Ride the horse-drawn hayride to and from the pumpkin patch.  12 p.m – 4 p.m. Cost: Free (hayrides and pumpkins not included) Super fun October Michigan event!
Hess-Hathaway Harvest Happening, Sunday, October 6th, 12:00 PM – 5:00 PM. 825 S. Williams Lake Road. Exciting event for the entire family! Come enjoy the hayrides, pony rides, bouncers, children's contests and crafts, entertainment for adults and children, crafters, bake sale, food concessions, historical house tours and games, pumpkin patch and more!  
Bruckelaufe (Bridge Race),

October 7, 2020. 

The Frankenmuth Jaycee's sponsor the Brukelaufe Half Marathon and 5K.  The Bruckelaufe crosses 13 scenic bridges during its 13.1 mile course.
Flints Festival of Quilts, October 10, 2019- October 12, 2019, 816 Saginaw St., Flint. This annual event showcases quilters with exhibitions, workshops and social events.
Street Food Series: North America

, 

Fri, October 11, 6:00 – 8:30 PM, Downtown Market Grand Rapids, 435 Ionia Ave SW, Grand Rapids, MI. Experience famous (and delicious!) street foods from each North American region. 
Charlevoix's Applefest, October 11-13, 2019 East Park Tavern, 307 Bridge Street, Charlevoix
Greater Detroit Gem, Mineral, Fossil and Jewelry Show, October 11, 2019- October 13, 2019, Macomb community college south campus expo center, 14500 E. 12 Mile Road, Warren.  One of the Midwest's largest collection of gems, minerals, fossils, and jewelry shown under one roof! Amazing displays and attractions from world-renowned universities and institutions.
Annual New Buffalo Harvest & Wine Festival,  October 12, 2019, Lions Pavilion Park, New Buffalo, 12–9 p.m.

Kalamazoo Craft Fair Kalamazoo Expo Center, October 12, 2019, 9 am–3 pm Free!
City of Bangor's Apple Festival, Downtown Bangor, October 12, 2019, All Day Free 
Bonteboktoberfest, Binder Park Zoo,October 12, 2019, Battle Creek,  6–10 pm

Annual Garden City Chili Cook Off, October 12, 2019, 5805 Central / Farmers Market Lot, Garden City, A community driven chili cook off where crocks of chili are created on site, tasted, and judged. Samples are available for purchase.  Hay rides and petting zoo accompany the day-long event along with a Hot Rod Car and Motorcycle Show displaying some of the best muscle on the streets.
Michigan International Alpaca Fest, October 12, 2019- October 13, 2019, Summit Sports Complex Dimondale, Large halter show, silent auction, alpaca product sales. Public event, FREE admission.
26th Annual Appleumpkin Festival, October 12, 2019- October 13, 2019, 9 am – 6 am Saturday 10 am- 5 pm Sunday, Tecumseh,MI. Fun for the entire family!  Antiques Street Fair, Arts & Crafts Show, Midway Rides & Games, Food, Haunted House, Corn Box & Straw Maze, Make-It-Take-It Scarecrows, Antique Tractor Show (Saturday), Monster Truck Rides and more! Super fun October Michigan event!
Monster Mash Street Bash, October 12, 2019, Downtown Mackinaw City Mackinaw City, Come wake the Dead! 
Harvest Moon Festival 2019, October 12, 2019, Grant, MI. Old Iron Bar & Grill, 189 S Maple St, Grant, MI.  Activities for the whole family!  BBQ Cooking Contest, The Great Pumpkin decorating contest and Auto Show!
Tahquamenon Falls State Park Harvest Festival, Saturday, October 12, 2019. 41382 W M-123, Paradise, MI 

Fun for the whole family! Activities include an archery program, hayrides, a Smokey Bear meet-and-greet, a camper chili cook-off and more!
Michigan's Big Country Fest-Fri, October 16-17, 2020, 1:00 – 7:59 PM, Heritage Park, 601 Weiss St, Frankenmuth, MI. Stop in for awesome bands, a mechanical bull, bloody Mary bar, craft beer flights, food trucks, free line dancing lessons, cornhole tournament, Iron Pour, pumpkin stacking world championship, human bubble games, football, bowling, and more! Indoors. $5 admission, free parking, handicap accessible.
Pumpkin Festival at Kerrytown District of Ann Arbor, Michigan, Sat, October 19, 9 AM – Sun, Oct 20, 4 PM.  Visit the Ann Arbor Farmers Market, 315 Detroit St, Ann Arbor, MI.  The Glass Academy will create one-of-a-kind handblown glass pumpkin throughout the day during an amazing live glass blowing show from 9-4 on Saturday and Sunday in the Farmers Market. This is such a hot October Michigan festival!
South Haven Harvest Festival, October 18-20, 2019, South Haven
Michigan Festival of Sacred Music, October 18, 2019 - December 1, 2019, Festival of concerts, workshops and presentations, representing many faiths. The idea is to bring sacred music and associated cultural tenets to Southwestern Michigan and promote mutual understanding and respect among persons of different religious persuasions.
Scarecrow Fest, South Main St. Frankenmuth, October 17-18, 2020. Special scarecrows are displayed throughout downtown with a family-friendly festival at Frankenmuth River Place Shops! We love this October Michigan event!
Michigan Brewers Guild Detroit Fall Beer Festival, October 25, 2019 - October 26, 2019, 2934 Russel St. - Eastern Market Detroit. This is one of the largest all-Michigan beer tastings in the area.  Enjoy some incredible food from Detroit area restaurants while listing to music.  Sample any of the 600 craft beers from over 75 Michigan breweries.
Saugatuck's Annual Halloween Kids & Pet Parade, Wicks Park, Saugatuck, 3:30 pm, Free

Have you Ever Picked Chestnuts?  
Kastanu Farms has U Pick Chestnuts usually ready in October for you to pick on the weekends.  Check their Facebook Page for info! What an awesome October Michigan event!
The address to check in for U-Pick is: 11943 Campbell Rd., Kewadin, MI 49648
Donuts and Michigan Farms to Visit in October
More October Michigan events:

Gull Meadow Farms-Richland, MI. Pumpkins, delicious donuts and a corn maze.  We used to go there weekly when we lived in the area.  There is a train for kids and a tractor drawn hay wagon for the whole family.  Great place!! What a fun October Michigan event! We love it!
Uncle Johns Cider Mill-8614 US-127, St Johns, MI.  Gorgeous barn with hard ciders and treats!
Grandma's Pumpkin Patch-4277 N Eastman Rd, Midland, MI 48642

Leaman's Green Applebarn-7475 N. River Road, Freeland, MI.  Cider and donuts are a must. Baked goods are outstanding!
Baynes Apple Valley-5395 Midland Road, Freeland, MI Awarded Mid-Michigan's Best Orchard 3 years in a row! Great homemade baked goods and fresh pressed pure apple cider. We love grabbing a sandwich in the cute shop and grabbing some fresh cider on the way out! Great place to meet friends during October Michigan afternoons!
Coveyou Scenic Farms-4160 US-131, Petoskey, MI We loved our stop at Coveyou Scenic Farm market, the owners are super friendly and the market has so many great things! We purchased bottles of syrup and a pumpkin!
Pond Hill Farms-5699 S Lake Shore Dr, Harbor Springs, MI.  If you are out and about for Michigan fall color tours, be sure to stop at Pond Hill Farms to enjoy fresh warm donuts and cider around their bon fire!  There's a cafe and pumpkin launching too! Super fun October Michigan things to do!
When Will the Fall Colors Peek in Michigan?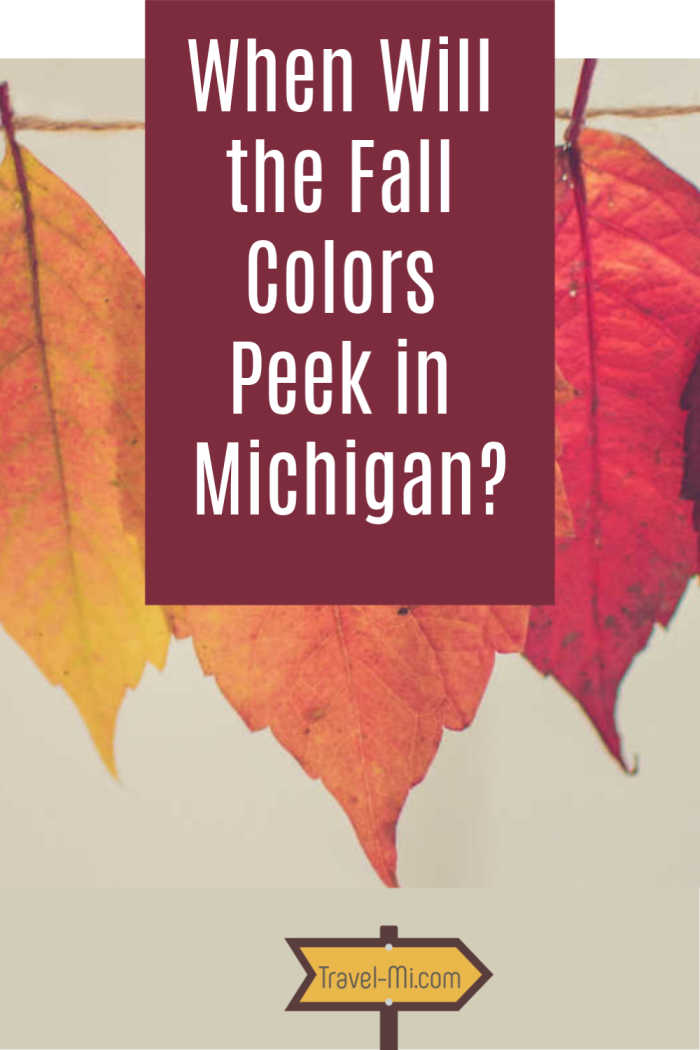 Click here for the estimated dates!
Michigan Fall Color Tours by Train!

Pere-Marquette 1225 Color Tour Train-October 4-5, 2019. 190 W. Cass Street, Cadillac, MI.  The Steam Railroading Institute will be commemorating the 50th Anniversary of the Michigan State University Railroad Club and their initial restoration of the 1225 with an all-day excursion behind the world-famous steam locomotive.

Northern Arrow Fall Color Tour-October 12th and 13th, departing from Kalkaska, MI. The Northern Arrow will depart at 10:00am each day from the railroad depot at the Kalkaska Historical Museum for a roundtrip, all-day excursion to Petoskey. Awesome chance to see the colors and relax with friends and family along the way! 
Timberline Fall Color Tour-October 19th, departing from Cadillac, MI. The Timberliner will depart at 10:00 am from downtown Cadillac for a round trip, all-day excursion to Clare. Awesome chance to see the colors and relax with friends and family along the way! 
Clare Countryside Fall Color Tour-October 19, 2019, Clare, 2:00 p.m.
Here is a link for reservations!
Planning Ahead...
North Pole Express (FOR PLANNING AHEAD PURPOSES AS IT SELLS OUT VERY QUICKLY)-Saturdays and Sundays, November 16th to December 21st. Departing from Owosso, MI. Embark on a nostalgic journey back in time to the Christmas of yesteryear when you climb aboard the North Pole Express, pulled by the world-famous Pere Marquette 1225! Depart from the Steam Railroading Institute for a four-hour, round trip excursion to the Village of Ashley's Country Christmas. 

We hope you enjoy our exciting October Michigan events and ideas of fun things to do!
Don't miss a moment of October Michigan events and fun!  Join our newsletter to have events and fun delivered directly to your inbox!
What Michigan Events Are Coming Up Next?
Disclaimer: Please be sure to visit a particular event's website to verify dates, times, happenings and details.  We make every possible effort to be verify these the event details but as we are human, mistakes can occur and event dates/times can change.  If you see an error below, PLEASE let us know and we will correct it.

Event Centers in Michigan
Still bored? Don't forget to check these Michigan event centers/theaters/auditoriums across Michigan for concerts, events, shows or comedy entertainment! 
Here are a few Michigan event centers to inspire you!  
Cobo Hall-Detroit
Midland Center for the Arts-Midland
Dow Gardens-Midland
Kalamazoo State Theatre
Fire Keepers Casino
Soaring Eagle Casino-Mt. Pleasant
Wings Event Center-Kalamazoo
Miller Auditorium-Kalamazoo
Civic Auditorium-Kalamazoo
Chenery Auditorium-Kalamazoo
Kellogg Arena-Battle Creek
LMC Mendel Center-Benton Harbor
Franke Center for the Arts-Marshall
The Bob-Grand Rapids
Van Andel-Grand Rapids
Devos Place-Grand Rapids
Dow Event Center-Saginaw
Being bored sucks! Never miss another event! Join our network of Traveling Michigan Explorers!  Be a part of this amazing community of travelers!

Subscribe To Receive Exciting Destinations, Day Trips and Fun Directly to Your Inbox!
Sign Up to Our Newsletter to Get the 5 Free Must Have Apps to Travel in Michigan Like a Boss!
Follow Us on Instagram 
Check Out Our Traveling Michigan Videos on Youtube!
Check out our off-road Keweenaw Peninsula adventures on YouTube!
Popular Pages You May Also Like...
We would love to hear your ideas!
Share your Michigan events, stories, photos and ideas! We love to be inspired!