The Best October Michigan Events and Things To Do! 

The ULTIMATE SOURCE of 2019 October Michigan events and fun things to do in Michigan for families, couples and friends! Grab our 21 Boredom Zapping Ideas! 
Destinations: Detroit, Ann Arbor, Grand Rapids, Kalamazoo, Lansing, Traverse City, Charlevoix, Houghton, Midland, Alpena, South Haven, St. Joseph and more!  
October Michigan events are full swing!  Scary haunted houses, squash and pumpkin picking, changing leaves, bon fires and wine tasting is just a few of October events to look forward to!
Traveling Michigan in October is absolutely stunning as our nights are cool but our days are sunny and perfect for discovering forest walks! 
Let's travel Michigan together!
Join us on Instagram where I've posted all of our October adventures!  We hope you enjoy our October Michigan events and fun things to do!
And as always, if you have October Michigan events that you would like listed, let us know here!
Get ready to pick squash and pumpkins in October!!

THE BEST October Michigan Events-2019
Charlevoix's Applefest

, October 11-12, 2019
Michigan's Big Country Fest-Fri, October 18, 2019, 1:00 – 7:59 PM, Heritage Park, 601 Weiss St, Frankenmuth, MI
Donuts and Michigan Farms to Visit in October
Gull Meadow Farms-Richland, MI. Pumpkins, delicious donuts and a corn maze.  We used to go there weekly when we lived in the area.  There is a train for kids and a tractor drawn hay wagon for the whole family.  Great place!!
Uncle Johns Cider Mill-8614 US-127, St Johns, MI.  Gorgeous barn with hard ciders and treats!
Grandma's Pumpkin Patch-4277 N Eastman Rd, Midland, MI 48642

Leaman's Green Applebarn-7475 N. River Road, Freeland, MI.  Cider and donuts are a must. Baked goods are outstanding!
Baynes Apple Valley-5395 Midland Road, Freeland, MI Awarded Mid-Michigan's Best Orchard 3 years in a row! Great homemade baked goods and fresh pressed pure apple cider. We love grabbing a sandwich in the cute shop and grabbing some fresh cider on the way out!
Coveyou Scenic Farms-4160 US-131, Petoskey, MI We loved our stop at Coveyou Scenic Farm market, the owners are super friendly and the market has so many great things! We purchased bottles of syrup and a pumpkin!
Pond Hill Farms-5699 S Lake Shore Dr, Harbor Springs, MI.  If you are out and about for Michigan fall color tours, be sure to stop at Pond Hill Farms to enjoy fresh warm donuts and cider around their bon fire!  There's a cafe and pumpkin launching too!
When Will the Fall Colors Peek in Michigan?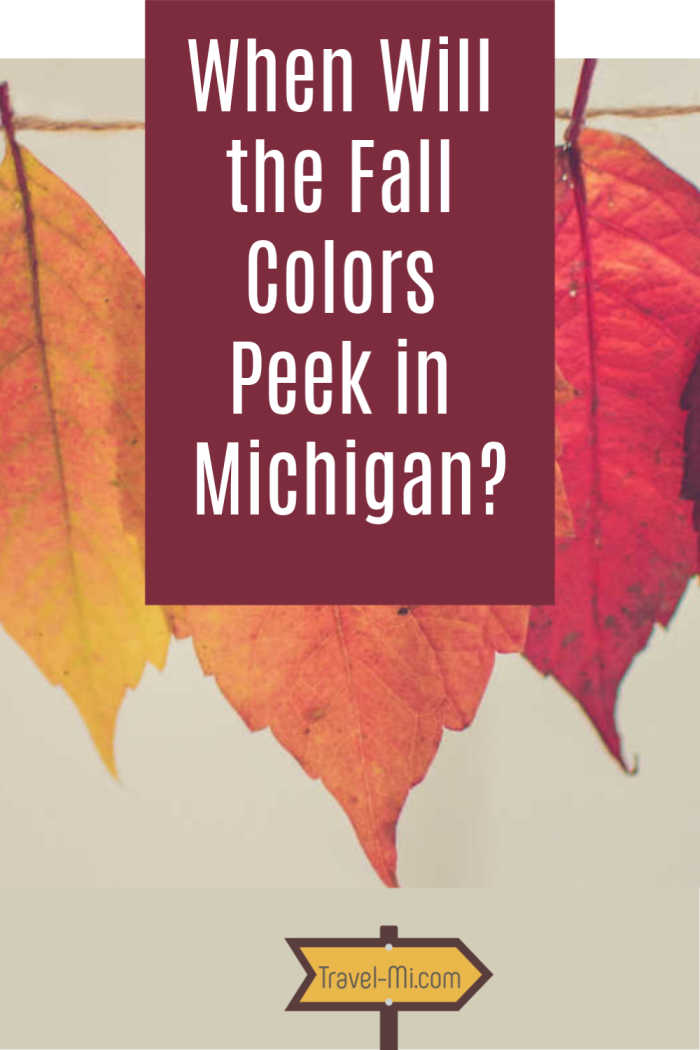 Click here for the estimated dates!
Michigan Fall Color Tours by Train!

Pere-Marquette 1225 Color Tour Train-October 4-5, 2019. 190 W. Cass Street, Cadillac, MI.  The Steam Railroading Institute will be commemorating the 50th Anniversary of the Michigan State University Railroad Club and their initial restoration of the 1225 with an all-day excursion behind the world-famous steam locomotive. Click here for more info.

Northern Arrow Fall Color Tour-October 12th and 13th, departing from Kalkaska, MI. The Northern Arrow will depart at 10:00am each day from the railroad depot at the Kalkaska Historical Museum for a roundtrip, all-day excursion to Petoskey. Awesome chance to see the colors and relax with friends and family along the way! 
Timberline Fall Color Tour-October 19th, departing from Cadillac, MI. The Timberliner will depart at 10:00 am from downtown Cadillac for a round trip, all-day excursion to Clare. Awesome chance to see the colors and relax with friends and family along the way! 
Clare Countryside Fall Color Tour-October 19, 2019, Clare, 2:00 p.m.
Here is a link for reservations!
Planning Ahead...
North Pole Express (FOR PLANNING AHEAD PURPOSES AS IT SELLS OUT VERY QUICKLY)-Saturdays and Sundays, November 16th to December 21st. Departing from Owosso, MI. Embark on a nostalgic journey back in time to the Christmas of yesteryear when you climb aboard the North Pole Express, pulled by the world-famous Pere Marquette 1225! Depart from the Steam Railroading Institute for a four-hour, round trip excursion to the Village of Ashley's Country Christmas. Click here for reservations and info

We hope you enjoy our exciting October Michigan events and ideas of fun things to do!
Don't miss a moment of October Michigan events and fun!  Join our newsletter to have events and fun delivered directly to your inbox!
What Michigan Events Are Coming Up Next?
Disclaimer: Please be sure to visit a particular event's website to verify dates, times, happenings and details.  We make every possible effort to be verify these the event details but as we are human, mistakes can occur and event dates/times can change.  If you see an error below, PLEASE let us know and we will correct it.

Event Centers in Michigan
Still bored? Don't forget to check these Michigan event centers/theaters/auditoriums across Michigan for concerts, events, shows or comedy entertainment! 
Here are a few Michigan event centers to inspire you!  
Cobo Hall-Detroit
Midland Center for the Arts-Midland
Dow Gardens-Midland
Kalamazoo State Theatre
Fire Keepers Casino
Soaring Eagle Casino-Mt. Pleasant
Wings Event Center-Kalamazoo
Miller Auditorium-Kalamazoo
Civic Auditorium-Kalamazoo
Chenery Auditorium-Kalamazoo
Kellogg Arena-Battle Creek
LMC Mendel Center-Benton Harbor
Franke Center for the Arts-Marshall
The Bob-Grand Rapids
Van Andel-Grand Rapids
Devos Place-Grand Rapids
Dow Event Center-Saginaw
Being bored sucks! Never miss another event! Join our network of Traveling Michigan Explorers!  Be a part of this amazing community of travelers!

Subscribe To Receive Exciting Destinations, Day Trips and Fun Directly to Your Inbox!
Sign Up to Our Newsletter to Get the 5 Free Must Have Apps to Travel in Michigan Like a Boss!
Follow Us on Instagram 
Check Out Our Traveling Michigan Videos on Youtube!
Check out our off-road Keweenaw Peninsula adventures on YouTube!
Popular Pages You May Also Like...
We would love to hear your ideas!
Share your Michigan events, stories, photos and ideas! We love to be inspired!