Ultimate Top 50 Michigan Corn Mazes 2021 To Visit This Fall (Fun + Haunted-Even Chuck Norris was Scared!) | Ultimate Map of Fall Things To Do
Ultimate Top 50 Michigan Corn Mazes 2021 To Visit This Fall (Fun + Haunted-Even Chuck Norris was Scared!) | Ultimate Map of Fall Things To Do | By Sherry Trautman | Traveling Michigan 
I just love Michigan during the fall, don't you?!  The weather is cool and crisp yet the sun is bright and cheerful. We love wandering amongst the tall waving shafts of corn as we search for ways out of the winding corn mazes!
See our best Michigan Corn Mazes located in Grand Rapids, Dundee, Ann Arbor, Traverse City, Williamston, Lansing, Fowlerville, Kalamazoo, Detroit, Frankenmuth, Monroe, Flushing and New Salem.
Are you wondering "Where's the best corn maze near me?"  WELL, we've got 'em!
Fall Michigan fun is about to begin!  Take your next Michigan vacation this fall near one of the lovely farms listed below! So many things to do!
Interactive Map of Michigan Corn Mazes
*Be sure to click this link to open Michigan Corn Mazes in Google Maps so you can see where they are as you drive!
Helpful Map Tips:

Click on the plus and minus in the left corner to zoom in or out of the map.
Click on the icons for more info, addresses and photos of the stops.
Click on the map to drag and move it to view surrounding areas.
In the Header, click on the rectangle in the upper left of the map to see a menu of all of our stops. Click on anything that looks interesting to see where it is on the map. To hide the menu, click the rectangle in the header. 
In the Header, click on the "square" icon in the upper right side to expand the map for better viewing. 
When Was the First Documented Corn Maze?
We were sitting around a bon fire lately and the topic of corn mazes came up. We wondered when the first one was created! 
Per Wikipedia, the first large corn maze was believed to be created in Annville, Pennsylvania in 1993; however, corn mazes were mentioned in newspapers around 1982. 
Corn mazes are fun Michigan tourist attractions that generate another way for farms to generate income. So be sure to visit Michigan this fall season!
Best Michigan Corn Mazes
There are dozens of Michigan corn mazes (including some haunted corn mazes) in Upper Michigan, Southeast Michigan, Southwest, Northern Michigan, Southern Michigan and all across the state!

Abandoned Acres Farm Haunted Attraction - 7737 Fruit Ridge Ave NW, Sparta, MI 49345 (North of Grand Rapids) Are you brave enough for the BLOODY BUTCHER CORN MAZE? Old Eli's bride died so he took up his knife and disappeared in the corn... 
A-mazing Acres - 18430 US-12, Edwardsburg, MI 49112 (Southern Michigan). Did you know there are 90+ A-Mazing acres of fun right in southern Michigan? There's a corn maze, pumpkin patch, and almost 100 other attractions and things to do!
Bestmaze Corn Maze - 3803 Noble Rd, Williamston, MI 48895 (East of Lansing)
Blake's Orchard & Cider Mill - 17985 Armada Center Rd, Armada, MI 48005 (East Michigan - Near Troy Michigan)
Bethke Farms - Pumpkin Patch - 12124 136th Ave, Grand Haven, MI 49417 (West Michigan - West of Grand Rapids, North of Holland)
Bonadeo Farms -1215 White Lake Rd, Highland Charter Twp, MI 48356 (East Michigan - Between Flint and Ann Arbor)
Bumbleberry Acres - 6785 Baseline Rd, South Haven, MI 49090 (West Michigan)
Coleman's Corn Maze - 12758 Jordan Rd, Saline, MI 48176 (Southeast Michigan, South of Ann Arbor)
CornFun Corn Maze Adventure And Pumpkin Patch - 9391 Lindsey Ln, Casco, MI 48064 (East Michigan)
Crane Orchards U-Pick and Corn Maze - 6054 124th Ave, Fennville, MI 49408 (Southwest Michigan - North of South Haven)
DeBuck's Corn Maze and Pumpkin Patch - 50240 Martz Rd, Belleville, MI 48111 (Corn Maze in Southeast Michigan - near Detroit)
Deep Roots Produce - 8570 84th St SE, Alto, MI 49302 (Southwest Michigan, south of Grand Rapids)
Deranged Haunt - 35560 Goddard Rd, Romulus, MI 48174 (Southeast Michigan, near Detroit)
Diehl's Orchard & Cider Mill - 1479 Ranch Rd, Holly, MI 48442 (Southeast Michigan, North of Ann Arbor and Novi)
Dinges Fall Harvest - 15219 Mill Rd, Three Oaks, MI 49128 (Southwest Michigan - Near Sawyer and New Bufffalo)
Dunneback Farm Market - 3025 6 Mile Rd NW, Grand Rapids, MI 49544 (Southwest Michigan)
Erwin Orchards - 61475 Silver Lake Rd, South Lyon, MI 48178 (Michigan corn maze in Southeast MI, north of Ann Arbor)
Farmer Charley's Kackleberry Farm - 6421 N Stoney Creek Rd, Monroe, MI 48162 (Michigan corn maze located in Southeast MI)
Farmer J's Corn Maze - World Record Corn Maze - 16405 Pherdun Rd, Dundee, MI 48131 (Michigan corn maze located in Southeast MI)
Fleming Farms - 4264 Martindale Rd, Gaylord, MI 49735 (Located in Northern Michigan)
Flushing Farms - 7096 Gillette Rd, Flushing, MI 48433 (Central Michigan, located west of Flint)

Fruit Ridge Hayrides - 11966 Fruit Ridge Ave, Kent City, MI 49330 (Southwest Michigan-North of Grand Rapids)
Grand River Corn Maze - 5781 W Grand River Rd, Fowlerville, MI 48836  (Fowlerville Corn Maze-Southeast Michigan))
Gull Meadow Farms - 8544 Gull Rd, Richland, MI 49083 (Southwest Michigan, Near Kalamazoo)
Grandma's Pumpkin Patch - 4277 N Eastman Rd, Midland, MI 48642 (Central Michigan)
Harvest Moon Acres - 18725 M-40, Gobles, MI 49055 (Southwest Michigan, Near Kalamazoo)
Heidi's Farmstand and Bakery - 11999 Cascade Rd SE, Lowell, MI 49331 (Southwest Michigan, Near Grand Rapids)
Jacob's Farm TC - 7100 East Traverse Hwy, M-72 West, Traverse City, MI 49684 (Michigan corn maze located in Northwest Michigan)
Johnson's Giant Pumpkins, LLC - 4715 N Portsmouth Rd, Saginaw, MI 48601

Knaebe's Mmmunchy Krunchy Apple Farm - 2621 S Karsten Rd, Rogers City, MI 49779 (Northern Michigan, near Alpena)
Long Family Orchard, Farm & Cider Mill - 1540 E Commerce Rd, Commerce Charter Twp, MI 48382 (Southeast Michigan, near Detroit)
Maybury Farm - 50165 Eight Mile Rd, Northville, MI 48167 (Southeast Michigan, near Detroit)
New Salem Corn Maze - 4516 24th St, Dorr, MI 49323 (Southwest Michigan, near Holland) TWO FRIGHTENING TRAILS THROUGH THE WOODS! 

Olin Farm- Corn Maze, Hayrides & Pumpkins- 10991 Vergennes St SE, Lowell, MI 49331
Papas Pumpkin Patch - 3909 S Summerton Rd, Mt Pleasant, MI 48858
Paulson's Pumpkin Patch Inc - 11164 Belding Rd, Belding, MI 48809
Post Family Farm - 5081 Bauer Rd, Hudsonville, MI 49426
Pregitzer Farm Market, Llc - 6870 Territorial Rd, Munith, MI 49259
Robinette's Apple Haus & Winery - 3142 4 Mile Rd NE, Grand Rapids, MI 49525
Schell Family Farm - 10055 Dexter-Pinckney Rd, Pinckney, MI
Schwallier's Country Basket - 1185 9 Mile Rd NW, Sparta, MI 49345
Shawhaven Farm - 1826 Rolfe Rd, Mason, MI 48854

Spicer Orchards Farm Market, Cider Mill, Fudge, Bakery - 10411 Clyde Rd, Fenton, MI 48430
The Blast Corn Maze - 6175 Daly Rd, Dexter, MI 48130
The Haunt - 1256 28th St SW, Wyoming, MI 49509
The Pumpkin Factory, Haunted House, Pumpkins, Fall Activities for Families - 48651 Harris Rd, Belleville, MI 48111
Trabbic Pumpkin Farm - 1560 E Sterns Rd, Erie, MI 48133 (Michigan corn maze located in southeast MI-south of Dundee)
Uncle Franks Apple Town - 4333 US-31, Alanson, MI 49706 
Wells Orchards - 9009 Kenowa Ave SW, Grand Rapids, MI 49534
Witches of New Salem - 4516 24th St, Dorr, MI 49323
Look The Part! Get Your Corn Swag!
I'm so in love with this cute yellow Crop Top!  Super cute for all fall season while you visit corn mazes, pumpkin fields and cider mills!
So I've been laughing so hard at this corn hat, what a fun thing to wear to your Michigan corn maze adventure! 
This Awww Shucks kids shirt is so sweet!  The creators on Etsy also have them in toddler sizes too, super cute!
You'll Also Want to Visit the Best Michigan Pumpkin Patches and Apple Orchards!
If you love Michigan corn mazes, you will love Michigan pumpkin patches and our favorite Michigan apple orchards for apple picking!!
It's time for Michigan apple and pumpkin picking!  My favorite part of Michigan fall! We have great orchards for both along with interactive maps to help you find the best apple and pumpkin farms near you!
Pin This Michigan Corn Maze Page!
When Are The Leaves Changing in Michigan?
Are you planning a Michigan autumn color tour but need to know the dates for peak Michigan fall trees? Wondering when the trees will change color in Michigan?
Grab our fall foliage map with estimated dates for peek color as the trees change to their gorgeous red, yellow and oranges!   
Leaf peeping is absolutely breathtaking throughout northern Michigan, upper peninsula and lower peninsula.
Halloween is Almost Here!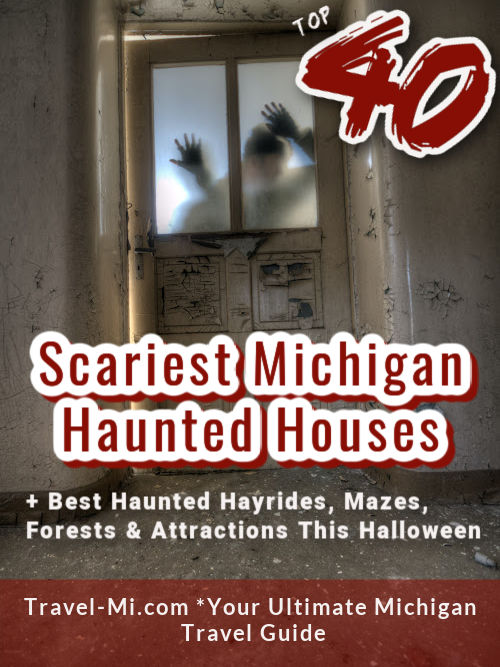 If you love Halloween haunted houses, you just gotta check out our Scariest Michigan Haunted Houses, Forests and Attractions list! 
We have a super cool interactive map to help you find the closest Michigan haunted house near you!
There are so  many fun things to do in Saugatuck!  We bet you will be surprised!
Also, check out our notes and tips for Mackinac Island!  Did you know Mackinac Island has quite a few hidden places to find that many visitors don't know about? Just this last trip we found a whole hidden area that has outstanding views of the island and the surrounding water. We were just thrilled!
Also, we have lots of information on Mackinac Island hotels and places to stay.  We made a map so you can pick your lodging by your desired location! Here's some info on Mackinaw City too, since I'm sure you will want to check that out too! 
Plus, check out our Michigan Fall Activities and Things to Do!
Subscribe To Receive Exciting Destinations, Day Trips and Fun Directly to Your Inbox!
Sign Up to Our Newsletter to Get the 5 Free Must Have Apps to Travel in Michigan Like a Boss!
Follow Us on Instagram, We're Fun!
Have A Great Story About This Topic?
Do you have a great story about visiting here? Share it!