17 Interesting Places in Michigan Both Rare and Unknown - Mind Blowing Vacation Destinations to Visit This Year

17 Interesting Places in Michigan Both Rare and Unknown - Mind Blowing Vacation Destinations to Visit This Year | By Sherry Trautman | Traveling Michigan
Visit these top-rated, bucket list approved places in Michigan for a vacation of a lifetime! We bet you haven't heard of a few of these spots! 
Frankenmuth, Michigan: Bavarian Goodness!
If you haven't visited this fantastic Bavarian-themed village in southwest Michigan, you must place it at the top of your "must see" list! 
There is so much to do in Frankenmuth! Take a riverboat ride on the Bavarian Belle, taste wine and chocolates, indulge in their wildly famous chicken dinners at the Bavarian Inn or Zehnders, splash in the waterpark and shopping till you drop! 
Be sure to visit the World's Largest Christmas store! You'll see why we added it to our Interesting Places in Michigan list!
We have tons of information on Frankenmuth to help you plan your trip to this fabulous village!
Belle Isle: An Adventurer's Paradise
Belle Isle, located in Detroit, is a fantastic island to walk, kayak and explore. 
Visit the Belle Isle Aquarium, Anna Scripps Whitcome Conservatory and Dossin Great Lakes museum!  This is one of our favorite Interesting Places in Michigan!
Get Lost in the Scenic Lavender Labyrinth

9600 W. Buchanan Road, Shelby, Michigan 

This summer, be wowed by Cherry Point Lavender Farm and Market's lavender labyrinth!
When is lavender in bloom?

The lavender is in full bloom mid to late July, with the color lasting into early August.  There's always something blooming in the herb garden, at the center of the labyrinth, during the summer months.
We are visiting here this summer, we are excited!  Be sure to add it to your interesting places in Michigan list!
Sleeping Bear Dunes National Lakeshore: The Ultimate Guide
GRAB THE ULTIMATE SLEEPING BEAR DUNES GUIDE!  It's free!
Voted Best Scenic Drive in America, M-22 Will Be Our RouteAs We Explore Frankfort, Pt. Betsie Lighthouse, Empire, Sleeping Bear Dunes, Pierce Stocking Drive and Lots of Adventures Along the Way.
Definitely worthy to be on our Interesting places in Michigan list!
Step Back in Time at Greenfield Village
Henry Ford's Green Field Village is a gloriously iconic step back in time.  
Greenfield Village is open seven days a week from mid-April to the end of October.  Open select days November through December.
Stroll through 4 working farms and imagine how your life would be different if you lived on a busy farm!
Craftworks-Be inspired by artisans working with early American techniques.   
Check out the Model T district and catch a ride on one of the iconic vehicles!
Discover the history of America's railroads.
Check out Thomas Edison's lab and experience his "light bulb moment."
Tour a famous poet's home and stroll through a plantation.
Ever ridden in a horse-drawn carriage?  Now is your chance!!
Step Back in Time at Wellington Farm Park 
Address: 6944 S Military Rd, Grayling, MI 
See demonstrations by historical interpreters!
Interpreters throughout the park demonstrate a lifestyle typical of the Great Depression. They also demonstrate many of the crafts common to the 1930's.  Embark on guided tours through history as well as educational programs for school groups.
Wellington Farm Park offer craft classes in Crafters Alley. See the broom handle factory and grist mill!
Open mid-May through the end of October. Check their website for activities, events and hours.  You'll see why we added it to our Interesting Places in Michigan list!
Tiller's International: Outstanding Classes in Michigan!
Address: 10515 E O P Ave, Scotts, MI 
Tiller's International is a fantastic place to learn woodworking, metal working, animal handling, and other skills that can be used for personal fulfillment and professional growth.  I want to take the Appalachian broom making class!
Marvin's Marvelous Mechanical Museum: Where You Can Be a Kid Again!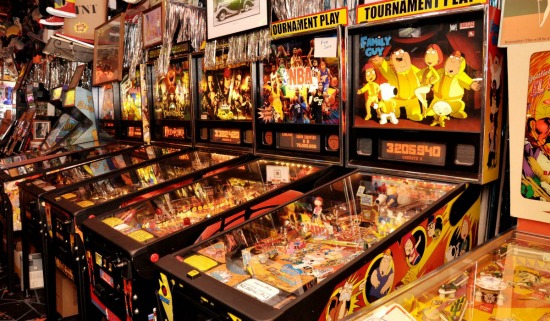 Marvin's Marvelous Mechanical Museum. Photo by the Museum
Address: 31005 Orchard Lake Rd, Farmington Hills, MI
Marvin's Marvelous Mechanical Museum is a fantastic place to learn and see fascinating mechanical history!
Explore over 5000 square feet of vintage coin-operated machines, oddities, unusual items and the newest video games.
And the best part? Admission is ALWAYS FREE. You will have so much fun seeing the model airplanes, crazy ceiling fans, movie posters, collector's items and colorful neon signs adoring the walls and ceiling.
Grab a snack, play and be wowed!  There's so much to see and you'll see why we added it to our Interesting Places in Michigan list! Grab a cool t-shirt while you are there!!
Thunder Bay National Marine Sanctuary and Great Lakes Maritime Heritage Center
500 W. Fletcher Street, Alpena, MI 
The Great Lakes Maritime Heritage Center is a fantastic free visitor center for the Thunder Bay National Marine Sanctuary. Explore Shipwreck Century, located in the center's main hall with an incredible full-size replica of a wooden Great Lakes schooner. 
You can walk the decks and feel a Great Lakes storm without getting wet!
Be sure to check out 9,000 square feet of exhibits, the archaeological conservation lab, the many walking trails and fun gift shop! 
Then, take a SHIPWRECK TOUR! We had an incredible time out on the glass bottom boat!
We definitely felt this museum needed to be on our Interesting Places in Michigan list!
Dairy Discovery Tours Are Incredible!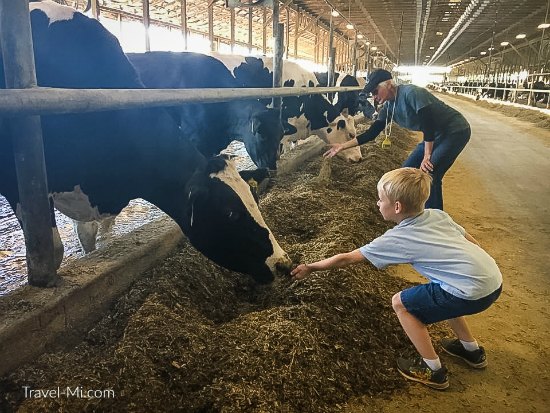 Address: 12877 84th St SE, Alto, MI 49302

Freakin' fantastic tour of a working farm!  We visited last year and my nephew got to bottle feed newborn calves!  He had such a blast!  Perfect afternoon for adults and kids. We are sure you will add it to your Interesting Places in Michigan list to visit this summer.
What is there is see and do?
Learn how cows are milked
Go for a hayride
Help with chores in the calf barn
Check out farm equipment and tractors
Enjoy dairy snacks (other options available)
Learn more about farming
Bring a snack for the picnic area
Get lost in the straw maze
Silver Lake Sand Dunes
Silver Lake in Michigan is the mecca for adventure enthusiasts! Rent a jeep, bring your own or embark on a dune ride with a local business. 
See everything there is to do at Silver Lake!  You will love it here!  Definitely worth a place on our Interesting Places in Michigan list!
Headlands International Sky Park
Address: 15675 Headlands Rd, Mackinaw City, MI
Do you love star gazing?  Who doesn't?!
Next time you are visiting Mackinac Island and Mackinac City, be sure to take a short drive to Headlands International Sky Park. Just bring a soft cushion or blanket to place on the stone benches that are arranged for a perfect view of the night sky. 
The sky park is free from light pollution, including vehicle headlights.  Even the bathroom (with real flushing toilets!) has a red light.
Porcupine Mountain's Encarpment Trail: One of the Most Interesting Places in Michigan
Porcupine Mountain's Encarpment Trail Map
If you want to hike a fantastic trail with incredible views, the Porcupine Mountain Encarpment trail is for you!
Heralded as "the crowning jewel of trails not only in the Porkies but in all of Michigan and possibly in the Midwest," you will be wowed by high rocky bluffs and alpine-like views.  View the Upper Carp River Valley and the prize; Lake of Clouds. 
Beginning from the parking area, this hike begins as a boardwalk to the stunning overlook and then continues east as a path that descends off the high point. After a third of a mile is the backcountry campsite. You will then pass the posted junction to North Mirror Lake Trail featuring a bench to take a short break. 
North Mirror Lake Trail plummets towards Lake of the Clouds, reaching it within a half mile and then continuing another 3.5 miles to Mirror Lake.  It's definitely worth the effort but be sure to bring lots of drinking water, a hat, sturdy shoes and sunscreen. Definitely one of the most Interesting Places in Michigan!
Estivant Pines Nature Sanctuary
Burma Rd, Copper Harbor, MI

The Estivant Pines are considered to be the last remaining stand of old-growth white pines in Michigan, some of which have managed to escape the saws of the loggers for over 600 years. The entire forest is like a pristine living nature museum featuring 125 feet tall trees and a dense undergrowth containing many other plants, including orchids and ferns.
The forest is home to over 85 species of birds and many small animals you can observe as you hike along the three trail loops. Cathedral Trail Loop is where the largest of the trees are found, but Memorial Trail Loop is just as rewarding – combine both trails to make the most of your visit.
Tunnel of Trees and Thorne Swift Nature Preserve
Tunnel of Trees Scenic Heritage Route: US 119 in Harbor Springs, MI

Nature Preserve: 6696 Lower Shore Dr, Harbor Springs, MI 49740
Driving along the Tunnel of Trees in Harbor Springs is a glorious way to enjoy a summer or fall day.  Continue along the route until you reach Lower Lakeshore Drive to visit the Nature Preserve.

The Thorne Swift Nature Preserve is a 30-acre wildlife sanctuary situated along the shores of Lake Michigan, just three and a half miles outside Harbor Springs.
This lovely preserve is a great place to spend a bit of time as it offers a 300-foot sandy public beach along the lakeshore, hiking trails, and other recreational activities.
Check out the pond-observation platform and admire the protected dunes from the platform. By the way, this is an awesome place to watch the sunset!  There are two trails to enjoy: the Beach Trail and Balsam Trail.
Discover the Eben Ice Caves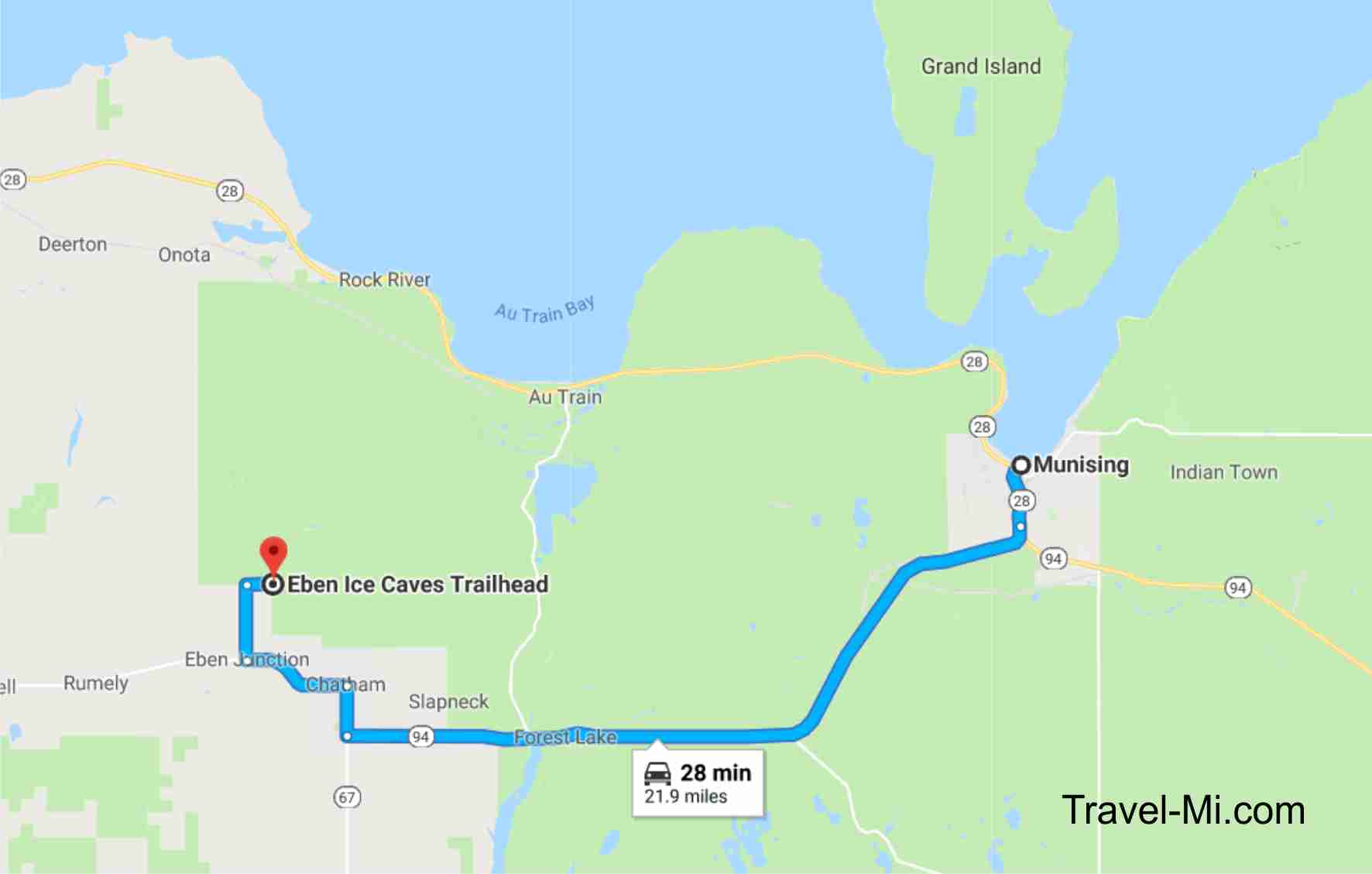 Address: Frey Road, Eben Junction, MI 
If you are visiting Munising in the Upper Peninsula, you must go visit the stunning and magical Eben Ice Caves!  It's a good idea to visit during the week as the crowds can be over 50 cars long near the trail head which means a less peaceful visit, further to walk and difficult to obtain photos.
To get to the Eben Ice Cave, drive down a dirt road near a farm and park your car.  It's a good idea to wear cleats or yaktrax over your shoe bottoms to help you navigate the icy areas. 
After passing through the icy farm field, you'll enter a scenic forest trail. As you descend into the forest, you will begin to hear the flowing water.  You will get to follow the stream until the trail curves away. There is a rather steep icy climb up a couple hills to the stunning ice cave.  If you go too far down the trail you will only see an icy wall so be sure to look to the right. 
Pin This Interesting Places in Michigan Page!
Cool Michigan Places Your May Love!