10 Freakin' Awesome Ways to Celebrate Michigan St Patricks Day 
We've got 10 Freakin' Awesome Ways to Celebrate Michigan St Patricks Day 2019! Do you crave green beer, shamrocks, salty pretzels, tender tasty cabbage, colorful parades and all things Irish?  We've got you covered!
What is the Meaning of St. Patrick's Day?
St. Patrick is the patron saint of Ireland and has a long history of teaching people about Catholicism and Christianity. He incorporated the many traditions and Irish culture into his everyday life.
America started celebrating St. Patrick's Day in 1762 when homesick Irish soldiers organized a fun parade with lively Irish music including bagpipes and drums. The parade brightened their spirits and the rest is history!
10 Unique Ways to Celebrate Michigan St Patricks Day-2019
St. Patrick's Day Bar Crawl, The Greek 535 Monroe Ave, Sat, March 16, 2019, 2:00 PM – 10:00 PM Throw on some green and grab your favorite drinking buddies for that whiskey won't drink itself!  Advanced tickets are best!
Saugatuck Antique Market -Wear green on St. Patrick's Day weekend, March 10th, and March 11th, to receive 20% off your purchase!
Saugatuck Brewing Company-7th Annual St. Patrick's Breakfast on Saturday, March 17, 2019. Your ticket will include an all-you-can-eat traditional Irish-style breakfast, one drink, and live music from Jeff Ward! Come back later in the day for live music and a classic Irish dinner.
Salt of the Earth in Fennville- For St. Patrick's Day, Sunday, March 18th, 2019. Enjoy a performance by Soltre. Tickets are available online, along with a full schedule of other performances.
Downtown Market Grand Rapids, 435 Ionia Ave SW Grand Rapids, MI. Saturday, March 16, 2019 from 6:00pm – 8:30pm.  Adults-only "Warm Up the Irish Way" event. Begin the night by dipping pretzels into your homemade beer cheese, while you make classic brown butter soda rolls and Irish sausage. Then, experience a traditional Irish colcannon, a delicious medley of softened cabbage, leeks, and potatoes. As the finale, warm up with homemade Irish coffee or Guinness! More Details Here
St. Patrick's Day Parade, Downtown Bay City, Mar 17, 2019, at 2:00 PM. This parade is one heck of a show! Shamrocks, lively floats and candy galore! We will be there for sure! 
Kalamazoo K-Wings-"World Famous" Green Ice game, 3600 Vanrick Dr, Kalamazoo, MI, Saturday, March 17, 2019.  My friends, if you want a good time, I highly recommend a K-Wings hockey night.  I absolutely love hockey in this arena as the energy is high and the view is amazing if you spring for the closer seats.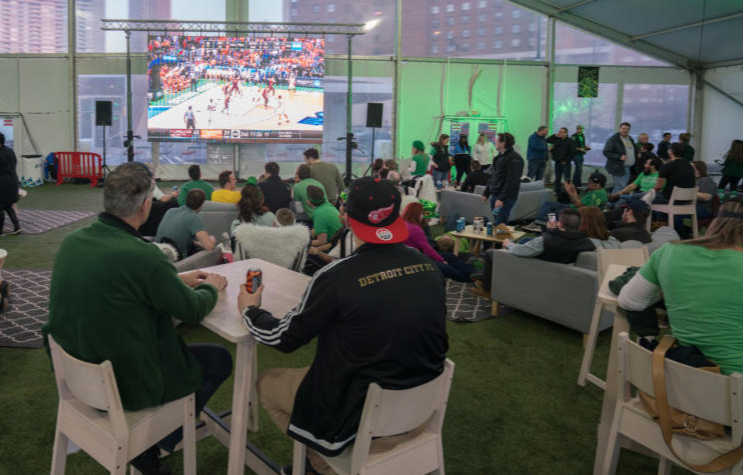 Photo by: Beacon Park Detroit
St. Patrick's Day Family Fun Day & Party, Beacon Park Detroit, March 16, 2019 @ 1:00 pm - 10:00 pm FREE! 
ST PATRICK'S DAY FAMILY FUN DAY | 1 – 5 p.m. Grab your little leprechauns and head over to their heated tent for a FREE afternoon of Irish dancing, crafts and more!
ST PATRICK'S DAY PARTY | 5 -10 p.m. Calling all Detroit leprechauns! Beacon Park Detroit is throwing a St. Patrick's Day Party in the heated tent!  DJ, live music and lawn games plus a friendly little Irish competition with prizes!  Read More 
St. Patrick's Day Celebration, Grand Ledge, March 15 & 16, 2019 This annual celebration is set in historic downtown Grand Ledge and consists of an Irish Stew cook-off, live music, Irish dance performances and a grand parade.
Zingerman's Bake House Cooking Classes-Ann Arbor, MI, April 16, 17, 2019 Celebrate St. Patrick's day by baking traditional Irish breads, Bakehouse brown Irish soda bread and also a sweeter white soda bread with currants. Top it off with Guinness Stout chocolate cupcakes with Bailey's Irish Cream frosting.  READ MORE! YUMMY!
March and April Upcoming Events You DEFINITELY Don't Want to Miss!
If you love maple syrup, butterflies, hot rods and awesome outdoor events, you'll love our March Michigan events!!  The same goes for April Michigan events!  The fun and exploring is just starting!!
Is Your Event Missing?
Contact us if you think your event is super awesome and should be listed here!!
Subscribe To Receive Exciting Destinations, Day Trips and Fun Directly to Your Inbox!
Sign Up to Our Newsletter to Get the 5 Free Must Have Apps to Travel in Michigan Like a Boss!
Follow Us on Instagram