10 Freakin' Awesome Ways to Celebrate Michigan St Patricks Day 
We've got 10 Freakin' Awesome Ways to Celebrate Michigan St Patricks Day 2019! Do you crave green beer, shamrocks, salty pretzels, tender tasty cabbage, colorful parades and all things Irish?  We've got you covered!
What is the Meaning of St. Patrick's Day?
St. Patrick is the patron saint of Ireland and has a long history of teaching people about Catholicism and Christianity. He incorporated the many traditions and Irish culture into his everyday life.
America started celebrating St. Patrick's Day in 1762 when homesick Irish soldiers organized a fun parade with lively Irish music including bagpipes and drums. The parade brightened their spirits and the rest is history!
10 Unique Ways to Celebrate Michigan St Patricks Day-2020
Clare Irish Festival, March 11-14, 2020, Annual Irish Festival attracting thousands of spectators for a one of a kind celebration!
St. Patrick's Day Bar Crawl, The Greek 535 Monroe Ave, Sat, March 14, 2020, 1:00 PM – 9:00 PM Throw on some green and grab your favorite drinking buddies for that whiskey won't drink itself!  Advanced tickets are best!
Saugatuck Antique Market -On the weekend of the 17th, the St. Patrick's Day Weekend Sale Event in Saugatuck starts, with almost 200 dealer booths of antiques and collectibles.
Downtown Market Grand Rapids, 435 Ionia Ave SW Grand Rapids, MI. Saturday, March 14, 2020 from 6:00 pm – 8:30 pm.  "Warm Up the Irish Way" event. Join us for a St. Patrick's Day celebration like no other! Begin the night by making classic brown butter soda rolls and irish sausage. Then, experience a traditional irish colcannon—a delicious medley of softened cabbages, leeks, and potatoes. Finally, finnish with a rich Guinness chocolate stout cupcake! Sip on Guinness, available for purchase. More Details Here
St. Patrick's Day Parade, Downtown Bay City, Mar 15, 2020, at 2:00 PM. This parade is one heck of a show! Shamrocks, lively floats and candy galore! We will be there for sure! 
Kalamazoo K-Wings-"World Famous" Green Ice game, 3600 Vanrick Dr, Kalamazoo, MI, Saturday, March 13 and 14, 2020.  My friends, if you want a good time, I highly recommend a K-Wings hockey night.  I absolutely love hockey in this arena as the energy is high and the view is amazing if you spring for the closer seats.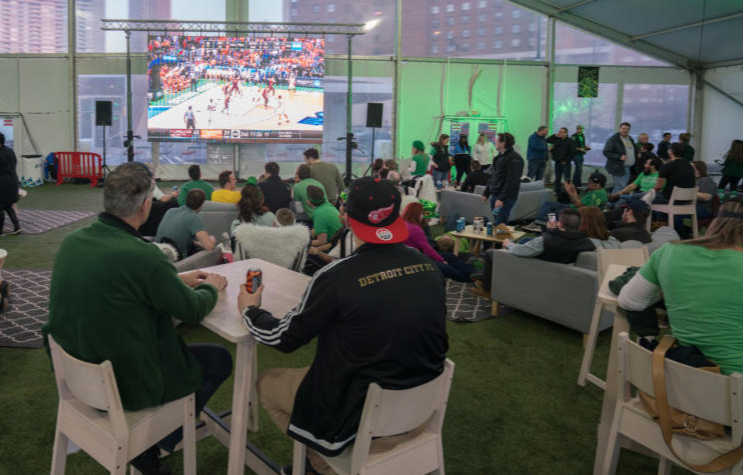 Photo by: Beacon Park Detroit
St. Patrick's Day Family Fun Day & Party, Beacon Park Detroit, March 14, 2020 @ 1:00 pm - 5:00 pm FREE! Celebrate St. Patrick's Day with some good ol' fashioned fun at Beacon Park Detroit! Beacon Park.  The park will be transformed into an Irish pub complete with live entertainment throughout the afternoon, lawn games and free activities for kids. Lots of Irish beer and cocktails, craft and domestic beers and food for purchase. 
St. Patrick's Day Parade and Celebration, Downtown Holland, 150 West 8th Street, Holland, MI. The colorful parade travels east up 8th Street from the 8th Street Marketplace (150 W. 8th St.) to the corner of 8th Street and College Avenue. Irish dancers, bagpipers, and kilt-wearers will delight you this St. Patrick's day! Celebrations continue at New Holland Brewing Company, the Curragh Irish Pub, Hops, Butch's and other downtown restaurants and pubs. 
St. Patrick's Day Celebration, Grand Ledge, March 14, 2020 11:00 AM - 4:00 PM at the American Legion
Irish Stew Cook Off - Vote for your favorite stew. Open to the public! 
11:00 AM - 2:00 PM at the Opera House
Stop by the Opera House for a corned beef slider, cup of potato soup and a Guinness Beer. Irish music will be playing for your entertainment. Prices will be ala carte!
2:00 PM St. Patrick's Day Parade - Downtown Grand Ledge. See The Glen Erin Bagpipe Band, floats and more!

Following the Parade - 6:00 PM - Grand Ledge Opera House. See the Hubbardston Irish Dancers with the Glen Erin Pipe Band. Free.
Zingerman's Bake House-3711 Plaza Drive, Ann Arbor, MI. Want to try Irish Soda Bread? The Bake House will offer traditional Irish Brown Soda Bread for purchase. "After working on this recipe for many years, we think we've really created something special using Irish whole meal flour (whole wheat), white flour, stone-milled Irish oats, local buttermilk, baking soda, and sea salt. The flour and oats are shipped straight here from Ireland every year!"  Available through March 17th.
March and April Upcoming Events You DEFINITELY Don't Want to Miss!
If you love maple syrup, butterflies, hot rods and awesome outdoor events, you'll love our March Michigan events!!  The same goes for April Michigan events!  The fun and exploring is just starting!!
Is Your Event Missing?
Contact us if you think your event is super awesome and should be listed here!!
Subscribe To Receive Exciting Destinations, Day Trips and Fun Directly to Your Inbox!
Sign Up to Our Newsletter to Get the 5 Free Must Have Apps to Travel in Michigan Like a Boss!
Follow Us on Instagram