Bay City Michigan: Madonna Loves Chocolate Treats From This Local Shop
Bay City Michigan | By Sherry Trautman | Traveling Michigan
Downtown Bay City is a great location for fantastic coffee houses, antique shops, boutique shops, sailing, boating and restaurants.
The gorgeous downtown river walk (shown above) is worth the visit! Plus every summer the city hosts a variety of festivals along the water front. 
This past year, area artists were sponsored by local businesses to paint these adorable Adirondack chairs that were dispersed throughout the waterfront area. It was a great splash of color and art!
Wandering the Bay City Riverwalk is So Scenic!
We love parking near St. Laurents and walk all the way to the Real Seafood restaurant on the paved walkway.  This path offers awesome views of the river. 
Bring a drink and grab a seat in the beautiful Adirondack chairs along the route!
Madonna's Connection with Bay City
"I was born in Bay City," Madonna said, according to Vanity Fair. "In fact, I went to the University of Michigan."
Madonna also said, "I have great affection for Bay City."  So there you go!  If the Material Girl loves this city, come for a visit!
Oh, and the Downtown Area is Gorgeous!
Sail Away on the Appledore Tall Ship!!
The Appledore Tall Ships offer a huge variety of super fun sailing opportunities including evening, festival and afternoon sails.
They deport from several ports around the east side of Michigan so check out their schedule!
Bay City Blue Ice
Bay City Blue Ice is such a cool phenomenon!  The photo above doesn't really represent it due to the time of day but I have more photos and info here! 
Sip 'n Swirl in Bay City!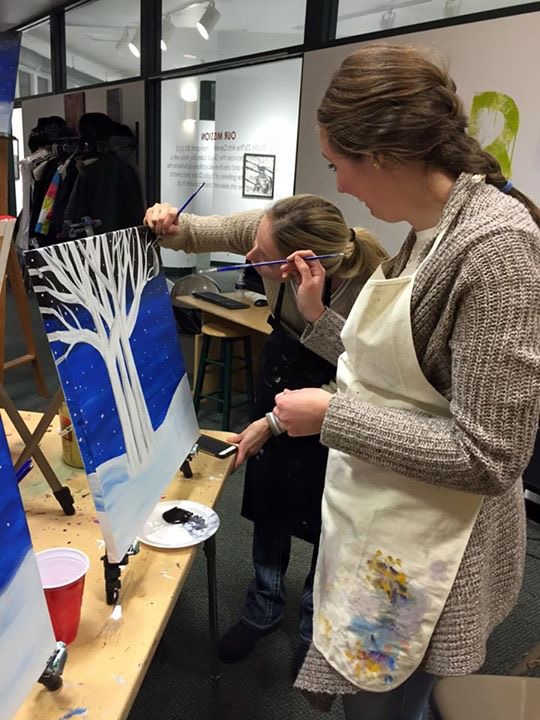 Do you love to paint AND sip wine?  Oh my gosh so do I! I mean, what a great combination! 
Studio 23/The Arts Center located at 901 N Water St, Bay City has fun evenings in which you do just that!!  They provide the art materials (canvas, paints, brushes, etc.) and you just bring a bottle of wine, a snack, and get ready to paint!
A big group of us decided to give it a try! I'm bent over a canvas above helping a friend with her tree!  We had a blast and it wasn't stressful! What a fun evening filled with laughs! Plus, at the end of the night we all had a piece of art.  YEY!
Bay City Tall Ships Festival!
Bay City Tall Ships is an outrageous family friendly festival that is not to be missed!  Our July Events page lists the dates! 
Best Restaurants in Bay City!
My favorite restaurants in Bay City are:
Real Seafood Company (the best thing EVER is sitting outside in the summer overlooking the river!!)
Old City Hall
Gino's Pizza (great garlic bread!)
Fusion 1 Cafe (Tuesday's is 2 for 1 sushi, which is my favorite! Cash only, call to order around 10:30 am if you want to pick it up by noon!)
Check out St. Laurent's Brothers 
If you want freakin' amazing chocolate goodies, pop into St. Laurent's Brothers! I love their chocolate covered nuts and fresh almonds. I have made several gift baskets for loved ones from this quaint shop! 
Plus, it's rumored that Madonna shops there!
You May Also Like...
Summer Fun and More Details Coming Soon!
Subscribe To Receive Exciting Destinations, Day Trips and Fun Directly to Your Inbox!
Sign Up to Our Newsletter to Get the 5 Free Must Have Apps to Travel in Michigan Like a Boss!
Follow Us on Instagram 
Have A Great Story, Event or Idea of Things To Do In Bay City?
We would love to hear your ideas! Share it!