Shiawassee National Wildlife Refuge: Jaw-Dropping 6.5 Mile Wildlife Drive (See Tons of Animals!) Great Bird Watching and Hiking Spot in Michigan 
Shiawassee National Wildlife Refuge | By Sherry Trautman | Travel-Mi.com
This Wildlife Refuge is absolutely BREATHTAKING! Not only are the views out of this world on the Wildlife Drive, but we saw hundreds of birds, lots of hopping frogs and well...a small snake!  
Plus, did you know Michigan has pelicans!?! I saw at least 100 of them! I had my jaw hanging open more often than not with the each new bend in the road. (It's a wonder I didn't end up in the swamp)
Shiawassee National Wildlife Refuge has a jaw-dropping 6.5 mile wildlife drive where you will see tons of animals! Absolutely great hiking and bird watching in Michigan.

WHY SHOULD YOU GO? The Refuge offers quiet wooded trails with that healing, back-to-nature feeling that we all crave.  It's perfect when you want a break from technology, work and well, let's be honest...a break from people.  OH, and it has great photographic opportunities! 
Where is Shiawassee National Wildlife Refuge?
I wanted to share this map as the address on my phone GPS did not take me to the parking area or the drive...not even close.  Here is the Ferguson Trailhead, map of the Wildlife Drive, location for the beginning of the Wildlife Drive and the restroom.  
6000 Bishop Rd, Saginaw, MI is the parking area.
Plus, it's only about 15 minutes from Frankenmuth, so be sure to plan a few hours in this magical Bavarian Village!
Helpful Map Tips:

Click on the plus and minus in the left corner to zoom in or out of the map.
Click on the map to drag and move it to view surrounding areas.
In the Header, click on the rectangle in the upper left of the map to see a menu of all of our stops. Click on anything that looks interesting to see where it is on the map. To hide the menu, click the rectangle in the header. 
In the Header, click on the "square" icon in the upper right side to expand the map for better viewing. 
*Be sure to click this link to Shiawassee National Wildlife Refuge in Google Maps for a live map to guide you!

About Shiawassee National Wildlife Refuse
Just so you know, dogs are not allowed on the trails.
The National Wildlife Refuse is a 9,870.35 acres National Wildlife Refuge located in Saginaw County. It is managed by the United States Fish and Wildlife Service. 
Shiawassee National Wildlife Refuge is dedicated to preserving and enhancing wildlife habitat, protecting migratory birds, and providing opportunities for wildlife-oriented recreation and nature study for Saginaw and surrounding communities.
The Refuge hosts over 270 species of birds each year. Thousands of ducks, geese and other waterfowl stop at the Wildlife Refuge during the spring and fall migration. 
A Note On Safety: I highly recommend the Ferguson Bayou Trail and Wildlife Drive as I felt very comfortable hiking and driving the refuge by myself.  Of course, use your judgement.  
However, I did not feel safe (at all) as I drove close to the Woodland Trail.  That being said, I decided not to go. The trail itself may be fine but if I can't recommend it to my grandma, I cannot recommend it to you. 
Shiawassee National Wildlife Refuge Auto Tour
Wildlife Drive Auto Tour-6000 Bishop Rd, Saginaw, MI 48601
The wildlife drive is an absolutely exquisite drive-trust me.  Your kids will love seeing all the birds and jumping out at the observation decks.
You will see grasslands, marshes, pools and stunning views of the scenic Shiawassee River. Look for herons, bald eagles and egrets!  
Wildlife Drive is open June 1-September 30. Why is it closed October-May? The Wildlife Drive is closed to help the refuge provide it's most important function, create a safe and interrupted resting stop (habitat) for migratory waterfowl.
There are pit toilets at the first bend in the road (2 minutes into the drive).  It is not located in the parking area.
No bikes are allowed on the drive

I used this map the entire drive to keep track of where I was on the drive (the dotted line). I hope you find it useful!
Can you spot the pelicans?  Yep, I said pelicans!
Wildlife Drive Operation Times
| | | | | |
| --- | --- | --- | --- | --- |
| | June | July | August | September |
| Gate Open: | 5:30 a.m. | 5:45 a.m. | 6:15 a.m. | 6:45 a.m. |
| Gate Close: | 8:45 p.m. | 8:45 p.m. | 8:15 p.m. | 7:30 p.m. |
| Exit By: | 9:45 p.m. | 9:45 p.m. | 9:15 p.m. | 8:30 p.m. |
Keep your eyes open along the 6.5 mile self-guided auto tour route for birds, deer and other surprising wildlife as you pass marshes, pools and grasslands. 
Be sure to jump out of the car and climb the observation platforms for great photography and teaching small children about nature. 

Hiking the Ferguson Bayou Trail at the Shiawassee National Wildlife Refuge
The Ferguson Bayou Trail-This National Recreation Trail is located at the west end of Curtis Road on the south side of the refuge. (See my map at the top of this page). It offers over 4.5 miles of hiking and biking trails with parking on Bishop road.
This trail follows graveled and grass paths on the tops of dikes and offers views of croplands, sloughs, forests, fields, wetlands, and pools. 
Be sure to check out the three observation platforms, equipped with spotting scopes so you can take a closer look at ducks, geese and other wildlife.  There are also two permanent photo blinds. Check out the trail map here.
There are two restrooms on the Ferguson Bayou trail (see map above).  Bring your binoculars and hiking boots!
You will see lots of frogs hopping along the first mile of the trail so be sure to watch your step!
You may also encounter small snakes so it's best to wear closed toe shoes.

Kayaking the Shiawassee National Wildlife Refuge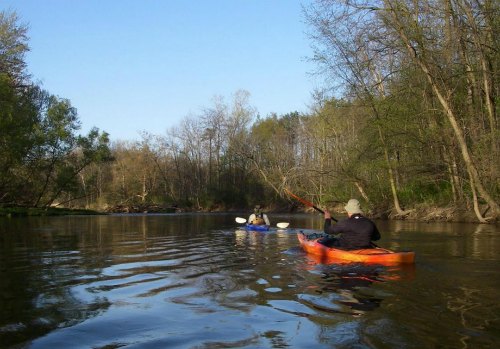 The Shiawassee River is incredibly scenic and a perfect place for canoeing and kayaking. The river is a warm-water river ecosystem with a slow-moving current so it is suitable for families.  You will need to bring your own kayak and gear as there are no outfitters in this area.

Launch Site: Cass River Boat Launch, on the north side of the river on M-13.  See Map below.
Be Prepared!  Bring bug spray, long sleeve shirt/pants and a dry bag for your keys and camera. Be sure to have sun screen, snacks and plenty of water. A wide brimmed hat is also helpful. 
PRO-TIP: Only have one vehicle?  Paddle upstream, then leisurely float downstream for a good workout without worrying that you will be too tired to make it back to your put-in spot.  This works for me as I frequently kayak by myself.

Click here for a Shiawassee National Wildlife Brochure.
Pin This Shiawassee National Wildlife Page
More Articles You Might Like!