Strawberry Picking Michigan: Ultimate Map of U Pick Strawberries, Best Strawberry Farms and Fields for Berry Picking in MI, When is the Season?
Strawberry Picking Michigan: Michigan strawberry season, where are the best U pick strawberries and best strawberry farms for berry picking | By Sherry Trautman | Traveling Michigan
Don't you just love Michigan Strawberry Season? There are so many U pick strawberries in Michigan!  Grab our interactive map of Michigan Strawberry Farms and you will be berry picking in Michigan today!
Here's a great list of Michigan U-Pick farms located in the NW, NE and SE quadrants of lower Michigan, plus the upper peninsula!
Perfect farms to visit during your excursions to Traverse City, Petoskey, Ann Arbor, Charlevoix, Mackinaw City, Tawas, Detroit, Lansing and Midland regions!
Buy local and support our farmers!
Interactive Map of U Pick Strawberries in Michigan!! 
Click here for a live Google Map of Places to Pick Michigan Strawberries  

How to Use the Interactive Strawberry Picking Michigan Map Above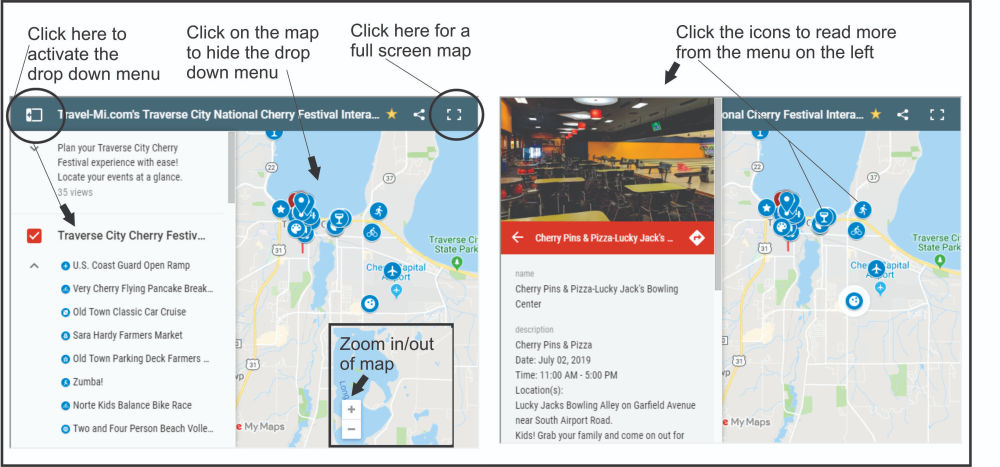 Zooming in: Click on the plus and minus buttons at the bottom left of the map to narrow in or out of the map. Or scroll with your mouse or use two fingers on your phone.
Moving the Map: If using a mouse, click on the little hand icon to move the map around. 
More Info: Click or touch the colorful pins to obtain more information about the event or schedule. 

Drop Down Menu: Click or touch the square with the small arrow on the upper left side of the map for a drop down menu to find particular events or locations.

Expanded Map View: Click the grid marks on the upper right of the map to expand the map.
Let's start berry picking in Michigan!  The Michigan strawberry season is very short, so be sure to visit these strawberry farms in Michigan soon!
What month is best for strawberry picking?

Mid June until the end of June is the prime Michigan strawberry season for berry picking.  See our list of fantastic u pick strawberries in Michigan below and our interactive map above!
When can you pick strawberries in Michigan?

Strawberry picking in Michigan begins right about June 15 and continues until approximately the first week of July.
The Michigan strawberry season is pretty short so be sure to find the closest u pick strawberry farms near you! So many places for awesome strawberry picking Michigan.
U Pick Farms for Strawberry Picking Michigan
All of these Michigan strawberry farms and u pick strawberries are also listed on the interactive map above so you can easily find berry picking near you! 
You can go strawberry picking in Ann Arbor, Traverse City, Grand Rapids, Eagle, Detroit, Lansing, Midland, Charlevoix, Petoskey, Michigan's Upper Peninsula and all across our state!
AJ's Berry Farm - 1150 Salina Rd, Lachine, MI 49753
Big Red Orchard - 4900 32 Mile Rd, Washington, MI 48095
Blake's Orchard & Cider Mill - 17985 Armada Center Rd, Armada, MI 48005
Calvin Lutz Farms - 8576 Chief Rd #9607, Kaleva, MI 49645

Coleman Centennial Farm - 13665 West Coleman Road, Kewadin, Michigan 49648

Crane Berry Farm - 44416 Paradise Rd, Chassell, MI 49916

Diederich's Berry and Produce Farm - 3537 Morrice Rd, Webberville, MI 48892

Dunneback Farm Market - 3025 6 Mile Rd NW, Grand Rapids, MI 49544
Friske Orchards Farm Market - 10743 US-31 North, Ellsworth, MI 49729

Gaskill Family Farm - 12433 Crowe Rd, Milan, MI 48160
Guntzviller's Berry and Vegetable Farm -11122 US-31, Williamsburg, MI 49690

Huhn Strawberry Farm - 11262 S Tallman Rd, Eagle, MI 48822
Huron View Tree and Berry Farm - 4700 E, 9719 Sucker Creek Rd, Black River, MI 48721
Krupp Farms - 8025 Krupp Ave NE, Comstock Park, MI 49321
Jacques Orchard - 2275 N Iva Rd, Hemlock, MI 48626
Jacob's Farm and Corn Maze - strawberries
Kalchik Farms - 8659 Bellaire Hwy, Bellaire, MI 49615
Kohler Strawberry Farm - 10400 Jerome Rd, 
Jerome, MI 49249
LP Stotz Farms - 8771 Albain Rd, Ida, MI 48140
Middleton Berry Farm - 4790 Oakwood Rd, Ortonville, M

Pellegrini Strawberry Farm - 2702 16.5 Rd, Escanaba, MI 49829
Pond Hill Farm - 5699 S Lake Shore Dr, Harbor Springs, MI 49740
Rondeau's Ruff Acres - 11812 W Spielmacher Rd
Cooks, Mi 49817

Rowe's Produce Farm - 10570 Martz Rd, Ypsilanti, MI 48197 
Secret Garden at Brys Estate - 3309 Blue Water Rd, Traverse City, MI 49686
Shultz Fruitridge Farms - 60139 Co Rd 652, Mattawan, MI 49071 
Sodt's Berry Farm - 7403 Blackman Rd, Jackson, MI 49201
Spicer Orchards - 10411 Clyde Rd, Fenton, MI 48430

Strawberry Fields Farm - 14621 Lakefield Rd, Hemlock, MI 48626
Urka Farms - 7345 M-37, Kingsley, MI 49649
Versluis Orchards - 72 Maynard NW, Grand Rapids, MI 49504
Westview Orchard and Adventure Farm - 65075 Van Dyke, Washington, MI 48095
Whittakers Berry Farm - 6724 Todd Rd, Ida, MI 48140
Wirbel Farms - 3967 N Eastman Rd Midland, MI 48642


We hope you love strawberry picking Michigan this June and July!  
Is a Strawberry a Berry?
First, did you know the garden strawberry was first bred in Brittany, France in the 1750s?  
Per Wikipedia, the strawberry is not, from a botanical point of view, actually a berry. It is an aggregate accessory fruit.  The fruit is derived not from the plant's ovaries but from the receptacle that holds the ovaries.
Each of the seeds are actually one of the ovaries of the flower, with a seed inside it.  Crazy, huh!
"Autumn is the mellower season, and what we lose in flowers we more than gain in fruits."
― Samuel Butler
Go Blueberry Picking in July!
Ultimate List of U Pick Farms for Peaches, Apples, Cherries, Blueberries, Gourds, Saskatoons, Gooseberries and More!
Do you have a favorite Michigan U Pick Farm?
Do you have a great story about it? Share it!
What Other Visitors Have Said
Click below to see contributions from other visitors to this page...

Subscribe To Receive Exciting Destinations, Day Trips and Fun Directly to Your Inbox!
Sign Up to Our Newsletter to Get the 5 Free Must Have Apps to Travel in Michigan Like a Boss!
Join Us on Instagram-We Post Fun Stuff! 
Other Cool Pages You Might Like!
Do you have a favorite Michigan U Pick Farm?
Do you have a great story about it? Share it!
What Other Visitors Have Said
Click below to see contributions from other visitors to this page...