Work With Us!

Hi! We are Sherry and Chris of Traveling Michigan! Work With Us! 
Traveling Michigan is the go-to place for travel inspiration, empowerment and adventure! 
We work hard to establish ourselves as a platform that inspires and empowers solo, family and adventure travelers to explore our great state though local culture, storytelling, exciting photography and trip guides.
We are open to collaborations with brands, tourism boards, businesses, authors and companies who share our vision for meaningful and creative travel. We aim to inspire our readers to dream bigger, travel further and learn more about the world around them. 
Partnerships or Collaborations
Traveling Michigan has partnered with Stego, the Alpena Tourism Board, The Wharton Center, Night Food, RikkiTikki, Houlihans, Home Bracelets, Blake Kooi and Detroit Foodie Tour's DINE + DASH. 
Publications in Major Networks
Here is a list of major publications and blogs where Traveling Michigan has been featured.
What We Can Offer if You Work With Us
We produce creative, in-depth, well written articles portrayed in a story-telling manner. 
If you would like to see your destination, event, tour, hotel, restaurant or product on Travel-Mi.com or our social media, let's collaborate!
We work personally with you on each project so never worry that your project will be passed to a 3rd party.

We write in the the first-person manner to foster deep engagement, develop comprehensive city guides often with interactive maps, and create inspirational posts, all accompanied by beautiful and inspiring photography. 
Social Media 

Our social media accounts are fast growing and have an engaged audience. We combine our website content with our social content, giving our readers a full experience.
WHY WE ARE DIFFERENT: Not a single one of our followers were bought or farmed with a bot. Our followers are ALL organic and interested in Michigan travel, restaurants and businesses.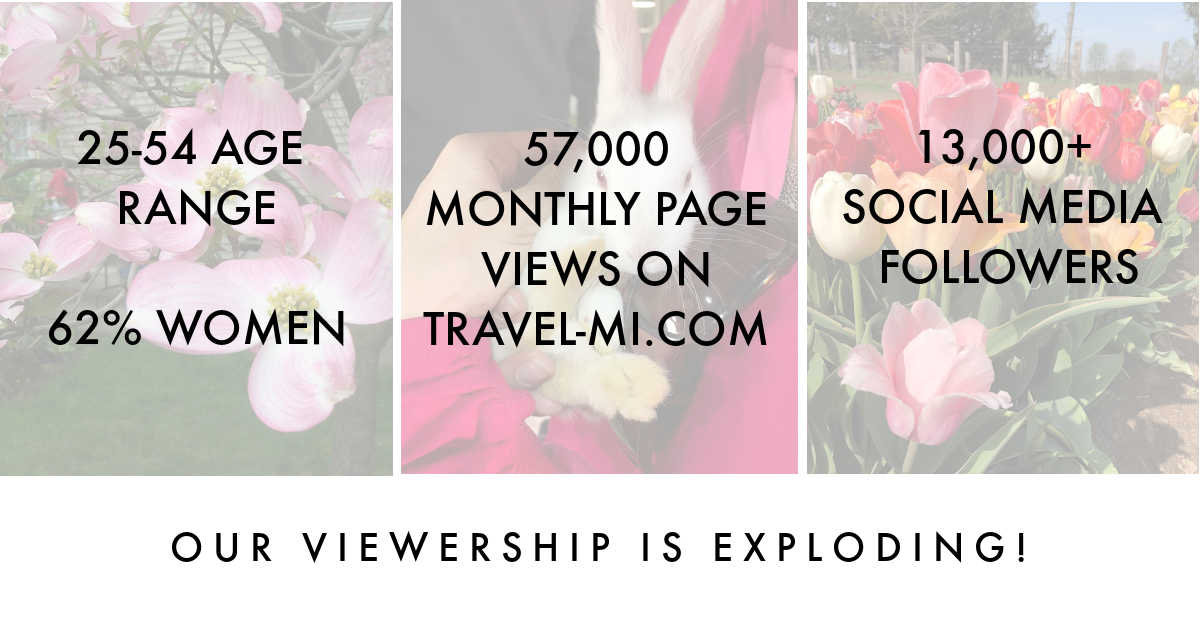 Traveling Michigan Metrics-Updated 10-2020
Photography
Stunning and unique photography is the basis for inspiring travelers to visit a destination.  We thrive on capturing the moment with creative and high quality photography.  Chris is also a drone pilot, so we enjoy offering a different perspective (when possible) to share on our site and through social media.
Content Creation
We can combine content on Travel-Mi.com with content creation for you, your brand's blog or social media feeds. We have several years of experience as marketers, professional travel photographers and writers. Together, we can create authentic, engaging and unique content for your brand or destination. Sound awesome? Let's chat!
Tourism boards
Are you looking to promote a destination city? We would love to visit and create unique content to bring visitors to your area.
Hotel or Bed and Breakfasts
We can prove to our viewers why an overnight stay at your location would enrich their vacation with stunning photos, vidows and images. 

Brands
Would you like to showcase or promote your products to our engaged readers? Get in touch! We look forward to hearing from you!
Sponsored Website Posts
Would you like to submit an article to be included in our website that highlights your business, location or city?  We offer a (follow) link exchange for engaging articles that pertain to travel, experiences or fun in Michigan. Articles must be well written, original (not hosted on any other blog, post or website), contain clear photos with sources and at least 400 words. 
Sponsored Instagram Posts
Want us to review a product or attend an event so we can review it on Social Media? Get in touch!
Want to Write For Us?
We love to post original guest blog posts about your experiences in Michigan!  Hop on over to our Write For Us page for more information.