2021 Detroit Thanksgiving Parade (America's Thanksgiving Day Parade): Route, Times, Tickets, Where To Watch 
2021 Detroit Thanksgiving Parade (America's Thanksgiving Day Parade) | By Sherry Trautman | Traveling Michigan
Is there going to be a Detroit Thanksgiving Day parade? Heck yeah!
We can't wait for this year's America's Thanksgiving Day Parade!  This Detroit Thanksgiving tradition really kicks off the holiday season!  So bundle up and come to Woodward Ave to enjoy the bright colors and happy sounds on Thanksgiving day, November 25, 2021. 
This lovely parade began in 1924 by the J. L. Hudson Company department store and continues to bring joy to all those who attend.
USA Today Awards America's Thanksgiving Parade as Best Holiday Parade in America! 
America's Thanksgiving Parade was named as the Best Holiday Parade in America in 2018 and 2019 by USA TODAY, 10 Best Readers' Choice Awards! 
Since the iconic in person Detroit Parade was cancelled in 2020, can we do it again in 2021? 
Detroit Thanksgiving Day Parade Grand Marshals!
Guess what?! 
NFL Hall of Famer Calvin Johnson Jr. and Detroit Bishop Edgar Vann will be this year's Grand Marshals for the 95th annual America's Thanksgiving Parade.
Oh, and I hear Santa will be making an appearance!
Can I want the Detroit Thanksgiving Parade on TV?
The parade will be broadcasted on WDIV Local 4 from 10:00 a.m. - 12:00 p.m. and you can livestream it from Click on Detroit.
Oh and guess what? Disney's Broadway musical, The Lion King, will be kick off the Parade festivities with a performance of "Circle of Life."
What Time is America's Thanksgiving Parade?
America's Thanksgiving Parade, presented by Gardner-White, is held on Thanksgiving Day from 9:00 a.m. to 12:00 p.m. EST. 
Detroit Thanksgiving Parade Route
This Thanksgiving, bundle up and drive to Detroit's famous Woodward avenue to watch colorful floats, marching bands and live entertainment march along three miles of Woodward Avenue. 
8:45am the parade will be ready to go at Woodward and Kirby. The parade will continue down Woodward for about an hour and half along the three mile route until it reaches Woodward and Congress. 
Where to Watch the Detroit Thanksgiving Day Parade
The Detroit Historical Museum: 7:00 am - 1:00 p.m. Watch America's Thanksgiving Parade on their curbside bleachers for an incredible views of this annual tradition in Detroit!  The Parade begins right in front of the Museum, located at Woodward and Kirby. 
You can enjoy hot chocolate, coffee and baked goods inside the Museum's Allesee Gallery of Culture and then head outside for the parade! Free parking is included!  Get your tickets early!
The Whitney: Enjoy a lovely Thanksgiving brunch that includes parade seating along Woodward Avenue. Enjoy hot chocolate or coffee delivered directly to your seat.
Arrive between 7:00-7:30 as all access roads to The Whitney are closed at 7:30am. All Parade viewing is outdoors. Get your tickets early!
Don't Want to Stand? Get Detroit Thanksgiving Day Parade Grandstand Tickets
Don't want to stand?  The parade is free to attend, but if you want to sit in elevated grandstands, you can purchase grandstand tickets. 
Ticket prices range from $55 to $70. The grandstands are located all along the route. We recommend getting there early as thousands of people attend this parade!
Get Cool Detroit Swag!
Woodward Vintage Garage T Shirt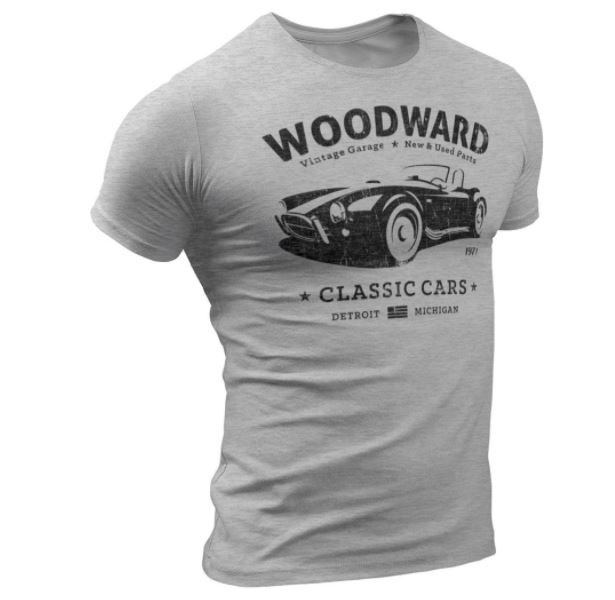 I love this Woodward T-shirt, it's super soft and comfortable!  
Detroit Motor City Hoodie
Hey Friends!  Grab this affordable, warm and so comfy Detroit Motor City Hoodie to stay warm during the Detroit Thanksgiving Day Parade!
Detroit Customs Superior Performance T Shirt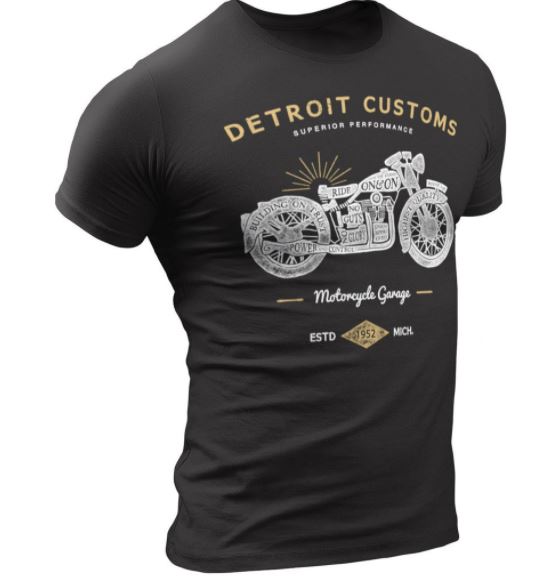 Detroit Customs T Shirt
This incredibly soft and super cool Detroit Customs T-shirt is perfect to wear while celebrating Thanksgiving in Detroit!
Visiting Detroit?
Subscribe To Receive Exciting Destinations, Day Trips and Fun Directly to Your Inbox!
Sign Up to Our Newsletter to Get the 5 Free Must Have Apps to Travel in Michigan Like a Boss!
Follow Us on Instagram