The Best November Michigan Events and Things To Do! 

The ULTIMATE SOURCE of 2020 November Michigan events and fun things to do in Michigan for families, couples and friends! Grab our 23 Boredom Zapping Ideas! 
Destinations: Detroit, Ann Arbor, Grand Rapids, Kalamazoo, Lansing, Traverse City, Charlevoix, Houghton, Midland, Alpena, South Haven, St. Joseph and more!
November Michigan events are full swing! Apple festivals, beer week and Comic Con are just a few of November events to look forward to!
Traveling Michigan in November is absolutely stunning as our nights are cool but our days are sunny and still perfect for discovering forest walks! 
Let's travel Michigan together!
Join us on Instagram where I've posted all of our November Michigan adventures!  We hope you enjoy our November Michigan fun things to do!
And as always, if you have November Michigan events that you would like listed, let us know here!
Get ready to run some corn mazes this November!!

THE BEST November Michigan Events-2020
Charlevoix's Restaurant Week, November 1-7, 2020 This is an opportunity to come to your favorite local restaurants and try new dishes at special prices!

Frankenmuth Corn Maze Weekends, 5450 Weiss Rd, Frankenmuth, MI,  7:00 pm - 10:00 pm.  The 2019 Maze theme is "So God Made A Farmer" Open November 1-2, 2019.  
Admission: $8 - $12. Voted Mid-Michigan's #1 corn maze in 2017 and 2018! Five acres of towering corn stalks, two miles of twisted trails, and strategically located observation bridges within three interconnected mazes await you at the Frankenmuth Corn Maze. Where is the farmer anyway?! Use fun game sheets and search for clues on game stations in the maze. Get prizes for finding the farmer! Hayrides to our dairy farm Saturdays and Sundays from 1-5 p m to observe Johann LELY, our milking robot and visit Calf Island.
Halloween Costume & Cover Show, 

Bell's Eccentric Cafe, November 1, 2019, 

Kalamazoo, 9 pm

Christmas Boutique Arts & Crafts Show, November 2, 2019, Kalamazoo Expo Center, 9 am–3 pm, Free  
Self-Guided Saturdays at The Pines (Dow Gardens), Midland, MI, November, 2019. 

National Veterans Creative Arts Festival, Miller Auditorium, Kalamazoo, November 3, 2019, 12–5 pm, Free

Traverse City Beer Week, November 8, 2019 - November 15, 2019, Traverse City Beer Week showcases a series of events highlighting their fabulous craft beer scene. Experience craft beer tastings, dinners, and workshops.

Grand Rapids Comic Con, Friday, November 8 – Sun, November 10, Devos Place, 303 Monroe Ave NW, Grand Rapids, MI
Harper Holly Days Craft Show, November 9, 2019, Harper Creek Middle School, Battle Creek, 9 am–3 pm, Free.  I love this show, I had a booth there for several years as an artist! 

Flapjack and Flannel Fest, November 9, 2019, 12 pm - 7 p.m, $10 - $60. The Little Fleet, 448 E Front St, Traverse City, MI.  Don your awesome flannel shirts and come on down to The Little Fleet for the annual festival where amazing flapjacks from Daily Blend and The Cooks House will be served with handcrafted cocktails from Iron Fish Distillery and craft beers from Michigan's finest breweries.
Fall Harvest Farm2Fork, November 9, 2019, Treetops Resort, 3962 Wilkinson Road, Gaylord, MI 49735. Enjoy a 4-Course Meal crafted by the Treetops Culinary team with local ingredients from area farms that are in season. Each themed event is hosted by a local winery or brewery and each course of the meal is thoughtfully infused and paired with a different beer or wine. What a cool date night idea!
Pretzel Rolling at Bavarian Inn, Sat, Nov 9, 2:30 PM, Bavarian Inn Restaurant, 713 S Main St, Frankenmuth, MI. Become a German baker! You will be taught proper pretzel-rolling methods to roll your own pretzel! Pick up your piping hot pretzel after it is baked!  This is very fun, we've done it!
Formal Japanese Tea Ceremony, November 9, 2019, 2:00 PM, Japanese Cultural Center and Tea House, 527 Ezra Rust Drive, Saginaw, MI. Price: $10.00/ Per Person (cash or check only) - Reservation required.
North Pole Express - IT SELLS OUT VERY QUICKLY (before end of October)

-Saturdays and Sundays, November 16th to December 21st. Departing from Owosso, MI. Embark on a nostalgic journey back in time to the Christmas of yesteryear when you climb aboard the North Pole Express, pulled by the world-famous Pere Marquette 1225! Depart from the Steam Railroading Institute for a four-hour, round trip excursion to the Village of Ashley's Country Christmas. 
Traverse City Shop & Sip Craft Market, Saturday, November 16, 2019, 1 – 7 PM, Grand Traverse Resort and Spa, 100 Grand Traverse Village Blvd, Acme, MI. The Traverse City Shop & Sip is a fun northern Michigan handmade holiday craft market.
Dowagiac Christmas Celebration, Saturday, November 16, 2019, Downtown Dowagiac, 10 am–2 pm, Free  
Kalamazoo Holiday Parade, November 16, 2019, Downtown Kalamazoo,11 am, Free

International Wine, Beer & Food Festival,

November 21-23, 2019, 

DeVos Place, Grand Rapids, Times Vary-check their Facebook page.
25th Annual Luminary Festival, November 22, 2019, Downtown St. Joseph, 5–8 pm, Free 
Battle Creek Christmas Parade, November 23, 2019, Downtown Battle Creek, 6 pm 


Fall Folk Festival, Franke Center for the Arts, November 23, 2019, Marshall, 8 pm

Festival of the Lights, Big Rapids, Saturday, November 23, 2019, 5 – 8 PM
Holiday Expo & Craft Show, November 23-24, 2019,  Kalamazoo Expo Center, Kalamazoo, 9/10am–3pm, Free

Annual Apple Festival, November 25, 10 AM – Wed, November 27, 4 PM, East Park Tavern, 307 Bridge St, Charlevoix, MI. Experience the magic of autumn in northern Michigan by joining the festivities and showing your support for our local farmers and orchards!
Tree Lighting Ceremony, Bronson Park, November 29, 2019, Kalamazoo, 5 pm, Free

Michigan Farms to Visit in November (Think Cider and Donuts!)
Gull Meadow Farms-Richland, MI. Pumpkins, delicious donuts and a corn maze.  We used to go there weekly when we lived in the area.  There is a train for kids and a tractor drawn hay wagon for the whole family.  Great place!! What a fun November Michigan event! We love it!
Uncle Johns Cider Mill-8614 US-127, St Johns, MI.  Gorgeous barn with hard ciders and treats!
Leaman's Green Applebarn-7475 N. River Road, Freeland, MI.  Cider and donuts are a must. Baked goods are outstanding!

Baynes Apple Valley-5395 Midland Road, Freeland, MI Awarded Mid-Michigan's Best Orchard 3 years in a row! Great homemade baked goods and fresh pressed pure apple cider. We love grabbing a sandwich in the cute shop and grabbing some fresh cider on the way out! Great place to meet friends during cool November Michigan afternoons!
Coveyou Scenic Farms-4160 US-131, Petoskey, MI We loved our stop at Coveyou Scenic Farm market, the owners are super friendly and the market has so many great things! We purchased bottles of syrup and squash!
Pond Hill Farms-5699 S Lake Shore Dr, Harbor Springs, MI.  If you are out and about for Michigan fall color tours, be sure to stop at Pond Hill Farms to enjoy fresh warm donuts and cider around their bonfire!  There's a cafe to warm up and enjoy the day!
We hope you enjoy our exciting November Michigan events and ideas of fun things to do!
Don't miss a moment of November Michigan events and fun!  Join our newsletter to have events and fun delivered directly to your inbox!
What Michigan Events Are Coming Up Next?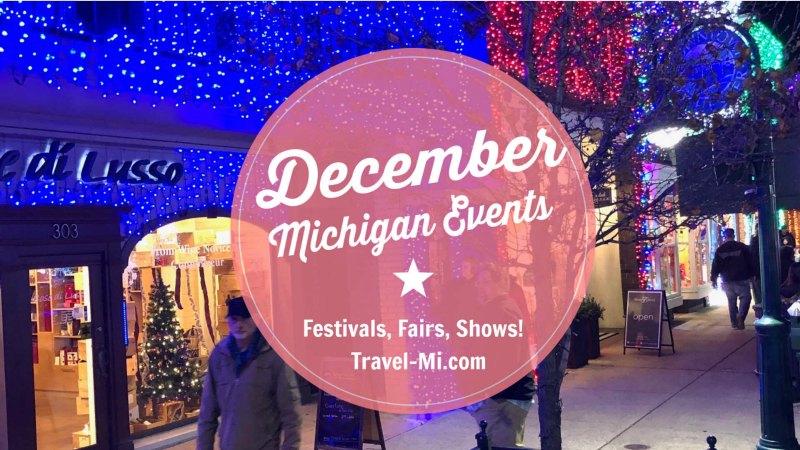 Disclaimer: Please be sure to visit a particular event's website to verify dates, times, happenings and details.  We make every possible effort to be verify these the event details but as we are human, mistakes can occur and event dates/times can change.  If you see an error below, PLEASE let us know and we will correct it.

Being bored sucks! Never miss another event! Join our network of Traveling Michigan Explorers!  Be a part of this amazing community of travelers!

Subscribe To Receive Exciting Destinations, Day Trips and Fun Directly to Your Inbox!
Sign Up to Our Newsletter to Get the 5 Free Must Have Apps to Travel in Michigan Like a Boss!
Join Us on Instagram, We're Fun!! 
Event Centers in Michigan
Still bored? Don't forget to check these Michigan event centers/theaters/auditoriums across Michigan for concerts, events, shows or comedy entertainment! 
Here are a few Michigan event centers to inspire you!  
Cobo Hall-Detroit
Midland Center for the Arts-Midland
Dow Gardens-Midland
Kalamazoo State Theatre
Fire Keepers Casino
Soaring Eagle Casino-Mt. Pleasant
Wings Event Center-Kalamazoo
Miller Auditorium-Kalamazoo
Civic Auditorium-Kalamazoo
Chenery Auditorium-Kalamazoo
Kellogg Arena-Battle Creek
LMC Mendel Center-Benton Harbor
Franke Center for the Arts-Marshall
The Bob-Grand Rapids
Van Andel-Grand Rapids
Devos Place-Grand Rapids
Dow Event Center-Saginaw
Check Out Our Traveling Michigan Videos on Youtube!
Check out our off-road Keweenaw Peninsula adventures on YouTube!
Popular Pages You May Also Like...
We would love to hear your ideas!
Share your Michigan events, stories, photos and ideas! We love to be inspired!