6 Most Haunted Places In Michigan (that will leave you teetering on the edge of sanity)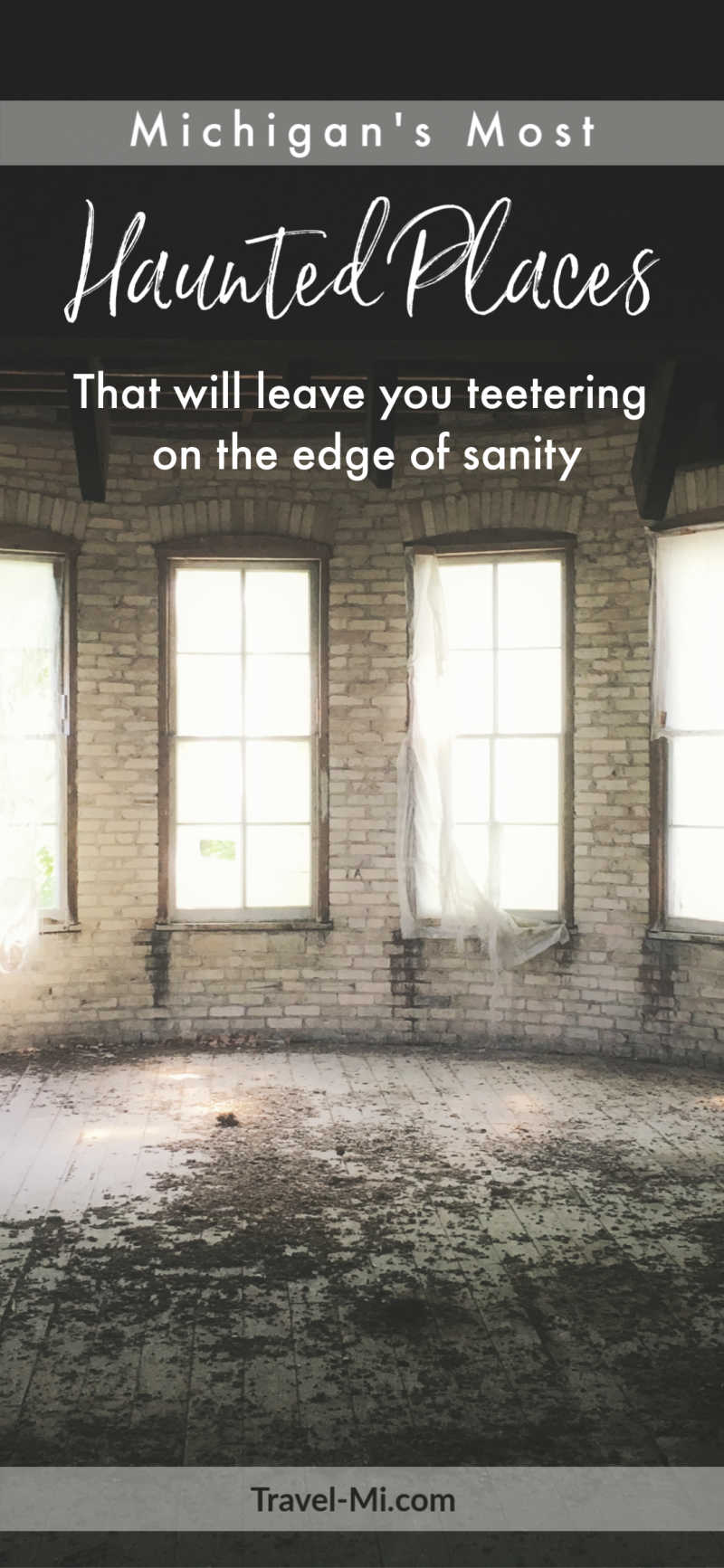 By: Sherry Trautman | Traveling Michigan | Haunted Places in Michigan
Why do we desperately wish to feel the cold hand of an invisible ghost run down our backs?  Why do we wonder if that flickering light was the work of a horrific demon? For whatever reason, we thrive on the unknown and hope to experience the terrifying.
From theaters to abandoned state hospitals, Michigan is teaming with haunted locales just waiting to scare the willing. 
To be true ghost hunter, you need the tools of the trade! I mean how fun is this!?  

#1 Haunted Theater on Mackinac Island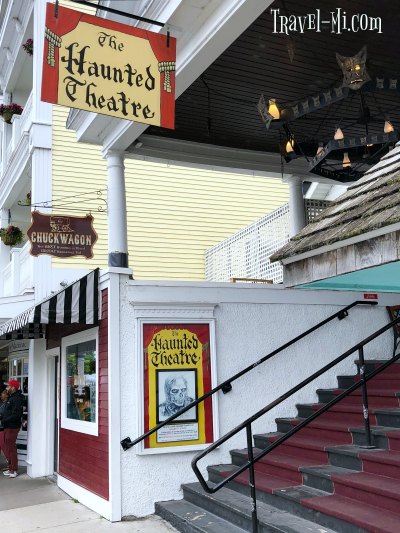 "During the day I don't believe in ghosts. At night I'm a little more open-minded " Unknown 
Haunted Places in Michigan
Are you ready to be scared?  This creepy theater is just waiting to make your scream! Dark hallways, things that go bump in the dark and scary displays are just a part of the creep factor...

Did you know evil Manitou (evil spirit) has now risen and haunts the corridors of this theater...night and day.  Visit if you dare....
#2 Calumet Theater
Stories that the Calumet Theater is haunted go back more the 50 years so it definitely makes our "Haunted Places In Michigan" list.
Per the Keewanaw Report, the executive director said, "We always hear different things from our technical directors. Myself, I've experienced a few things. Janitorial people, that have been in and out, you have a lot of unexplained music that comes from different locations that's unexplainable, you've got a lot of cold breezes that just hover around you from time to time, a lot of door handles that are locked and people are trying to get in and nobody on the other side."
The most famous of the reported haunts is actress Madame Helena Modjeska, who died in April 1909.  The famous Shakespearean actress performed at the theater three times in the first 10 years the theater was open. 
Larry, a local 2nd grade teacher friend of ours, took his 2nd grade class to the theater.  He stated he spotted Ms. Modjeska's spirit while touring the theater. He was shocked and at a loss for words. A curator backed up his story.

So if you are brave enough, self guided tours are allowed during box office hours. Just check to make sure they are open before you plan your trip!
#3 Arch Rock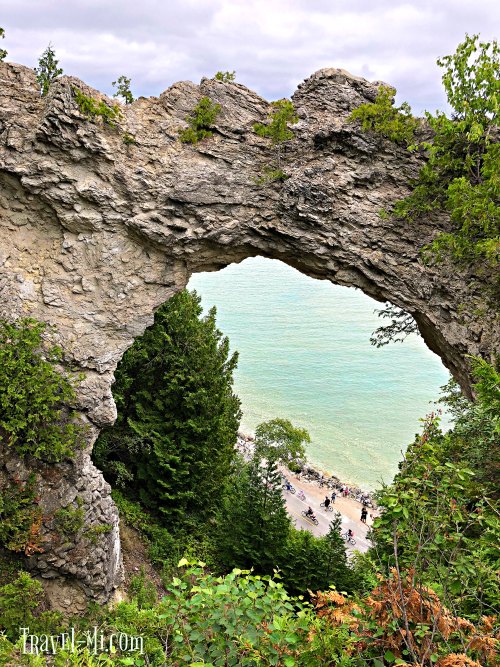 According to legend, Arch Rock on Mackinac Island is the gateway to the spirit world. Souls that pass over the rock will live forever and be strikingly beautiful. I like this legend!  More awesome than scary but still makes our haunted places in Michigan list! 
#4 Michigan State Capitol
Haunted Places in Michigan
If you haven't toured our gorgeous Michigan State Capitol, you need to get to it!  But only if you dare.  Strange sightings, cold spots and things moving mysteriously on their own have been reported.  Could it be due to the vast amount of Civil War artifacts or ...

1) In the 1880's, a teenager was working as a pageboy.  He though it would be a good idea to show off by attempting to jump between the railings of the Grand Staircase...well, let's just say he missed and fell two stories to his death.

2) An elevator maintenance man was electrocuted to death.
3) In the early 1990's, a man who was working in the rotunda fell over the railing to his death when his boom lift broke. Sightings of his ghost has been reported walking near the rotunda area, wearing his painting overalls.
4) A roofer wasn't paying attention and fell to his death.
#5 Paulding Light
The light appears in a valley outside of Paulding, Michigan, in the Upper Peninsula, near Watersmeet off US 45 on Robbins Pond Road/Old US 45. 
Chris' personal haunted places in Michigan experience: "You will drive down an abandoned railroad line. It's a long scary dirt road.  You will come to a dead end, with no place to go. If you look off into the distance at night you will see spooky undulating red and green lights." 
Definitely a ghost train!  At least that is what we choose to believe! What do you think?
#6 State Hospital in Traverse City-My favorite Haunted Places in Michigan!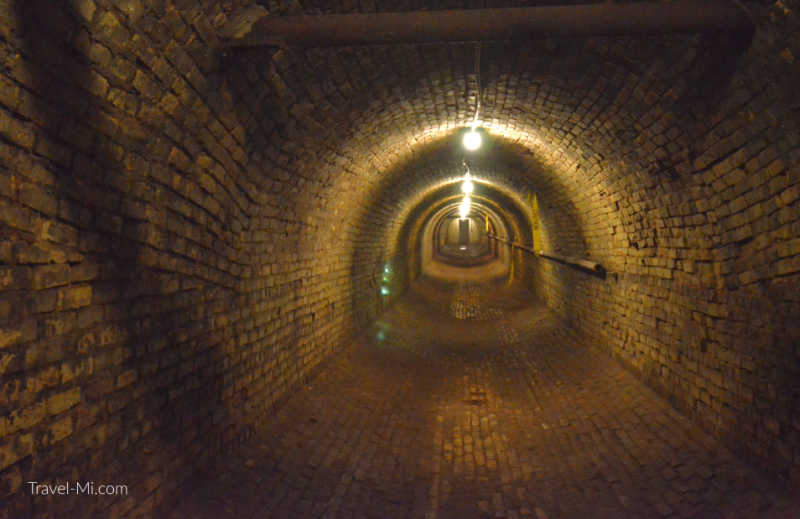 My friends, if you want awesome haunted places in Michigan, this is the place... I went into the basement alone during a recent tour and let's just say, I didn't feel alone. 
The Northern Michigan Asylum was first built in 1885.  It operated for 104 years, but closed it's doors in 1989.  After years of solitude and disrepair, the old mental hospital gained a reputation for being haunted.  I mean how can it not!?
During my visit I found old beds, graffiti on the walls from past patients, paint chipping off walls, dark hallways, lonely kitchens and of course the steam tunnels-all a perfect mix for harboring ghosts-friendly or not.  If you are intrigued, you can sign up for their tours!
Subscribe To Receive Exciting Destinations, Day Trips and Fun Directly to Your Inbox!
Sign Up to Our Newsletter to Get the 5 Free Must Have Apps to Travel in Michigan Like a Boss!
Follow Us on Instagram 
You May Also Like
Have A Great Haunted Places In Michigan Story?
Do you have a great story about this? Share it!