Ultimate: 2021 June Michigan Events Calendar and Things to Do!

The ULTIMATE SOURCE of 2021 June Michigan events and things to do for families, couples and friends! Grab our Boredom Zapping Ideas for fun in Michigan! 
Destinations: Detroit, Ann Arbor, Grand Rapids, Kalamazoo, Lansing, Traverse City, Charlevoix, Houghton, Midland, South Haven, St. Joseph and more!  
Plan your June Michigan trip or vacation around our inspiring festivals and events! 

Spring is here and the world is all abloom!  I love love seeing all the buds busting open, the grass is finally green and the trees are once again waving their glorious leaves.  The world is reborn and ready for exploration and discovery! 
Join us on Instagram where I've posted all of our June Michigan adventures!  We hope you enjoy our June Michigan events and fun things to do! And as always, if you have an event that you would like listed, let us know here!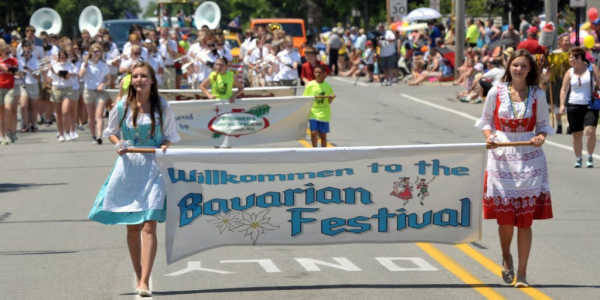 June Michigan Bavarian Festival
June Michigan Events 2021
There are so many June Michigan events to see, do and explore!! No way you will be bored!

Michigan Firemen's Memorial Festival, Roscommon, MI June 1, 2020, Annual Michigan Firemen Memorial Festival is for everyone! Shows, clowns, and free hot dogs. Check out the display of New Fire Trucks, Fire Apparatus, Crafts, Parades, a "memorial service" for "Fallen Firefighters" and much More. Firefighting competitions and fire Demos are a big part of the fun festival. Lots of refreshments, music and dancing.
Detroit Belle Isle Grand Prix- June 5, 2021 - IMSA || June 12-13, 2021 - INDYCAR.  The 32st Grand Prix event in Detroit will take place at the Raceway at Belle Isle Park. Buy your tickets early!  We love attending this May Michigan event each year! We buy our tickets early!
Pictured Rocks Days, June 12-13, 2021. Sat. 10am – 6pm, Sun. 10am – 4pm. Bayshore Park, Munising. Free Music, food, kids entertainment, beer tent and more!

2021 Midland/Saginaw Spring Parade of Homes; June 4 - 12, 2021 | Fridays + Saturdays 1pm - 9pm, Monday - Thursday 4pm - 9pm
Festival of Cars Huron Street, June 13, 2020, South Haven,  7:30am–4pm Free 

Shiawassee National Wildlife Refuse Wildlife Drive opens!!  Shiawassee National Wildlife Refuge, 6975 Mower Road, Saginaw, MI.  The Wildlife Drive is closed to help the refuge with it's most vital function, providing a resting stop (habitat) for migratory waterfowl. The auto tour is scheduled to re-open June 1st, 2020- Sept. 30th, 2020.  

Iris's are usually blooming the first week of June! Visit the Iris Farm in Traverse City!  Call to check if they are blooming. One of my favorite June Michigan things to do!
Summer Art Fair, June 6-7, 2020, Downtown Midland This outside Michigan art fair is a blast!  Shop glass, jewelry, fiber, metal, wood and so much more!

Charlovoix Craft Beer Festival-June 13, 2020, 202 Bridge Street, The Charlevoix Craft Beer Festival is a celebration of Michigan craft beer, local food, and entertainment. It is held annually in beautiful downtown Charlevoix, MI on the first Saturday in June.
Annual Mustang Show, June 6, 2020, 9 a.m - 1 p.m.Tapper Ford, Paw Paw, MI.

Marshall Community Garage Sales, June 2020 (Date TBD), Marshall Area 9 am–5 pm  Free

Frankenmuth Bavarian Festival- June 11-14, 2020 in Downtown Frankenmuth. The Main Tent will be located in Zehnder park.
"Remember When" Cruise & Car Show, June 5, 2020, Downtown Holland | 5–9pm | Free. Cruise at 8:30 p.m.

Mackinac Island Lilac Festival- June 5 through 14, 2020. The Mackinac Island Lilac Festival is a 10-day celebration. First and largest summer event on the Island! Festivities include the coronation of the Lilac Festival Queen and Court, Lilac Festival 10K, horse drawn carriage tours, numerous concerts, wine tastings, A Taste of Mackinac Culinary Event, Mackinac Island Dog and Pony Show, the Lilac Festival Grand Parade and so much more. Schedule of Events
Kalamazoo Institute of Arts Fair, June 5-6, 2020, KIA Beer Garden & Bronson Park, Kalamazoo, Free.  I've gone to this art show every year, it's in such a great location with shade trees, grass and paved walkways.  One of my favorite June Michigan things to do!
Ya'Ssoo Greek Festival, June 12-14, 2020, St. Nicholas Greek Orthodox Church, 3109 Scio Church Road, Ann Arbor, MI. Weekend full of Greek music, food, dancing and BAKLAVA!!
Art on the River, Art and Music Festival, Fri, Jun 12 – Sun, Jun 14, 2020. Kiefer Park, Bard St, Port Huron, MI Don't miss this three day art and music festival! Friday night dance party, beer tent with Michigan craft beers and wine available.
Detroit Music Weekend, June 12-14, 2020, Music Hall Center for the Performing Arts, 350 Madison Ave, Detroit, MI 
Vicksburg Old Car Festival, June 12-13, 2020, E. Kalamazoo Street and Prairie Street, Vicksburg, MI
Crusin' Flatrock, June, 2020 (Date TBD), Flatrock, MI
Matrix Midland Drone Festival, June, 2020 (Date TBD) at 10:00 a.m.-4 pm. Free! Location: Barstow Airport, Midland, MI. This unique event features an entire day of drones! Featuring professional drone pilots demonstrating the exciting capabilities of drones in both large commercial applications and consumer markets.

Longest Breakfast Table and National Cereal Festival, June 13, 2020, 25 McCamly Street, Battle Creek, MI Share in the history of eating breakfast during the FREE World's Longest Breakfast Table! Choose from several Kellogg and Post cereals with your choice in milk or juice; it surely will satisfy your taste buds! Awesome June Michigan event! 
Riverside Art Festival, June 2020 (Date TBD) 901 Saginaw St, Bay City, MI.  Annual YWCA Riverside Art Festival includes over 100 artists lined along Water Street and Center Avenue. 

Tour the Tawas Point Lighthouse, Tawas, Friends of the Tawas Point Lighthouse and State Park will be welcoming visitors to the lighthouse for a donation.  Visitors are free to tour the lighthouse at very specific times so check their website for more info.  Ask questions, and climb the tower.  A Recreation Passport is required to enter the State Park.  
Summer Gallery Stroll Downtown Saugatuck & Douglas, June 13, 2020, 4–8 pm, Free 

Makers Trail Festival Weko Beach, June 13, 2020,  5239 Lake St Bridgman, 2–9 pm 
Vicksburg Old Car Festival, June 12 and 13, 2020, Downtown Vicksburg  9 am–4 pm Free 
Do-Dah Parade Downtown Kalamazoo, June 6, 2020, 11 am–12 pm,  Free.  Fun June Michigan event for the whole family! Traditional Parade Route Bronson Park Kalamazoo
Cornwell's Turkeyville, Flea Market and Vintage Fair, June 6, 2020, 18935 15 1/2 Mile Rd, Marshall, MI, Fun June Michigan event!
Nascar June Races at Michigan International Speedway-June 1-7, 2020 and Aug. 3-9, 2020. 12626 US-12, Brooklyn, MI. NASCAR's most entertaining track will host the incredible racing!
Taste of Mackinac, (Date TBD) 11:30 AM – 1:30 PM, Mackinac Island Tourism Bureau, 7274 Main St, Mackinac Island, MI Taste of Mackinac will be held at the Mackinac Island Community. Fee.
Hippies at the Village Festival, June 13-14, 2020, Kasey Building Association, 8428 E Davison Rd, Davison, MI, 11 a.m-7 p.m.
Frankenmuth Food Truck Festival, June 11, 2020. Funtown Chowdown, Frankenmuth's Annual Food Truck Festival is located at Frankenmuth River Place Shops! The fun begins in May and will take place on the second Thursday of each month (Also July 9, 2020,  August 13, 2020, and September 10, 2020) from 3 pm – 9 pm each date. 
Plainwell Days Arts & Crafts, June 13, 2020, 9 AM – 5 PM, Hicks Park, 107-145 W Allegan St, Plainwell, MI. Such a fun June Michigan event!
Murder Mystery Dinner, Henderson Castle, 100 Monroe Street, Kalamazoo. June (Date TBD) at 6 PM – 9 PM
Bridgefest, Houghton, June 18-21, 2020, Bridgefest was organized to celebrate the Portage Lake Lift Bridge (est. 1959), which provides a vital link between the communities of Houghton and Hancock, as well as to the Keweenaw Peninsula. Vendors, live music, helicopter rides and more!
Taste of Muskegon,  June 19 and 20, 2020. Hackley Park, Muskegon, MI
Harbor Fest, June 5-7, 2020, South Haven. Dragonboat races, games, great eats, entertainment and more! 
Antique & Classic Boat Show, June 20, 2020, Michigan Maritime Museum, South Haven, 10 am –4 pm
Lake Michigan Shore Wine Festival, June 20, 2020, Warren Dunes State Park, Sawyer 1–9:30 pm
Town Crier Races: June 20, 2020, 5K, 10K & Half Marathon Saugatuck High School, 8 am. 401 Elizabeth Street, Saugatuck, MI


Keepsake Arts and Crafts Show, June 19, 2020, Main Street, Frankenmuth, MI. Other dates in 2020: 

Saturday, June 20
Sunday, June 21
Friday, July 24
Saturday, July 25
Sunday, July 26
Friday, August 14
Saturday, August 15
Sunday, August 16
Three Rivers Water Festival, Downtown Three Rivers, June 18-20, 2020, Free
Lansing Beer Fest, June 13, 2020, 4:00 PM- 9 PM, Saddleback Brewery, 1147 S Washington Ave, Lansing, Michigan
Hops with Pops, June 21, 2020,  Binder Park Zoo, Battle Creek, 11 am–6 pm

Vintage Base Ball Festival, Frankenmuth, June 19 - 21, 2020, Come on out and watch Vintage Base Ball play by the rules, customs, and manner of the 1860's. Clubs wear period costumes, use period authentic equipment, and play as gentleman "ballists" or base ball players.
Irish Fest 2020, June 19, 20, 2020, Old Dog Tavern, Kalamazoo
Detroit River Days, June 19-22, 2020, June Detroit River Walk,  Enjoy the riverfront, as well as live concerts, vendors and rides! this year's River Days will span the Detroit RiverWalk from the Port Authority just east of the GM Renaissance Center to William G. Milliken State Park and Harbor. Admission to River Days is $5 with the money going to support the non-profit Detroit Riverfront Conservancy. River Days is free to enter on Friday between 11:00 a.m. and 5:00 p.m. The event runs from 11:00 a.m. - 10:00 p.m. each day.
World's Largest Food Truck Rally during Detroit River Days, June 19-22, 2020.  According to Guinness, the world record for the largest parade of food trucks stands at 121 at the Florida State Fairgrounds in Tampa in 2014. Detroit plans to beat that during Detroit River Days!  So come on out to be a part of the world record! What an awesome June Michigan event in Detroit!
The Urban Craft Fair, June 2020 TBD, Kalamazoo Expo Center, 9 am–3 pm Free
Marshall Blues Festival, June 27, 2020, Downtown Marshall, 3–11 pm, Free


Fenn Valley Wine Festival, June 27, 2020, Fenn Valley Vineyards, Fennville, 1–6 pm.
Spirit of the Blues Craft Spirits Festival, June 2020 TBD, Alpena.  3 pm to 9 pm. This event will be held in conjunction with the Annual Alpena Blues Festival, 12 pm to 12 am. Entry into the Spirit of the Blues Festival is included in your purchase of a $25 ticket to The 16th Annual Alpena Blues Festival.
Craft Spirits Festival and Blues Festival, une 2020 TBD 3-9 p.m.109 N. Second Ave, Alpena, MI.  Enjoy 20 Michigan Craft Distilleries while enjoying the Alpena Blues Festival! Grab your tickets here!

Bay Harbor (Petoskey) Vintage Car and Boat Fest, Sat, Jun 27, 2020, 4000 Main St, Bay Harbor, MI.  The Bay Harbor Vintage Car and Boat Festival brings you an amazing showing of cars and boats!
Rock N Roll K9s, Frankenmuth, June 27-28, 2020; August 15-16, 2020; October 17-18, 2020. Experience tricks, flyball, relay racing, limbo, choreographed obedience routines, agility, musical mats, and much more! You will see a variety of breeds as well as the great All American Mix.
Grand Haven Art Festival,  June 29 - 30, 2019, Downtown Grand Haven, MI
Charlevoix Summer Art Show, June 29, 2019, 10:00 AM to 6:00 PM, June 30, 2019 10:00 AM to 3:00 PM, 400 Bridge Street, Charlevoix, MI The show features quality art displayed on the shore of scenic Round Lake Harbor. 
Grand Haven Art Festival, June 27 - 28, 2020 Downtown Grand Haven, MI
Lunch in Lavender, 7354 Horton Bay Rd. North, Boyne City, MI Lavender Hill Farm, Boyne City. Lunch in Lavender will take place every Wednesday from June until August except for July 4th. 
Allegan Antiques Market, Allegan County Fair, 150 Douglas Street, Allegan, MI. June 28, 2020

Michigan Challenge Balloon Fest-June 26-June 28, 2020, Howell High School
1200 W. Grand River Ave, Howell, MI. The Michigan Challenge Balloonfest is the state championship of hot-air ballooning and a family event held on schools grounds.


We hope you enjoyed our exciting June Michigan events and fun!
Michigan Upper Peninsula Events, Festivals and Things to Do!
Pictured Rocks Days, June 12-13, 2021. Sat. 10am – 6pm, Sun. 10am – 4pm. Bayshore Park, Munising. Free Music, food, kids entertainment, beer tent and more!

Don't miss a moment of June Michigan fun!  Join our newsletter to have events and fun delivered directly to your inbox!
What Michigan Events Are Coming Up Next?
Disclaimer: Please be sure to visit a particular event's website to verify dates, times, happenings and details.  We make every possible effort to be verify these the event details but as we are human, mistakes can occur and event dates/times can change.  If you see an error below, PLEASE let us know and we will correct it.

Keep Reading!
Event Centers in Michigan
Still bored? Don't forget to check these Michigan event centers/theaters/auditoriums across Michigan for concerts, events, shows or comedy entertainment! 
Being bored sucks! Never miss another event! Join our network of Traveling Michigan Explorers!  Be a part of this amazing community of travelers!

Subscribe To Receive Exciting Destinations, Day Trips and Fun Directly to Your Inbox!
Sign Up to Our Newsletter to Get the 5 Free Must Have Apps to Travel in Michigan Like a Boss!
Follow Us on Instagram 
Check Out Our Traveling Michigan Videos on Youtube!
Check out our off-road Keweenaw Peninsula adventures on YouTube!
You May Also Like...
We would love to hear your ideas!
Share your Michigan events, stories, photos and ideas! We love to be inspired!