Epic Michigan Fall Tour and Color Tour
On this Scenic, Indulgent and Epic Michigan Fall Tour we are going to see, experience, photograph, drink and eat EVERYTHING along the way! 
So be sure to pack your eatin' britches because friends, we are gonna nosh!
So before we start, let me just say, we have been planning this color tour for over two years...every year we have good intentions but haven't been unable to pull it off.  Between the four of us, we each have our own businesses, families and other things getting in the way of our plans. 
But anyway, as luck would have it, the only time that worked with our busy schedules was right before the trees were really changing. It was an outstanding and beautiful anyway!  We had a great time!
Are you ready to rock this adventurous, tasty and scenic west coast Epic Michigan Fall Tour?  (of course you are.) LET'S DO THIS!  By the way, if you are planning a Lake Michigan Circle Tour, this will give you a head start! 

Charlevoix to Petoskey to the Tunnel of Trees!
Petoskey
Petoskey Michigan is such an outstanding city to visit.  I was simply GIDDY to embark on this forever planned trip!  See our Petoskey shenanigans here!  
Lodging:  As it was color tour season and the hotel rates were considerably higher, we stayed at the Comfort Inn in Petoskey.  No frills but did the job and the location was perfect.
So let's head out!  Travel about two miles north of downtown Petoskey on US-31.  Turn left onto M-119 toward Harbor Springs. 

Harbor Springs

As you approach Harbor Springs from Petoskey, continue on 119 which is Main Street.  

Spring Street Bluff Boardwalk-We suggest leaving the car parked behind Gurney's Bottle Shop (215 E Main St, Harbor Springs, MI 49740) and walking up to the nearby Spring Street boardwalk, which includes a stunning viewing platform at the top.
There are several stairs to climb and once we reached the top we discovered a road that drives right by the top!!! But that's ok, ascending through the trees and watching the scenery change with each step was half the fun!! 
At the top be sure to take in the harbor, homes and downtown buildings below.  It's one heck of a view!
Little Traverse Lighthouse-So this was a huge disappointment.  I was very excited to walk out onto Harbor Point to see the lighthouse but as you round the bend on Main Street to turn left onto Traverse Street the road is blocked.  Apparently it is now private and you can't see the lighthouse!!  We REALLY wanted a few moments to enjoy the crashing waves and enjoy the view.  PLEASE let me know if there is another way to get to the lighthouse. 
Thorne Swift Nature Preserve-6696 Lower Shore Dr, Harbor Springs. Meander along a wood chip path and board walk that leads you through a densely wooded Balsam and Cedar Trail.  You will be rewarded with 300 feet of sandy (and public!) Lake Michigan shoreline with gorgeous views!  Explore the dunes, swamplands, and ponds in addition to the stretch of beach and lake
Cost is $5 to park. If you have spare time, there are about three miles of trails to hike and you can visit the Elizabeth Kennedy Nature Center.  Explore the boardwalks and be sure to stop at the observation platforms during your visit.  The views are outstanding!
Trail Hours
April 15-November 15 – Daily 10 am to sunset  
Trail Map-Here is a trail map for your trip planning!
Nature Center Hours
Memorial-Labor Day – 10 am-7 pm
Labor Day-October 23 – Weekends Only
Directions: From Harbor Springs, take M-119 northwest 3.8 miles to Lower Shore Drive. Follow Lower Shore Drive for ½ mile. The preserve sign is on the left.
Pond Hill Farm and Harbor Springs Vineyard and Winery (within Pond Hill Farm)-5581 S. Lake Shore Dr. Five miles north of Harbor Springs. Open 10-6:00 during popular seasons.
Pond Hill Farm offers fresh organic produce and a cafe with delicious lunch options.  This family-owned operation has a market with its own fresh produce as well as homemade preserves like hot garlic pepper jelly.  Pond Hill's Garden Cafe makes a wonderful lunch stop from late May through October. 
Be sure to visit Pond Hill Farm's winery, livestock barn and trout pond!  Sample a variety of delicious wines in their on-site tasting room.  Summer weekend afternoons bring hayrides to the Trout pond where the fish are big and hungry. Plus, they are famous for their crazy squash rockets! 
What's a squash rocket?  WELL....try your hand flinging fruits and vegetables several yards into their fields with a massive slingshot!  Pond Hill Farm's goats and sheep will munch on the vegetables flung into the fields and any left overs are compost for next year's crops!
Whether you're strolling through the pasture, enjoying Pond Hill Farm's beer and wine, or shopping in the farm store, you will have a great time!  You can even feed their pigs, goats, sheep, chickens, and geese year round! 
If you need a few minutes to relax, stretch you legs and breathe, take a hike through Pond Hill Farm's woods or enjoy a quiet walk across peaceful grassy fields. 
Be sure to stop at the top of their vineyard as you will be rewarded with breathtaking panoramic views of Lake Michigan and the surrounding countryside.
Boyne Highlands Scenic Chairlift Rides, 600 Highland Drive, Harbor Springs, MI 49740
Ski lifts, it turns out, aren't just for skiers. When summer and fall rolls around at Boyne Highlands, enjoy a beautiful perspective of the surrounding area with a ride on the MacGully chairlift!
Breathtaking panoramic views of crystal blue waters, lush green grounds, and the brilliant fall foliage colors lend a stunning backdrop to your summer or fall visit to Boyne Highlands. Look around — you'll be able to see Little Traverse Bay, Harbor Springs, Petoskey, and as far as the Mackinac Bridge on a clear day. Claim a chair and experience the beauty — and the fun!
Fall Hours
September 3 - September 23
Friday 2 pm - 7 pm
Saturday 11 am - 7 pm
Sunday 10 am - 6 pm
September 24 - October 14
Friday 1 pm - 5 pm
Saturday and Sunday 11 am - 5 pm
They also offer ziplining, horseback rides, segway trips and hiking. 
Dining in Harbor Springs
Good Eats Include:
Stafford's Pier $$-$$$(102 E. Bay Street, Harbor Springs). In good weather, you may also dine outside overlooking the marina and pick out your dream yacht. Approx $12-$18 yellow fin tuna poke, mussels, oysters, shrimp, fish sandwiches, Indian curry, salads, burgers, etc. OH YUM!
Gurney's Bottle Shop, $ (215 E. Main St., Harbor Springs)  Store and deli with wines. Cafe-cash only.
Stock up for the road with a famous Gurney's sandwich in downtown Harbor Springs.  Build your sandwiches the way you like them! Pick from our options of fresh-baked breads, cheeses, delicious meats and veggies. Whether you're taking one back to work, or picnicing at the beach, our sandwiches are guarenteed to please. Try one today and see why Gurney's has been a local favorite for decades.
Small Batch, 117 W. Main St., Harbor Springs. Hit up Small Batch for single serving quiches, frittatas and crisp salads like the Chicken Chop Chop, and try not to buy every pastry in the case.
General Store:  American Spoon, 1511, 125 E Main St, Harbor Springs, MI 49740
M-19 Tunnel of Trees
I could tell you that Northern Michigan's Tunnel of Trees along M-119 was ranked among the most scenic roads in the nation but I assume you already knew that. 
However, did you know that it is especially breathtaking in spring when delicate trilliums carpet the forest floor that borders the road? 
Also, the Tunnel of Trees is spectacular in autumn when the hardwoods along the road are aflame in the fall colors of reds, yellows and oranges.  Definitely a photographers dream. Yep, another road trip is in store, isn't it. (sorry)
Middle Village and Good Hart
Midway between Harbor Springs and Cross Village are lots of fun stops.
Twelve miles north of Harbor Springs, stop at Trillium Woods Vintage Boutique for excellent expresso and antiques.
Good Hart: One of the best chicken pot pies you'll ever taste is found inside the Good Hart General Store-1075 North Lakeshore Drive, Good Hart, Michigan 49737.  frozen, to bake later in your oven.
This is a must stop spot for lots of reasons: the adorableness factor (bright red paint, striped awnings, white trim add up to a perfect photo backdrop); fun scenic highway souvenirs; you'll get to meet Maggie the Hound and her humans, too.
Crepe Cart-Right next door, stop by the Crepe Cart in front of Primitive Images. Location: 1129 N. Lakeshore Dr, Good Hart, MI 49740          
Stop by for sweet and savory breakfast and lunch options. A great spot to take the family, enjoy your crepe on our tea deck with a pot of tea or lavender lemonade. made-to-order by a very pleasant crêpe-maker at Northern Crepes.
Summer Hours: June22 through Labor Day weekend, 6 Days a week (closed Tuesdays)  10am - 4:00pm.  Fall Hours: Saturday and Sunday, 10am - 4 p.m.                                  
Good Hart & Soul Tea Room-Enjoy a warm pot of tea out back at Good Hart & Soul Tea Room. 
Cross Village
This small village features a giant white cross on a bluff overlooking the lake. The story of the cross has its roots back in the seventeenth century, when Jesuit missionary Jacques Marquette supposedly planted a white cross on the bluff before he died.

Legs Inn: 6425 N Lake Shore Dr, Harbor Springs, MI 49740.  (Reservations not accepted)
Lovers of Polish food and/or lumberjack-worthy decor need to head a block closer to the lake for a Legs Inn dinner. This beloved stone and timber establishment shuts down for the season on October 22. Order the Waugoshance Salad and Golabki, and stay for sunset on the lakeside lawn. You won't be sorry.  
The interior of the building and grounds are unique, to say the least. Inside, artistic creations are everywhere, made from branches, roots or other natural objects. The tables are made from trees, probably acquired from the local surroundings. The gardens outside are well maintained and beautiful. The view of Lake Michigan is also gorgeous.
Legs Inn has been family owned for more than 80 years. It was founded by a Polish immigrant and the food is authentic Polish cuisine. To add to the Polish flair, many of the restaurant staff are students from Poland who are having an American experience, working during their summer break from their university. 

We chose for our meal a combination plate of Pierogis, Golabki (Cabbage Roll) and Bigos (Hunter's Stew). The food was served very quickly, hot and it was very tasty. The wait staff keeps everything moving quickly and are very friendly.
Crow's Nest (4601 N. State Rd., 231.526.6011), where pan-fried perch is a favorite.

Final Stop: Headlands International Dark Sky Park
6425 N Lake Shore Dr, Harbor Springs, MI 
20 miles, 35 minutes to view an unbelievable vast array of stars without light pollution.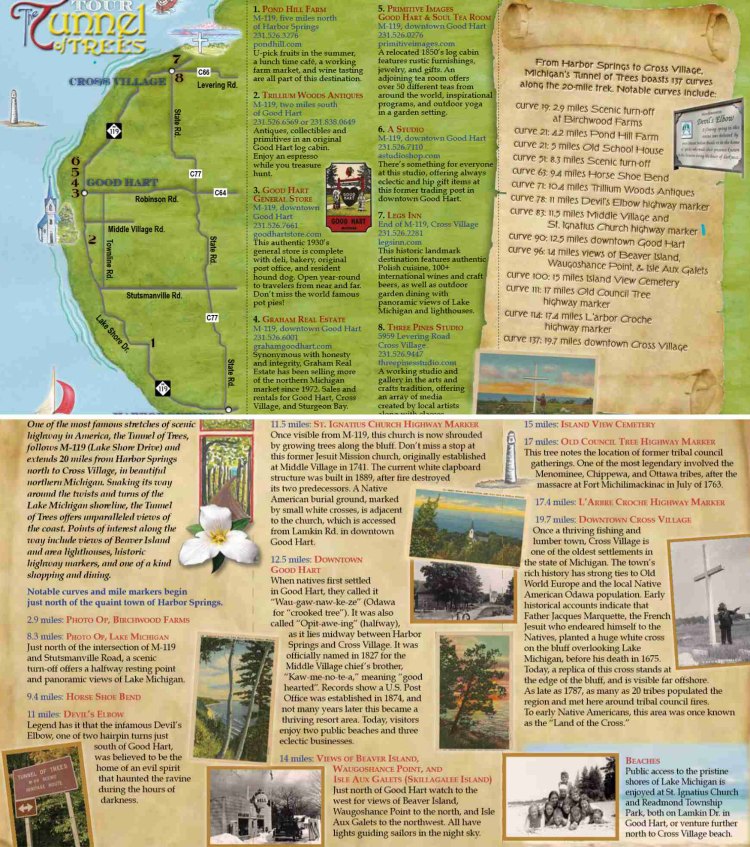 Tunnel of Trees Lodging

Petoskey:

The Perry Hotel, 100 Lewis Street, Petoskey, 800.737.1899, staffords.com/perryhotel
Stafford's Bay View Inn, 2011 Woodland Avenue, Petoskey, 800.258.1886, staffords.com/bayview
The Inn at Bay Harbor, 3600 Village Harbor Drive, Bay Harbor, 800.627.7468, innatbayharbor.com
Harbor Springs:
Boyne Highlands, 600 Boyne Highlands Drive, Harbor Springs, 231.526.3000; boyne.com/boynehighlands
Colonial Inn, May–October, 210 Artesian Avenue, Harbor Springs, 231.526.2111, harborsprings.com