Breathtaking Manistee MI: Best Things to Do | River Trail, National Forest, Casino, Lighthouse, Kayaking Adventures and Best Restaurants for Your Michigan Vacation
Breathtaking Manistee MI: Where to Find the River Trail, National Forest, Casino, Lighthouse and Best Restaurants | Sherry Trautman of Traveling Michigan
Manistee has so many hidden gems!  If you are searching for the best vacation spots in Michigan, check out this lovely beach town located on Lake Michigan!  Manistee is perfect for a day trip in Michigan or a longer Michigan vacation with your family.
See our fabulous Manistee adventures below!
NOTE: This page is in progress! We are traveling Manistee and the area through 8/18/2021
Table of Contents:
Where in the world is Manistee Michigan? 
Interactive Map of Manistee MI
See the Manistee Lighthouse! It's gorgeous!
Did you know there is a tunnel of trees in Manistee?
See a giant Sequoia tree (California Redwood)
The Manistee Riverwalk is so joyful!
Game at the Manistee Casino
Where to Kayak on the Pine River
S.S. City of Milwaukee Boat Tour 
Acacia Boat Tour
Manistee River Trail has phenomenal views!
Manistee National Forest is a great place for hiking


Where is Manistee MI Located?
Interactive Map of Manistee MI
Manistee Lighthouse
Plan on at least an hour wandering the lovely paved path to the lighthouse. It's fun to sit for a bit on the break wall at the end watching the bobbing boats.
Spend time touring the lighthouse during the summer months (small fee) as it's so fun to climb the stairs to see the incredible views of Lake Michigan from the top! 
Be sure to explore this Manistee lighthouse on your Michigan vacation!
Manistee Beach
We absolutely LOVE Manistee beach!  There are tons of parking free parking spaces all along the edge of the beach.  The great thing is that you simply park, walk 10 feet and you are on the Lake Michigan beach! No need to lung your bag of beach toys 6 blocks!
There's a cute concessions building with snacks, drinks and ice cream.  The restrooms are located here too. 
Oh, and the Manistee beach concessions has very affordable beach toys if you decide on a spontaneous trip to the beach (it's like $2.50 for a sand pail!). Perfect if you are on a Michigan vacation and couldn't bring toys on the plane.
The sand is soft and the waves of Lake Michigan are so refreshing! Be sure to visit Manistee Beach soon with your family, friends and loved ones! Perfect day trip in Michigan.
City of Manistee
See the Tunnel of Trees in Manistee Michigan
From Caberfae Highway (Michigan 55), turn west onto N Main Street to see the beautiful Tunnel of Trees!
Be Wowed by the Michigan Champion Giant Sequoia Tree at the Lake Bluff Bird Sanctuary in Manistee
Lake Bluff Bird Sanctuary: 2890 Lakeshore Road, Manistee, MI
Did you know you can see a California Redwood, Ginko, and two Michigan Champion Trees, a Giant Sequoia and Sycamore at the Lake Bluff Bird Sanctuary? 
You can also see several bird species such as bald eagles, shorebirds, and migrating warblers on the trails in the sanctuary.
Here is a trail map of the Lake Bluff Bird Sanctuary!
Manistee City Riverwalk is Such a Joyful Place in Michigan
We absolutely love the Manistee Riverwalk!  You can stroll along the river with lots of shade along the way.  It's about 1.75 miles long! 
Manistee Casino
Little River Casino Resort - Address: 2700 Orchard Hwy, Manistee, MI. This casino has a hotel, indoor pool, spa, salon and several restaurants.
Kayak or Canoe the Pine River!
I adore the Pine River for kayaking and canoeing because I like a challenge. The water can be bitter cold, even in July, so be sure to bring water shoes.  Pine River Paddle Sports and Bosman's Pine River Canoe Rental are good options. 
In the photo above, my friends and I are embarking on a weekend long camping and kayaking trip on the Pine River.
Take note, this river moves along quiet swiftly.  I wouldn't recommend it unless you have kayaked or canoed before as I've ended up in the water several times after overturning a canoe.  Kayaks maneuver much easier but can still get water in them.
Rafting is a good idea if you are a novice.
S.S. City of Milwaukee Boat Tour
You just gotta tour the S.S. City of Milwaukee! 
July and August - Thursday through Saturday 11 am till 5 pm, Sunday 11 am till 3 pm.
Tours begin at the top of the hour so arrive early!  Each tour is about 50 minutes long. Prices are approximately $10/pp for adults. Check their website for details.

Did you know you can book an overnight experience on the boat?
What is the S.S. City of Milwaukee? (The S.S. stands for steamship!)
She is a steel-hulled ship that could carry 28–32 fully loaded rail cars. The ship was built in 1930 and launched in 1931 at Manitowoc, Wisconsin to replace SS Milwaukee.  
The steamship City of Milwaukee is the last traditional railroad car ferry on the Great Lakes.

She retired in 1982 and is preserved in Manistee, Michigan as a National Historic Landmark Museum. She is owned by the Society for the Preservation for the SS City of Milwaukee.
The SS City of Milwaukee is also a seasonal bed and breakfast! This vessel provides guided tours, museum exhibits, facility rentals.
SS City of Milwaukee is also a Ghost Ship haunted attraction in October!
Acacia Boat Tour 
Acacia Tours are self are self-guided and are approximately $5 per person. You can go anytime when they are open.  You can tour both the SS City of Milwaukee and the Acacia for a combo price which is the best deal.
The USCGC Acacia (WLB 406) was second to the last of a fleet of 39 similar 180-foot seagoing buoy tenders completed during World War II. The Acacia had the capabilities for icebreaking, search and rescue, fire fighting, logistics, and other tasks as well.  She was decommissioned on June 7, 2006.

Manistee River Trail
Manistee National Forest
Nearby Adventures
Arcadia Marsh Boardwalk - In Nearby Arcadia
16791 Northwood Hwy, Arcadia, MI 49613

If you are as obsessed with boardwalks as I am, you will fall in love with this super scenic and peaceful boardwalk at Arcadia Marsh.  It passes over marshes and reeds offering a very close up look at wildlife!  
It's under a mile long and is a universally accessible pathway so everyone can enjoy seeing ducks, fish and wildlife!
Mt Baldy Trailhead, St. Pierre Trailhead and Overlook Trail in Arcadia Michigan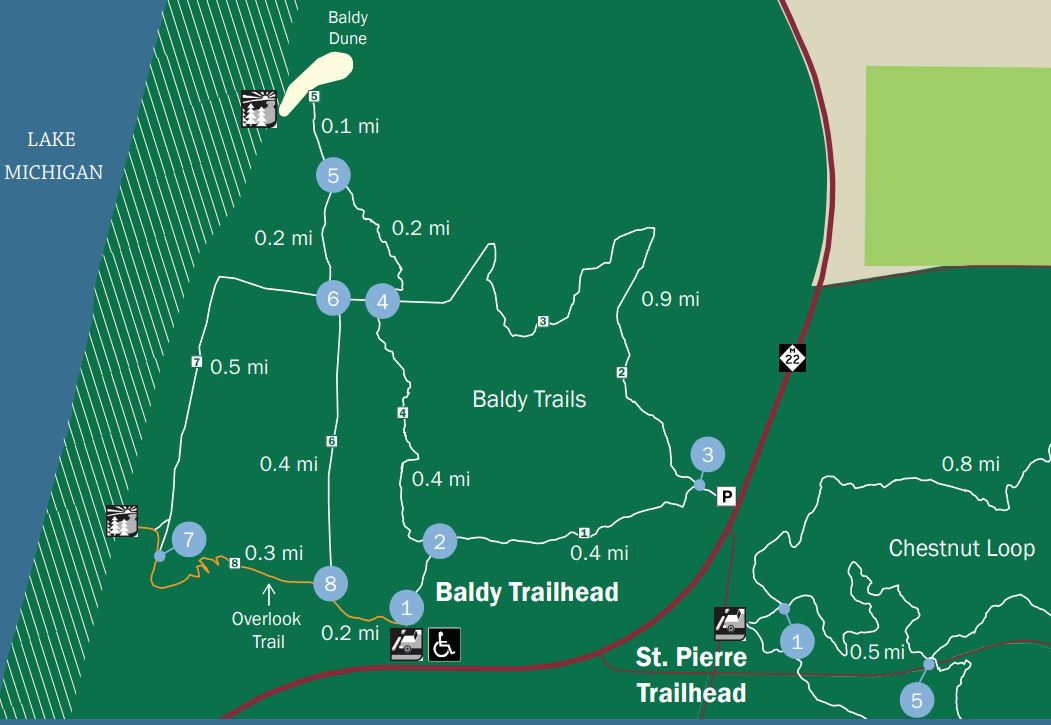 If you would love an overlook of the dunes and Lake Michigan, check out the Overlook Trail (yellow) that is a short walk on a lovely boardwalk. Perfect for kids!
Located right off M22, Gilbert Rd, Arcadia, MI 49613
The other trails are sandy and more strenuous. Here is the Arcadia dunes and trail maps.
Arcadia Scenic Overlook is Breathtaking!
The Arcadia overlook involves several stairs but is so worth it! The overlook is located 2 miles north of Arcadia on M22.
Christofferson's Farms in Nearby Ludington

If you love stopping at farms, visit Christofferson's Farms for peach picking in August.  They are located at 3441 S Morton Rd, Ludington, MI 49431. They have lots of fruit for sale or u-pick!
This lovely Michigan fruit farm has Peaches, Apricots, Apriums, Sweet Cherries (White & Dark), Tart (pie) Cherries, Plums, Pears, Apples, Nectarines, Donut (Saturn) Peaches, Raspberries, and Blackberries.
Oh, and they also have unique fruits such as Pluots, Plucots, Apriums and Donut Peaches. Make sure you call them before visiting (or check their Facebook page) to make sure they are open and ready for picking your desired fruit.
Subscribe To Receive Exciting Destinations, Day Trips and Fun Directly to Your Inbox!
Sign Up to Our Newsletter to Get the 5 Free Must Have Apps to Travel in Michigan Like a Boss!
Follow Us on Instagram 
You may also like