Traverse City Michigan
Traverse City Michigan is such a spectacular city ripe with intrigue, ghosts, adventure, awesome eats and of course, award winning wine.  If biking and hiking is your thing, the trails are outstanding! 
And of course, the National Cherry Festival can't be missed!!
Traverse City Interactive Map
Traverse City Michigan Wine Trail Map
Awesome wine trail map to plan your day!
Traverse City U-Pick Locations
Here is a list of great Traverse City U-pick fruit farms we created to help you find great farms with local produce!
The Traverse City Cherry Festival is one of Michigan's largest festivals of the year!  Don't miss out on the big name concerts, kids activities, bike rides, U.S. Thunderbirds air show, cherry spitting contests, car shows, yoga, farmers markets and EVERYTHING CHERRY! 
Grab our FREE INTERACTIVE MAP and GUIDE so you won't miss a moment of the action (and you won't get lost!)
Floating Bed and Breakfast Anyone?
Traverse Tall Ship Company, 13258 S.W. Bay Shore Drive, Traverse City, MI 49684
Anyone can go on a two hour evening sail, but the real adventure begins when the crew leaves the ship and you are left to spend the night ALL ALONE. 
Are you up for the challenge? 
It's your chance for adventure during the National Cherry Festival. Enjoy a relaxing sunset sail aboard the Sailing Yacht Scout. Upon returning to the dock, the crew will depart, leaving you to enjoy Scout in complete privacy. Grab a blanket and a drink and get cozy on deck to watch the fireworks display, right from the marina. What a view and experience! In the morning the captain will deliver a full breakfast for you to enjoy.  Seriously, how cool is that?
Traverse Tall Ship Company also has specialty cruises, fireworks cruises, evening cruises if you are seeking a "taste" of sailing!
Outstanding Biking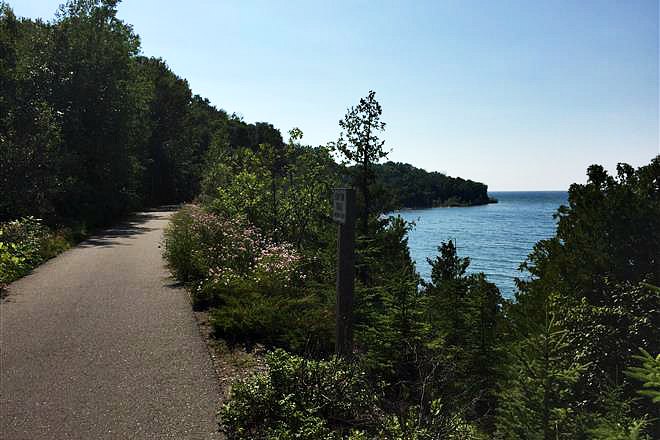 Little Traverse Wheelway-23.7 Miles, Asphalt. Trail activities: Bike, Inline Skating, Fishing, Wheelchair Accessible, Walking, Cross Country Skiing
The Little Traverse Wheelway is north of Traverse City but needs to be mentioned.
Trail end points: Waller Rd. and US 31 (Charlevoix) and Kosequat Park at Park Ln. and E. Lake Road (Harbor Springs).

This is our favorite trail because it's paved, boasts fantastic views and allows for lots of photo worthy stops.  You will enjoy views of Lake Michigan and its shoreline. The paved trail rolls for 24 miles from Charlevoix to Petoskey to Harbor Springs as it follows the curve of Little Traverse Bay.
Visit here for more information on trail heads, parking and detailed maps.
Boardman Lake Trail with Interactive Map
This outstanding 3 mile trail is perfect for hiking, biking and walking!  The pretty bridge over the Boardman River and connection to Oryana and the Old Town neighborhood was completed in 2008. The 3rd mile of the trail was completed November 2015 and ends at 14th Street.
Parking: Access and parking at the north end is off Hannah Road just south of the Traverse Area District Library, and at the south end from Medalie Park in the Logan's Landing area off South Airport Road. 
Surface:  Boardwalk, Crushed limestone, Flat, Paved
Popular Pages You May Also Like...