46 Awesome Things to Do -
April Michigan

OMG! Our exciting list of 2019 April Michigan events and things to do will keep you busy all month! Grab our Boredom Zapping Ideas for fun in Michigan! There's NO WAY you be will bored!
Destinations: Detroit, Ann Arbor, Grand Rapids, Kalamazoo, Lansing, Traverse City, Charlevoix, Houghton, Midland, South Haven, St. Joseph and more!  
Plan your April Michigan trip or vacation around our inspiring festivals and events! Traveling Michigan has never been so fun!

It's almost spring!! We are getting so excited for warm afternoons and longer days! We've had one heck of a Michigan winter this year- with the polar vortex and so much snow and ice.  On the plus side, Michigan photographers have captured some stunning images on Instagram!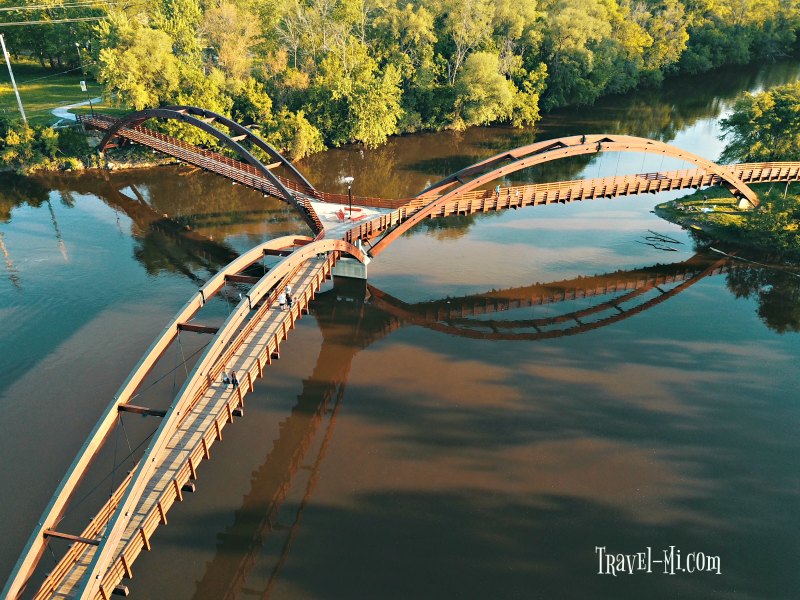 April Michigan Events 2019
Let's start traveling Michigan!
Origami in the Garden, Dow Gardens Midland, MI, 1809 Eastman Ave, Midland, MI, April 28 - September 29, 2019

  Origami in the Garden is an outdoor sculpture exhibition, created by Santa Fe artists Jennifer and Kevin Box, that captures the delicate nature of this paper art form in museum quality metals. 

Butterflies Are Blooming Frederik Meijer Gardens and Sculpture Park, 1000 East Beltline NE, Grand Rapids, MI-March 1- April 30, 2019, Be wowed by 7000 tropical Butterflies of 50 different species! We love to the bridges over the small streams and the cactus exhibits! Be sure to grab lunch in their cafe, it's actually great food!  
Butterflies In Bloom, Dow Gardens Midland, MI, 1809 Eastman Ave, Midland, MI-March 1-April 21, 2019, Enjoy colorful butterflies from around the world as they emerge from their chrysalis and fly around the tropically environment. Tip for photographers (trust me, I've been here several times): It's best to call ahead to see if a school group is planned the day you wish to visit-just sayin'. Dress accordingly, it's very warm inside the butterfly house-I usually wear a tank top. 
MSU Science Festival, Michigan State University-East Lansing, April 5-20, 2019.  The MSU Science Festival is a multi-day series of events, talks, demonstrations, tours, open houses, guest speakers and hands-on activities highlighting fields of science, technology, engineering, arts and mathematics.

Kalamazoo Art Hop, Downtown Kalamazoo,

April 5, 2019, 5-9 pm.

Explore pop-up art displayed in shops throughout the downtown area! Many host locations will provide snacks and beverages! Check out the Edible Book Festival at the Book Arts Center in the Park Trades Center. I love seeing this work!
Michigan State University Science Festival, April 5-20, 2010. MSU is looking forward to Unraveling the Mysteries for the annual MSU Science Festival. Presenters are ready to dazzle, delight, educate, and inform, reaching beyond science to include technology, engineering, arts, and mathematics (STEAM) and the important role they play shaping our future and everyday lives. FREE!
Great Lakes Art Fair, Suburban Collection Showplace, 46100 Grand River Avenue, Novi, Michigan, April 6-7, 2019. This annual fair offers fine artists in the region an indoor marketplace to showcase their freshest and most beautiful work! 
Kal-Haven Trail Run, April 6, 2019, 10th St. Trailhead, Kalamazoo 

MUSH Spring Dryland Sled Dog Races, April 6-7, 2019, Fort Custer Recreation Area, Augusta, 10AM–3PM.

Fandom Fest, April 6, 2019, LMC Mendel Center, Benton Harbor, 11AM–7PM, Lots of attractions, guest speakers and panels, video and tabletop games, cosplay contests, and mini hobby events

.

 Free!

Spring Artisan Market, Journeyman Distillery, 109 Generations Drive, Three Oaks, MI. April 6, 7, 2019. Shop and wander around the old Featherbone Corset Factory with your favorite craft beverage in hand! Talk to the artists as you shop! 
Traverse City Chocolate Festival, Park Place Hotel 300 E. State Street, Traverse City, MI, April 7, 2019, 11:30 AM - 2:00 PM or 2:30 PM - 5:00 PM Check out Michigan's Largest Chocolate Festival! Enjoy tastings from the region's finest chocolatiers, chefs, and caterers. We are looking forward to this April Michigan event!
Spring Carnival at Wings, April 12-14, 2019, Wings Event Center, Kalamazoo, All Day April Michigan event!

Festival of the Angry Bear, Marquette, April 13, 2019. Festival of the Angry Bear symbolizes coming out of hibernation and is modeled after great beer festivals of Europe. It is a showcase of barrel aged beer, live music and delicious food! Spring Street in downtown Marquette. 
Plainwell Community Easter Egg Hunt, April 13, 2019, Hicks Park, Plainwell, 9–12 PM Free! Grab the kids and go!
Mattawan Easter Egg Hunt & Carnival, April 13, 2019, Antwerp Activity Center, Mattawan, 10 AM–2 PM, Free! Grab the kids and go to this fun April Michigan event!
Antique Bottle & Glass Show, April 13, 2019, Kalamazoo Expo Center, 10 AM–3 PM
Spring Birding Tour at Nayanquing Point State Wildlife Area, 1570 Tower Beach Road, Pinconning, MI 48650, April 13, 2019,9:00 AM to 12:00 PM, Highlights of the birding tours may include diving and dabbling ducks in full breeding plumage, trumpeter and tundra swans, osprey, bald eagles, sandhill cranes and much more! The tours will be led by DNR Wildlife Biologists and Technicians, Audubon Great Lakes staff, and volunteers from Ducks Unlimited and local Audubon Clubs. If you have questions about the bird tour, please contact 989-697-5101. 
Annual Fairy Festival,  634 N. Mechanic St, off Ganson in Jackson, April 13-14, 2019. This two-day event is free!  Enjoy arts & crafts, vendors, Ye Ole Fairy Shoppe, the Cupcake Cafe, a Fairy Garden Contest, carriage rides and more!
Auto Swap Meet, April 14, 2019, Monroe County Fairgrounds, Monroe, MI
Harvest Dinner, Black Star Farms,

April 14, 2019

, Enjoy wine-paired culinary experiences inspired by the best local, seasonal ingredients sourced from Northern Michigan's finest farms. 
5th Annual Funk Fest, April 19-20, 2019, The Livery, Benton Harbor, All Day
Kalamazoo Earth Day Festival, April 20, 2019, Bronson Park, Kalamazoo, 12–5 PM, Free!
Galesburg Annual Egg Hunt, Ike-Payne Park, Galesburg, 1 PM, Free!
Turkeyville Easter Egg Hunt, Cornwell's Turkeyville, Marshall, 10 AM–1 PM, Free!
Earth Day Celebration, 5K & Kids Raccoon Run, Kalamazoo Nature Center,7000 N. Westnedge Ave, Kalamazoo.  9 AM–5 PM Join the Kalamazoo Nature Center for FREE admission day and special activities! 
Kalamazoo Annual Egg Hunt, Mayors Riverfront Park, 251 Mills Street, Kalamazoo, MI, 2 PM –4 PM.  Bring the kids for springtime crafts, fun themed games and an exciting Easter egg hunt. Children 9 and under are divided into age groups for ease of egg finding and safety.
Mackinac Island

-Opening day 2019 is 

April 21

!



Charlevoix's Restaurant Week, April 22-28, 2019. This is an opportunity to come to your favorite local restaurants and try new dishes at special prices!

Zehnder's Ragtime Festival, Frankenmuth, April 24-27, 2019
Shepherd Maple Syrup Festival, Shepherd, MI April 25-28, 2019. Pop in for breakfast, arts & craft shows, parades, a classic car show, rides, concerts, tractor pulls, flea market, and three museums!
 Thornapple Arts Council Jazz Festival, Downtown Hastings, April 25-27, 2019. 

Walleye Festival, Freeland, MI, April 25-28, 2019 Carnival rides, high-stakes poker and corn hole tournaments, parade, fireworks, music and of course, a Walleye Fishing Tournament! The community wide rummage sale is also a blast! We are looking forward to this April Michigan event!
National Trout Festival, Kalkaska, April 25-29, 2019.  So many events! Midway, Flea Market, Entertainment, Classic Car Show, 5K, 10K, and 1 Mile Fun Run, Youth Parade, Grand Royale Parade, Craft Show, Motor Sports, Country Concert, Princess Tea, Kids' Fishing Pond & Contest, Fireworks, Pig Roast, Dodge Ball Tourney, and tons more!
Vermontville Maple Syrup Festival, Vermontville, April 26-29, 2019, Celebrate 79 years at Michigan's original Maple Syrup Festival! Enjoy pancakes with real maple syrup, rides, talent show, arts and crafts, flea market, two parades, petting zoo and so much more! This April Michigan event is super popular! 
Earth Fair, Goodells County Park, Goodells, MI April 26-27, 2019. Earth Fair is Michigan's largest and liveliest two-day Earth Day celebration! Lots of exciting demonstrations, workshops, exhibits, artisans and activities. Activities, parking and admission are free. 
Spring Makers Market, Box Factory for the Arts, 1101 Broad St, St Joseph, MI, 10 AM–6 PM. Come check out exquisite handmade artisan items, explore the Box Factory studios, food, full bar, live music. Admission fee.
Mom 2 Mom Sale, Cornwell's Turkeyville, Marshall 1–4PM, Free
All Things Vintage Market, Calhoun County Fairgrounds, 10 AM–3 PM, Free•
Annual Spring Art & Craft Sale, April 27-28, 2019, Kalamazoo Expo Center, Free
Allegan Antique Market, April 28, 2019, Allegan Co. Fairgrounds, 8 AM–4 PM 
Motorcycle Swap Meet, April 28, 2019, Deltaplex, Grand Rapids, MI
Bringin' Back the 80's Festival, Frankenmuth, MI April 26-27, 2019. Rock the night away with 80's music, trends and events. Peg your stonewashed jeans, tease your hair, and grab your friends… Awesome Live Cover Bands, Best Dressed Contest, a huge display of 80's Memorabilia and Video Games, Breakdancing Show and more! 
Taste & Tour of Old Town, Lansing, April 27, 2019, The Taste & Tour is one of Old Town's unique events which allows participants to sample delicious foods from Old Town restaurants and food retailers. The weather should be gorgeous, get out to this awesome April Michigan event!
Beerfest at the Ballpark-Lansing, April 27, 2019, Beerfest is held on Michigan Avenue, 360 concourse and front lawn of Cooley Law School Stadium. Taste more than 300 craft beers, ciders, meads, spirits and from over 60 Michigan breweries while enjoying the ballpark atmosphere!
Blossomtime Festival, St. Joseph/Benton Harbor, MI, April 28-May 4, 2019. Blossomtime Festival Grand Floral Parade-Saturday May 4, 2019 at 1:00 p.m. Several events!
Ongoing April Michigan Events
Black Star Farms Premium Wine and Cheese Tasting, Jan 11-Apr 28, 2019
Zingerman's Baking Classes, Ann Arbor.  See their schedule here!
We hope you enjoyed these April Michigan events!  We would love it if you shared some of your favorite April Michigan event ideas below! 
Don't miss a moment of April Michigan fun!  Join our newsletter to have events and fun delivered directly to your inbox!
What Michigan Events Are Coming Up Next?
Click on the May and June images above to plan a full summer of Michigan fun things to do!  Traveling Michigan has never been so fun!
Disclaimer: Please be sure to visit a particular event's website to verify dates, times, happenings and details.  We make every possible effort to be verify these the event details but as we are human, mistakes can occur and event dates/times can change.  If you see an error below, PLEASE let us know and we will correct it.

Event Centers in Michigan
Still bored? Don't forget to check these Michigan event centers/theaters/auditoriums across Michigan for concerts, events, shows or comedy entertainment! 
Here are a few Michigan event centers to inspire you!  
Cobo Hall-Detroit
Midland Center for the Arts-Midland
Dow Gardens-Midland
Kalamazoo State Theatre
Fire Keepers Casino
Soaring Eagle Casino-Mt. Pleasant
Wings Event Center-Kalamazoo
Miller Auditorium-Kalamazoo
Civic Auditorium-Kalamazoo
Chenery Auditorium-Kalamazoo
Kellogg Arena-Battle Creek
LMC Mendel Center-Benton Harbor
Franke Center for the Arts-Marshall
The Bob-Grand Rapids
Van Andel-Grand Rapids
Devos Place-Grand Rapids
Dow Event Center-Saginaw
Being bored sucks! Never miss another event! Join the other "we think boredom sucks" group below!

Subscribe To Receive Exciting Destinations, Day Trips and Fun Directly to Your Inbox!
Sign Up to Our Newsletter to Get the 5 Free Must Have Apps to Travel in Michigan Like a Boss!
Follow Us on Instagram 
Check Out Our Traveling Michigan Videos on Youtube!
Check out our off-road Keweenaw Peninsula adventures on YouTube!
You May Also Like...
We would love to hear your ideas!
Share your Michigan events, stories, photos and ideas! We love to be inspired!