THE 20 BEST July Michigan Things To Do!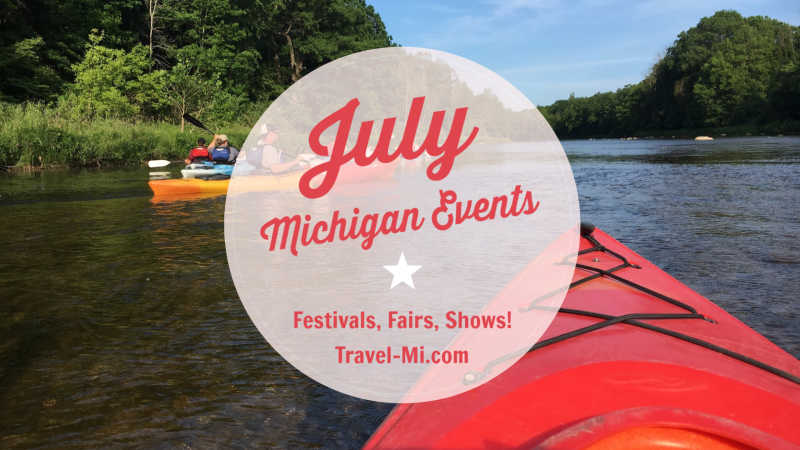 The ULTIMATE SOURCE of 2019 July Michigan events and things to do for families, couples and friends! Grab our 19 Boredom Zapping Ideas! 
Destinations: Detroit, Ann Arbor, Grand Rapids, Kalamazoo, Lansing, Traverse City, Charlevoix, Houghton, Midland, Alpena, South Haven, St. Joseph and more!  
July Michigan events are full swing!  BBQ's, picnics, hiking, fireworks, boating, sailing and exploring is at its max! 
Traveling Michigan in July is absolutely stunning as our State Parks are lush and green, our lakes are warm and sparkling, and our state is RIPE for discovery! 
Farm markets, zoos, beach towns, festivals and museums are waiting for your visit.  Let's travel Michigan together!
Join us on Instagram where I've posted all of our July adventures!  We hope you enjoy our July Michigan events and fun things to do!
And as always, if you have July Michigan events that you would like listed, let us know here!
THE BEST July Michigan Events-2019
Lavender fields in Michigan open in late June with peak bloom in mid-July!  

There are so many July Michigan things to see, do and explore!! No way you will be bored!
Traverse City National Cherry Festival, June 29-July 6, 2019 Grab our Traverse City Cherry Festival Interactive Map and Guide for the tips, event locations and the schedule! Kick off the National Cherry Festival with the Air Show, micrcobrews, as well as the finest BBQ around!  Classic car shows, Midway, Blue Angels Air show, Cherry Pancake Breakfast, Arts and Crafts fair, Parades and Cherry Farmers Market.  So many things to do in Michigan!
Battle Creek Field Of Flight Air Show and Balloon Fest, July 3-7, 2019. Air show, night air show, rock bands, balloon illumes, 2 amazing fire works shows, carnival and vendors galore! 
Tour the Tawas Point Lighthouse-Tawas, Come tour the lighthouse! Tours are available at select times on select days. See their website for more information. Fee.  A Recreation Passport is required to enter the State Park.
Harbor View Lavender Farm-17770 Center Rd, Traverse City, MI, View and purchase gorgeous lavender plants and products!
South Haven Fireworks-July 3, 2019 fireworks at dusk off the North Pier. Viewing from Riverfront Park, North & South Beaches. Coordinated with Music on Cosy 103.7 FM. 3-hour pre-show broadcast begins at 7:00 p.m. on Cosy.
Bay City Fireworks Festival, July 4-6, 2019. Fireworks Schedule: Thursday, Friday and Saturday, fireworks begin at 10:12 pm. Saturday is the largest show, lasting 36 min. People travel from all over the United States to witness the amazing fireworks display!
University of MI Matthaei Botanical Gardens, 1800 N. Dixboro Rd, Ann Arbor. Check out the 9 outdoor gardens and conservatory!  Best viewed June to October, the perennial gardens begin blooming in June.  Lots of wildflowers too! 

The Botanical Gardens at Historic Burns Park, 1490 Red Drive, Traverse City. This gorgeous 25-acre botanic garden offers a visitor center, workshops & guided tours.
W.J. Beal Botanical Garden at Michigan State University, W. Circle Drive, East Lansing.  July through August is just stunning!
Appledore Dinner Sails, Sail the Saginaw Bay! Enjoy the sails, the sunset, and a delicious catered dinner. Friday night sails feature a light BBQ dinner and run from 6p – 9p. Saturday night Dinner Sails are four hours long and many feature live entertainment!  Things to do in Michigan
Mad Dogs and Englishmen's British Auto Faire, July 6-7, 2019, Gilmore Car Museum, Hickory Corners.
Kindleberger Festival, July 10 - Sun, July 14, 2019 Kindleberger Park, 650 S. Riverview Drive, Parchment, MI (near Kalamazoo). This exciting festival is five days of exceptional outdoor community theatre and a Festival Day of family-friendly fun.


Frankenmuth Food Truck Festival, July 11, 2019. Funtown Chowdown, Frankenmuth's Annual Food Truck Festival is located at Frankenmuth River Place Shops! The fun begins in May and will take place on the second Thursday of each month (May 9, June 13 , July 11, August 8, and September 12) from 3pm – 9pm each date. 
Lavender Festival, July 11-13, 2019, Imlay, MI
Krasl Art Fair on the Bluff, Saturday – Sunday, July 13-14, 2019. This can't miss event brings together hundreds of artists and thousands of people in Southwest Michigan. We go to this show every year and it's exquisite.  Tons of shade trees but be prepared to walk several block for parking.
Eat Great Restaurant Week- Enjoy Great Lakes Bay Region Eateries Jul 15, 2019 – Jul 28, 2019 in Midland, MI
2019 LPGA Tour, July 15 - 20, 2019, Dow Great Lakes Bay Invitational in Midland, MI. The LPGA Tour and Dow Great Lakes Bay Invitational experience: the world's best female golfers, feast on Eat Great Food Festival flavors, travel the Eat Great Hospitality Trail, and explore the regional culinary and craft beer scene during Eat Great Restaurant Week! Awesome July Michigan event!
Tall Ship Celebration, July 18 – 21, 2019, Downtown Bay City
801 N. Water Street.  Come check out the magnificent tall ships! You will be wowed!  We have an absolute blast at this celebration!
Art in the Park, Fri, Jul 19 – Sun, Jul 21, 2019, 10 a.m.- 5 p.m., Veterans Memorial Bridge, Bay City, MI.  Great art and beautiful sunshine!
 Ann Arbor Art Fair,

July 18-21, 2019. 

Outstanding art show that is actually 4 fairs.We have gone to this show every year for around 12 years!  Crazy hot but crazy good! It's one of our favorite July Michigan events! Read more here! 
Hot Air Jubilee, July 18-July 21, 2019 at Ella Sharp Park in Jackson, MI.
Richland Art Fair, July 20, 2019, 

Downtown Corner Of M-89 And M-43, Richland, MI. This juried show features a diverse selection of original artwork, jewelry, and superior hand‑crafted items. Approximately 100 artists from all over Michigan and beyond exhibit their beautiful work for sale. 

We love this show as it's on grass (not too hard on the feet) with lots of shade trees!
Kalamazoo Summer Salsa Kickoff! July 20, 2019, 

11:00 a.m. to 2:00 p.m. The

 annual Salsa Cook-Off is your chance to explore Downtown Kalamazoo while sampling their best salsa recipes and voting for your favorites. 

Salsa sampling will be available at over 20 shops and restaurants starting at the Consumers Credit Union on the Kalamazoo Mall (125 S. Kalamazoo Mall). 
All Years Corvette Car Show and Swap Meet, Sunday, July 21, 2019. 9:00 am - 4:00 pm. Gilmore Car Museum, Hickory Corners.
Keepsake Arts and Crafts Show, Friday, July 24, 2020, Main Street, Frankenmuth, MI. Other dates in 2020: 
Saturday, July 25
Sunday, July 26
Friday, August 14
Saturday, August 15
Sunday, August 16
Keepsake Arts and Crafts Show, July 27, 2018 at 12:00 pm - 6:00 pm, Zehnder Park Mill Street, (Off of Main Street, Frankenmuth, MI)
Grand Haven Coastguard Fest, July 26-August 4, 2019, 113 N 2nd St, Grand Haven, MI. Tons of concerts, cardboard boat races, food and more!
We hope you enjoy our exciting July Michigan events and ideas of fun things to do!



Don't miss a moment of July Michigan events and fun!  Join our newsletter to have events and fun delivered directly to your inbox!
What Michigan Events Are Coming Up Next?
Disclaimer: Please be sure to visit a particular event's website to verify dates, times, happenings and details.  We make every possible effort to be verify these the event details but as we are human, mistakes can occur and event dates/times can change.  If you see an error below, PLEASE let us know and we will correct it.

Event Centers in Michigan
Still bored? Don't forget to check these Michigan event centers/theaters/auditoriums across Michigan for concerts, events, shows or comedy entertainment! 
Here are a few Michigan event centers to inspire you!  
Cobo Hall-Detroit
Midland Center for the Arts-Midland
Dow Gardens-Midland
Kalamazoo State Theatre
Fire Keepers Casino
Soaring Eagle Casino-Mt. Pleasant
Wings Event Center-Kalamazoo
Miller Auditorium-Kalamazoo
Civic Auditorium-Kalamazoo
Chenery Auditorium-Kalamazoo
Kellogg Arena-Battle Creek
LMC Mendel Center-Benton Harbor
Franke Center for the Arts-Marshall
The Bob-Grand Rapids
Van Andel-Grand Rapids
Devos Place-Grand Rapids
Dow Event Center-Saginaw
Being bored sucks! Never miss another event! Join our network of Traveling Michigan Explorers!  Be a part of this amazing community of travelers!

Subscribe To Receive Exciting Destinations, Day Trips and Fun Directly to Your Inbox!
Sign Up to Our Newsletter to Get the 5 Free Must Have Apps to Travel in Michigan Like a Boss!
Follow Us on Instagram 
Check Out Our Traveling Michigan Videos on Youtube!
Check out our off-road Keweenaw Peninsula adventures on YouTube!
You May Also Like...
We would love to hear your ideas!
Share your Michigan events, stories, photos and ideas! We love to be inspired!