Best Raspberry Picking Michigan: Top 15 U Pick Farms with Map | When is the Season for Red and Black Raspberries?
Best Raspberry Picking Michigan: Top 15 U Pick Farms | By Sherry Trautman | Travel-Mi.com
Here's a great list of Michigan U-Pick raspberry farms located in the Northwest, Northeast and Southeast quadrants of lower Michigan. Get outside this summer and pick fresh Michigan berries with your friends and family!

Frequently Asked Questions About Raspberry Picking in Michigan
How do you know when a raspberry is ready to be picked? The entire berry should be consistently colored red. They will be full and lush.  Ripe raspberries will come off the bush very easily so if you have to tug on them, they are not ripe.  Raspberries with the green caps still attached after picking weren't ready. 
What month is best for raspberry picking? In our lovely state of Michigan, summer raspberries are generally ready to pick from early July until about mid August. Fall raspberries are available to pick from late August until early October, depending on the region.  I've picked raspberries in the Traverse City region in early October.
Are raspberries in season in Michigan? Generally July-early October, depending on the region and farm. 
Can you pick raspberries before they are ripe? No. Unlike some fruit, raspberries do not continue to ripen after they are picked.  Pick only lush, completely red berries.
Can you grow raspberries in Michigan? Absolutely! 
Raspberry Picking in Michigan Map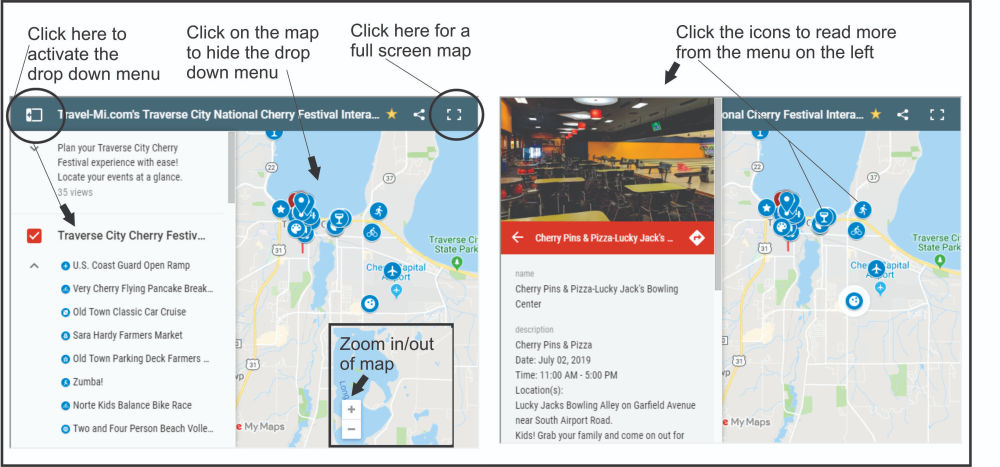 Zooming in: Click on the plus and minus buttons at the bottom left of the map to narrow in or out of the map. Or scroll with your mouse or use two fingers on your phone.
Moving the Map: If using a mouse, click on the little hand icon to move the map around. 
More Info: Click or touch the colorful pins to obtain more information about the event or schedule. 

Drop Down Menu: Click or touch the square with the small arrow on the upper left side of the map for a drop down menu to find particular events or locations.

Expanded Map View: Click the grid marks on the upper right of the map to expand the map.
All of these raspberry farms in Michigan and u pick raspberries are also listed on the interactive map above so you can easily find berry picking near you! 
These lovely raspberries above were picked by Sherry at Jacob's Farm in Traverse City.
Farms for Raspberry Picking Michigan
Please don't eat the berries as you pick. Berries need to be purchased (fair to the farmer) and should be taken home for a rinse before eating (all fresh produce should be rinsed for safety). 
All dates are tentative, be sure to contact the farm before you visit either by calling or checking their website or Facebook page for updates. May times they will state if they are open for picking or will provide harvest updates.
AJ's Berry Farm- 10570 Martz Rd, Ypsilanti, MI 48197. U-Pick. They don't necessarily have U-pick available every day so be sure to call the farm or check their website/Facebook page before you plan your day.
Berry Hill Farm - 12835 N Territorial Rd, Dexter, MI 48130 Their u-pick berry season starts mid-July with black raspberries. Mid-August starts the fall red raspberry season as well as blackberries. Raspberry picking near Ann Arbor
Delanges Red Berry Farm- 5723 Port Sheldon St, Hudsonville, MI 49426. U-pick - ( mid August - October ). You are welcome to bring your own containers for u-pick. They will also provide a box for you to take your berries home if you need it. Already picked berries are available in the farm market daily throughout the harvest season by the pint and quart. Raspberry picking near Grand Rapids, Michigan
Diederich Berry Farms -3537 Morrice Rd, Webberville, MI 48892. U-Pick raspberries. Might need an appointment, check their website/Facebook page.
Harveys Farm- 2651 15 Mile Rd, Tekonsha, MI 49092. For U-pick availability, be sure to check their Facebook page for updated posts or call the farm to hear a message. Their farm is located in south-central Michigan in southern Calhoun County. They grow asparagus, strawberries, sunflowers, blueberries, tomatoes, fall red raspberries and more. Raspberry picking near Coldwater Michigan.

Jacob's Farm - 7100 East Traverse Hwy, M-72 West, Traverse City, MI 49684. Raspberries will generally be available from mid-July through September.
King Orchards- 4620 M-88, Central Lake, MI 49622. U pick raspberries are available July - October. Great place for raspberry picking Michigan!

Krupp Farms: 8025 Krupp Ave NE, Comstock Park, MI 49321. Krupp Farms is located just north of Grand Rapids in Comstock Park, MI on Krupp Avenue. Although Krupp Farms started as a strawberry farm, they now offer asparagus, rhubarb and red and black raspberries as well. Raspberry picking near Grand Rapids, Michigan
Lavender Fields Farm- 2175 E Hinchman Rd, Berrien Springs, MI 49103. They grow raspberries, blackberries, and strawberries with U-Pick for their berries, lavender, sunflowers, and pumpkins!


Middleton Berry Farm- 4790 Oakwood Rd, Ortonville, MI 48462. The raspberry patch is general admission, no appointment necessary. Raspberries usually begin to peak around Labor Day and are extremely plentiful.
Riverbend Raspberries & U-pick - 44 72nd St, South Haven, MI 49090. June through October - Raspberries and black berries - U-pick or fresh picked.
Slow Farm- 4700 Whitmore Lake Rd, Ann Arbor, MI 48105. Raspberry picking Ann Arbor

Stovers Farm Market & U Pic- 7837 M-139, Berrien Springs, MI 49103. Red & Black Raspberries are available for U Pick June and July.

Trapp's Berry Farm - 7820 Tiffany Ave NE, Rockford, MI 49341. Trapp's Berry Farm is located on the East side of Rockford Michigan. They are a U-pick and We-picked raspberry farm that also sells tomatoes, peaches, honey, flowers, beans, and other fresh and delicious local produce depending on the season. Call 616-874-5935 for a recording of what they have available at the stand at any time, day or night. The message will provide status on produce available as well as picking conditions. Raspberry picking near Grand Rapids, Michigan
Ann Arbor Farmers' Market: Wasem Fruit Farm sells their raspberries at the Ann Arbor Farmers' Market.
| | |
| --- | --- |
| | Per Wikipedia, "the raspberry is the edible fruit of a multitude of plant species in the genus Rubus of the rose family" |
Subscribe To Receive Exciting Destinations, Day Trips and Fun Directly to Your Inbox!
Sign Up to Our Newsletter to Get the 5 Free Must Have Apps to Travel in Michigan Like a Boss!
Follow Us on Instagram 
Do you have a favorite Michigan U Pick Farm?
Do you have a great story about it? Share it!
What Other Visitors Have Said
Click below to see contributions from other visitors to this page...

Raspberry Picking Michigan