6 Fun Things to Do During Winter in Frankenmuth Michigan!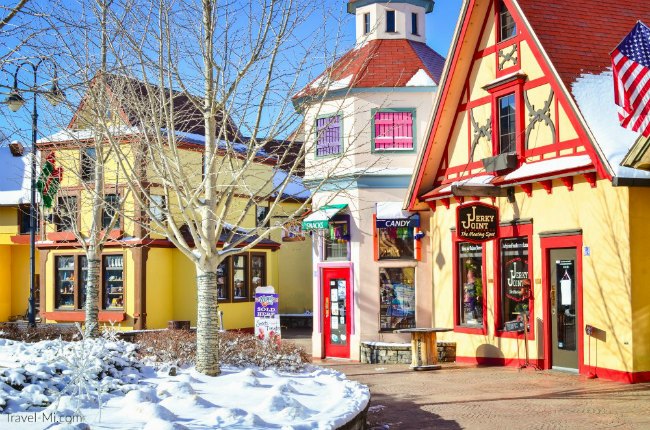 Winter In Frankenmuth Michigan| By Sherry Trautman | Traveling Michigan
What does crepes, water parks, whiskey and covered bridges have in common? 
Winter fun in Frankenmuth!! There are so many things to do inside or outside in Frankenmuth during the winter! Plus fun things to do with kids!
So Bundle Up, Buttercup! 
Winter isn't going to keep us inside or depressed this year! Let's go!
Explore, Eat and Shop at the Bavarian Inn This Winter!
Ahh, the Bavarian Inn. Home of the world famous chicken dinners with all the fixings!  After your belly is full, wander the shops and taste some wine. Great way to stay warm this winter in Frankenmuth!
Let's Go Beyond the Chicken!
Do you want to go beyond the chicken?  (I won't tell)
La Crepe Du Jour is a little creperie located in the River Place Shops in Frankenmuth, Michigan.  Come grab a crepe with a little taste of France! Oh and they have yummy coffees! 
The Paris inspired décor and musicis so fun! I love watching my crepe being made, it adds so much to the experience.
My favorite crepe is the Athena, with feta, onions, turkey, roasted tomatoes, spinach and hummus! But the Nutella and banana crepe is very hard to pass up!
Do You Love Whiskey and Rum Tastings? 
Shhh! We've got a great way to warm up from your fingers to your toes!
The Grand Traverse Distillery, located in the River Place Shops in Frankenmuth Michigan is a great shop to warm up, shop and taste some bourbons Michigan's premier , grain to bottle spirits. This micro-distillery
Hand crafted in small batches using local ingredients to produce vodka, whiskey, gin and rum. We also have Black Star Farms Wines.
Wander Across the Gorgeous Holz-Brücke Covered Bridge in Frankenmuth
An absolute must-do during winter in Frankenmuth is wander across the Holz-Brücke covered bridge.  It offers glorious views of the River Place Shops, Cass River and Bavarian Inn.  
Zehnder's Snowfest is an Awesome Way to Celebrate Winter in Frankenmuth!
Zehnder's Snowfest rocks Frankenmuth each January!  In my opinion, it is one of the greatest winter in Frankenmuth events! Click on the photo or link above to read more about it.
Perfect Michigan winter activity for the whole family!
There's so much fun and family activities in Frankenmuth all year round!
Zehnder's Splash Village Hotel and Water Park
Zehnder's Splash Village Hotel and Waterpark is a great chance to get out of the cold!  Plus, you can purchase half or whole day passes so you can splash and play to your heart's content! 
Grab lunch at Elf Hollow Cafe and play in the Arcade when you need to dry off for a bit! This is a great way to spend winter in Frankenmuth!
Popular Articles You May Love!
Subscribe To Receive Exciting Destinations, Day Trips and Fun Directly to Your Inbox!
Sign Up to Our Newsletter to Get the 5 Free Must Have Apps to Travel in Michigan Like a Boss!
Follow Us on Instagram 
Have A Great Story of Things To Do in Michigan During Winter?
Do you have a great story about this? Share it!