The BEST Things To Do Midland Michigan!
Midland Michigan | By Sherry Trautman | Traveling Michigan
Midland Michigan is rich with adventures and fun! Visit Dow Gardens, the Tridge, the Longest Canopy Walk in America and attend an exciting Great Lakes Loons baseball game!
"Only those who risk going too far can possibly find out how far one can go." T.S. Eliot

Dow Gardens
Dow Gardens is a 110-acre botanical garden located at 1809 Eastman Avenue, Midland, MI. It is one of my absolute favorite places to visit!
Since we live close, I go there about 4 times a month! Dow Gardens is a wonderful place to spend the day.  Enjoy paved walking trails, children's gardens, ponds, rose garden, waterfalls, and so many nooks and crannies to explore!
Don't miss Dow Garden's Butterflies in Bloom! See my tips and "Know Before You Go!" It's an amazing experience!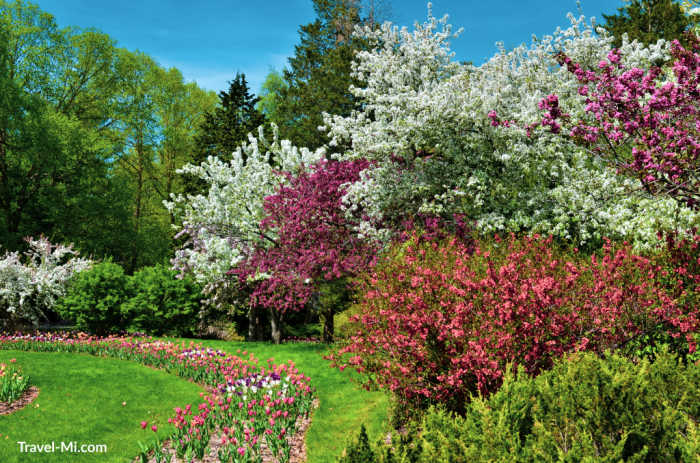 Dow Gardens is gorgeous all year!  Winter, spring, summer and fall offer new experiences and beautiful gardens to discover. Wonderful place to add to your "things to do in Michigan" list!!

Whiting Forest
 2203 Eastman Ave, Midland, Michigan

Wander among the treetops and marvel at the expansive views at Whiting Forest, home to the Nation's Longest Canopy Walk. 
This famous walk is 1,400 feet long and soars up to 40 feet above the ground!
Whiting Forest is connected to Dow Gardens so you can spend the day exploring forest trails, playing in the children's playground, and enjoying the 110-acre garden. Relax after your adventures with a hot cup of soup or a latte in Whiting Forest's café.
I love listening to the spring peepers, searching for new sprouting plants and breathing the fresh air every spring!  Summer offers a cool place to power walk while enjoying luscious shade and pausing to peer over the bridge in search of frogs and darting fish.

Winter at the Whiting Forest is a completely new experience! The views of the forest blanked in sparkly snow from the canopy walk is an exquisite vantage point!
Great Lakes Loons Baseball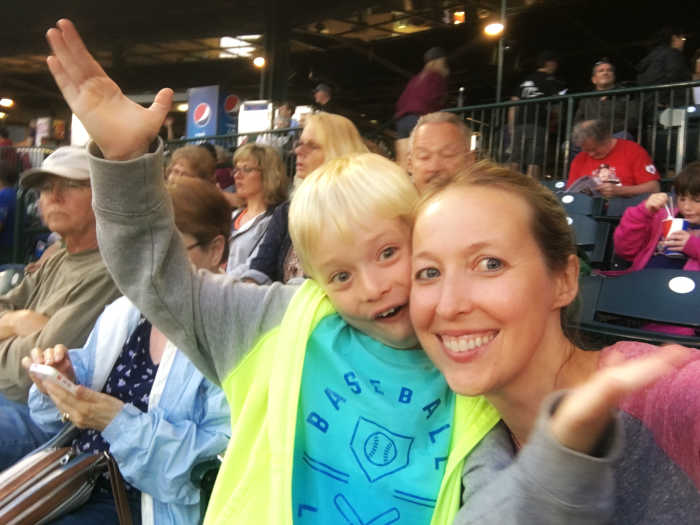 825 East Main Street, Midland, MI

The Great Lakes Loons are a Minor League Baseball of the Midwest League and the Class A affiliate of the Los Angeles Dodgers. 
We absolutely LOVE going to the Midland Loons games!  My nephew and I had a blast...obviously!!  The stadium is so beautiful!  Usually I don't say that, but it's true! It is very clean, the seats are as comfortable as possible, the home team sits in the shade and there are ton of bathrooms. The food at the Great Lakes Loons is great too. I always get the Michigan Cherry Chicken rollup as it's fresh and tasty. 
Make sure you shop in the Loons loft, I'm sporting a loons baseball shirt that I love so much!
Chippewa Nature Center
400 S Badour Rd, Midland, MI 48640
The Chippewa Nature Center is one of my favorite places to wander along a picturesque river while spotting nature.  The Nature Center offers tons of programs throughout the year for kids and adults. 
The Chippewa Nature Center in Midland Michigan encompasses over 1,348 acres of forest, rivers and wetlands.  The Nature Center is perfect for walking, hiking and biking. 

During the maple syrup season in March, you can take a wagon ride to the Sugar House to taste iced maple syrup on a stick and watch an 1870's sap boiling demonstration.
I love kayaking with the Chippewa Nature Center during organized trips in May, June and July.  I absolutely love spotting turtles, roosting turkeys, deer, eagles and so many different types of birds during our adventures on the river. 

Be sure to visit their Homestead Farm featuring an 1870's-style farmstead, complete with a log cabin, timber frame barn, root cellar, wagon barn and chicken coop. 

During the winter, rent some snowshoes and see what you can discover during the cold winter months!
Midland Michigan Tridge
The Tridge is the formal name of a three-way wooden footbridge spanning the Chippewa and Tittabawassee Rivers in Chippewassee Park near downtown Midland, Michigan.  
The Tridge is THE LAUNCH SPOT for biking, running and walking.  We park at the tridge (restrooms available) and bike all the way to the Chippewa Nature Center or north along the paved Pere Marquette Rail Trail.  This trail miiiiiiight lead you right to an ice cream parlor! 
The Tridge in Midland Michigan was recently renovated so it is absolutely stunning in all seasons.  It is also the home of the Midland Farmers Market!  Make plans to visit today!
Midland City Forest
If you love cross country skiing, fat bike trails or wooded walking trails, visit Midland City Forest for an afternoon of exercise and fun.  Entrance and parking are free.
During the winter, bring your sled or tube and zip down the designated sledding hill.  Afterward, grab a cup of hot chocolate at the nearby chalet to warm your hands.
Horses are even welcome for an afternoon of riding along the scenic wooded trails.
Return to our HOME PAGE!
Subscribe To Receive Exciting Destinations, Day Trips and Fun Directly to Your Inbox!
Sign Up to Our Newsletter to Get the 5 Free Must Have Apps to Travel in Michigan Like a Boss!
Follow Us on Instagram 
More Cool Stuff!
Click on the images above to know more about Dow Garden's Butterflies in Bloom and Bay City fun!
Have you been to Midland, MI? Have a suggestion, photos or fun story?
We'd all love to see your pics or hear your ideas! Share it!