Top 10 Kalamazoo Restaurants (Fresh Farm to Table, Downtown Kzoo Dining, Hot Breweries, Outdoor Seating For Your Date Tonight)
Top 10 Kalamazoo Restaurants | By Sherry Trautman | Traveling Michigan
Are you looking for the BEST Restaurants in Kzoo?  Perhaps outside seating, romantic, fast food, farm to table or awesome new breweries?  We've got the list!  After living in Kalamazoo for over 15 years, we have the pulse on the best eateries because, well, we like to eat!
+West Michigan farm to table restaurants that we love!

Our Top Favorite Kalamazoo MI Restaurants and Eateries
10 Kalamazoo Restaurants to Try Tonight! (Date Night Worthy!)
The majority of my favorite restaurants and eateries are located in downtown Kalamazoo as I love the atmosphere and flavor of the area.  I haven't included many chain restaurants as I prefer to support local Kzoo businesses. 
If you are looking for chain or fast food restaurants you can find a wide variety near the Crossroads Mall on Westnedge Avenue.  
1. Zazios in the Radisson Hotel in Downtown Kalamazoo MI
Zazios-Radisson Plaza Hotel, 100 W. Michigan Ave, Kalamazoo, MI 49007. Zazios is our go-to Kalamazoo restaurant when we want a special night out.  Located in the gorgeous, well-appointed Radisson hotel, this restaurant is in the heart of the bustling downtown area. 
Outside Seating: On warm summer nights, we are compelled to frequent this beautiful Kalamazoo restaurant more often as we love to sit outside on their cheerful patio while enjoying a glass of dry red wine with dinner.
The chefs at Zazios create excellent seasonal menus which keeps the menu fresh and exciting.  As such, we always call to find out when their Butternut Ravioli is back on the menu as it's hands-down one of my favorite meals...in the world. 
Bit dramatic? Yes. Exaggerated? No!  
Also, check out their website to book a Chef's Table with your friends, family or significant other.  This interactive four-course dinner and beverage pairings event looks like a lot of fun (we've watched from a distance while eating dinner and it looks very entertaining!)
2.  Taco Bob's in Downtown Kalamazoo Mall
Taco Bob's-300 S Kalamazoo Mall #171, Kalamazoo, MI 49007 (not to be confused with the inside shopping mall, this restaurant is located downtown).
And now for something completely casual.  Taco's!  This is the local's go-to place for flavorful tacos, salsa and burritos.  Located downtown, Taco Bob's is a laid-back restaurant where you eat outside in the summer. 
Grab a walking taco and enjoy the evening strolling along the downtown mall window shopping.  
3. Rustica - Excellent Farm to Table Restaurant in Kalamazoo
Rustica-236 S Kalamazoo Mall, Kalamazoo, MI 49007  Rustica is an amazing quaint restaurant located in the downtown Kalamazoo Mall.  Enjoy rustic European cuisine while savoring a luscious glass of wine.  It's fun to watch the chefs working behind the counter too.
We love to begin our meal with the Artisan Cheese Board which begs you to dip nuts and grilled bread into gooey pots of honey and jam.  The Black Angus Filet Mignon and the Scottish Salmon dishes are favorites of ours.
We are always impressed with the presentation of our meals and the service is great. Rustica is one of my favorite Kalamazoo restaurants to enjoy a delicious dinner after a busy day.
4. Latitude 42 Brewing Company: Awesome Kalamazoo Brewery!
Latitude 42 Brewing Company-7842 Portage Rd, Portage, MI 49002
This craft brewery seriously delivers with their pizzas (LOOK AT IT!), salads, burgers and more! We designed our own pizza and it was awesome! 
Oh, and get the truffle fries! Serious yum! 
5. 600 Kitchen and Bar - Incredible Farm to Table Restaurant in Kalamazoo
The 600 Kitchen and Bar is located within The Foundry at 600 E Michigan Ave, Kalamazoo, MI.  They take pride in sourcing their ingredients from local farmers across Michigan for their farm to table meals.
Try their Cajun Bleu Cheese Burgers, Chicken and Biscuits or Grilled Salmon with corn pudding, roasted tomato & shallot. MMMMMM! 
Oh, and vegetarians aren't left out! I love their 600 Ramen with baby bok choy, vegetables, roasted garlic, soft-boiled egg, nori, shitake and radish. Hot dang.
Outside Seating? Oh yeah. Grab a beer and a steak on the outside patio this summer! 
Be sure to put 600 Kitchen and Bar on your Kalamazoo Restaurants to try this summer!
6. Epic Bistro and Central City Tap House
Epic Bistro and Central City Tap House- 359 S. Kalamazoo Mall, Kalamazoo, MI 49007 (not the shopping mall but downtown).These two restaurants are connected in Downtown Kalamazoo and are perfect choices for a classy dinner before the Art Hops. 
My friends and I enjoy Central City's martini's and casual upbeat atmosphere.  Chris and I love eating at Epic Bistro for a celebratory night out (to clarify, that's any night I'm not cooking). 
We ALWAYS get the wood fired pizzas...they are that good.
7. Kalamazoo Beer Exchange: One of Our Favorite Kalamazoo Restaurants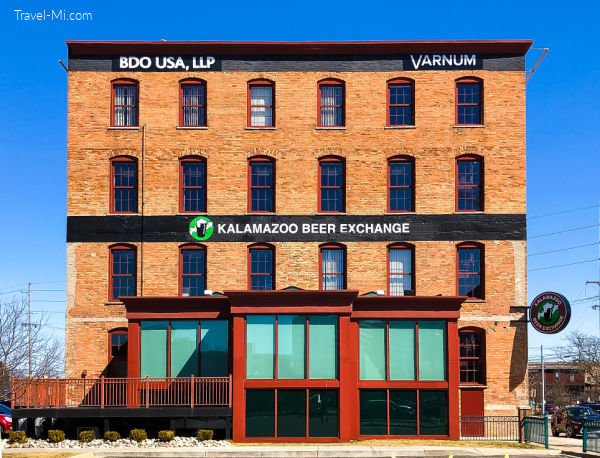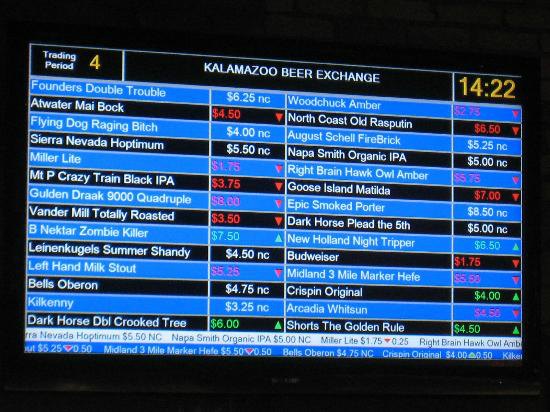 Kalamazoo Beer Exchange-211 E Water St, Kalamazoo, MI 49007.
A beer exchange is such a cool concept!  It's exciting to watch prices of beer rise and fall every few minutes depending on the beverage's popularity on the huge beer exchange board.  
Snag a second glass of your favorite brew the second the price falls!  Kalamazoo Beer Exchange has a pretty impressive food menu too.  I love their Grilled Maple Salmon!  
It's one of our favorite Kalamazoo restaurants, so check it out!
8. Sprinkle Road Tap House-Perfect Date for the Gearhead in Your Life!
Sprinkle Road Tap House (located inside Ziegler Motorsports) 5001 Park Cir Dr, Kalamazoo, MI 49001.  Where else can you drink cold brews, dine on burgers or salads while ogling shiny new snowmobiles, motor cycles, quads and anything else motorized that causes Tim the Tool Man to grunt in approval?
This is a very innovative Kalamazoo restaurant. Sprinkle Road Tap House rocks for ambiance, excellent food and originality. 
9. Noodles and Company
Noodles and Company-5363 W Main St, Kalamazoo, MI 49009. 
Ok, ok, I broke my "no chain restaurants" promise (head hanging in shame)...BUT, I would be doing you a disfavor by leaving them out.  Noodles and Company is so freakin' good (and affordable....and you don't tip). Win-win-win.
Chris loves the Buttered Noodles with extra spice or the Pesto Cavatappi. I love the Pasta Fresca for the immense flavors of tomatoes and spinach.  Of course, we always get side dishes of their Tomato Basil Bisque. Their Pot Stickers are yummmy too.  
We hope you enjoy our favorite Kalamazoo Restaurants!  
10. Monelli's in Portage Michigan
Monelli's restaurant in Portage MI is a great place to grab a few appetizers (try the Beer Cheese Dip and Brew City Fries) and a beer with friends. The atmosphere is relaxed and the food is fantastic!
Oh, and I love the Caprese Salad...so fresh and delicious!
Pin This Top 10 Kalamazoo Restaurants Page - Hot Date Worthy Ideas!
Keep Reading!
Have A Great Story, Question or Recommendation?
Do you have a great story about this? Share it!
What Other Visitors Have Said
Click below to see contributions from other visitors to this page...

What food is Kalamazoo known for? Not rated yet
I wondered if there is a certain type of food or restaurant we NEEEEED to try when visiting Kalamazoo!? Answer Hi Julie! We absolutely love …
Need Things To Do In Kalamazoo?  Click HERE!