Drummond Island Rugged ATV Adventure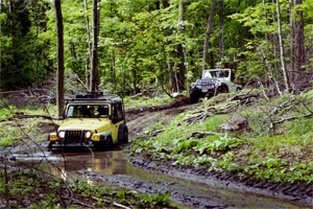 ORV fanatics herald Drummond Island as the off road vehicle (ORV) paradise of Michigan.  WHY?
The ORV trails on Drummond are some of the most scenic and rugged in Michigan. Drummond's DNR sponsored trail system is the largest closed  loop ORV system in the state. With over 60 miles of ATV trails and 40 miles of ORV routes there is so much to explore!

There are miles of routes and trails suitable for experts and novices alike. 
Exquisite scenic views and lots of wildlife.
Availability of food, lodging, entertainment, service, or emergency aid.
Ample clear signage indicating location, destination, and points of interest. 
​Drummond island isn't just for ORV's.  The trails are amazing for hiking into the Island's interior to explore or take photographs. 
​Drummond Island's ORV system contains a wide variety of terrain.  Ride through photo worthy hardwood forests, wide open meadows and occasional short rock climbs. Explore loops that take you near the shore of Lake Huron for some outstanding views.
Click here to learn more about requirements, the trails and the ferry schedule.

Drummond Island Trail Map
Here is an invaluable trail map of Drummond Island.
Turtle Ridge Off-Road Park
Turtle Ridge is an awesome ORV Park. Turtle Ridge has over 500 acres of prime off-road vehicle trails. The course is carved out of the islands natural limestone and provides unparalleled enjoyment for anyone brave enough to experience it!  
​For details call: 800.999.6343 or 906.493.1000
Where to Stay on Drummond Island
There are numerous lodging options on Drummond Island.  Generally, lodging is 1 or 2 star, rustic style.  
Papin's Resort-31240 S Maxton Rd, Drummond, MI 49726
Log Cabin style lodging with an outside picnic table and view of the water.  The rustic cabins have private bathrooms, TV's with satellite channels and kitchens with stoves, fridges and microwaves.
Enjoy the outdoor fire pits and a fish cleaning shed on-site.  Papin's offers a fishing boat and kayak rentals. Wi-Fi access is offered in the office and RV parking is available.  For booking, click here
Drummond Island Hotel-OPEN YEAR ROUND, 34834 South Townline Road, Drummond Island MI 49726
For vacancy and reservation information contact them at:
906-493-6799. Situated off Route 134, this functional budget lodging is 0.7 miles from Drummond Island Airport and 1.8 miles from Drummond Island Historical Museum. 

The rooms have mini-fridges and coffee makers, as well as TV's with cable channels. Some also have microwaves. There is a picnic area with a firepit and a charcoal grill on-site, as well as free Wi-Fi and guest parking.
Other Lodging: Birch Tree Resort, Mack Haven Resort and Vechell's Cedar View Resort. 
If you have reviews, photos or other lodging suggestions, please include them below!!
How to Get To Drummond Island
BRING CASH OR CHECKS!  Visa is not accepted.
The Drummond Island Ferry runs year round.  

It is one mile ferry ride across the St. Mary's River. The ferry's capacity is 36 cars and it crosses the river hourly bringing cars, passengers, trucks, and semi trucks across to the Island.
There are no advance ticket sales.  
Vehicles line up in DeTour waiting to board the ferry. Theround trip ferry fare is collected by the deck hand once you are safely on board.
​Over 100,000 round-trip vehicle tickets and nearly 200,000 round-trip passenger tickets are purchased each year. The efforts and safety records of the boats and crews are a testament to the quality of service they provide.   
Click here for more information.
Did You Know?
Drummond Island is the 2nd largest freshwater island in the United States. 
​Drummond Island has largest closed-loop trail system for off-road adventures in the State of Michigan!
There are more than 13 ecosystems on the island including six forest types, five swamp-marsh types, inland lakes and rivers, and cobble beaches.
The island is amazing for bird watching as it is home to a large variety of avian species including loons, grebes, waterfowls and owls. 
In 2017, Drummond Island was named one of the "Top Ten Value Travel Destinations" by Lonely Planet.
It is a fantastic place to canoe or kayak.  
Pure Michigan voted Drummond Island as "The #1 Place to Snowmobile."