Visit Bronners Frankenmuth: 50,000 Reasons Why You Should Visit the Largest Christmas Store in Michigan (and the World!)
Visit Bronners Frankenmuth: Largest Christmas Store in Michigan (and the World!) | By Sherry Trautman | Traveling Michigan
Did you know that Bronner's carries over 50,000 trims and gifts?! It's a lot of twinkle power!  Chris and I love visiting Bronner's Christmas Wonderland several times a year, especially during the Holidays.  Plus, it's an excuse to get yummy Zehnder's or Bavarian Inn fried chicken!
See Bronner's Christmas Wonderland, the Largest Christmas Store in the World!
We hope our video below of Bronner's Frankenmuth Christmas store gives you a small taste of all the things you can find in this incredible store!
This Christmas store in Michigan is so cheerful and bright! You will love wandering the aisles picking out wreaths, ornaments, home décor and Christmas decorations!
Where is Bronner's Christmas Wonderland?
The Bronners Christmas store in Frankenmuth Michigan is located about 2 miles south of downtown Frankenmuth. Grab our interactive Bronner's Google map <--- so you can find Bronner's as you drive!
When is Bronner's Open?
Bronners Christmas store is open 361 days a year so you can get your Christmas fix year round! Check their website for store hours as they vary throughout the year.
What days of the year is Bronners closed?
Bronners Christmas store is closed only on New Year's Day, Easter, Thanksgiving and Christmas.
Incredible Christmas Ornaments at Bronner's Christmas Store!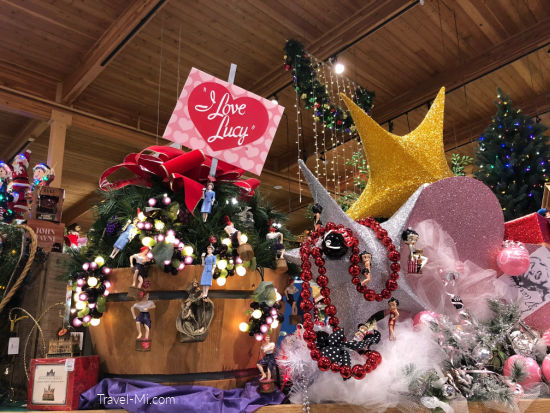 Bronners Christmas Wonderland has thousands of Christmas lights, stockings and hanger, personalized ornaments, outside decor, nativity scenes, collectables, Santa suits and hats plus so much more!
Plus...
Several types of the ornaments can be personalized!  
In fact...
Bronner staff personalize 400,000 ornaments annually!  I wonder if they get free hand massages after writing so many names!!
I love that around 50% of the glass ornaments sold at the Bronner's Christmas store in Michigan are Bronner's own designs. They are handcrafted by global artisans just for the Bronner's store. I love original artwork!
Did you know you can buy in store and online Bronners Christmas trees?  They have several to choose from including tabletop Christmas trees with all the trimmings!
If you need inspiration, more than 300 decorated trees are displayed at Bronner's!
Bronner's features over 50,000 trims and gifts!
Over 250 styles of Nativity scenes to choose!
Restrooms and Parking Info
There are around 1,400 parking spaces at Bronner's Christmas Wonderland.  Parking is free.
There are restrooms inside Bronner's Christmas Wonderland.
Bronners Frankenmuth is Also Decorated Outside!
Be sure to wander around outside too as the outside is just as magical as the inside!
Bronners Frankenmuth MI Fun Facts
How many acres is Bronners? Bronner's is the world's largest year-round Christmas store, covering 2.2 acres (1.7 football fields).  How incredible is that?
How many football fields is Bronners? Bronner's entire complex (shipping/ receiving/ stockrooms) is 7.35 acres which is 5.5 football fields!
How many people visit Bronners Frankenmuth? Over two million guests visit annually from throughout the world, including 2,000 motorcoach groups!
When is the busiest day at Bronners Christmas store? The weekend after Thanksgiving is Bronner's busiest day of the year.  They estimate 50,000 guests!
SO many Bronner's fun facts!
See Our Frankenmuth Christmas Guide!
There are so many fun things to do and see in Frankenmuth at Christmas! 
There's a Christmas lights driving tour, Market, carriage rides and so much more!
Where To Stay in Frankenmuth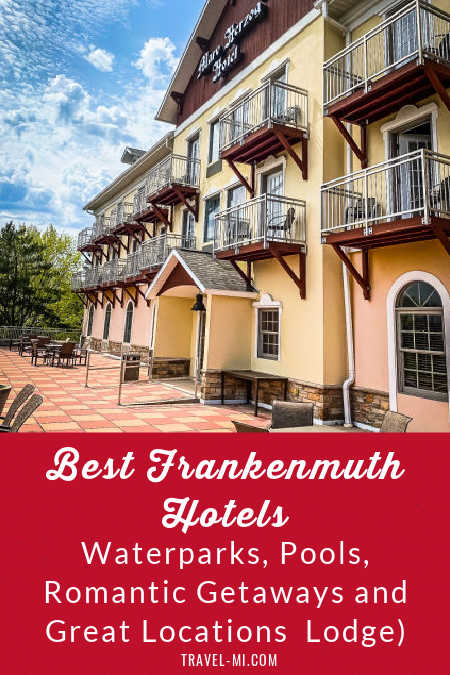 We so love visiting Frankenmuth! There's so much to see and do that you definitely need a couple days to see it all.  Check out our recommendations for the best Frankenmuth Hotels!
Subscribe To Receive Exciting Destinations, Day Trips and Fun Directly to Your Inbox!
Sign Up to Our Newsletter to Get the 5 Free Must Have Apps to Travel in Michigan Like a Boss!
Follow Us on Instagram 
Would you like to share your ideas, experiences or fun photos of Frankenmuth?
Do you have a great story about this? We'd love to see it!!
What Other Visitors Have Said
Click below to see contributions from other visitors to this page...