Best Frankenmuth Restaurants and Treats
Check out Travel Michigan's Best Frankenmuth Restaurants. We have eaten at A LOT of restaurants in Frankenmuth because, well, we like to eat.  We hope this list will eliminate any, "Where Should We Eat?" questions. You are welcome.  Oh, and we include lots of tasty options other than fried chicken!
The Battle of the Best Frankenmuth Restaurants
Zehnders vs. Bavarian Inn
It's the ultimate battle of the Frankenmuth Restaurants!  Which one will you choose?  Both restaurants feature an all-you-can-eat chicken meal with an abundance of sides.  Both have servers dressed in fancy Bavarian uniforms.  So let's break it down.
To begin your meal, Zehnders brings out several kinds of bread including cheese and liver spread (yes, you should try it).  The Bavarian Inn meal begins with a variety of breads and butter.  The friendly servers in both restaurants will then bring out cole slaw, pasta salad and a cranberry citrus salad.  Of course your meal includes a tasty cup of chicken noodle soup. 
Tip:  Pace yourself, there are numerous hot dishes about to hit the table!

Now for the main course sides.  Are you getting full yet? Both restaurants provide a lavish spread of mashed potatoes and gravy, stuffing, buttered egg noodles and the vegetable of the day with the tasty chicken.  It's impossible to leave either place hungry!  
So it's up to you, maybe you try both restaurants and vote below!  Or if one has a coupon...

See the "In The Know" section below for COUPON links.  We're all about saving money!

Frankenmuth Restaurants Bar Battle
Michigan on Main Bar & Grill in the Bavarian Inn

I was pretty excited to discover Michigan on Main Bar and Grill as they utilize Michigan made & grown products in their restaurant. The chefs focus on seasonality & local sourcing as one of their top priorities. As a bonus, they have 17 different Michigan beers on tap!  

The restaurant has delicious vegetarian options such as Portabella Mushroom Fries and the Michigan Black Bean Burgers.  For the meatatarians, there's pulled pork, mac and cheese (oh there's meat in there), burgers and salads.
The restaurant is bright and cheery with an abundance of windows.  It's a nice break from the traditional chicken dinners!

Frankenmuth Brewery
The Frankenmuth Brewery is American's oldest microbrewery!  Founded in 1862, the historical Frankenmuth Brewery is also Michigan's Original Craft Brewery. How cool is that?!  
The brewery is right next to the Frankenmuth's FunShips on Main Street so it's always our next stop after our rambunctious wine and chocolate river tour.  Already slightly tipsy, the logical next stop is the Frankenmuth Brewery!
The cool thing is the brewery features around fifteen beers on tap including a perennial lineup of six core craft brews alongside a rotation of nine; seasonal, special release and experimental beers.  So overall, the lineup highlights a variety of thirty-six different styles of craft beer, all brewed fresh onsite.  You are bound to find a new favorite!
Oh yeah, and they have food too! When I spotted the Michigan Cherry Salad I was sold.  The others in our party ordered the Smoked Sausage Platter and Burgers.  Our server was friendly, the atmosphere was festive and the everyone was pleased with their meals.  Would we return?  Heck yeah.    
WHAT IN THE WORLD IS HEF AND WHY A DACHSHUND?
Hef is a German style Hefeweizen is a top fermented, unfiltered and lightly hopped beer.  The Hef's sweet hints of clove and banana makes this excellent beer unique.  Frankenmuth Brewery's Hef was the 2016 World Expo of Beer Competition Gold Medal Winner, for Best German Wheat!

Frankie the Dachshund has been featured on Frankenmuth Brewery's beer labels, advertisements, and marketing materials since around 1930, making Frankie nearly 600 years old in dog years! The history of Frankie originated with one of the brewery's early owners, John Geyer.  Mr. Geyer was so fond of Frankie, his favorite purebred dachshund, that he used Frankie's image in ads, signs and packaging for the brewery.
Address: 425 S. MAIN ST. FRANKENMUTH, MI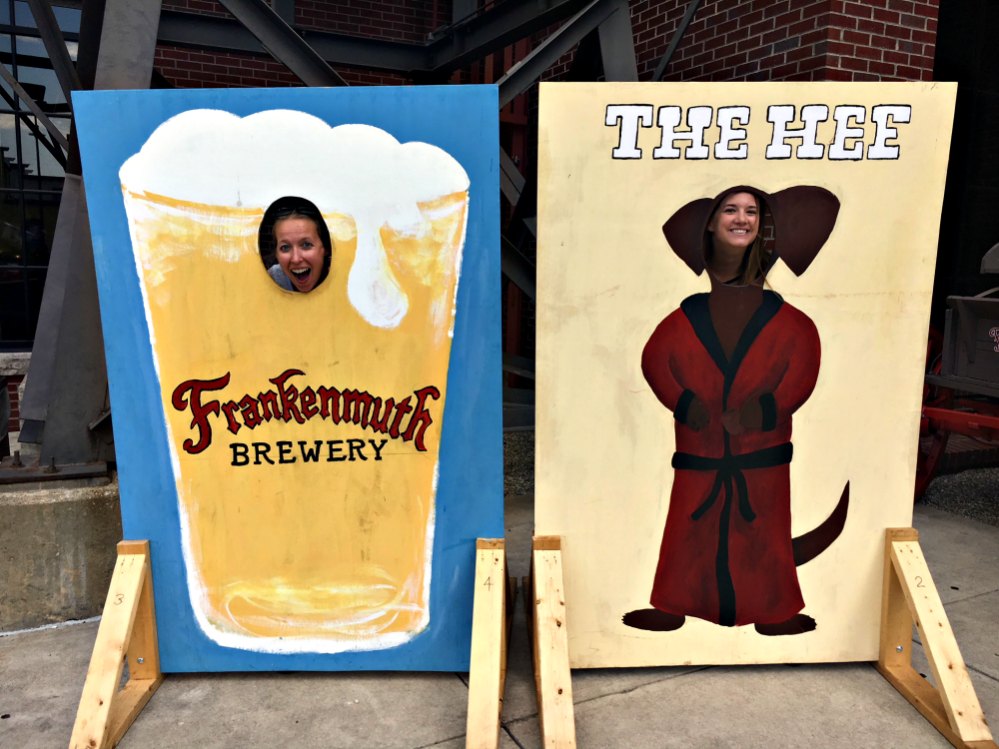 La Crepe du Jour, Creperie & Cafe
Looking for delicious food options other than crispy chicken?  A French Frankenmuth Restaurants attack on this Bavarian town seems out of place but it works!
La Crepe du Jour, Creperie & Cafe is a unique crepe shop located in the River Place Shops near the Bavarian Belle.  To preface, I'm a sucker for watching things being made. I was enthralled as my crepe batter was poured onto one of the three hot crepe plates and spread thin. 
A couple minutes later the crepe was flipped and cooked on the other side.  Sweet or savory fillings were added and my masterpiece was handed to me with a flourish.  
I love how the menu is hand written on a blackboard.  The white metal chairs are charming and the atmosphere is very comfortable.  Now is your chance to try something new!  
Address: 925 S Main St, Frankenmuth, MI 48734

Slo' Bones BBQ Smokehaus
MMMMM Ribs.  If you are a meatasaurus, you seriously need to go here.  This southern-style BBQ joint serves up amazing ribs, brisket and pulled pork with a variety of craft beers to wash it all down. Its another fabulous Frankenmuth Restaurants addition.
We are rib freaks, so honestly, we never get  beyond the tender and flavorful ribs to delve into Slo' Bones' other offerings.  So many ribs, so little time.  Plus in the summer, it's fun to sit outside on their deck.
Address: 175 E Jefferson St, Frankenmuth, MI 48734

SugarHigh Bakery
I am a huge fan of Cup Cake Wars so when my friend and I discovered SugarHigh Bakery in the River Place Shops, we about lost our minds because they won Season 7!  How cool is that?  Go Frankenmuth!  
Anyway, this adorable shop makes beautiful cupcakes, homemade gelato and designer cakes.  After picking out our cupcakes we ate them very lady-like (well, not really, more like devoured them) in the bright and colorful shop. 
Address: 925 S Main St G1, Frankenmuth, MI 48734

All in the Family Frankenmuth Restaurants
Zehnder's and the Bavarian Inn-What's their History and Who Owns These Two Restaurants?
Zehnder's is the largest restaurant in Frankenmuth, Michigan. It has seating for 1,500 people and features all-you-can-eat family-style chicken dinners, seafood, steaks, fresh baked goods and  desserts. Every year Zehnder's serves almost a million people! In the 1980s, it was one of the ten largest restaurants in the United States.
Zehnder's was originally built as the Exchange Hotel by Henry Reichle in 1856. In 1927, William Zehnder Sr. purchased the hotel  and updated the building to resemble Mount Vernon.  

In March 1947, William Zehnder's children took over the business which became a corporation.  In the 1950's the Zehnders family purchased the hotel located across the street and renamed it the Bavarian Inn.
In 1955, William Zehnder Jr. (manager of the Bavarian Inn Restaurant) and Edwin Zehnder (manager of Zehnder's Restaurant) purchased the interests of Zehnder's, Inc. from their brothers and sister. 
Upon returning from an influential trip to Bavaria, the brother's designed the restaurant in a Bavarian theme.  The annual Bavarian Festival began during their week-long re-opening celebration.
In 1984, Zehnder's and the Bavarian Inn Restaurant became separate corporations with friendly competition between relatives!