Michigan Themed Gifts: Guide to Made in MI Jewelry, Apparel, Gift Baskets, Cutting Boards, Made in Detroit
Michigan Themed Gifts: Made in MI Jewelry, Hoodies, Apparel, Gift Baskets, Cutting Boards and More! | Curated by Sherry Trautman of Traveling Michigan
Do you know someone who loves Michigan made everything? We bet they will love, appreciate and cherish a thoughtful, handmade Michigan Gift!
The artistic Michigan Great Lakes Necklaces are handmade, affordable, thoughtful, and unique jewelry gift ideas!
And the best part?  Many can be customized!
We even found some great Petoskey Stone necklaces you will love!

Perfect for Christmas, birthday's, mother's day, girlfriend gifts and gifts for friends.
Gift baskets ideas with Better Made Chips, Sander's Chocolates, Made in Detroit gifts.
Traveling Michigan contains affiliate links. If you make a purchase through these links, I may receive a commission at no cost to you!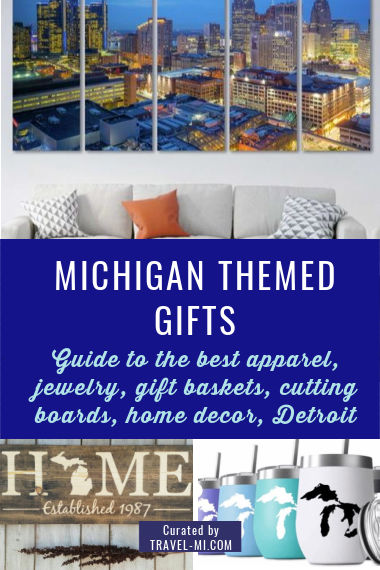 Michigan Themed Gifts: Guide to Made in MI Jewelry, Apparel, Gift Baskets, Cutting Boards, Made in Detroit
No matter your budget, these Michigan gifts are guaranteed to make someone smile as they are made with love and intent by Michigan artists, created in Michigan or are high quality products nostalgic to the Mitten State.
Chris and I have lived in Michigan our whole lives and we understand the importance of shopping local and supporting our Michigan businesses.
We love supporting Michigan artists! 
Many necklaces can be engraved or customized and come in gold, rose gold, silver, Sterling Silver and other options.
Top 18 Michigan Themed Gifts - Support Our local Michigan Artists!
| | |
| --- | --- |
| | I can't stand how cute these Smitten with the Mitten Michigan hoodies are!  I mean they are made in Gaylord at Livnfresh and are super soft! They have a red and white one that is super cute too. |
| | Hannah's Workbench, located in Waterford, MI, creates these handmade wooden pet feeders that I just love. She also has wooden Michigan coasters! |
| | OHH! These wine glass charms are absolutely delightful! At under $15, how fun are they? |
| | Hannah's Workbench, located in Waterford, MI, creates these lovely handmade wooden Michigan coasters! *Made in Michigan! |
| | Laurie Nash, of The Red Cabin Studio, creates fantastic ornaments (like this Mackinac Island Ornament!), wall art, stickers and jewelry! She's a Michigander, living in Saint Ignace!  |
| | This ultra soft, ultra comfortable Love Michigan sweatshirt by Livnfresh in Gaylord, Michigan is perfect for outdoor adventures or curling up by the fireplace with a good book.  |
| | I'm dying for these handmade Michigan Adirondack Chairs. My next door neighbors have them and I'm seriously jealous. The Laughing Whitefish, located in Tenery, Michigan creates these masterpieces for your porch or game room. |
| | Feeling homesick?  Customize one of these fantastic Michigan scented candles made by Hello You Candles! Just click on the "State Candles" for Michigan! |
| | How cool is this Magnetic Bottle Opener?!  Handmade by Sports Signs, this is a fantastic Michigan State gift for the guys in your life!  We all know how hard it is to buy for our guys, what a fun gift that will bring style to their man caves, game rooms or dorm rooms! |
| | Great Lake Board Company, located in Spring Lake, Michigan, makes these super sexy handmade Michigan cutting boards.  Aren't they gorgous? |
| | Cedar Lane Designs of Marquette, Michigan, makes this fantastic Yooper Cutting Board! I love that it has a recipe for Yooper Pasties on it! What a great gift to remember your travels to Michigan's Upper Peninsula or the Yooper's in your life! |
| Handmade by Cedar Lane Designs of Marquette, MI | Holy moly, isn't this the most beautiful Live edge wood epoxy wave charcuterie board you have ever seen? I'm mesmerized!  Very reminiscent of the waves of our Michigan Great Lakes!  |
| | I absolutely love handmade Michigan signs.  This handmade HOME sign can be customized by artist, Ashley of With Eyes Unlocked. |
| | I've never seen such cool Michigan signs! Perfect for Michigan decor and anyone who loves Michigan maps! By artist, Ashley of With Eyes Unlocked |
| | Detroit Rocks Jewelry, makes these incredible Fordite Necklaces. These Motor City Agates are just incredible! |
| | I'm in love with these Michigan drinking glasses! Detroit, Ann Arbor and few other cities! Use for beer, orange juice, water, lemonade, anything! |
| | Love these colorful Michigan tumblers! They are a 12oz capacity perfect for your HOT and COLD liquids. Keeps your drinks cold for 9 hours and hot for 3 hours. |
| | Look at these striking Detroit Michigan skyline canvases will look incredible in your office, living room, game room, movie room or office. |
Not Sure Which Gift to Give? Give an Etsy Gift Card or Check out the Etsy Gift Guide!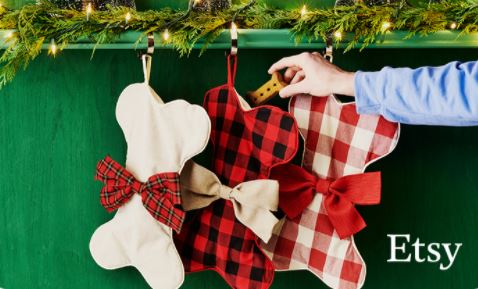 Gorgeous Michigan Necklaces - Handmade in Michigan by Michigan Artists! 
All of these necklaces were made by Michigan artists located in Grand Haven, Traverse City, Petoskey, Ann Arbor or Munising!
These adorable Upper and Lower Peninsula State of Michigan Necklaces are handmade in Grand Haven, MI by Sprouts and Roots.

What I love: Since they are custom made you can request a heart over any city!  Do you just visit Traverse City or Mackinac Island? Put a heart on it!

My Captured Journey, located in Traverse City, Michigan, created these fantastic Great Lakes Michigan beach necklaces. 

What I love: These Michigan necklaces have sand, pebbles and stones from the beach inside! You can literally bring home your memories!

This gold leather wrap bracelet of Michigan and the Great Lakes is too cool not to share! It has Michigan sand too! Made by My Captured Journey located in Traverse City, Michigan

What I love: Very versatile and will fit any wrist.  Dress up or down! Any age group.


If you are looking for classic, extremely well made, Michigan necklaces, these are for you. Customize the heart location!

What I love: Made by Rose of Sprouts and Roots in Grand Haven, these exceptional necklaces can be made in rose gold, gold, brass, copper, and sterling silver.  


Indigo Eden Arts, located in Petoskey, MI makes these super original Michigan necklaces that I know you will love.

What I love: It's different, it's handmade and it's super classy.


Have you visited Sleeping Bear Dunes yet? If you have, you will definitely want this adorable handmade Sleeping Bear Dunes bear necklace made by Little Pine North, located in Traverse City, to remember your trip!


What I love: Freakin' cute and original!


Lake Superior Jewelry, located in Munising, Michigan, makes these incredible State of Michigan pendants in sterling silver. 

What I love: They are hand sawn! I so love handmade!


These adorable Michigan Necklaces will show your love for Michigan! They are handmade from copper by Little Pine North, located in Traverse City.

What I love: Beads! Oh, and they are made of copper!

Petoskey Stone Necklaces
These incredible Petoskey Stone Necklaces make such a great gift! They are handmade by Tree Town Paper located in Ann Arbor, Michigan. Shop local, my friends!

What I love: It's a very classy way to wear a Petoskey Stone.


I'm just in love with this handmade Petoskey Stone Necklace made by Tree Town Paper located in Ann Arbor, Michigan.

What a unique gift!
Super Cute Michigan Great Lakes Necklaces
Here are some quality choices of Michigan great lakes necklaces and pendants. 

What freakin' cute Michigan necklaces with etched trees by Macy Anne Designs on Etsy! I'm in love.

What I love: Since this state of Michigan necklace is aluminum, it is hypoallergenic and very lightweight. No worries of it changing colors, either.

Need a quick gift?

These cute Michigan necklaces by Ivy By Design come in a wide variety of choices, like gold, rose gold and they ship within two days! Plus, they are customizable!

The Hometown Haven, has a fantastic selection of necklaces, earrings and jewelry for Michigan! If you are a fan of the Michigan's Upper Peninsula, you will love this UP necklace! 

This Lake Superior Necklace is such a cool, original, almost abstract way to show your love for Michigan!  

These Michigan Great Lakes Necklaces are high quality and are sure to please!

What I love: You can choose silver, gold or rose gold and have them engraved!


This dainty, handmade Michigan Great Lakes necklace is just adorable! 

Made by the Great Lakes Shop, these necklaces can be made in 14k gold plated, rose gold and silver.
Michigan Hats
We absolutely love Michigan Hats!  So many to choose from!  Cute styles for women and edgy styles for men.  University of Michigan, Michigan State University, State of Michigan and so much more!
Michigan Ornaments 
University of Michigan Christmas Ornaments
I absolutely love giving gifts with meaning!  These University of Michigan Christmas Ornaments are absolutely adorable, affordable, timeless and will be cherished! 
Made in Michigan Gift Baskets + DIY Gift Ideas
Need a gift but have no idea what to give?
The answer is Michigan made gift baskets!  Cherry Republic, Made in Detroit, Sander's Chocolate, Better Made Chips. 
So guys, if you are looking for gift ideas for birthday's, mother's day, father's day or housewarming gifts, why not give useful Michigan made products that everyone will love?
Keep Reading!
Subscribe To Receive Exciting Destinations, Day Trips and Fun Directly to Your Inbox!
Sign Up to Our Newsletter to Get the 5 Free Must Have Apps to Travel in Michigan Like a Boss!
Follow Us on Instagram