2022 Tip Up Town Festival in Houghton Lake Michigan: Schedule of Events | 
See the Crazy Polar Bear Plunge, Daring Snowmobile Races and Ice Slide
By Sherry Trautman | Traveling Michigan at Travel-Mi.com
Houghton Lake's Tip Up Town is a famous Michigan festival known for its Polar Bear Plunge, Snowmobile Races and Ice Slide.  It's so much fun for the whole family!
Who doesn't LOVE watching brave (crazy?) people jump into icy cold water?!
Where to Park at the Tip Up Town Festival in Houghton Lake, Michigan
When we go to the Tip Up Town in Houghton Lake, Michigan, we like to park at the High School located at 4433 W. Houghton Lake Drive, Houghton Lake, MI. 
After you park, board the yellow school buses for a free ride to the festival.  You will need to purchase your button (pass) for the festival upon boarding the bus. Attendants will greet you upon boarding and you can purchase the pass then.
Bring cash.  
There is also limited street parking near the festival but you will probably have to walk a considerable distance. 
See The Polar Bear Plunge!
For me, the Polar Bear Plunge is the highlight of the Tip Up Town festival. I think it's the highlight for lots of people as hundreds gather to watch the spectacle.
Grab a pastie and get there early so you can have a great view of half naked people huddled shivering near the ice cold water preparing to jump!
WHY, OH WHY?!
For some contestants, you can just feel their dread as they slowly plod up to the jumping platform.  One victim, I mean participant, told us his family got together and pooled a bunch of money for whoever was going to jump in...he said it was too much to pass up, so there he was, stripping down to his swim trunks in 30 degree weather! 
Now OTHERS, like THESE GUYS pictured above, were just giddy to jump into the icy depths! Bragging rights or just crazy?  
The contest was judged, so the crazier the outfit (I saw Santa, a warrior, bride, a bunch of guys in onesies) the more points you received. Heck, I was just impressed they jumped!!  
Tip Up Town 2022 Schedule of Events
Here is the 2022 Tip Up Town Schedule of Events. 
What To Do At Tip Up Town in Houghton Lake, Michigan
Tip Up Town has lots of fun events for kids and adults!
Hula Hoop Contest
Cracker Whistling (ya gotta be there to understand!)
Pie Eating Contest
Small Horse Rides
Ice Slide
Carnival Rides
Polar Bear Plunge
Lots of Eating!
Snowmobile Races
Bon Fire to warm your hands
Shop in the heated apparel tent and vendors at the festival
Snowmobile Races Across the Frozen Lake 
You can watch the snowmobilers zipping along the frozen lake right at the festival and even venture out on the lake if you are brave!
But if you want to watch the racing up close, you will need to leave the festival site and drive east to the East Bay near the Dairy Queen in Prudenville.
What to Eat at Tip Up Town
Quite a few food trucks await you at the festival!  Plus, there's snacks like bags of popcorn that we love!
What to Wear to Tip Up Town
Dress warmly, but if you wear a zip-up snowsuit it will be harder to maneuver in the portal toilets located on the festival site. 
Kids might want to wear snow pants as the ice slide will soak fabric pants.  
I also recommend kids not wearing their best attire as the ice slide, pony rides and sitting on ice/snow may damage or soil new outer wear.
Wear boots!! Festival site can be wet, snowy and muddy.
Pin This Post!
Keep Reading!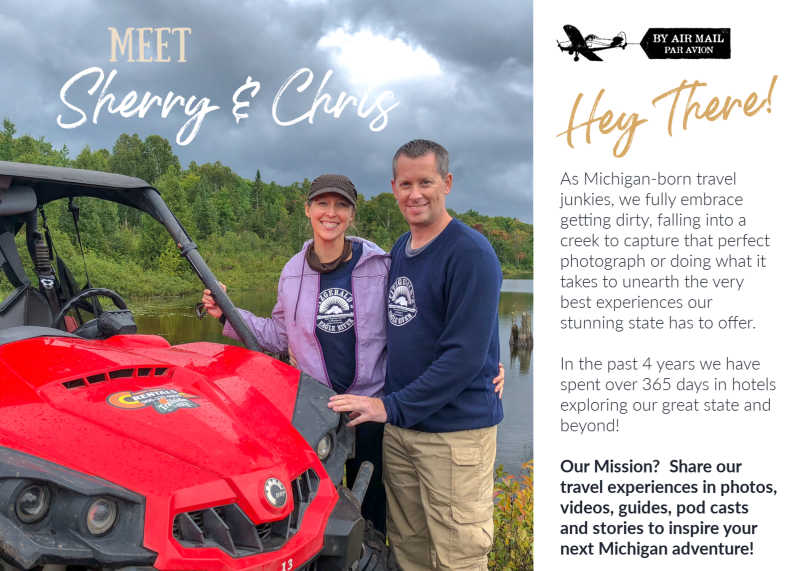 Follow Us on Instagram 
Subscribe To Receive Exciting Destinations, Day Trips and Fun Directly to Your Inbox!
Sign Up to Our Newsletter to Get the 5 Free Must Have Apps to Travel in Michigan Like a Boss!