National Cherry Festival Tips Every Visitor Should Know-Where to Park, Shuttle, Hotels, Map of Events
National Cherry Festival | By Sherry Trautman | Traveling Michigan
The Cherry Festival brings over 500,000 people to Traverse City every July!  Think you shouldn't go because of the crowds?  Trust us, you don't want to miss out. 
BUT do yourself a favor and grab our tips and tricks every visitor should know before they go! It will make your trip more successful and fun for everyone.
National Cherry Festival Parking Tips
If you get to Traverse City early (by 9:30 a.m.) you should be able to park in the very close parking garage located on Front Street and Park.  (See map above) They will have event parking which will run you around $15 for the day but trust us, it's so worth it. 
You can also park in the downtown Hardy parking garage (Park and E. State) shown on the map above.There is also a shuttle.
Street parking and most lots (that we found) are all 2 or 4 hour parking in which you HAVE to move your vehicle, not just go back and add more money.  So we found it easiest and less stressful to just park in a garage.
Is there a Shuttle at the National Cherry Festival?

Is there a Shuttle at the National Cherry Festival?
The Bayline will run from 7am to 1am during the National Cherry Festival every 12-15 minutes. The best places to get on the shuttle is at Woodland Creek (East), Cherry Lot at Northwestern Michigan College (Central) and Meijer (West) Parking Lot adjacent to the Car Wash.

Shuttles coming from the west will drop you off at State St & Union St. Shuttles coming from the east will drop you off at Front St & Union St. 
What Should You Bring to the Traverse City National Cherry Festival?


Bring your bikes!  There is a free bike valet so you can park your bike without worrying it could get stolen.
Lots of water
Sunscreen
Sun hat
Swim attire, towels, flip flops
Money to rent a kayak if you enjoy water sports
Dry bag if you rent a kayak
Cash for garage parking in case they only accept cash
Recommended National Cherry Festival Hotels in Traverse City Michigan - Where to Stay!
We recommend the Cherry Tree Inn as the rooms are lovely, the water views from your balcony is breathtaking and there's a private beach!  
Also, the Grand Beach Resort Hotel has a fabulous private beach, balconies, and very nice modern rooms. We love their indoor pool as Michigan weather can be questionable at times!  
Things  to Do Other Than The National Cherry Festival?


Get there early and go to the beach!! It's literally right next to the National Cherry Festival!  Then drop your stuff back off in your vehicle and go to the free festival!
Play in the kids' water fountains!
Rent a kayak on the beach!
Get tickets for the beer tent. And the best part?  There's chairs set up to enjoy the air show!
Walk around downtown and enjoy the shops and restaurants!
While you are in Traverse City at the National Cherry Festival, you MUST get your picture in front of the World's Largest Cherry Pie! I mean, seriously! You can't miss these awesome roadside oddities!
National Cherry Festival Schedule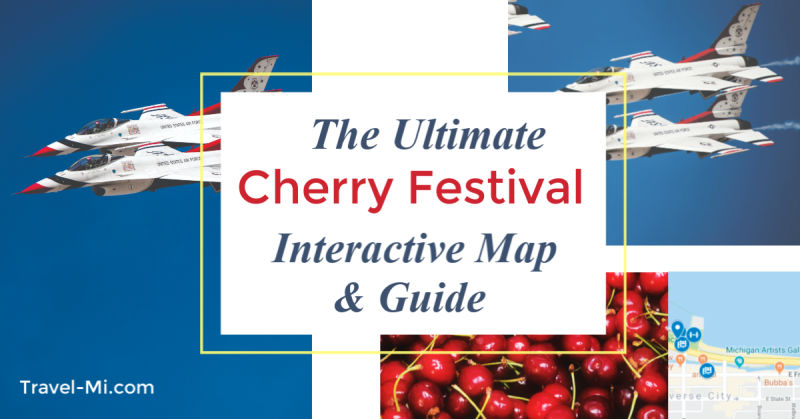 Don't miss a moment of the National Cherry Festival!  Here's the National Cherry Festival Schedule!
Subscribe To Receive Exciting Destinations, Day Trips and Fun Directly to Your Inbox!
Sign Up to Our Newsletter to Get the 5 Free Must Have Apps to Travel in Michigan Like a Boss!
Join Us on Instagram-We Post All the Fun Stuff!
Popular Pages You Don't Want to Miss!
So many fun things to do in Saugatuck and Charlevoix!  If you need more ideas, be sure to check the list on the left of our Traveling Michigan Home Page!