Travel Packing Checklist: Tried and True 
Travel Packing Checklist
Helpful Travel Packing Checklist | By Sherry Trautman | Traveling Michigan

With hundreds of trips under our belts, Chris and I have streamlined our packing process with our tried-and-true travel packing tips to make traveling a joy instead of a hassle! 
Pack with ease using our Travel Packing Checklist jam-packed with helpful tips and hacks to organize your suitcase for your upcoming vacation travel!

Regardless of how long we are traveling, I try to initiate the five day rule.  Meaning, we usually have a washer and dryer in the hotel (or have access) where we are staying so I only pack clothing items that I may need for five days (obviously this does not apply to medications and such!). 
I will do a load of laundry around the fifth day if necessary. You can bring a packet of laundry detergent or a pod and a dryer sheet if you like in your luggage. This greatly reduces the amount of items that you need to pack.  I discovered that I generally wear the same things over and over while on vacation, so this works well for me.  
Let's Dig Into theTravel Packing Checklist!
Your Travel Packing Checklist will be subjective to your dressing style, planned events and the type of trip.  I pack as light as possible. Most of our trips are outdoor adventures with the need for 2 to 3 casual to dressy evenings.  Always pack a thin sweater to cover your arms to satisfy dress codes or as a layer of warmth.  
Spring/Summer Items for Your Checked Bag:
3 short sleeve tops (casual to dressy)
4-5 tank tops (casual to dressy)
1 hoodie and/or fleece
2 long sleeve t-shirts, consider SPF shirts
Thin pull over or zip Nike style top 
Sports top(s)
1 thin or medium weight black button down sweater (wear with dresses or tanks.)
2 dresses (1 dressy and 1 casual)

2 pairs of shorts (plus nylon shorts if water sports are involved)
1 pair capris 
1 sports bra
1 pair of gym shorts
1 pair of yoga pants
1 pair of jeans and belt (wear on plane)
Jewelry-inexpensive.  Maybe 2 pairs of earrings and 2 necklaces
PJ's

Socks
Underwear
Swimsuit 
Swimsuit cover-up
Sunglasses
Hat or visor
SPF lip balm
Sandals (black, so they can be worn with the dresses if possible and everyday)
Heels (if it is certain they are needed and will be worn)
Flip flops
Water shoes (if necessary)
Hiking boots (you may want to wear these on the plane to save packing space)
Athletic shoes
Extras and Technology

Cell phone
Cell phone charger
GoPro
Adapters 
Camera, lens, lens cleaning kit
ID
Health Insurance Card
IPAD
Laptop with cord and mouse
Earbuds/headphones
Fall/Winter Items for Your Checked Bag:

Hat, gloves, scarf
Thick nylon wind-breaker pants
2 sweaters
Warm coat-wear onto plane
Hoodie
Carry-on Bag:
Check with your airline regulations but we generally fly with Delta.  I have a shoulder bag that zips and a computer bag as I tend to work a bit in the evenings or on a rainy morning while on the road. I always carry on my electronics and camera/lens.  I place my camera in the shoulder bag with a tiny travel purse and sweater. 
Lens' can be slipped into socks to protect them if you don't have a small camera bag.  All electronics and phone chargers are placed into my computer bag. 
Generally I take advantage of long flight times to write my next website post or blog.  I also bring my earbuds so I can catch a show or a movie while flying if I'm not in the mood to write! 
Be sure to pack on your carry-on any medications, inhaler, spare contacts, etc. that you may need in case your checked bag is misplaced for a short time.  
Travel Insurance
Travel Insurance
Consumer's Advocate put together a comprehensive guide, titled, Best Travel Insurance Based on In-Depth Reviews that you may find helpful when considering travel insurance.  
Protect your trip with coverage for delays, illness, lost luggage, and even natural disasters—the best travel insurance can soften the impact of unforeseen events.
Toiletries for Your Travel Packing Checklist
Toiletries
*Deep Woods Off Towelettes
**Shampoo, conditioner and lotion
***Traveler Medic packets
Small sunscreen
Comb, brush
Deoderant
Baggie with 3-4 band-aids, Advil, hair ties, bobby pins, etc. 

Razor
Small shaving cream
Make-up bag
Personal hygiene products
Contacts, contact case, contact solution
Glasses
Prescription medications
Vitamins
Probiotics and digestive enzymes 
Inhaler (I have asthma)
Sleep aids 

Earplugs (you never know what you'll encounter at the hotels!)
Face wash or towels

Toothbrush and toothpaste
Hairspray, hair gel-travel size
Nail clippers, nail file, tweezers (in checked luggage)
Floss
Small mouthwash
*Deep Woods Off Towelettes: We just discovered these great little packets.  I used to avoid using the spray but these towelettes are great.  Chris uses it on his head and ears to keep away the pesky mosquitoes.  We use them kayaking, biking, hiking and anytime in the woods. We found these in CVS before a night kayaking trip and decided to add them to our Travel Packing Checklist.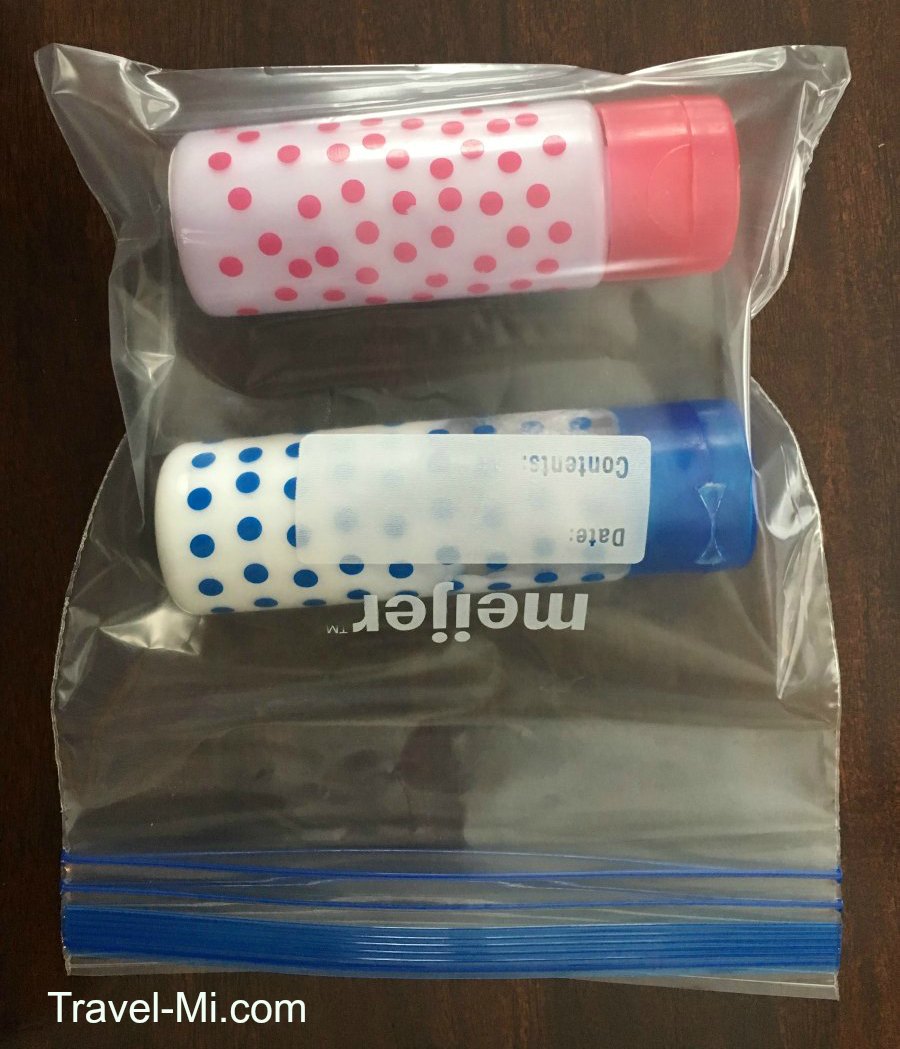 **I buy the small bottles in the travel section at Meijer or Walmart.  Always place them inside a quart sized zip lock bag in case the cap opens.  I place toothpaste, gels, lotions and such inside these bags.

These little packets are lifesavers and a must for your Travel Packing Checklist! 
I am prone to heartburn with certain beverages and the Antacid works great.  Diamode is to combat Traveler's diarrhea.  Diotame is for nausea, gas, heartburn, indigestion.  Medi-Lyte is for heat fatigue, muscle cramps, heat exhaustion, heat stroke and helps to provide rapid rehydration.  These little packets can be found on Amazon and are lightweight and tiny to pack.  
Read more tips:
Subscribe To Receive Exciting Destinations, Day Trips and Fun Directly to Your Inbox!
Sign Up to Our Newsletter to Get the 5 Free Must Have Apps to Travel in Michigan Like a Boss!
You May Also Like...
Join Us on Instagram! Seriously, We are Fun! ;)