Michigan Petoskey Stones: Where To Find and How To Polish + Stunning Necklaces and Jewelry 
Petoskey Stones | By Sherry Trautman | Traveling Michigan
As Michigan's state stone, I bet you are excited to find one during your Michigan Vacation.  Let's start hunting!!  
I love a Petoskey Stone necklace, it's a wonderful way to use the stones and remember your trip to Michigan!  
Where are Petoskey Stones Found?
These gorgeous stones can be tricky to find so don't be disappointed if you only find a small one!  We have a couple leads on where to find Petoksey Stones!!
Magnus Municipal Park, located at 901 West Lake Street, Petoskey, is one of the best places to search for Petoskey stones! 
Along the shores of Michigan Beach Park in Charlevoix. This park is located at 95 N Grant St, Charlevoix, MI.  It's a great place to walk along the beach while searching for stones! 
Fisherman's Island State Park, located at 16480 Bells Bay Rd, Charlevoix, MI, is also a spot where friends have had luck finding Michigan's Petoskey stones.  Good luck!!
Petoskey State Park. 

Rock hunters love this state park located

 
on 303 acres between Petoskey and Harbor Springs off Hwy. M-119.


Bay Front & Sunset Park. 

This park is located within

walking distance from downtown near the marina.

The Petoskey Chamber has more information about finding the Petoskey Stones.
Petoskey is one of my favorite cities to visit!  See our Petoskey adventures here!
Didn't find your own Petoskey Stone? Impress your friends with your "find" from Shoreline Petoskey (shop in Traverse City-support local!)
What Are Petoskey Stones and Their History?
Did you know Petoskey Stones are colony corals?  Over time, the corals were petrified and when the glaciers receded these stones were scraped loose and deposited in this region of Michigan.  The stones are made up of mostly of calcite.
Almost a century after the founding of Petoskey, on June 28, 1965, Governor George Romney signed a bill that made the Petoskey Stone Michigan's official State Stone. 
The designation of Hexagonaria percarinata was made by Dr. Edwin C. Stumm in 1969. Dr. Stumm made this distinction based on his extensive knowledge of fossils. This specific fossil coral is found only in the rock strata known as the Alpena Limestone.
The Alpena Limestone is part of the Traverse Group of Devonian age. The Alpena Limestone is a mixture of limestones and shales. The outcrops of these rocks are restricted to the Little Traverse Bay area near Petoskey. 

Did You Know? Northern Michigan is the only place you will find this particular genus of fossilized coral!  

It is said that carrying a Petoskey Stone in your pocket will bring you good luck! We can all use a little of that, can't we!?
Petoskey Stones For Sale
Local Michigan artists find and transform Petoskey Stones into striking necklaces, earrings, Michigan Christmas ornaments and so much more! Great Michigan made gifts for yourself and loved ones!
| | |
| --- | --- |
| The Spottedwoodchuck, located in Ionia, turns the stones into lovely handmade earrings, sterling silver necklaces and more! | Jaspershore Jewelers, located in Negaunee, MI, transforms the rocks into stunning necklaces, rings, earrings and other wearables. |
What to Do With Petoskey Stones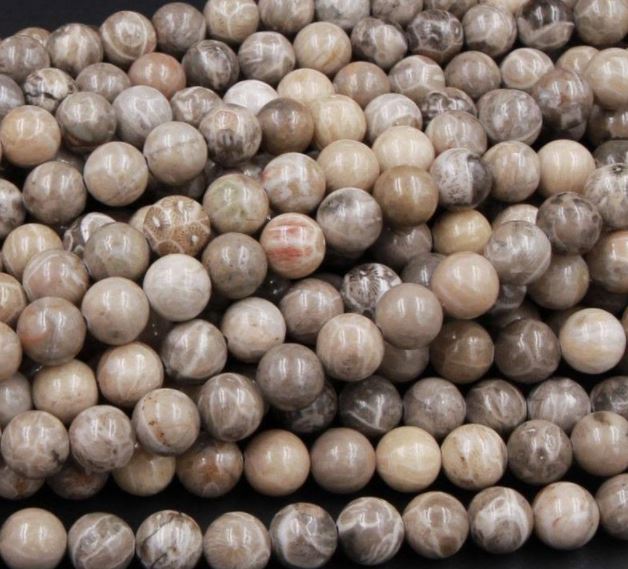 Petoskey Stone Beads from Stones Direct
TIPS: How to Find Petoskey Stones
It's sometimes tricky knowing where to find Petoskey Stones.  Here are a few suggestions!
Above is a picture of a Petoskey Stone before polishing.
Avoid the busier, more populated beaches.  Everyone and their brother will be walking the beaches looking for these stones so your chances will decrease vastly in these well traveled areas.  Find more off the beaten path locations to search. 
Hit the beach early in the morning.  Many beachcombers, rock hounds and tourists will be combing the beaches by noon, so if you hope to snag a couple gems I recommend you begin your search early.
Search along the water's edge.  It is extremely difficult to identify a dry Petoskey Stone as it simply looks gray.  Their distinctive hexagonal design stands out best when the rock is wet.  In the middle of summer it's fun to don a mask and go under water and search for the gorgeous rocks!
Bring a spray bottle of water.  If you are venturing away from the water's edge, it's a good idea to bring water so you can sprinkle the rocks while searching.  See the photo above and you will know why!! You just might find a big fossil that way!!
How to Polish Your Petoskey Stones
Shoreline Petoskey (from Traverse City, Michigan) has a polishing kit with two stones!
Make your own Michigan jewelry, gifts and keepsakes!
I was surprised to learn that Petoskey Stones can be hand polished.  It simply requires a few materials, a little time, and some effort.

The materials required for polishing Petoskey Stones are sandpaper (220 grit, 400 grit, and 600 grit), a soft cloth, polishing powder or heavy duty rubbing compound, and a file.  
Grit refers to the size of the grains on a sandpaper. The higher the number, the finer the grain or grit. Sandpaper and most of the supplies you will need are available at hardware stores. Sandpaper that can be washed, or at least get wet, tends to last longer and work better.

STEP 1. If your Petoskey Stone is not already a nice rounded shape, you may wish to use a file to further smooth the stone or better shape it.

STEP 2. Dampen your rounded Petoskey Stone, and sand it with the coarse 220 grit sandpaper.   Hold the dampened stone firmly in one hand and rub the area of the stone to be polished on the sandpaper with a steady, rotating motion. 
Upon completion, rinse the stone and let it dry.  Examine for scratch marks which should be removed with more rubbing. This first sanding is very important and should be done with care. 
Repeat the sanding process with the 400 grit sand paper.  Then, do it again with the 600 grit sand paper.
STEP 3. Once you finish sanding the stone, look it over very closely.  If you see any scratches, sand it again with the 400 grit and then the 600 grit until the stone is smooth and blemish-free.  Make sure it's perfect before polishing!

STEP 4. To polish the stone, sprinkle a very small amount of polishing powder or compound on a lightly dampened corduroy or velvet square.  Rub the stone  in short circular stroke.  
And there you have it!!  We hope this guide gave you some tips on where to find Petoskey Stones.  Your very own polished Petoskey Stone!  
If You Love Stones, You Will ADORE These!
Have you heard of Yooperlite rocks?  These freakin' cool rocks glow in the dark with a black light!!
Try Fossil Hunting in Alpena!
Check out Rockport State Park in Alpena for the best fossil hunting in Michigan!  It's mind blowing!
Keep Reading!
Check out all the fun things to do in Petoskey Michigan!
We have jam packed guides for Traverse City and Charlevoix too!
Have A Great Story About This Topic?
Do you have a great story finding Petoskey Stones? Share it!
What Other Visitors Have Said
Click below to see contributions from other visitors to this page...