The Most Instagrammable Spots in Grand Rapids! Gorgeous Downtown Grand Rapids Photo Spots You Will Love to Photograph! Calder Plaza, the Blue Bridge, Fish Ladder Park and more!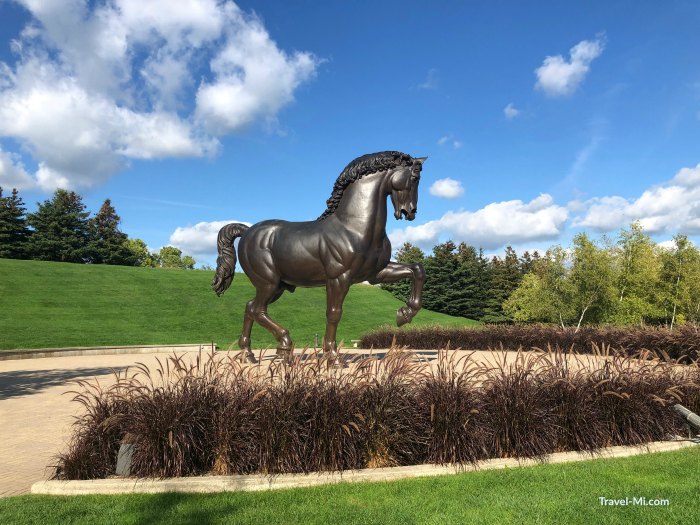 The Most Instagrammable Spots in Grand Rapids! | Travel-MI.com
Guest Post By Paul Colbert + Additions and Updates by Sherry of Traveling Michigan
If you travel somewhere in the Mitten, and you don't post a picture to Instagram, did it even happen?
Grand Rapids is one of the big destinations in West Michigan... an Instagram-worthy city that mixes up the modern with the antique, and the cosmopolitan with the natural.
You'll never run out of places to snap a selfie. Here are some of the most Instagrammable spots in Grand Rapids.
The Blue Bridge-So Iconic!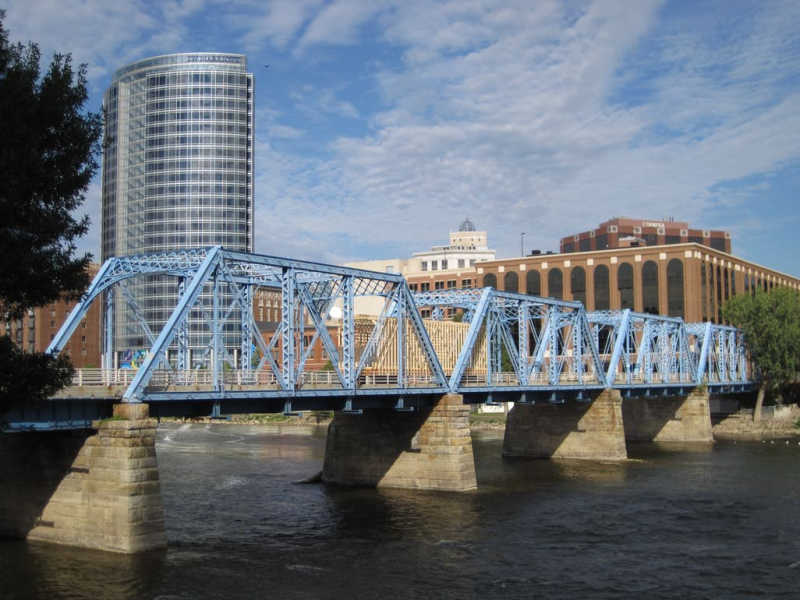 Blue Bridge, Grand Rapids Michigan
Take one look at the Blue Bridge, and it's obvious why this is an Instagram favorite. The bridge is the oldest railroad bridge in GR. It's been closed to trains since the 1980s when it was painted blue and turned into a pedestrian bridge. The Blue Bridge is now an iconic landmark here, so it's only natural it's the backdrop of many an Instagram post.
Calder Plaza-One of the Most Iconic Instagrammable Spots in Grand Rapids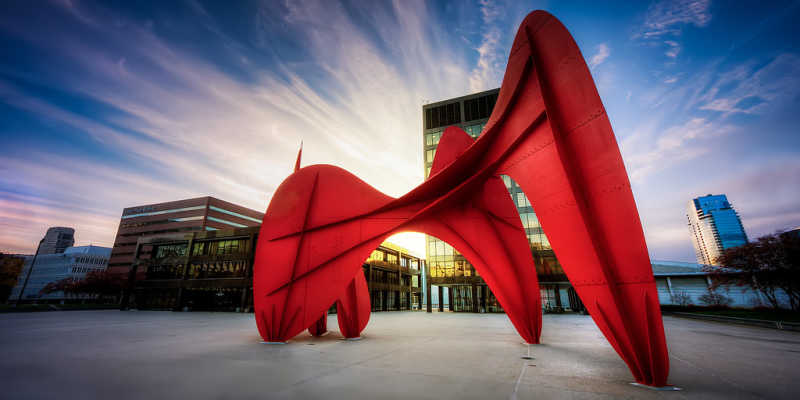 Calder Plaza, Grand Rapids, Michigan
You can't miss Calder Plaza with its giant red sculpture, La Grande Vitesse. This is the heartbeat of Grand Rapids, where you'll find ArtPrize and big races like the River Bank Run. It's also where the big GR Pride Fest celebration takes place. Just head downtown and go to Ottawa between Michigan and Lyon NW.
Ah-Nab-Awen Park in Downtown Grand Rapids is Just Gorgeous!
If you happen to be in Grand Rapids in the spring, you absolutely must check out Ah-Nab-Awen park. It's close to the Gerald Ford Museum and the Blue Bridge.  The trees are all in bloom and the city is ready for exploring!
Grand River and Fish Ladder Park is A Must-See
This is the place for outdoor adventurers. A lot of activity centers around the Grand River. Whether it's salmon fishing in the heart of downtown GR, paddle boarding or watching fish migrate up the fish ladders, the Grand River has a million things to do and capture on social media. 

So check out Fish Ladder Park while scouting for Instagrammable spots in Grand Rapids!
Frederik Meijer Gardens and Sculpture Park: Wonderful Way to Spend Your Day in Grand Rapids!
Get up close and personal with some world-class art here at the Frederik Meijer Gardens and Sculpture Park. You'll find glass Chihuly sculptures here, and Edward Degas' "Dancer Looking At Her Right Foot" and a couple of Rodin pieces, including "The Kiss."
Definitely incredible instagrammable spots in Grand Rapids.
You can casually pose among some of the greatest sculpture art in the world. If that's not your thing, show your followers some tranquility with a post from the Japanese garden. Stand in front of the puremichigan from the 1930's or farm life in the Michigan Farm Garden.  Frederik Meijer Gardens is definitely near the top of our most Instagrammable spots in Grand Rapids.

Downtown Market: A Feast for The Eyes and Body!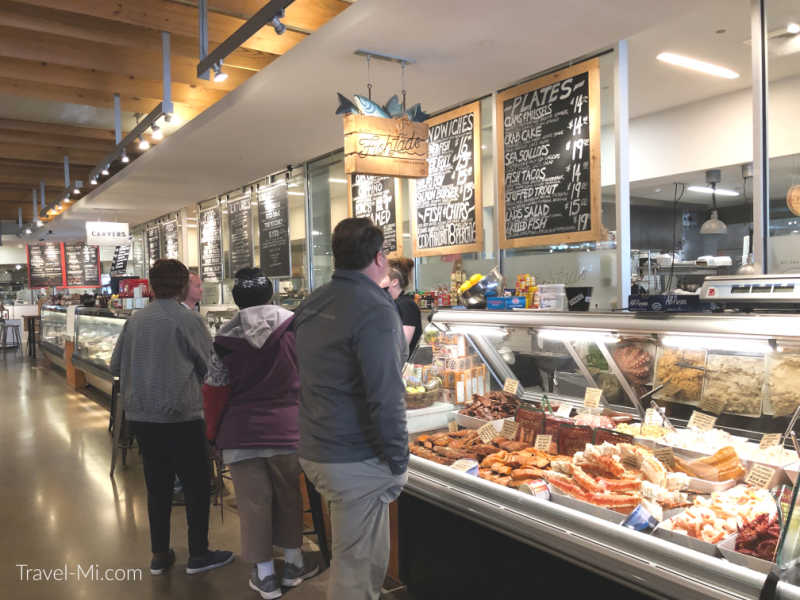 This one is for the #foodies. This is where you'll find dozens of places to eat, from artisanal food shops to cooking classes to sit-down restaurants. The Downtown Market is where some of the most innovative and delicious food in Michigan is created and served — and it's an Instagram dream.

If your heart is set on a foam-art latte post, or a spice shop post featuring perfect vanilla beans or curled sticks of cinnamon — this is where you need to go.
Gerald R. Ford Museum: Be Inspired by History!
This one's a favorite for kids. The 3,000-pound sculpture sits outside the Gerald R. Ford Museum, paying tribute to the 38th president's support of the space program. The Ford Library and archives are located in Ann Arbor, but the museum and interactive displays are all here in Grand Rapids, President Ford's childhood home. Smile and say spacesuit.

Get your hashtags and your filters ready. Grand Rapids is a city with exciting and authentic visuals your followers will love. Whether the trees are green or you're snapping pics in a winter wonderland, these are some of the most Instagrammable spots in Grand Rapids. Take a memorable picture, post it, and watch the likes and comments roll in.

Paul Colbert is a travel blogger and nature enthusiast. He loves exploring new places and new ways to enjoy the outdoors.
Subscribe To Receive Exciting Destinations, Day Trips and Fun Directly to Your Inbox!
Sign Up to Our Newsletter to Get the 5 Free Must Have Apps to Travel in Michigan Like a Boss!
Follow Us on Instagram 
More Cool Stuff to Inspire Your Traveling Michigan Adventures!
Do You Have A Great Story or Fun Idea We Should Know About in Grand Rapids?
We'd love to hear about it! Share it!