The Best Things to Do in Houghton MI Michigan
Houghton MI Michigan
By: Sherry Trautman | Traveling Michigan | www.Travel-Mi.com
Houghton Michigan is gold mine (or copper?) for adventurers, photographers and historians alike. 
The city located in Michigan's Upper Peninsula is home to the famous Quincy Mine tours, blue Portage Lake lift bridge, Winter Carnival, some seriously good eats and a few surprises to boot.
Plus it's Chris' hometown so you have the insider's advantage!
So grab your hiking shoes, camera, bug spray and snacks because we are about to do some crazy exploring in Houghton MI Michigan.
While Traveling Michigan's Upper Peninsula, we will also wander into Hubbell Michigan, a super interesting nearby town that is only 9 miles away.  So are you ready?  Let's go!
Michigan Upper Peninsula Waterfalls Near Houghton 
Michigan's Upper Peninsula waterfalls near Houghton Michigan are absolutely outstanding!!  Be sure to find Miner's Falls, Canyon River Falls, Hungarian Falls, Wagner Falls and a few others! 
Portage Lake Lift Bridge-Houghton MI Michigan
Portage Canal Lift Bridge, Houghton MI Michigan
Per Wikipedia, the Portage Lake Lift Bridge (officially the Houghton–Hancock Bridge) connects the cities of Hancock and Houghton. It crosses Portage Lake, a portion of the waterway which cuts across the Keweenaw Peninsula with a canal linking the final several miles to Lake Superior to the northwest. It is the only land-based link between the north (so-called Copper Island) and south sections of the Keweenaw peninsula.
This movable bridge is a lift bridge with the middle section capable of being lifted from its low point of four feet clearance over the water to a clearance of 100 feet (30 m) to allow boats to pass underneath.
The bridge is the world's heaviest and widest double-decked vertical-lift bridge. More than 35,000 tons of concrete and 7,000 tons of steel went into the bridge, which replaced the narrow 54-year-old swing bridge, declared a menace to navigation on the busy Keweenaw Waterway.
Hancock and Houghton MI Michigan hold an annual celebration called Bridgefest to commemorate the opening of the bridge that united their two communities.
Winter Carnival
Winter Carnival is an ultra popular carnival held at Michigan Tech every February.  Winter Carnival started in 1922 and has grown to become one of the largest annual winter festivals in the nation! Come to enjoy dozens of huge, intricate snow statues all around campus and the community!
Watch students engage in exciting broomball and hilarious comedy skits. Take sleigh rides, watch a queen coronation, and join lots of winter fun.  I can't wait to try ice wall climbing this year-its on my Michigan Bucket List!
The Downtowner Restaurant-Houghton MI Michigan
If you are looking for great eats with an even greater view, the Downtowner located in Houghton MI Michigan is the place to go! 
Grab a burger and a beer and kick back with views overlooking the gorgeous Portage Lake Lift Bridge and sparkling waters. No better way to spend a warm Michigan day in the Upper Peninsula!  
Denali Restaurant
Seriously, do you see this gooey cheese? I'm not usually a sandwich girl but my stomach was growling, we had just ordered drinks and this sandwich sauntered past me, acting all arrogant with it's meat, tomatoes and cheese piled high.  Well, I decided to teach it a lesson and jam it right into my pie hole.  

(Sorry dude that was suppose to get this at the next table...)
The Denali Restaurant is located in Lake Linden, MI. 

"Traveling is about the gorgeous feeling of teetering in the unknown" Anthony Bourdain
Quincy Mine and Dry House
The Quincy Mine is an extensive set of copper mines located near Houghton MI Michigan.
The mine was owned by the Quincy Mining Company and operated between 1846 and 1945, although some activities continued through the 1970's.
The Quincy Mine offers tours that tells of the fascinating history.  Grab a jacket and hard hat as you embark on the family friendly tour so you can play the part of a hard working miner! 
The tour definitely sets your imagination ablaze as you imagine the hard life these miners lived everyday.
Make sure you have time to explore the nearby grounds shown in the photo below.
Photo is Chris' mom Susan, myself and Chris embarking on the Quincy mine tour in Houghton MI Michigan.
Aren't we dashing in our yellow hard hats?  Don't be jealous, you too can join the hard hat fashion statement by going on this fun tour!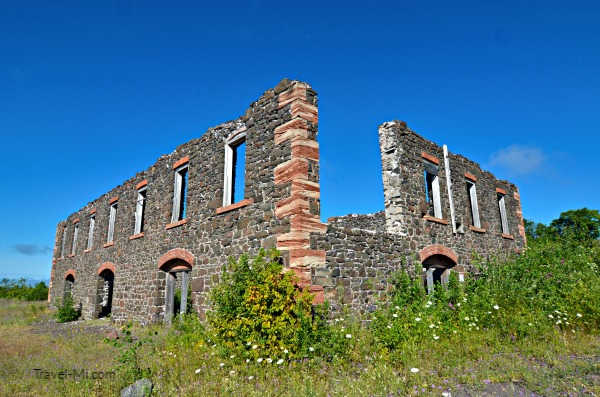 I adore ruins and their history just as much as I love gorgeous landscapes. This fantastic building is part of the Quincy Mine in the Upper Peninsula near Houghton MI Michigan. I absolutely love the feel of this building, it's arched doorways and missing roof. ⠀⠀⠀⠀⠀⠀⠀⠀⠀
⠀⠀⠀⠀⠀⠀⠀
My soul just soars while exploring this place. I been here a few times and each time I discover new tidbits that I missed.⠀
Dredge #2 Located in Hubbell Michigan
This Dredge #2 (read the history above embedded in my Instagram post) offers such a great view of Torch Lake located in Hubbell Michigan.
Quincy Stamp Mill
Directly across from the Dredge #2 is an incredible abandoned stamp mill. Probably not safe to go in AT ALL, but I had to as I absolutely adore exploring them. 
The Quincy Stamp Mill is off Michigan highway 26, about half way between Dollar Bay and Hubble. It's only 9 miles from Houghton MI Michigan. There are spots to park on the side of the mill building on the North side of the road.
Construction began on the stamp mill in 1888.  These mill buildings are part of the Quincy Mining Company Stamp Mills Historic District. They received ore from the Quincy mine above Hancock. The ore was crushed, refined and concentrated. Waste sand was dumped into nearby Torch Lake as a part of this process.
Processed ore was then taken to the Quincy Smelter for additional refining.  The mill closed around 1967. 
I worry this building will collapse very soon so I wanted to document it the best I could....(or I was just super giddy to check out every nook and cranny of this abandoned building in the name of photo journalism!) 

Ahmeek Stamp Mill, Tamarack City Michigan
The ruins of the mill are easy to find and explore. They are directly off the side of and visible from M 26 as it passes through Tamarack City and Hubbell.  It is very close and directly east of Hungarian Falls.  The Ahmeek Mill was built in 1910. 
There is a nearby playground for the kids.  Take time to explore the many vertical structures, all lined up like dominoes! 
We hope you found some good ideas for when you plan your next Houghton MI Michigan vacation!
More Cool Stuff You May Like
Subscribe To Receive Exciting Destinations, Day Trips and Fun Directly to Your Inbox!
Sign Up to Our Newsletter to Get the 5 Free Must Have Apps to Travel in Michigan Like a Boss!
Follow Us on Instagram 
Have A Great Story About Houghton Michigan?
We would all love to hear about it! Please Share!