Detroit Off-Site Airport Parking
Detroit Off-Site Airport Parking-Save time, money AND stress by analyzing a bunch of off-site parking options!  We have links, suggestions and first hand reviews.  Travel can be stressful, so we hope to help!
If you have suggestions for our visitors and subscribers, please add them below!  
Green Lots 1 and 2 for Detroit Off-Site Airport Parking
Detroit Metropolitan Wayne County Airport - Green Lot 1, E Service Drive, Romulus, MI 48242
Open Surface Lot, Green Lot provides a long-term surface lot parking option with free shuttle service to both terminals.
Our Newest Personal Suggestion!!
Valet Connections is located at 27299 Wick Road, Taylor MI. They are located about 2-3 miles from the airport and rates start around $6.00.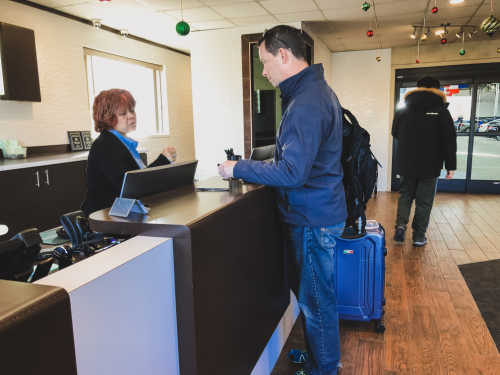 Detroit Off-Site Airport Parking
How It Works:
Reserve here:
What I liked Valet Connections is that you pull your vehicle around to the back of the building and drive INSIDE to unload your bags.  
Note: Your vehicle most likely will not be left inside for the duration of your trip. It will be brought back inside before your return.
Check in with a service person in their enclosed heated facility with restrooms.  
Leave your keys. Let them know when you will be returning.
A van will drop you off at the airport.
Note: Remember where you are dropped off at the airport as this is your pickup location. 
Return:
We gave them our phone number before we left for our trip for communication so when we returned we texted them for pick-up.  
As soon as we had our bags, I texted for a pick up.  They were at the airport within 5 minutes! I was impressed. 
Make sure you are at your original drop off location.
The van will take you back to the garage where your vehicle is waiting inside.
Go to the service desk and get your keys.
You will receive a PAID text indicating your total. 
Additional Off-Site Parking Options
All off-site Detroit airport parking is within 2.5 miles (6 minutes) from the North Terminal and 6 miles (10 minutes) from McNamara Terminal. 
Airlines Parking:  8325 Merriman Rd, Romulus, MI 48174. Around $11/day. As the largest off-site parking facility serving Detroit Metro Airport, Airline Parking offers both self-park and valet options. Open 24/7/365, this well-lit lot is fenced and patrolled. Complimentary shuttle takes you to the terminal and back to your car. Additional perks include free tire inflation and battery service. Click Here

US Park: 9601 Middlebelt Rd, Romulus, MI 48174.  Around $11/day for drive up rate, $10/day if you book ahead on time on-line. Located a minutes from the airport, this 24/7 parking facility offers a free shuttle will take you from your car to the terminal and back, upon your return. Tire inflation and battery service is free.  Click here
QwikPark: 7782 Merriman Rd, Romulus, MI 48174. Around $11/day for drive up rate, $10/day if you book ahead on time on-line. Check for coupons on their site. This 24/7 secured lot is only a  few minutes away from Detroit Metro Airport with self-park services. This well-lit lot is patrolled by security staff. Complimentary shuttle service takes you door-to-door, from your car to the terminal and back. Free battery and tire inflation service included. Click here
Park-N-Go:  31555 Wick Road, Romulus, MI 48174 Coupon rate $9, Drive up $9.50.Open 24/7 this secured parking facility offers both long and short-term parking. Complimentary shuttle service takes you from your car to the terminal and provide free luggage assistance. Battery, tire, and lockout service are also provided free of charge. Click here
Check these companies websites for coupons.  
Book ahead of time generally saves you a dollar or two per day. 
Check for Corporate Rate Programs.
Park and Stay Options
If we are flying out early in the morning from the Detroit Metro Airport (DTW), we always like to spend the night at a hotel near the airport prior to our flight.  Less stress and hassle if we can leave the vehicle parked free at the hotel and be dropped off.
I always let the front desk know the time I will need the shuttle for the next morning the night before.  I will then call again upon awaking to verify they have my reservation.  You can never be too cautious when it comes to flying.  READ MORE on our Park and Stay hotel suggestions. 
---
Subscribe To Receive Exciting Destinations, Day Trips and Fun Directly to Your Inbox!
Sign Up to Our Newsletter to Get the 5 Free Must Have Apps to Travel in Michigan Like a Boss!
Was This Post Helpful?
Please share the love with your friends on social media above!  We appreciate it so much!!
Follow Us on Instagram 
You May Also Like...
Do you have a tip or suggestion while parking at the Detroit DTW airport??
We would love to hear your suggestions!