Best Sleeping Bear Dunes Campground, Cabins, Tent Camping and RV Park Locations + Map 
Sleeping Bear Dunes Campground, Cabins, Tent Camping and RV Park Locations in Michigan + Map | By Sherry Trautman | Traveling Michigan
Camping near Sleeping Bear Dunes National Lakeshore in Michigan is a blast!  Tent camping or cabins are located close by the hiking trails and Pierce Stocking Scenic Drive. 
Sleeping Bear Dunes Campground and RV Park Locations + Map (Where to Camp)
There are lots of locations to engage in camping at or around sleeping bear dunes, rv camping at sleeping bear dunes area or backcountry camping sleeping bear dunes. 


We created this Sleeping Bear Dunes Campground Interactive Map to help aid in planning your trip. 

Helpful Map Tips:

Click on the plus and minus in the left corner to zoom in or out of the map.
Click on the icons for more info, addresses and photos of the stops.
Click on the map to drag and move it to view surrounding areas.
In the Header, click on the rectangle in the upper left of the map to see a menu of all of our stops. Click on anything that looks interesting to see where it is on the map. To hide the menu, click the rectangle in the header. 
In the Header, click on the "square" icon in the upper right side to expand the map for better viewing. 
Sleeping Bear Dunes Campground Descriptions and Information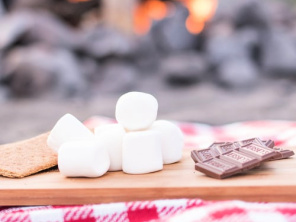 Sleeping Bear Dunes Platte River Campground - 5685 Lake Michigan Rd, Honor, MI 49640. Reserve through the NPS link below. 
Platte River Campground Offers:
Back-in and pull-through sites for RV's, including electrical hookups
Tent sites
Walk-in sites for more adventurous tent camping
Group sites (hike-in, tents only) for a party of up to 25 people. 
Backcountry campground if you want a backpacking experience
D.H. Day Campground - 8010 W Harbor Hwy, Glen Arbor, MI. DH Day Campground is very wooded and is one of the most popular places to go camping in northern Michigan. Reserve through the NPS link below.
It is very close to:
The Dune Climb
Pierce Stocking Scenic Drive
Glen Haven
Plus, the campground is only two miles from the restaurants and shops in Glen Arbor.
Timberland Campground - 2788 Benzie Hwy, Benzonia, MI. Reserve through their website.
Timberland Campground offers:
RVing spaces
Cabin Rentals

RV Rentals

Tent Sites

Betsie River Campsite - 1923 River Rd, Frankfort, MI 49635 Reserve through their website.
Most tent camp sites are perfect for four people with a camper or tent. Betsie River Campsite has a cafe, small playground, fish station, showers and bike/kayak rentals! The Betsie Valley trail is nearby for a fun three mile walk or bike ride.  
| | |
| --- | --- |
| | When camping, you will definitely need a first aid kit.  Here is a helpful first aid checklist! |
When it comes to camping, awesome, easy food is king!  Grab our 17 Camping Food Ideas from camping experts! 
Indigo Bluffs RV Park - 6760 W Empire Hwy M-72, Empire, MI 49630.  Reserve through their website.
Indigo Bluffs RV parks are perfect for motorized and towable RVs, trailers and pop-ups. Indigo Bluffs have a pool!!  
They also rent:
Rustic cabins

Large, tent sites  
White Pines Back County Campground
Empire Township Campground - 7264 W Osborn Rd, Empire, MI 49630. Recommend calling. 
Backcounty Camping, Fees and Registrations

For backcounty camping, camping fees and registrations, visit the NPS Campground site.
Pin This Sleeping Bear Dunes Campground Page
Keep Reading! Grab the Ultimate Sleeping Bear Dunes Guide and Camping Food Ideas!
Click below for our:
Subscribe To Receive Exciting Destinations, Day Trips and Fun Directly to Your Inbox!
Sign Up to Our Newsletter to Get the 5 Free Must Have Apps to Travel in Michigan Like a Boss!
Follow Us on Instagram 
Content 2.0 Form