OMG! RoboCop Is Back In Detroit!
We were just minding our own business while exploring downtown Detroit when BAM!!  Robocop makes his presence known! 
He's so badass he demands a larger-than-life full-color mural of his badassery on a red brick wall in downtown Detroit!  Just to remind us he's always there...always watching.
The Story:  We were driving around Detroit enjoying the awesome sights, energy and history of this great city.  As we continued exploring along Grand Boulevard, we discovered this freakin' cool mural of RoboCop. 
It so colorful, so full of life and so iconic we just had to capture it!!  The snow was up to my knees and we were worried we would get the truck stuck as this cool wall was in an unplowed lot but I sure as heck was gonna get this shot!
⠀⠀⠀⠀⠀⠀⠀⠀⠀⠀⠀

Alex J. Murphy/RoboCop, " Dead or Alive, You Are Coming With Me."
Robocop! HOW COOL IS THIS?⠀⠀⠀

About Robocop: The original Robocop was filmed in Detroit in 1987. It was released in theaters: Jul 17, 1987.

The famous movie features a crime-ridden city in which police officer, Alex Murphy is murdered by a gang of criminals. The slain officer is then revived by the megacorporation Omni Consumer Products (OCP) as a superhuman cyborg law enforcer-RoboCop.⠀
Guess Who Lives Next Door to RoboCop?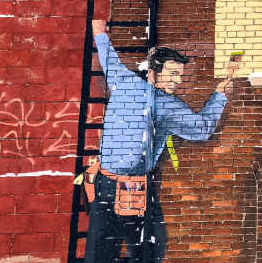 So guys, RoboCop must be a friendly guy and all as you will never believe who lives in his same building!  I hear they get together for potlucks and gun cleanings! 
Here is a tiny hint...all three herald from Michigan in some crazy way and they are HUGE movie stars! I bet the suspense is killing you... READ MORE...
So Let's Discuss...
Are you a fan of the original RoboCop from 1987 or the remake from 2014?  What are your thoughts?
We recently decided to host a rousing movie night to watch the 2014 remake of RoboCop. We were super excited to watch the movie after finding this incredible mural. 
And I have to say, the movie was pretty darn entertaining! Others watching it with us agreed the original was a little more cheesy and I'd have to agree. 
What do you think?  Which movie wins-the original or the remake?  Comment below.
You May Also Like...
Subscribe To Receive Exciting Destinations, Day Trips and Fun Directly to Your Inbox!
Sign Up to Our Newsletter to Get the 5 Free Must Have Apps to Travel in Michigan Like a Boss!
Follow Us on Instagram 
OMG! RoboCop!!
Don't you just love RoboCop? He's fierce! Do you like the newer or original version better?