10 Ways To Not Only Survive But Enjoy Your Michigan Vacation with Kids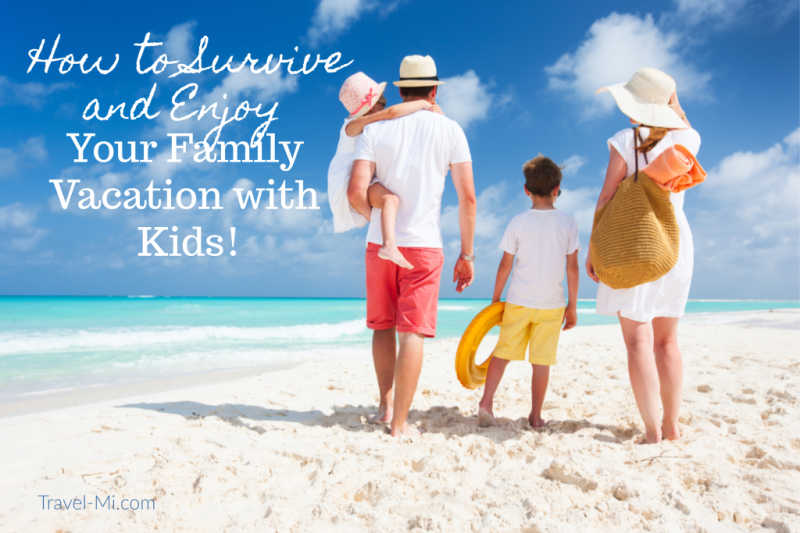 10 Ways To Survive Your Michigan Vacation with Kids!   Not only will you just survive your vacation, you will actually enjoy looking forward to your upcoming Michigan vacation with your family!  Save time, money and hassle!
We just embarked on a week long family vacation that included ten adults and four children under the age of five. YIKES!  Here's what we learned!
"I have found out that there ain't no surer way to find out whether you like people or hate them than to travel with them." – Mark Twain

Rent a Michigan Vacation Home
Renting a Michigan vacation home is a fantastic way to go.  It saves time, frustrations, money and provides a better experience for everyone. 
Examples of why this is a clear, winning choice for a less stressful family vacation...
A home-like experience
Separate bedrooms
Everyone has their space
Yard for the kids to play
Living room for get-together's, movies, games.
Kitchen-can create cost effective meals (at least breakfasts)
Your own driveway 
Safety for kids to go outside
Possibly a lake or bonfire opportunities
Individual families can rent homes together and groups of couples can join up and rent one nearby.  It works out great!
Tips: If you are driving, be sure to pack water toys if on a lake, bikes and yard games. 
Pre-Plan Some Activities on Your Michigan Vacation
We organized a few group activities, maybe about four, ahead of time so everyone knew which days were free. This way families could plan their own things to do apart from the group activities.
Beach days work or water parks work great for group outings as everyone is free to do what they like. 
Plan Family Potluck Meal(s) At Your Vacation Home Rental
We pre-planned two evenings during our Michigan vacation for potlucks before we even left on our vacation.  I know this might sound too rigid but with so many people we wanted to have a clear idea of what everyone was bringing so we didn't end up with 6 desserts. 
Pre-planning also allowed us to bring necessary spices instead of buying entire jars at the store.  I made mac and cheese so I brought dry mustard in a baggie.
We are all foodies so it was evening we all looked forward to.  We had 3 kitchens between all of us we we prepped at "home" and then meet at the largest space. Saved money, time and the kids were free to be kids.  Plus we all got together the next night for leftovers and family games. Win-win...money saved.
Don't Plan To Spend Every Minute Together
Everyone will have fonder memories of your family Michigan vacation if they are free to go off for an entire day and evening without a time restraint.  We love to just go do "whatever" without looking at our phones for the time.  
Chris and I spent most mornings and afternoons on our own or with other couples in our family and then met up with everyone in the evenings. 
Prepare a Group Text 
We communicated constantly with our group text.  For example, one family was headed out for ice cream and said, "let us know who's in!" That way you can go or opt out.  Keeps everyone in the loop and feeling included.
Plan a Surprise!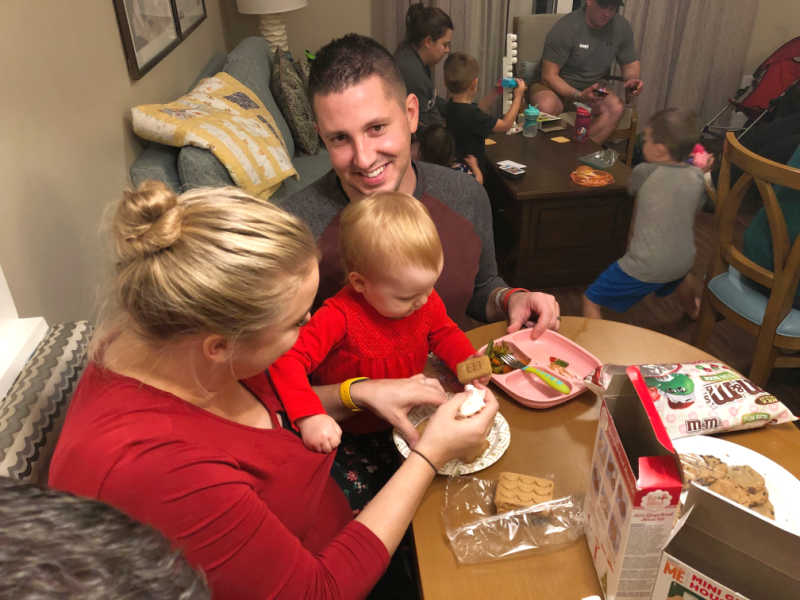 Chris' aunt planned a gingerbread house making evening.  We had such a blast!!! Each family had a gingerbread house kit and we spend about 2 hours creating and laughing (definitely different than mocking??) each other's artistic abilities. Everyone had such fun, from the kids to the adults.
Other ideas-smores, water balloon fight, duck races, decorating cookies, etc.
Limit Large Group Dinners in Restaurants
It's very hard to gather large groups with small children at restaurants.  Kids are antsy, not everyone is happy with the restaurant selection, the bill gets tricky and generally things get out of hand.  We tried this a couple times and people were late, kids were uncooperative and it got crazy.   
Bring Games or Family Events for Evenings
We had a few board games, movies and fun things planned for the evenings together.  Brownies, snacks and yummy treats go without saying...
Coordinate Logistics and Share Common Items
One thing we could have done better is plan logistics.  Some family flew in for our vacation and rented a car.  Everyone else had vehicles.  They didn't use their rented vehicle the entire time...kind of a waste of money. 
But it's hard to anticipate this.  Also consider sharing movies, toys, even shampoo or spices for cooking. Less to pack is best. 
When to Travel in Michigan
It might be natural to say, duh, summer.  But really, we get stir crazy in winter.  Great Wolf Lodge offers an indoor water park that gives kids a chance to get out, scream, swim and play.  Also, Zehnder's Splash Village is a great place to spend the day!  Of course you can stay right on property!
Would We Go on a Family Vacation Again?
Heck Yeah!  It's a great way to bond with your extended family.  We gathered from all over the state and from Wisconsin.  Great way to see everyone while also having a great vacation.  
Subscribe To Receive Exciting Destinations, Day Trips and Fun Directly to Your Inbox!
Sign Up to Our Newsletter to Get the 5 Free Must Have Apps to Travel in Michigan Like a Boss!
Follow Us on Instagram 
You May Also Like