Best Michigan Shaped Cutting Board: Extraordinary Gifts for Charcuterie Parties, Chopping Boards, Michigan State and University of Michigan Blocks
Best Michigan Shaped Cutting Board | By Sherry Trautman of Traveling Michigan
Do you know someone who loves Michigan everything? We bet they will love, appreciate and cherish a thoughtful, handmade Michigan Gift! 
And the best part?  Most of these Michigan charcuterie boards, Michigan cutting boards, butcher blocks, and Michigan maple blocks are made in Michigan by Michigan artists! 
These Michigan shaped cutting boards make fantastic Michigan souvenirs too! Available for quick shipping on Amazon or Etsy.

Perfect for Christmas, birthday's, mother's day, father's day, Valentines, girlfriend gifts, and gifts for friends.

No matter your budget, these Michigan gifts are guaranteed to make someone smile as they are made with love and intent by Michigan artists, created in Michigan or are high quality products nostalgic to the Mitten State.
Chris and I have lived in Michigan our whole lives and we understand the importance of shopping local and supporting our Michigan businesses.
We love supporting Michigan artists on Amazon and Etsy! 
Table of Contents:
Michigan Charcuterie Board | Serving Trays
Great Lakes Black Walnut Charcuterie Board 

This stunning Great Lakes Black Walnut Charcuterie Board has built in handles! *Handmade by Boards by the Bay located in Harbor Springs, Michigan. Perfect Michigan gifts!

Charcuterie Board | Serving Tray | Lake Michigan Waves 

Holy moly, isn't this the most beautiful Live edge wood epoxy wave charcuterie board you have ever seen?  Handmade by Cedar Lane Designs of Marquette, MI

I'm mesmerized!  Reminiscent of the waves of our Michigan Great Lakes! *Perfect wedding, anniversary or house warming gift!  

Michigan Shaped Cutting Board | Landmarks and Destinations | Road Trip or Unique Wedding Gift

OMG! This fabulous Michigan shaped cutting board or charcuterie board has all the major cities you may have visited on your vacation!  Traverse City, Alpena, Tawas City, Detroit, Lansing, Saugatuck, Grand Rapids.  Makes such great Michigan gifts!

Michigan Maple Petoskey Charcuterie Serving Platter

I'm in love with these handmade Michigan Maple Petoskey charcuterie serving platters made by Slippery Fish Woodwork located in Livonia, Michigan. 

They have a variety of designs, check them out!

What a cool piece to display in your kitchen or a serve cheese and meat tray to guests!
Michigan Cutting Boards | Chopping Boards
Extra Large Black Walnut Cutting Board with Juice Groove 

This stunning extra large reversible black walnut cutting board has a very handy juice groove to prevent messes in your kitchen.

These outstanding Michigan cutting boards are handmade by Boards by the Bay located in Harbor Springs, Michigan.

Michigan | Great Lakes Serving Tray | Cheese Board | Cutting Board

I adore a multifunctional laser engraved Michigan shaped cutting board!  These Michigan and Great Lakes Serving Trays can be used as a cheese board, charcuterie board or a cutting board!

Handmade by Michigan artists, Diamonds Wood Designs. Perfect Michigan souvenirs 

Large Honeycomb Inlay Cutting board | Walnut with Padauk, Cherry and Ash


Lumbertown Woodworks, located in Muskegon, Michigan, creates fantastic large honeycomb inlay cutting boards.  The craftsmanship is just fantastic.   

Handmade Michigan Cutting Board |Upper and Lower Peninsula

Michigan cutting boards from Classic Designs 360 is a timeless design that will look lovely in your kitchen or as a serving board.

This Michigan shaped cutting board is perfect as charcuterie or cheese boards.

Michigan M22 Cutting | Serving Board

Love this M22 cutting board, perfect to remember Michigan's famous roadway! 

Hand crafted by Matt Gillengerten located in Lansing, Michigan

Michigan Great Lakes Cutting Board

Spectacular Michigan shaped cutting board and serving board!  Tiger maple inlaid on black walnut

Hand crafted by Matt Gillengerten located in Lansing, Michigan

Yooper Pasty Recipe Cutting Board


I just adore this Yooper pasty recipe cutting board!  It's been laser engraved with a popular Michigan Upper Peninsula pasty recipe!

Perfect chopping board! 

Home Cutting Board | Personalized Location| Customized | Charcuterie Board | Serving Board 

Isn't this the coolest, classiest, cutting board? It can be engraved!!

Michigan State Shaped Bamboo Serving & Cutting Board

Celebrate the Great Lakes State with this stylish, functional and well made bamboo serving and cutting board in the shape of the Michigan mitten by Totally Bamboo!

We love Michigan shaped cutting boards!

Michigan Bamboo Serving and Cutting Board

What a fun laser-engraved Michigan cutting and serving board!  It lists all the fantastic places to visit in the state from Ann Arbor to Cheboygan, Detroit to Cadillac, Kalamazoo to Lansing and much more! Measures 11" x 8-3/4" x 1/2" **And it's only $15!!!

Michigan Maple Block

Great Lakes Michigan Cutting Board

These fantastic and useful Michigan Great Lakes all-wood cutting boards are made of walnut with maple inlay.

Made by Grandma Daves Wood Shop located in Otsego, Michigan! 

Plus, they have free shipping!

Mixed Hard Wood Michigan Shaped Cutting Board

This delightful Michigan shaped cutting board is handmade with mixed woods.  Made by KUHLart, a small shop with screen prints and wood-crafted goods located in Plymouth Township, Michigan

What a beautiful kitchen decor!  Made with hard maple, walnut and purple heart woods. 



Michigan State University | University of Michigan | House Divided Cutting Board
Handmade Butcher Block
Cutting Board, Butcher Block Cherry and Walnut

This incredible butcher block was made by Wood Craft by KR in Grand Rapids, Michigan.  

Beautiful Michigan Cherry Wood and Black Walnut make up this end grain cutting board. Hard Maple for the border and contrast.

 
Not Sure Which Gift to Give? Give an Etsy Gift Card!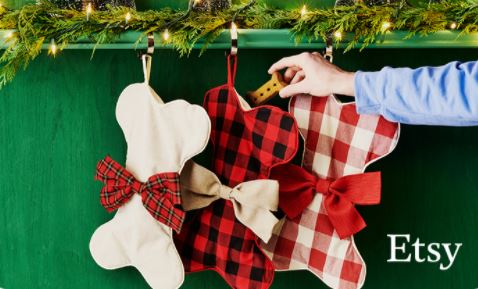 Everyone loves a gift card so they can pick out what they want!  How fun!  You could give a gift you selected above AND also an Etsy gift card! They begin at $25!
---
Made in Michigan Gift Baskets, Michigan Necklaces, University of Michigan Christmas 

Ornaments

Need a gift but have no idea what to give?

The answer is:

So guys, if you are looking for gift ideas for birthday's, mother's day, father's day or housewarming gifts, why not give useful Michigan made products that everyone will love?

What's better than Gift baskets ideas with Better Made Chips, Sander's Chocolates, Made in Detroit gifts?
What freakin' cute Michigan necklaces with etched trees by Macy Anne Designs on Etsy! I'm in love.

What I love: Since this state of Michigan necklace is aluminum, it is hypoallergenic and very lightweight. No worries of it changing colors, either.

Need a quick gift?

These cute Michigan necklaces by Ivy By Design come in a wide variety of choices, like gold, rose gold and they ship within two days! Plus, they are customizable!

The Hometown Haven, has a fantastic selection of necklaces, earrings and jewelry for Michigan! If you are a fan of the Michigan's Upper Peninsula, you will love this UP necklace! 

This Lake Superior Necklace is such a cool, original, almost abstract way to show your love for Michigan!  

These Michigan Great Lakes Necklaces are high quality and are sure to please!

What I love: You can choose silver, gold or rose gold and have them engraved!


This dainty, handmade Michigan Great Lakes necklace is just adorable! 

Made by the Great Lakes Shop, these necklaces can be made in 14k gold plated, rose gold and silver.
Subscribe To Receive Exciting Destinations, Day Trips and Fun Directly to Your Inbox!
Sign Up to Our Newsletter to Get the 5 Free Must Have Apps to Travel in Michigan Like a Boss!
Follow Us on Instagram