Michigan Road Trip-Grand Haven to Ludington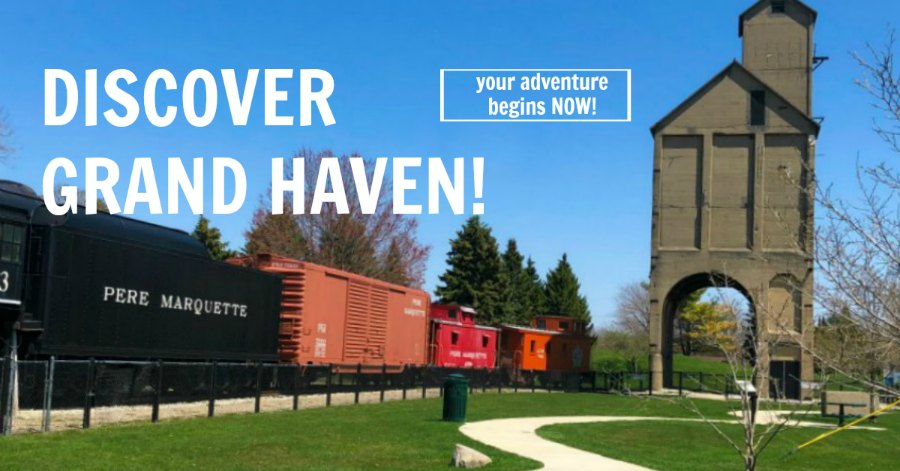 Let's rock this Michigan Road trip from Grand Haven to Ludington, Michigan!
MILEAGE: Grand Haven to Muskegon is about 15 miles and takes 20 minutes to drive without stopping.  Muskegon to Ludington is about 60 miles and takes an hour to drive without stopping.
We seriously hope you've had plenty of rest and a hearty breakfast because we are about to take this west coast Michigan Road trip by storm!
If you happen to take this trip at the end of July, you can enjoy their very popular Coast Guard Festival!
Your mind will be blown by all the awesome things to do, photography opportunities, hiking locations, light houses, restaurants, wineries and fun along the way!  There are easily 3 days of fun packed in this self-guided road trip.  AND the best part?  It's all planned for you!  Just pack and go, yo!
So let's get started on our Michigan Road Trip!  Arrive in Grand Haven via US-31 (runs north and south).  Take the Jackson Street Exit and head west.  Jackson Street turns into Harbor Street which takes you to your first stop, which is Chinook Pier Park.  The glorious thing about Grand Haven is that you can park at Chinook Pier Park and walk around the city without moving your vehicle if you wish. 
Chinook Pier Park, a Great Place to Start Our Michigan Road Trip!!
301 N. Harbor Dr.,
Grand Haven , MI 49417
Chinook Pier Park is our recommended starting point as this is a great place to begin the Grand Haven Boardwalk.  There are public restrooms and ample parking.
Chinook Pier Park is home to the #1223 locomotive, a Boy Scout statue, playground for kids and picnic tables to enjoy your lunch.  
The Grand Haven Farmers Market also occurs in the parking lot from May through October.  
Charter and sports fishing operations are housed here along with sports rentals and mini golf.  The park overlooks the Grand Haven boardwalk and Marina.
Grand Haven Boardwalk
The Grand Haven Boardwalk is 2 1/2-3 miles and meanders along the harbor. Stroll by colorful shops, restaurants, marinas, and busy charter fishing boats.  Grab some frozen yogurt at the Pump House and enjoy your walk!
On a warm summer day you can't beat the scenery as you walk along the channel toward Lake Michigan, the lighthouse and pier. There are places to purchase full meals or buy snacks or ice cream along the way.
Insider Tip: Start your boardwalk adventure at Chinook Pier located at 301 N. Harbor Drive.
This well maintained boardwalk to such a great place to walk and enjoy the day while watching the boats pass by.
The boardwalk continues along the Grand River and travels out to Lake Michigan. Be sure to walk out to the pier and take photos of the Grand Haven lighthouse.
For more info about the train, click here!
Grand Haven Lighthouse
Built in 1939, the two lights on the south pier are connected by a lighted catwalk.  They are also connected to the shore and the Boardwalk.
How to get there: Stroll along the boardwalk that borders the Grand River channel and the pier/lighthouse.
Harbor Trolley

Love a narrated tour of the city?  US TOO!

Hop aboard and enjoy a historic narrative tour that starts at Chinook Pier (301 N. Harbor Dr.), travels the waterfront and downtown areas.

The Harbor Trolley runs 7 days a week from Memorial Day Weekend to Labor Day from 11am to 10pm.
Pickup locations are at Chinook Pier, Boardwalk, the State Park, The Bookman and Pfaff Pharmacy.
BUT you can flag them down anywhere along the route!!

Prices:
60 years and older $ .75
19 – 59 years old $1.50
18 years old & under $ .75
Persons with a disability $ .75
Under 2 years FREE
Grand Haven Musical Fountain
Grand Haven Waterfront Stadium
101 N. Harbor Dr.
Grand Haven, MI 49417
So yeah, you definitely need to hang out to see the Grand Haven Musical Fountain. This synchronized water and light show is accompanied with music of all varieties. The shows are 20-minutes long and feature a different theme each night.
The shows are daily at dusk from Memorial Day through Labor Day as well as Fridays and Saturdays in May and September.
Built in 1962, it is the world's largest musical fountain of it's kind and was the world's largest fountain until The Fountains of Bellagio opened at the Bellagio Resort in Las Vegas.
The show takes place atop Dewey Hill and is best viewed from Waterfront Stadium. However, the Grand Haven Musical Fountain can be easily experienced from most of the Grand Haven Boardwalk. As long as you can see Dewey Hill, you will be able to see and hear the show. The audio is also broadcast on 88.7 FM for those who prefer to watch from their cars.

2018 Schedule of Start Times
10:00 PM
Before Memorial Day (Friday & Saturdays) – May 18, 19
After Memorial Day, nightly shows May 25 – June 8
10:10 PM
Nightly shows June 9 through July 6
10:00 PM
Nightly shows July 7 through August 3
9:50 PM
Nightly shows August 4 through August 17
9:30 PM
Nightly shows August 18 through September 3
9:00 PM
Fridays & Saturdays Only – September 7 & 8
8:30 PM
Fridays & Saturdays Only – September 14, 15, 21, 22, 28, 29
Grand Haven Visitors Bureau and Chamber of Commerce
Have questions, need directions or brochures of the area? 
Head to the Grand Haven Visitors Bureau for helpful assistance! 225 Franklin Ave A, Grand Haven, MI 49417

Grand Haven Chamber of Commerce: 1 S Harbor Dr # 4A, Grand Haven, MI 49417

Great Eats and Treats
There are TONS of restaurants along the Boardwalk, Harbor Drive and 1st Street near the Musical Fountain.
Wineries
Who's up for some wine tasting?  Try the wineries listed below for a great afternoon of trying new wines and the flavor of the region!
Lemon Creek Winery Tasting Room 327 N Beacon Blvd, Grand Haven, MI 49417
12 Corners Vineyards 41 Washington Ave #144, Grand Haven, MI 49417

Tri Cities Historical Museum
200 Washington Ave, Grand Haven, MI 49417

This free local history museum has exhibits on topics such as Native Americans & early pioneers. Learn how pioneer men and women worked and lived.  Learn about the fur trade and see scary looking primitive dental equipment!  

Kayak the Grand River
15348 Cleveland St, Spring Lake, MI 49456

Love to explore regions by boat? It's definitely one of my favorite ways to explore and feed my adventurous soul.  Spring Lake is a gorgeous place to paddle for a few hours.
Rent a kayak, SUP or canoe with Lakeshore Kayak Rental summer and winter!

Fishing Charters
If you are interested in charter fishing, there are a variety of companies ready to take you out on the water.  
Fish 'n Fun Charters is just one of many.  1 Grand Isle Drive, PO Box 644, Grand Haven, MI 49417.  Try sport fishing for Trout and Salmon on Lake Michigan aboard their 33' Trojan Express that is DNR inspected. Full facilities on board include a marine head. They supply all fishing gear and will clean and bag your catch of the day. Scenic cruise the Grand Haven area including Spring Lake, the Grand River, and the eastern shore of Lake Michigan.
Nelson Charters and Hot Sport Charters are other companies to look into for your fishing needs.
Bethke Farms
BONUS #1: OFF THE BEATEN PATH: 

Nature Education Center
BONUS #2: OFF THE BEATEN PATH: 8118 West Olive Road, West Olive , MI 49460.  
The Nature Education Center is 11 miles south of Grand Haven and worth visiting if you have a few spare days to explore.
It's time to get outside and MOVE! 
Grab some water, slather on some sunscreen and slap on a hat and get outside!  Enjoy a long walk along the Nature Education Center's 7 miles of trails!
Enjoy a variety of terrain as the trails follow the scenic Pigeon River, enter a cool forest, meander through a prairie and into peaceful grasslands. There is also a paved accessible trail. 
The Nature Education Center also has exhibits, a wildlife den with critters and activities, a wildlife viewing area where you can watch birds and animals at the feeders, and a gift shop.
The center also hosts a variety of educational programs for schools, special groups and the public.
Want to kayak?  A kayak launch area on the east side is a perfect way to spend the day on the water. 
Need to rent?  Try Kayak Kayak of Holland, Lakeshore Kayak of Grand Haven or GR Paddling for a great experience.  GR Paddling will pick you up at your hotel and provide transportation to your launch site. How cool is that?
During the winter months, snowshoes are available for rent during business hours for around $6 for two hours.

ON TO MUSKEGON!!
After leaving Chinook Park, travel east on Harbor Road  which turns into Jackson Street.  Merge onto North US 31 toward Muskegon.  It's only 15 miles to Muskegon but we have a few places to check out along the way!
So the general plan is to continue north on US 31.  We will pass Craig's Cruiser's which is visible from US 31.  We will continue to the heart of Muskegon which means we will pass the Drive In (you can head back there near dusk) and the Planetarium (head there around 6:30 p.m. on the days movie's are playing).  
Exit US 31 at Apple Road (46) and proceed west toward Muskegon. There is a Shell and Wesco gas station as you exit US 31 if you need fuel, snacks or a restroom.
FUN FACT: Did you know the Culinary Institute of Michigan is in Muskegon!?  Cool!
Craig's Cruiser's Family Fun Center
1551 E Pontaluna Rd, Norton Shores, MI 49444 (exit 107)
If your road trip gang is antsy to play, Craig's Cruiser's is just the ticket!  They have go-carts, mini golf, pizza and an arcade!  They are super conveniently located-right on US-31!  Just take exit 107!
Getty 4 Drive In Movie Theater!!
920 E Summit Ave, Muskegon, MI 49444 (south of the city center).  This location is not shown on the map and is a side trip.
The Getty 4 Drive In shows amazing movies that you can enjoy from the comfort of your car!  How fun is that? 
As a suggestion, spend the day exploring Grand Haven and book a night in Muskegon so you can enjoy this amazing pastime with your family and friends! 
Carr-Fles Planetarium

Carr-Fles Planetarium, 221 South Quarterline Road, Muskegon. This location is not shown on the map and is a side trip.
This planetarium is located on the Muskegon Community College campus. The planetarium has four new planetarium programs each year with public programs every Tuesday and Thursday evening at 7:00 pm late August through June. Admission is free and the planetarium will seat 44 people and 5 wheelchair spaces.  No reservations are needed.
Features: State-of-the-art digital projection, sound and lighting systems. An all-new library of shows. Modern theater seating. New domed ceiling.

Showtimes: 7 p.m. Doors open for seating by 6:45 p.m. and the show will begin as soon as the auditorium is full. All shows are approximately 35 minutes and include a brief demonstration of the current star positions.

Location: Muskegon Community College main campus – Room 135, 221 S. Quarterline Rd., Muskegon, MI

Parking: Free
US 31 Bar B-Q
151 W Muskegon Ave, Muskegon, MI 49440. 
Looking for a quick, inexpensive bbq lunch at a local restaurant that has made their special bbq for years?  Well check out US 31 Bar B-Q for good food and friendly local service.  Try their fries, shakes, pork BBQ, ham, and beef. 

Muskegon Museum of Art
296 W Webster Ave, Muskegon, MI 49440
Intimate museum featuring works by noted American & European artists & rotating special exhibitions.
Breweries
Unruly Brewing Company-360 W Western Ave, Muskegon, Offering a wide range of craft beer styles as well as an outdoor beer garden, live music and free brewery tours anytime. Try their pizzas!! YUM!
Pigeon Hill Brewing Company-500 W Western Ave Suite 1, Muskegon
USS LST-393
560 Mart St, Muskegon, MI 49440

USS LST 393 is an LST-1-class tank landing ship built for the United States Navy during World War II.
She is one of only two LST's to survive in original configuration; 1,051 were built. THe is now a museum ship in Muskegon, Michigan. 
Port City Princess Cruise
560 Mart St # 1, Muskegon, MI 49440
Phone: (231) 728-8387

Lake Express High Speed Ferry
Just in case you are ever interested in visiting Milwaukee, WI, you and your vehicle can be swept across the lake in style.  This high speed boat has numerous restrooms, comfortable seating and spots to sit outside.  Food is available on the boat but you can also bring your own meals on board.  Be aware if it's windy, the waves can be fierce on this ship.  We took motion sickness pills and sat outside during our trip as there were 6 foot waves.  Yikes!
SS Milwaukee Clipper
2098 Lakeshore Dr., Muskegon, MI 49441
SS Milwaukee Clipper, also known as SS Clipper, and formerly as SS Juniata, is a retired passenger ship and automobile ferry that sailed under two configurations and traveled on all of the Great Lakes except Lake Ontario. Along with the SS Keewatin, Milwaukee Clipper is one of only two US passenger steamships left on the Great Lakes.

Enjoy tours of the SS MIlwaukee Clipper from Memorial Day through Labor Day. 
Ship is open every Saturday and Sunday from 1pm Til 5pm. The last tour leaves at 4:15pmTickets : Adults $7.00 – Students $5.00 – Children under 6 yrs old Free
Pere Marquette Beach

3510 Channel Dr, Muskegon, MI 49441
White-sand beach on Lake Michigan
Wide expanse of public beach on Lake Michigan offering white sands & a view of a lighthouse.
USS Silversides Submarine Museum
1346 Bluff St, Muskegon, MI 49441
Come check out the super cool Naval history on display at the USS Silversides Submarine museum complete with tours of a preserved WWII sub.  
Hours of Operation are: 7 days per week. Friday and Saturday 10AM-5:30PM and 10AM-4:00PM Sunday thru Thursday.
General Admission at the time of this writing is: Adults- $15.00 Veterans and Seniors- $12.50 Active Duty- FREE, Children 5 to 18- $10.50 Children Under 5- FREE.
If you discover touring this amazing vessel isn't enough, consider spending the night aboard one of USS Silversides Submarine Museum's historic vessels!  Walk the decks, take command of the bridge and sleep in the berths where brave men once served our country. One heck of an unforgettable experience for groups, family or adults-only events.

Muskegon Lighthouse
Historic pair of beacons with views
Early 1900s lighthouses, one of which offers docent-led tours to the top for panoramic views.
Muskegon State Park

Muskegon State Park is a 1,233-acre state park along Lake Michigan and Muskegon Lake near North Muskegon, Michigan in Muskegon County, Michigan. State park offers 1,000 acres of nature including a rare coastal plain marsh, dunes & woodlands.
Address: 3560 Memorial Dr, North Muskegon, MI 4944

Muskegon Winter Sports Complex
426 Scenic Drive, N. Muskegon, MI 49445
Even though you are most likely embarking on this adventure during the summer, we wanted you to be aware of the Muskegon Winter Sports Complex for family activities during the winter. 
Buy a day or season pass for your family to enjoy winter sports including skiing, hockey, skating, snowshoeing and sledding.  
Excellent Restaurants
The Hearthstone $$-$$$
The Station Grill $$-$$$
Hobo's Tavern $$-$$$
Fatty Lumpins' Sandwich Shack $
Toast n' Jams $$-$$$
The Lakehouse Waterfront Grill $$-$$$
Michigan's Adventure
Michigan's Adventure one of the go-to spots for fun in the summer.  Wooden roller coaster, seasonal water park & lots of other rides featured at a local amusement park.
LETS CHECK OUT LUDINGTON!
Amber Elk Ranch
2688 W Conrad Rd, Ludington, MI 49431-9314
A bit off the beaten path, but if you family enjoys feeding elk or are looking for an animal adventure, check this place out!

Port Of Ludington Maritime Museum
Geocaching!
If geocaching sounds like a new adventure, there's no better time to try it on a gorgeous day in Grand Haven! 
3 Steps to Get Started Geocaching!

Grab the free Geocaching app on your phone to view a map of the geocaches in your area

Use the app to navigate to a geocache that interests you.  Bring a pen!
After you find the geocache, sign and date the logbook. Be sure to place the geocache where you found it.  Find the next one!

Join Us on Instagram! We're Fun!